After a long hiatus, travel roared back this summer. We analyzed data from more than 3500 travelers who used Atlys to travel abroad to understand new and emerging travel patterns amongst Americans.
Key Findings
Non-vaccinated travelers on the rise: 58% of Americans that traveled abroad this summer were not vaccinated. As countries reopened their borders, non-vaccinated travelers returned to the same travel patterns as before COVID-19.
Old travelers on the rise: 42% of travelers were 18-25, followed by 25% who were 50+. Middle-aged families were unusually low.
Florida is the hub for unvaccinated travelers: 20% of unvaccinated American travelers live in the state of Florida.
Traveling is more expensive than ever: On average, Americans had to shell out an extra $330 in COVID-19 related entry restrictions when traveling abroad.
Traveling is inefficient: Each traveler spends more than 5 hours on determining entry requirements, and filling out paperwork.
Travel pre-planning is on the rise: travelers are resorting to social tools to understand the new ways of traveling.
Unvaccinated Travelers On The Rise
Many vaccinated travelers have cut back on traveling internationally in 2021. However, the travel patterns amongst unvaccinated Americans continue to be the same with 58% of adult travelers not being vaccinated. While vaccinated travelers have increased (+12%) in the past month, likely due to the COVID-19 Delta variant, most are still choosing to remain at home. Amongst vaccinated people who haven't traveled, 48% cited as the threat of COVID-19 variants followed by 24% who mentioned the complex rules as the biggest reasons for not traveling.
Even though many countries have announced border reopenings for vaccinated tourists with much fanfare, the implementation is far from that. They often impose a complex set of rules, heavy fines, and often, unplausible timelines. "I want to travel to the United Kingdom but I need to get a test within 3 days and then once I reach on the second and eighth days, and in between too? I am really confused. I just decided to not go.", says Sid, a 26-year-old Software Engineer based out of New York City.
Amongst unvaccinated travelers, the most common destinations are Mexico (37%), Greece (19%), Dominican Republic (12%), Bahamas (11%), and Aruba (13%), and Costa Rica (8%).
Changing Travel demographics
A fourth of American travelers are 50+, with a large majority of them traveling with their partners (87%). Gen Z continues to lead the pack, accounting for 42% of international travelers. Millennials lagged behind accounting for only 16% of international travel amongst Americans. Amongst millennials, 47% refused to travel because of exorbitant costs while 25% were scared to travel with unvaccinated children. As vaccination rates amongst children increases, we can expect more family travel.
Florida Leads the Pack
The top 4 US states by active COVID-19 cases also led the pack for most outbound travel amongst unvaccinated Americans. Florida accounted for most outbound unvaccinated tourists, followed by Texas, New York, and California. Florida's proximity to the Caribbean explains why the island nations are amongst the visited by unvaccinated travelers. Despite a relatively high case count, only 3% of unvaccinated travelers came from Illinois.
Traveling Is Expensive
Countries have introduced a range of requirements to enter, making it more expensive to travel than ever. On average, the extra cost adds up to $330 per traveler and constitutes COVID-19 visas, travel insurance, and COVID-19 tests. 79% of travelers expressed frustration at the lack of disclosure by hotels & airlines on the added costs of traveling, only to discover them much later when the cancellation was not an option.
A COVID-19 visa, also known as a health visa, is a new kind of visa that travelers need to get. While they're electronic, the approval is not instant. The applications are reviewed by authorities, can only be submitted a few days before the trip, and are not free. Airlines have started enforcing this requirement more strictly after being fined by destination countries.
COVID-19 tests have become a must for international travel with a majority of countries open to tourists requiring travelers to possess a test result. Americans also need a test to come back regardless of their vaccination status. COVID-19 tests are expensive, both at home and abroad, and cause uncertainty given the turnaround time can be more than a day. Without an interoperable system to verify vaccines, countries will continue to require travelers to get COVID-19 tests.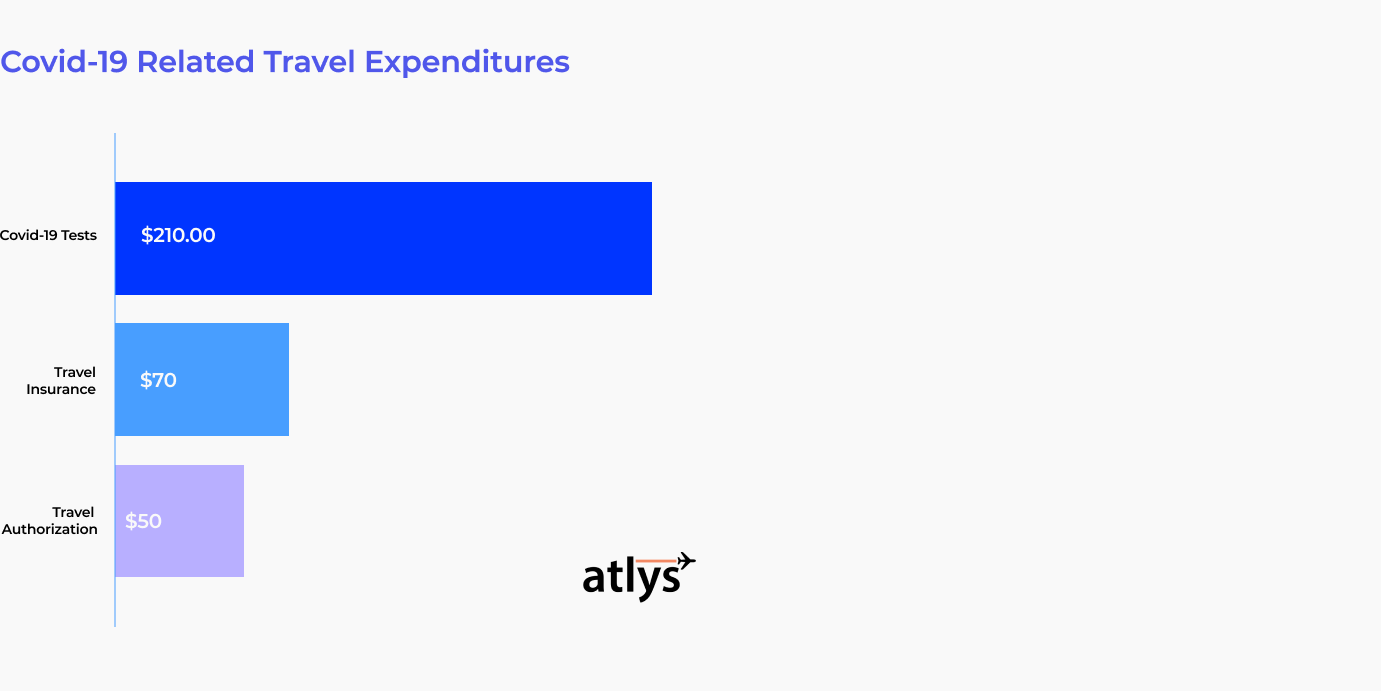 Traveling is Inefficient
Perhaps most importantly, traveling is uncertain and inefficient. Travelers, on average, spend 5 hours and 45 minutes researching and fulfilling COVID-19 entry requirements. The confusion around different kinds of COVID-19 tests, and the turnaround time for PCR tests, has exacerbated these problems:
"I couldn't board my flight to Europe because I got a rapid test instead of a PCR. I had no idea on the difference - I got to know only at check-in. The results take a long time so I can't even rebook myself on tomorrow's flight.", says Shelly who was planning on doing a whirlwind tour across Europe.
The uncertainty has led to a spike in support questions with 23% of travelers saying they contacted either their airline, hotel, or travel platform to understand the entry requirements. Despite introducing complex requirements, none of the governments have invested in support lines or traveler education.
Travel Insurance
67% of travelers purchased travel insurance, citing uncertainty and border closures as the primary reasons. Prior to COVID-19, only 20% of Americans purchased travel insurance for leisure trips. Many smaller countries such as Costa Rica, Turks & Caicos, Aruba amongst others require mandatory travel insurance that covers COVID-19. However, travelers are opting to insure their trips even when it's not a requirement. For instance, 54% of Americans traveling to Spain bought travel insurance.
Facebook Groups is the Ultimate Travel Planning Tool
Over 41% of travelers were part of a Facebook Group with other fellow travelers before their trip to understand entry requirements, quarantine & insurance rules as well as get insights into open attractions. Amongst people that used community to plan their travels, 96% indicated Facebook as the preferred tool with the rest relying on Reddit.
An Atlys survey of 27 Facebook Group Admins, representing an aggregate membership of 732,000 people, revealed that over 90% of the questions now revolve around COVID-19 and entry requirements.
Methodology
The analysis is based on data analyzed from Atlys users between May 15, 2021, and September 5, 2021, for U.S. adults ages 18 and older. The data is based on aggregate across a sample of our users who we deemed eligible - booked itinerary and tickets, verified and valid identity documents, and authentic COVID-19 records. The data is normalized across destinations to mitigate any selection bias. Parts of the analysis are based on micro surveys that Atlys undertook amongst its adult users, and travelers between May 15, 2021, and September 5, 2021. For questions, please reach out to surveys@atlys.com.
While vetted and based on a statistically significant sample, Atlys does not take any guarantee nor promise any outcomes as a result of this survey.