How To Submit A Perfect Schengen Visa Application?
Last Updated : 30 Oct 2023
Atlys in the news
30-Second Summary
For a perfect Schengen visa application, you need to understand the essence of the 4 most important parts of the application:
Booking a visa appointment

Attending a visa appointment
These 4 things are very important for a successful visa application.
Travellers must ensure that their application for Schengen visa is faultless, as even the smallest mistakes may lead to a Schengen Visa being denied.
Atlys has created this guide to walk you through the Schengen Visa Application process and ensure that you ultimately submit the perfect visa application.
Completing The Perfect Schengen Visa Application Form
PAGE 1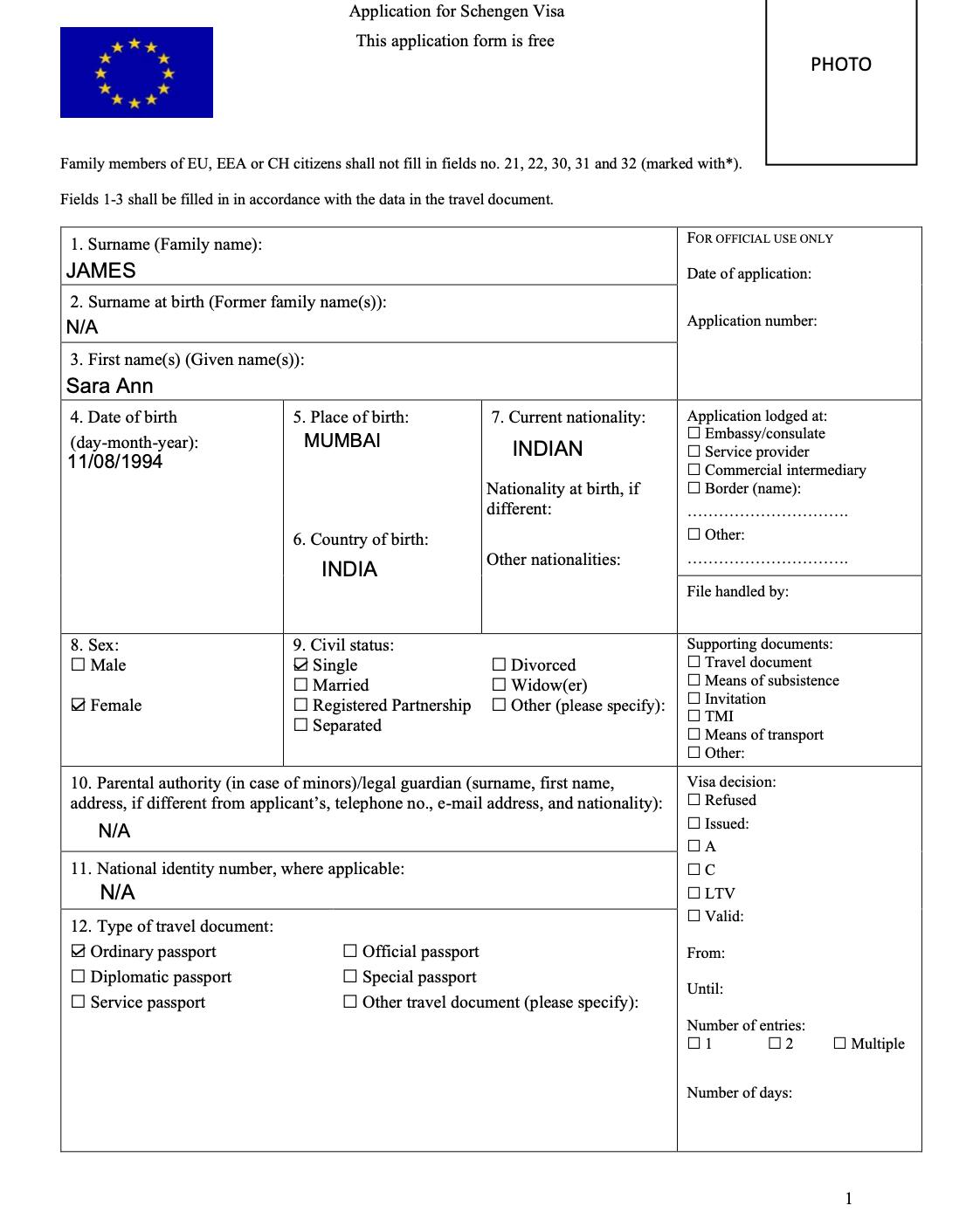 Page 1 of the Schengen application form deals mainly with your general information. You'll need to report your names (#1-3), date of birth (#4), place, and country of birth, ie. New York, USA (#5 & 6), your nationality (#7), your sex (#8), and civil status (#9).
If you are completing the form for a minor, you'll need to complete #10.
At #11 - "National Identity Number Schengen Visa", you should report your national I.D. number if you have one. If not, simply fill in "N/A". U.S. citizens do not have national identity numbers, so all U.S. passport holders can report "N/A."
Finally, report the type of passport. For most cases, select "Ordinary passport." The rule of thumb is, if you are unsure about the type of passport you have, it's most probably an ordinary passport.
Other Key Points for Completing Page 1 of Your Application For Schengen Visa:
Name Matching: Ensure that the name you enter on the application form exactly matches your passport. If your passport includes a middle name, include it on the form. For instance, if your passport says "John Jack Smith," use "John Jack" for the given name and "Smith" for the surname.

Reference Your Passport: To be certain, refer to the bio page of your passport, which contains your photo and personal information. The details on this page must match what you provide on your application for Schengen visa.

Nationality Details: Report both your current nationality and your nationality at birth if they differ. Typically, your current nationality matches the passport you're using. Make sure all information aligns precisely with your passport, including middle names.

Accuracy is Crucial: Discrepancies between your passport and the application can lead to visa application denials. Double-check that every detail matches your passport information accurately.

Attention to Detail: Ensure 100% accuracy before proceeding to Page 2 of the application to avoid any issues in the processing of your Schengen Visa.
PAGE 2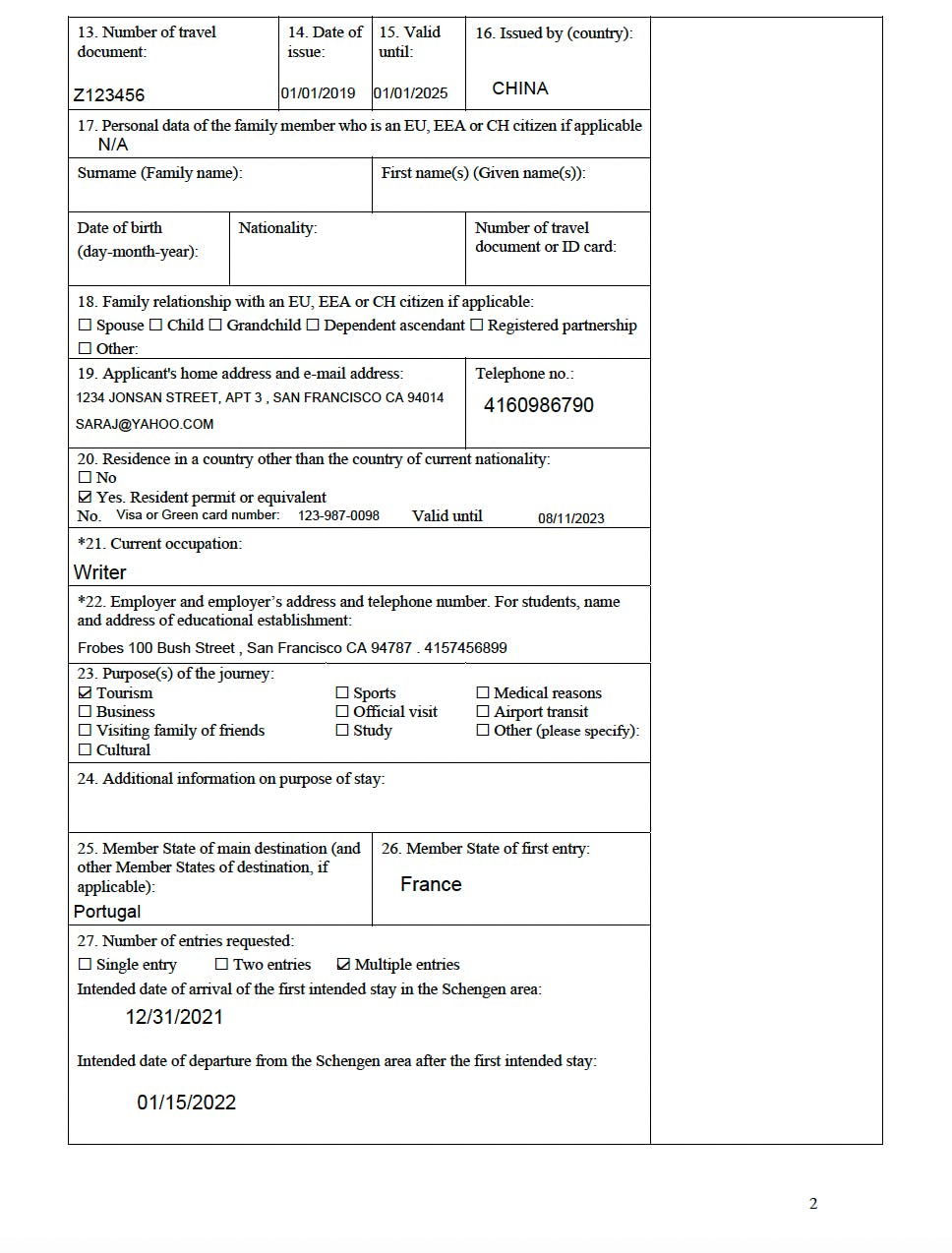 Page 2 of the Schengen application form focuses on additional information from your passport, as well as some information that pertains to your stay in the country that you are applying to.
#13. "Number of Travel Document" - This simply refers to your passport number. You'll usually find the passport number in the upper right area of your passport's bio page. Make sure that you fill in the passport number correctly.
#14 and #15 are your passport's date of issue and expiration, respectively. #16 refers to the authority that issued your passport. In most cases, it's the same as the nationality of the passport you hold.
#17 and #18 are only relevant if you are staying with a friend or family member within the Schengen area country. If you are not staying with a friend or family member, leave these entries blank.
At #19, report your physical address, your email address, and your telephone number.
At #20, check yes if you are currently a resident of a country other than the nationality of your passport. Simply staying or living in a country does not equal residence. Residence, in this case, refers to an official visa or travel document that grants the holder residence status in a specific country, like a US Green Card. You'll also need to report your residence permit number and how long it is valid.
#21 state your occupation, i.e. "professor (former student)" or "retired (former sales manager)". If you have no occupation, write "no occupation". It is worth noting that while Schengen Visas are available to unemployed people, the process of obtaining a Schengen visa while unemployed is one filled with obstacles.
At #22, report your employer's address. If unemployed, report N.A.
At #23, choose the option that best fits the reason for visiting the country you are applying to. Be honest; if you travel to a country for business reasons, i.e. to meet with potential partners or inspect an investment, state your purpose as a business. If you lie at this point, you'll most probably be discovered during the subsequent Schengen Visa Application Interview. If you choose "Other" at #23, you must provide more information at #24. Else, just leave #24 blank.
At #25, report the "Member State" which you'll be visiting. The member state is the Schengen Area country where you'll spend the most time.
#26 Refers to the first country in the Schengen Area that you'll visit, i.e. the country of entry into the Schengen Area.
If, for instance, you are travelling from the U.S. to the U.K. (not part of the Schengen Area) and then travel from the U.K. to France (part of the Schengen Area) before travelling onward towards Portugal, where you'll spend the majority of your time in the Schengen Area, you'll report it on the Schengen visa form as follows: #25: Portugal; #26 France.
At #27, you should select the type of Schengen Visa you are applying for, i.e. single entry or multiple entries. Suppose you travel to the Schengen Area and only stay within the European Union and Schengen Area before travelling home. In that case, you'll only need a single entry visa. Suppose you plan on travelling to the Schengen Area, then exiting the Schengen Area before returning to the Schengen Area again. In that case, you must apply for a multiple-entry visa.
For instance, if you are travelling to Portugal from the U.S. and then travel from Portugal to Morocco before travelling to Spain, you'll need a multiple entry visa. It is worth mentioning that the chances of a multiple entry visa being granted are much lower than a single entry visa being granted.
PAGE 3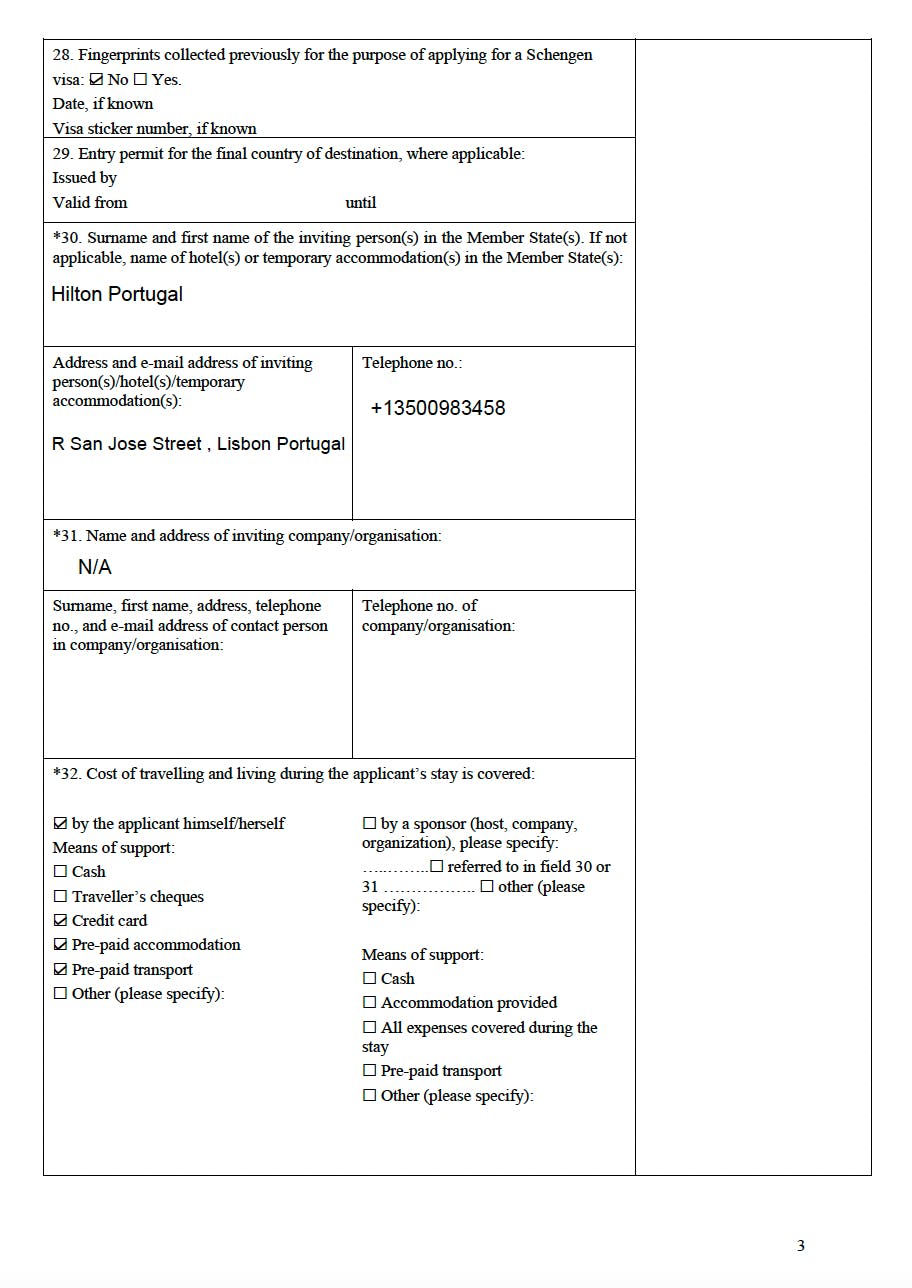 Page 3 starts with one of the most confusing parts of an application for Schengen visa: the Fingerprints previously collected option.
At #28, The rule of thumb is that if your last travel to the Schengen Area was during 2016 or later, you must select "Yes", as from 2016 onwards, collecting biometric data was compulsory. The advantage of having your biometric data previously collected is that your application would be processed quickly because the existing data will be pulled from a central database. If you don't have the exact date of your previous application, don't worry; you can leave it blank.
For #29, you'll need to provide proof that you are allowed to travel out of the Schengen Area if your next destination is different from your home country. For example, if you are an Indian national living in the US on a Green Card, you'll need to provide that Green Card to show you can re-enter the US from the Schengen Area.
At #30, enter the Hotel(s) where you'll be staying or the person inviting you.
 #31 refers to the address of the person inviting you or the organization if you travel for business or official reasons. When applying for a Schengen Tourist Visa, you can enter N/A.
#32 is one of the areas that applicants either get wrong or leave out, which may lead to an application being rejected. Check the appropriate boxes; for instance, if you will be using a credit card during your travels and your accommodation has already been paid for, check "Credit Card" and "Prepaid accommodation".
PAGE 4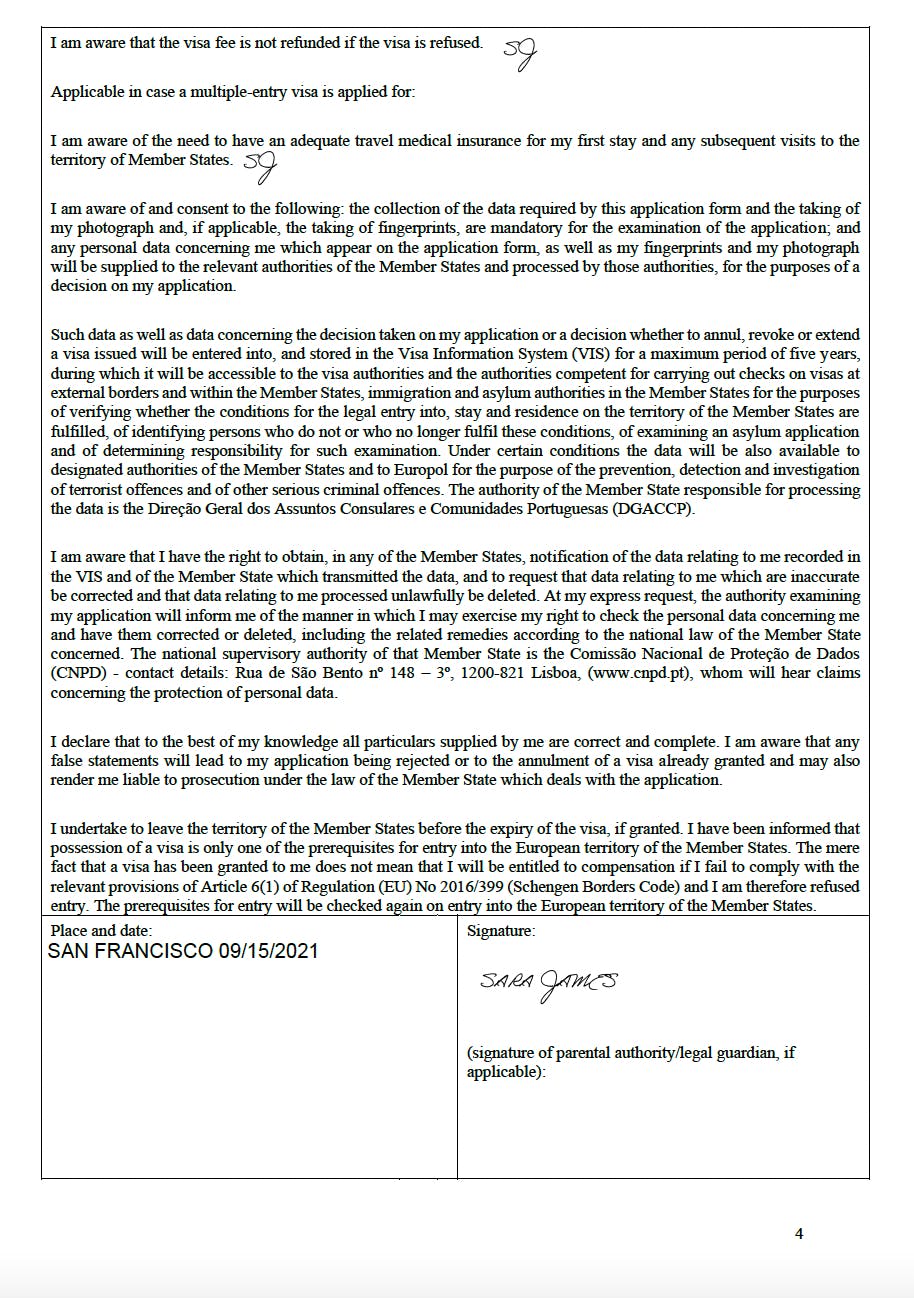 The final page of your Schengen Visa Application will require your initials and signature, as well as the date and place where you signed it.
Provide your initials at the top of the page where it states: "I am aware that the visa fee is not refunded if the visa is refused."
Also, the initial says: "I am aware of the need to have adequate travel medical insurance."
At the "Date and Location": Write the place and date where you are filling in the form, even if this date is different from the day you are going to the visa service.
Finally, sign the document. The Visa application form should be filled and signed by the Visa applicant and not another person. Suppose the visa applicant is a minor (under 18). In that case, the application must be signed by a person having parental authority, and their relationship should be included.
Overview Of The Schengen Visa Application Form
What Is The Schengen Visa Application Form?
The Schengen visa form is a standardized document that is an essential part of the process when applying for a Schengen visa. 
While all Schengen Visa Applications are essentially the same, they differ on some details like the country applied for and the reason for applying. 
For the sake of this article, we'll apply for a Schengen Tourist Visa To Portugal and use this Schengen visa form. If your form differs from this one, chances are you have the harmonized Schengen Visa Application form, which contains the same information, but it's formatted differently.
What Is The Purpose Of The Form?
The primary purpose of this form is to collect essential information about your travel plans, personal details, and the purpose of your visit to the Schengen Area. 
It is used by the authorities to assess your eligibility for a Schengen visa, which is typically granted for purposes such as tourism, business meetings, family visits, or attending conferences.
Uniform Format
One of the conveniences of the Schengen Visa Application Form is its uniform format. Regardless of your chosen member state of main destination, you can use the same form. 
This simplifies the process for travellers planning to visit multiple Schengen countries during their trip.
Sections of the Form
The form is divided into several sections, each requiring specific information. These sections include:
Personal Information: This section collects your full name, date of birth, nationality, passport details, and contact information. Importantly, the name you enter must precisely match the name on your passport, including middle names if they are listed.

Travel Details: Here, you'll specify the purpose of your visit, the intended dates of travel, and whether you're applying for a single-entry or multiple-entry visa. Accurate information is vital as it influences your visa's validity.

Accommodation Details: You'll need to provide information about where to stay during your visit. This can include hotel reservations, a friend's address, or other forms of accommodation proof.

Financial Details: To demonstrate your ability to finance your trip, you must indicate how you intend to fund your journey. This section ensures that you have sufficient financial means for your stay.

Travel History: Provide details about your previous travels, including any previous Schengen visas, if applicable.

Declaration and Consent: The form concludes with a declaration and your consent for the processing of your data.
Accuracy and Completeness Are Vital
Filling out the Schengen Visa Application Form accurately and completely is crucial. Any discrepancies or missing information can lead to delays or denials in the visa application process. To ensure a smooth application process, consider the following tips:
1

Reference Your Passport: For complete accuracy, refer to the bio page of your passport, which contains your photo and personal information. All details entered on the form must match this page precisely.

2

Nationality Details: Report your current nationality and, if different, your nationality at birth. Typically, your current nationality corresponds to the passport you're using for the application.

3

Double-Check Everything: Before submitting the form, review each section to ensure all information aligns precisely with your passport. Pay special attention to middle names and other details.
The Required Documents For A Faultless Schengen Visa Application
In this part of the guide, we will review the requirements for your perfect Schengen Visa Application. These are mostly supporting documents that will accompany your Schengen Visa Application form. 
Once you've completed the application form, you should gather these documents. Generally, the requirements for Portugal are very similar to other Schengen Countries. Still, to be on the safe side, you can contact us to make sure of your specific country's requirements.
Copy Of The Bio Page In Your Passport: The page in your passport contains all your information and features your photo. You'll need to include a printed copy of this page, preferably in colour. You would also need to provide printed copies of any previous Schengen visas you've had in the past 5 years, even if it's on the old passport. 

Copy Of Your Residency Permit: If you are a resident in a country outside of the country of your passport, you'll need to supply a copy of that permit. If the permit is a card, like the US Green Card, be sure to make a copy of the front and back of the card.

Personal Cover Letter: This is a letter written by the applicant stating why they wish to visit the country and the itinerary of their travels through the country. It is also advisable to have a list (or index) of all the documents you supply for your application. Doing so will make it easier for the Embassy agent to process your application.

Bank statements From The Last 3 Months: Provide the last 3 months' bank account statements showing the applicant's name and an end balance dated within the last month before the visa application submission date. Alternatively, online bank account printouts are also accepted.

Provide a No Objection Letter From Your Work or University/School: A no objection letter is a letter from your current employer or educational institution that states that the applicant is in good standing with them and that they have no objection to them travelling to the country during the period applied for.

Provide Your Travel Itinerary: Your name and details must be stated on the itinerary.

Proof Of Your Travel Insurance: Clearly showing the applicant's name - has to be valid throughout the complete territory of the Schengen Area and must cover the entire period of the applicant's intended stay in the Schengen Area; the minimum coverage for medical emergency and repatriation needs to be the equivalent to Euros 30,000 with Euros 0 deductibles.

Proof Of Your Current Occupation
Employed
If you are employed, you must provide proof of that employment. This will consist of an original signed letter from your employer confirming your employment and the last 3 months' payslips.
Self-Employed
If you are self-employed, you must provide an original and signed cover letter confirming your self-employed status. This can be done by attaching a copy of the certificate of incorporation when your business was registered. If your name is not reported on the certificate of registration, additional proof demonstrating the connection to yourself should be supplied.
A recent tax return statement for your business should also be supplied.
Student
If you are an international student residing in America, you must provide a copy of an original I-20 form. You don't need to submit the original. Page 2 of the I-20 needs to be endorsed by the International Student Department at the university. The endorsement must be signed within 6-12 months, depending on the country you are applying to.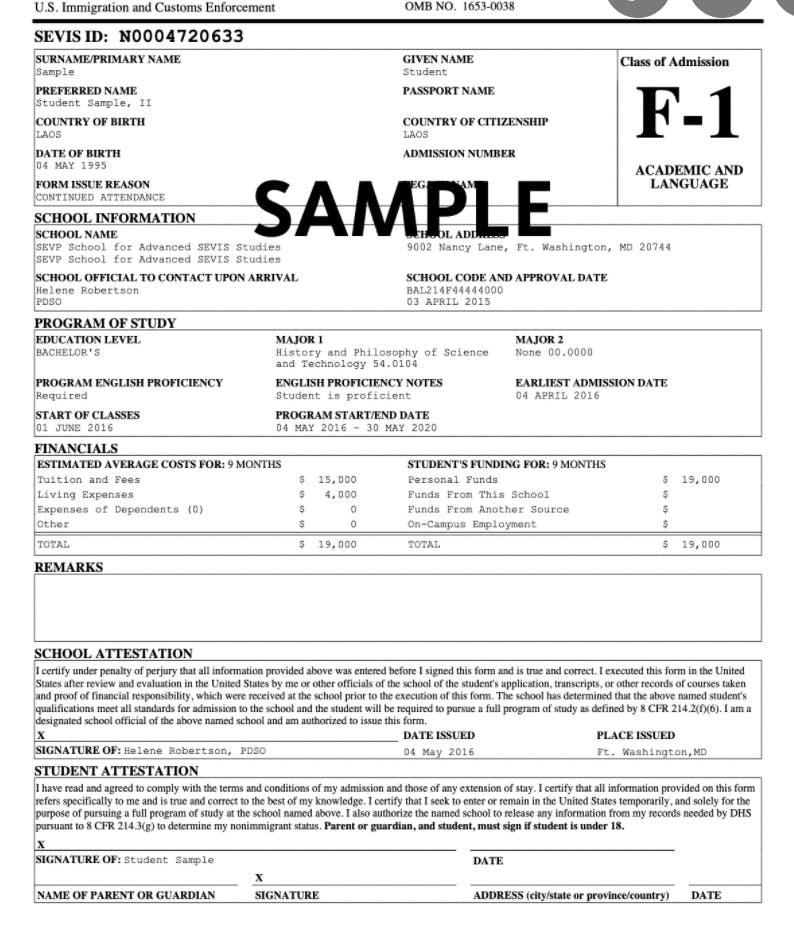 Crafting Your Travel Itinerary
A well-structured travel itinerary not only enhances your travel experience but also simplifies the visa application process. Here's how to plan your trip effectively:
Clear Schedule: Create a detailed schedule that outlines your travel plans, including dates, cities or regions to visit, and the purpose of each visit (e.g., sightseeing, business meetings, family visits).

Accommodation: Provide proof of accommodation for each leg of your journey, such as hotel reservations, rental agreements, or invitations from friends or family.

Transportation: Include information about your transportation arrangements, such as flight itineraries, train tickets, or car rentals.

Activities: Highlight any planned activities, such as tours, conferences, or events, to demonstrate the purpose of your visit.

Duration: Ensure that the total duration of your stay aligns with the validity of your Schengen visa.
Choosing Your Main Destination
Selecting your main destination may seem like a straightforward task, but it requires careful consideration. The Schengen visa you apply for will typically be issued by the member state you intend to visit primarily. Here are some tips to assist you in making this critical decision:
Purpose of Your Visit: Your primary reason for visiting a Schengen country should guide your choice. If you're planning to spend the majority of your time in France, for instance, it makes sense to select France as your main destination.

Duration of Stay: Consider which country you'll spend the most time in during your trip. This is often the main destination, as it aligns with the Schengen visa's intended purpose for your extended stay.

Travel Itinerary: Examine your travel itinerary. Your main destination should be where you start your journey or spend the most time during your stay.

Entry Point: The member state of first entry is typically considered your main destination. If you have multiple entry points, choose the one where you'll stay the longest.
Make A Visa Appointment Booking
It is important to start with this step as soon as possible.
There are usually limited visa appointment slots and therefor waiting time can be up to a year.
How Can I Book A Visa Appointment?
AtlysBlack is an exclusive service brought to you by Atlys, designed to be your personalized visa concierge, meticulously crafted to expedite the visa application process.
Step-by-step breakdown:
1

Begin your visa application conveniently with the Atlys app.

2

In the Atlys app, select your Schengen destination.

3

An Atlys concierge will guide you throughout the process.

4

Your concierge ensures your documents meet Schengen visa requirements.

5

Atlys finds an appointment date for you.

6

Once all is in order, await your Schengen visa confidently with AtlysBlack's speedy service.
Alternatively, you can apply through the VAC that is assigned to handle visa applications for the Embassy. However, AtlysBlack is a more convenient option since you will receive expedited visa appointments.
Visa Interview Tips: Securing Your Schengen Visa with Confidence
One of the critical steps in the Schengen visa application process is the visa interview. This face-to-face meeting with a consular officer plays a pivotal role in determining whether you'll be granted a visa to explore the enchanting landscapes and vibrant cultures of Europe. To boost your chances of approval and approach the interview with confidence, we've compiled valuable visa interview tips to help you prepare effectively.
Know Your Application Thoroughly
Before stepping into the interview room, review your visa application and all supporting documents meticulously. Be prepared to discuss your travel plans, including your itinerary, accommodation details, and the purpose of your visit. Familiarity with your application demonstrates your commitment and seriousness about your trip.
Be Honest and Transparent
Honesty is paramount during the visa interview. Provide clear and truthful answers to all questions posed by the consular officer. Misrepresenting information or providing false documents can lead to visa denial and future travel restrictions.
Dress Professionally and Respectfully
Dress appropriately for the interview, adopting professional and respectful attire. While there's no need for formal attire, avoid clothing that may be considered too casual or inappropriate. Your appearance reflects your seriousness and respect for the process.
Bring Original Documents
Carry all original documents and copies mentioned in your application, including your passport, travel insurance, proof of accommodation, and financial documents. The consular officer may request to see these documents as part of the interview process.
Be Patient and Prepared for Follow-Up Questions
The interview may include follow-up questions to clarify information or gather additional details. Be patient and provide clear answers to any queries posed by the officer.
Conclusion
In conclusion, your Schengen visa is the key to unlocking the treasures of Europe. This guide equips you with the knowledge and tools to navigate the application process with confidence. Start your journey today, and get ready to explore the captivating and diverse landscapes of Europe, hassle-free.
Government Sources
Our information is sourced directly from government authorities, ensuring reliability. We utilize AI to simplify complex concepts for clarity, and our dedicated team rigorously verifies all details for accuracy. Rest assured, the information you discover here is dependable, as we exclusively rely on trusted sources.
Frequently Asked Questions
A Schengen Visa allows you to travel freely within the Schengen Area, which includes 27 European countries that have abolished internal borders. These countries are part of the agreement and share a common visa policy.
Author:
Verified Author: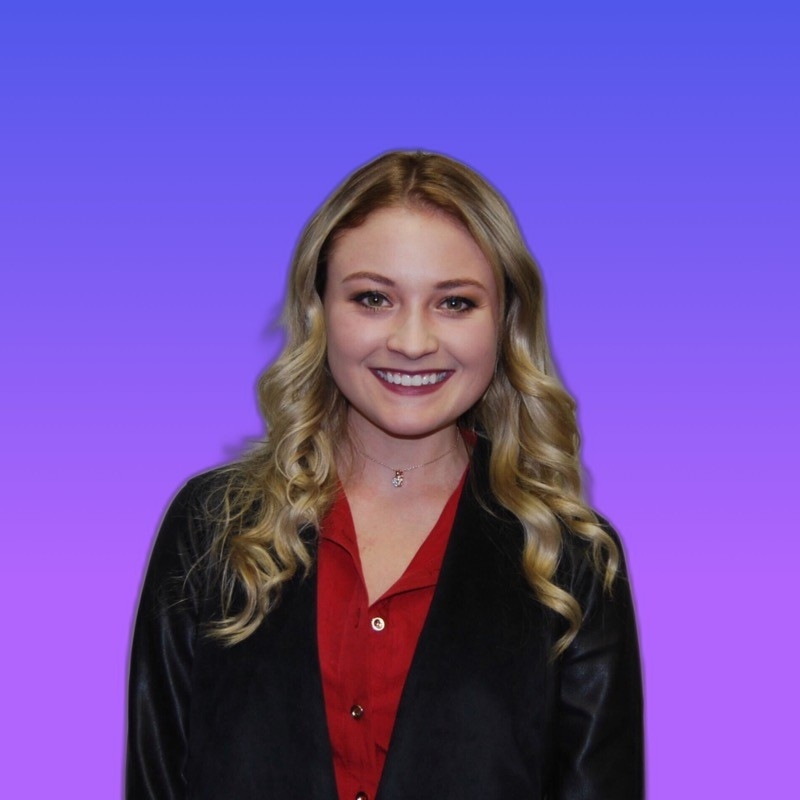 Shannon Reeler
Related Articles
What is a visit visa - UAE? Find the answer to this and other questions related to UAE visit visas, such as visa requirements, the application process, visa extension, and fees.