Hotel Itinerary for Schengen Visa
As per Regulation EC No 810 of the EU (Schengen) Visa Code, an applicant must present present proof of the points of departure and destination, coherence of the itinerary, and proof of the onward journey to the final destination.
You can use this tool to get a hotel itinerary that would suffice accommodation proof requirements for your Schengen visa application, and the Atlys Flight Reservations Tool to get evidence of the onward journey.
Why Is It Required?
The EU (and Schengen) is the world's largest tourism market with a large influx of tourists from across the world, especially Asia & Americas. In order to sustain high levels of tourism, the Schengen countries are strict on ensuring that tourists do not settle in their countries illegally. Therefore, proof of accommodation in the form of hotel bookings (paid or otherwise) indicates that the applicant has plans to stay for a fixed duration in the Schengen states and intends to go back to their home country.
Finally, embassies also use this to determine which country should be issuing you a Schengen visa. So, for instance, if you are going to Germany for ten days and Spain for three days, then based on your stay details, you can only apply for a Schengen visa to Germany (maximum length of stay). This evidence can also be used to determine if you are overstaying your stipulated stay in the Schengen countries.
How does the Atlys hotel itinerary look?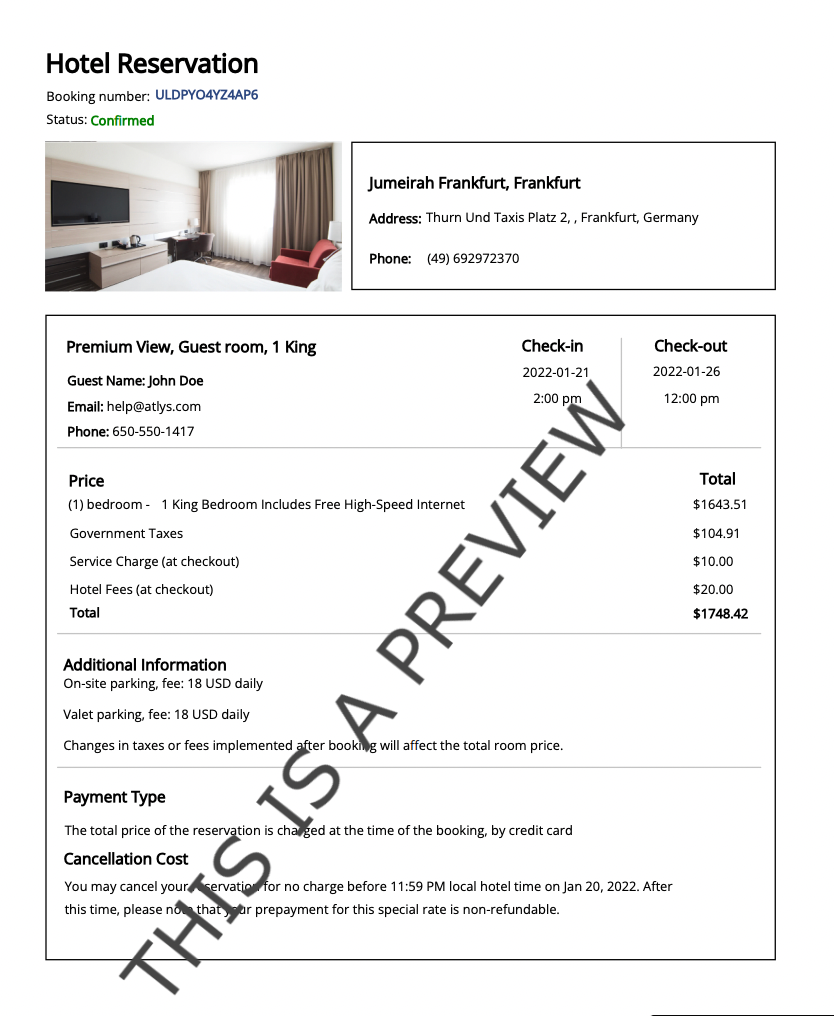 Do I have to reserve hotel rooms?
You do not. The EU law code and Schengen embassies strongly advise you not to pay for rooms until you get your visa. As per the Schengen embassies, they want to see evidence of reserved itineraries. However, there is no such thing as reserved anymore. You can't book a hotel room without paying the full price for it. The Atlys tool is public - you can now use Atlys to get a hotel itinerary ('dummy hotel room') that would qualify as the evidence required for your visa. You'll get a roundtrip flight itinerary that fits your travel dates & travel plans. The itinerary consists of actual hotels, prices, and dates. The booking code/reservation number is an Atlys-specific code. In the rare event that the embassy wishes to confirm your tickets, there won't be any problems. You no longer have to take the risk of paying for flights without a visa on hand.
What if I am going to multiple countries?
You can show evidence of all travel. However, the primary evidence that the Schengen embassies care about is a hotel and air itinerary to and from the Schengen area (and not within).
What if the Embassy calls the airline?
As per EU law, you only need to show a sample itinerary. In addition, the embassies cannot call the hotel to confirm their reservation.
What else do I need?
The Schengen visa application requires a travel itinerary, including flight tickets, travel insurance, cover letter, a confirmed visa interview appointment, and a filled Schengen application form.
You can find out about the full visa requirements here.
What if I can't find my itinerary on the hotel website?
As per the Schengen code, you are supposed to get a draft hotel itinerary. The itinerary generated by Atlys is reserved but not purchased. In earlier times, this is similar to a travel agency reserving your travel tickets & stay but not purchasing until you pay. By not paying for your flights and hotels until you get your visa approved, you can avoid heavy cancellation fees.