Why is Greece Regarded As The Cradle Of Western Civilization By Many Historians?
Because many characteristics of modern western culture can be traced back to Greece, many historians consider it the cradle of Western Civilization. Let's take a look at why this is.
Western art is one of the many aspects of western culture that has its roots firmly anchored in Greece. The Greeks engaged in a wide range of artistic endeavors and the arts were coveted during every eon of Greek civilization, from the Minoan all the way to the late Greco-Roman periods. Paintings and sculptures were on display. Volumes of poetry were always on hand. The Greek colony of Syracuse gave birth to theatre and even today, their art influence ours, as is evident in generation after generation still reading the works of Aeschylus to discover the architecture of a well-told story.
Some of our intellectual legacies can be traced back to Greece. Philosophy and history are the two fundamental academic areas that date back to the Greeks. Greek philosophers such as Socrates and Plato are among the most influential thinkers in history while Herodotus is often regarded as the world's first true historian. Some parts of science had their origins in Greece as well.
Ancient Greece's civilization flourished over 2500 years ago, but the ancient Greeks' ideas continue to influence how we live today. Ancient Greek philosophers attempted to explain the world using natural rules. As a result, the ancient Greeks produced significant scientific breakthroughs. They created democracy, a form of government in which citizens control themselves rather than being ruled by a king. Beauty and inventiveness were essential to the Greeks. They wrote several stories and plays that are still performed today.
The Greeks, maybe most notably, were the founders of democracy. Athens is especially well-known for its democracy. Greece is particularly significant because democracy has grown to dominate the Western world today.
In southeastern Europe, Greece is made up of a peninsula and a series of islands. A peninsula is a geographical mass that is almost completely surrounded by sea. Because their steep, rocky soil was unsuitable for farming, the ancient Greeks honed their skills as sailors and sailed to faraway regions.
Greek seafarers absorbed knowledge from a variety of cultures and carried their ideals to far-flung regions. For example, the alphabet was taught to the Greeks by seafaring Phoenicians who lived in Syria and Lebanon.
The world was divided into regions by ancient Greek geographers, which we still use today. The western world still refers to the lands west of Greece, while the eastern world refers to the areas east of Greece.
A cradle is an infant's little bed. Greece is sometimes referred to be the "Cradle of Western Civilization" since many of the concepts that flourished in the western civilization were "born" in ancient Greece.
Greece: The Cradle Of Western Civilization Is A Must-See Destination.
Most people associate Greece with whitewashed homes and domed churches set against a backdrop of the deep blue Mediterranean Sea. Greece is a cosmopolitan destination with many visitors from the United Kingdom and other regions of Europe. This is the type of site that travelers from different areas of the world may choose to visit as part of a European tour, perhaps after they retire and have more time to enjoy themselves.
Many of us will remember movies like Mama-Mia and The Sisterhood of the Traveling Pants to depict Greece's beauty. However, Santorini is one of Greece's most iconic images and a must-see for anyone planning a trip to the country.
Even though much has been written about Greece's marvelous diverse, and robust invention that has evolved into today's Grecian society, millions of people have yet to visit this mythic isthmus, which is widely considered the cradle of Western civilization and the current democratic system.
A trip to Greece may appear at first to be an experience in which you will be met with unique standing relics of ancient Greece without having to do anything.
It's modern enough to brag about. The enormous urban conurbation of today's Grecian Cities will enchant you. Still, the key historical attractions will remain entrenched in the modern-day battle, and subtle cultural distinctions of a tumultuous history will be written between the walls and the beautiful "azure" Aegean Sea.
Greece's history can be traced back to 6000 B.C. when the first signs of a city-state were discovered. This happened during the Neolithic Period when the Minoan and Mycenaean Kingdoms were supreme. The Dorian invasions and the Dark Ages were later stories. However, it is usually assumed that Greece's most prosperous and renowned Classical and Hellenistic periods occurred between 500 and 146 B.C. Plato, Socrates, and Democracy flourished during this time, while the Parthenon and Acropolis were built in Athens. As seen in intermediate art and structural design, the Roman conquest was followed by the merger of mythologies.
During the modern time, the Turks and Byzantines overran Greece. Still, a cultural renaissance and the War of Independence in 1821 prepared the path for the reunification and admiration of Greek culture. Fortunately, Greek culture continues to thrive today. Greece's land attractions
Greece is provided with great supplementary sights and wonders unique to Greece's cultural past, even without a major attraction like the Parthenon. If you're looking for a spiritual experience, the northern Thessaly town of Meteora (located in the northern area) is a great place to go. By mountaineering the fixed stone stairs, you can reach the cliff-top monasteries. Another popular method of reaching vast heights is rock climbing, which has become a popular activity.
The cultural riches of Greece will astound you after a visit to the archaeological wonder of Delphi. According to the ancient Greeks, this was the center of the known world. Nafplio, Greece's former capital, will also captivate you. The ancient Mycenae civilization and Epidaurus' famous theatre are both within walking distance.
The Cradle Of Western Civilization Is Greece.
Greece is a popular summer vacation location. Greece is a Southeastern European country with thousands of islands in the Aegean and Ionian seas and Athens.
The Paleolithic Age (120000–10000 BC) saw the first signs of human habitation in Greece. Many structures were built throughout the country during the Neolithic Age (7000–3000 BC). The earliest urban towns in Greece marks the beginning of the Bronze Age (3000-1100 BC).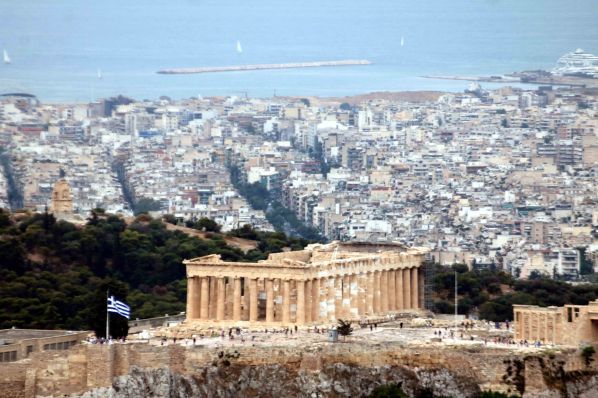 The Roman conquest of Greece in 146 BC ended Greek rule. During the first century, Apostle Paul spread Christianity in Greece. Greece became a part of the Byzantine Empire in the third century.
From the fourteenth century, the Ottoman Empire grew to encompass Greece. The Greek War of Independence in 1821 brought an end to nearly four centuries of Ottoman dominance. After World War II, the Greek state took on its modern shape. After a seven-year dictatorship, a referendum was held in 1974 to convert the government from a constitutional monarchy to a presidential parliamentarian democracy, and Greece joined the European Union in 1981.
Attractions Along The Sea In Greece
Almost 1400 Greek islands are waiting to be discovered. The sea and business centers of the seven landmass clusters have a huge lot of Grecian history. The Odyssey and Homer's Iliad both travel along beaches and pass-through ports that you can visit. Crete and Santorini are the most popular islands. Visit the iniquitous island of Mykonos for wild parties, and don't forget to stop at the Ionian Islands for lush foliage and pristine sands. Every island region has something unique and fascinating to offer, so don't skip this part of your journey of discovery!
What Are The Five Most Peaceful Vacation Spots in Crete?
Who hasn't fantasized about a fantasy vacation in Greece? And, as the cradle of Western civilization, Crete Island is where it all began. But, ironically, the site of the world's first thalassocracy, established by the Minoans 5,000 years ago, is also one of the world's wildest regions. It's a spot where you can find seclusion, adventure, stunning sunsets, and legends. Keftiu, as it was known to the ancient Egyptians, is a land of solitude unlike any other. There are few places on Earth better for a vacation getaway and quiet privacy.
For those unfamiliar with Greece's largest island, the Bronze Age civilization that thrived on the island and throughout the region is considered the cradle of western civilization. As a result, Crete, dubbed "Minoan" by archaeologist Sir Arthur Evans at the turn of the century, is now one of the world's most famous tourist destinations. The island's 1,046 kilometers of coastline and 8,336 square kilometers (3,219 square miles) of land are tightly packed with history, natural wonders, and diverse vistas unlike anywhere else on the planet. The majority of visitors come to enjoy the island's Blue Flag beaches, but it's about much more than that. Thousands of news pieces and blog posts, as well as hundreds of thousands of social media shares, have been written to describe the place and its residents. As a result, the five isolated locations listed below are merely a teaser. There is a slew of more that we'll show you later. For the time being, I hope you find these suggestions helpful.
Lentas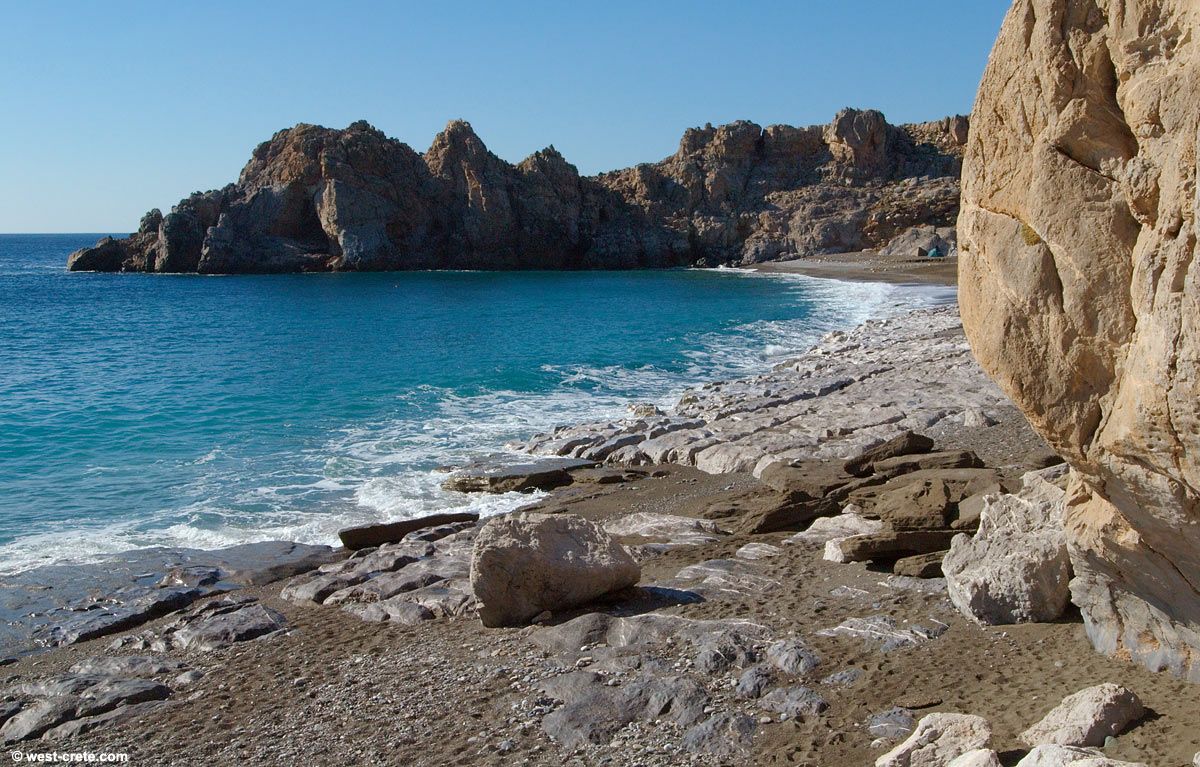 Lentas, one of Crete's traditional seaside towns, is solitary, calm, and breathtakingly beautiful. This is one of the island's least commercialized settlements, located on the south coast on a magnificent pebbly beach where, on any given day, a wandering hippie can be easily recognized among village fishermen. But, unfortunately, this is not the Crete that tour firms and all-inclusive resorts advertise to partygoers.
Lentas is the kind of area where a reclusive billionaire would retire or a naturist couple would come to camp and stay for the rest of their lives. I know the image above makes you daydream.
Lentas sounds like the lapping of waves on the shore while being nearly 30 kilometers from anything more modern. It has the scent of flowers carried by a soft breeze from North Africa. And the few dwellings among the few tavernas, next to a few family-owned hotels, indicate that time travel is conceivable. But, on the other hand, there's no indication that this tiny sliver of a town was once a vital Gortys harbor (Levin).
According to legend, the colossal lion-shaped rock to the west of the town was Queen Cleopatra's consort, waiting for her return. Yes, this is a peaceful, mysterious, and breathtakingly beautiful spot. So I looked for an Instagram post that encapsulated what this small, rural village is all about, and the one below came close.
If you want to open your door to the Libyan Sea, Villa Nostalgia is an excellent place to stay. Panorama Lentas is another option if you wish to return to a more traditional Greek vacation with your family. You should pay a visit to the Asklepios (Greek A) temple at Lentas, where affluent Romans previously sought remedies for their ailments.
Even now, science demonstrates that the spring in the village's east end is beneficial for stomach, blood, and bleeding disorders. Of course, this small and serene holiday destination is close to many natural and historic sites.
Tsoutsouros

Tsoutsouras is a place precious to us for many reasons, including that it is virtually unaffected by tourism. The historic port city of Inatos was once another distant settlement on the Libyan Sea. The incredible Cave of Eileithyia, where the goddess of childbirth was adored in Minoan times, is located in this well-known site. The rural terrain surrounding this gorgeous village is a place of myth and folklore I have discussed many times here on Argophilia.
Toustsouras, located 63 kilometers south of Heraklion at the mouth of the majestic Mindris Gorge, is both epic and humble. For some, the road to the beach village is intimidating, stunning, and terrifying. However, once you arrive in the town, you can overcome a sense of tranquility and well-being. In other words, the place's enchantment surrounds you in its sheer simplicity. And, after a swim in the healing waters supplied by a sacred underground river, the high concentrations of salt and iodine will work to treat your orthopedic problems, just as they have for ages. At least, that's what I'm hoping for.
While most tourists to Tsoutsouras are astonished by the peaceful atmosphere, the tales and legends here tempt my mind with visions of ethereal enchantment. For example, two parallel mountains west of Tsoutsouras are known as Zeus and Hera by locals because they resemble two reclining corpses. According to legend, king Asterion raised the sons of Zeus, Minos, Rhadamanthus, and Sarpedon, in these mountains. They later ruled at the palaces of Knossos, Phaistos, and Malia.
I could go on and on about neighboring ruins, sacred shrines, and even natural trails and roads that lead to hidden treasures, but the point is that this is an excellent spot to disappear, away from the madness and the blinding glare of the here and now. The Hotel Triton in Tsoutsouras is one of the nicest on the island, while Elouthia Residence, a lovely home with unearthly views of the area, is a little distance up the beach.
Sougia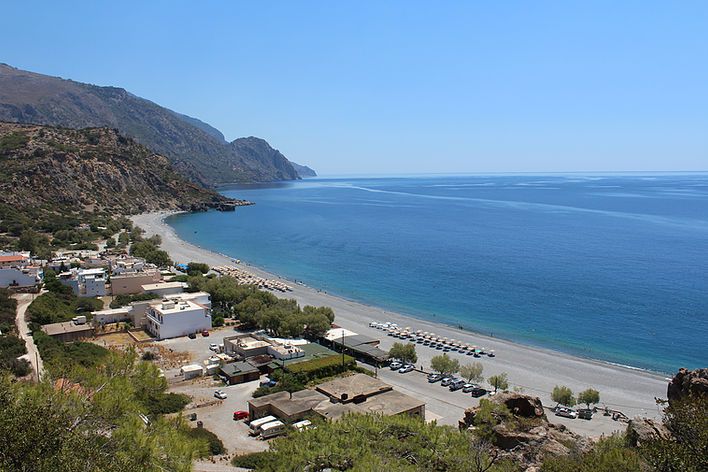 I've written about this tiny beach community numerous times, just like Tsoutsouras. In 2014, my best buddy and I got lost in the White Mountains of Chania Prefecture and discovered the secluded town. The name "sleepy" accurately describes this pleasant town at the mouth of the picturesque Agia Irini Gorge.
Sougia, another of Crete's famed "hippie hangouts" from the 1970s, presently organizes a few fantastic music events but is primarily reserved for locals. Someone who is searching for you and finds you here is dedicated.
Sougia, which means "place of the pigs," was named after the pigs fed acorns from the great trees in the gorges in ancient times. Visitors can now see the remnants of the Doric town of Elyros, whose seaport was ancient Sougia. There are also plenty of good tavernas, excellent traditional lodgings, and tiny food and gift shops to meet your needs.
Sougia is an ideal basecamp for travelers who want to take the daily boats from Sougia to other distant Crete attractions along the south coast, such as Chora Sfakion, Paleochora, Agia Roumeli, Gavdos Island, and Loutro.
Visit the ancient city of Lissos, which is located in the same-named canyon just outside of town. The famous cave of Polyphemus is also nearby for Odyssey lovers.
Kritsa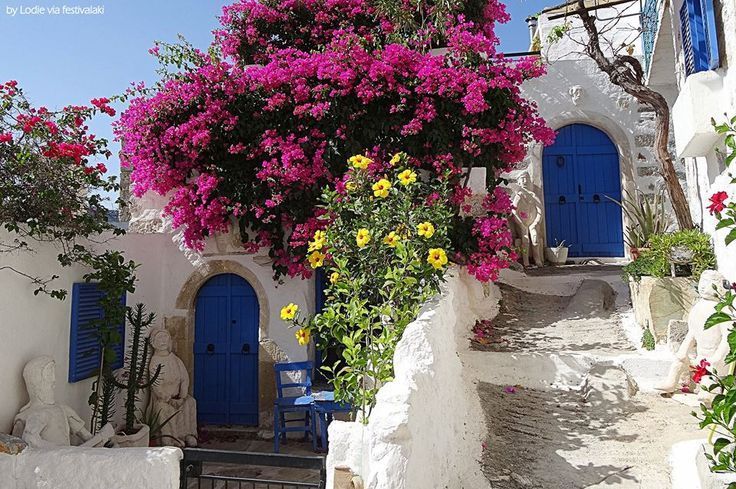 If you ask ten thousand tour guides where the most picturesque and idyllic Cretan village is, none of them will say Kritsa. This is both a blessing and a curse. I imagine that if more people are aware of this magnificent Lassithi Prefecture site, its untouched beauty will no longer be so unspoiled. I recall the first time I heard of the location in the hills above Agios Nikolaos. When we initially came to the island, I was looking for a place to buy. I'll never forget a local real estate agent telling me, "All the adjacent villages are gorgeous, but none more so than Kritsa." She wasn't incorrect, as you can see from the Instagram posts above and below.
Kritsa, one of Crete's oldest towns, is surrounded by olive orchards and sits at an altitude of 375 meters, facing the Sea. The ruins of the ancient Greek city Lato, one of Crete's most powerful Dorian towns, may be found just north of the settlement. The settlement of Kastellos, to the south, dates from the 12th–13th centuries B.C. (Late Minoan IIIC). The community is now known for its weaving and the surrounding Kritsa Gorge. The Katharo Plateau, located up a mountain road from this fantastic town, is a destination few people have ever visited.
The small alleyways and streets lined with classic Cretan architecture, quaint stores, and traditional tavernas entice most visitors to Kritsa. Still, few realize they should park their automobiles at the bottom of the town. The mountainous village of Kritsa was not designed with cars in mind, and if you are not prepared before visiting, it will be a long walk. Consider this: if you're a Sicilian mafia boss expecting heavyset linguini-loving hitmen to arrive shortly, they're unlikely to find you here.
The Agyro Bed & Breakfast, Christina's House, and a few more on Airbnb, as well as a slew of other options down the mountain towards Agios Nikolaos, are all recommended places to stay in Kritsa.
Xerokampos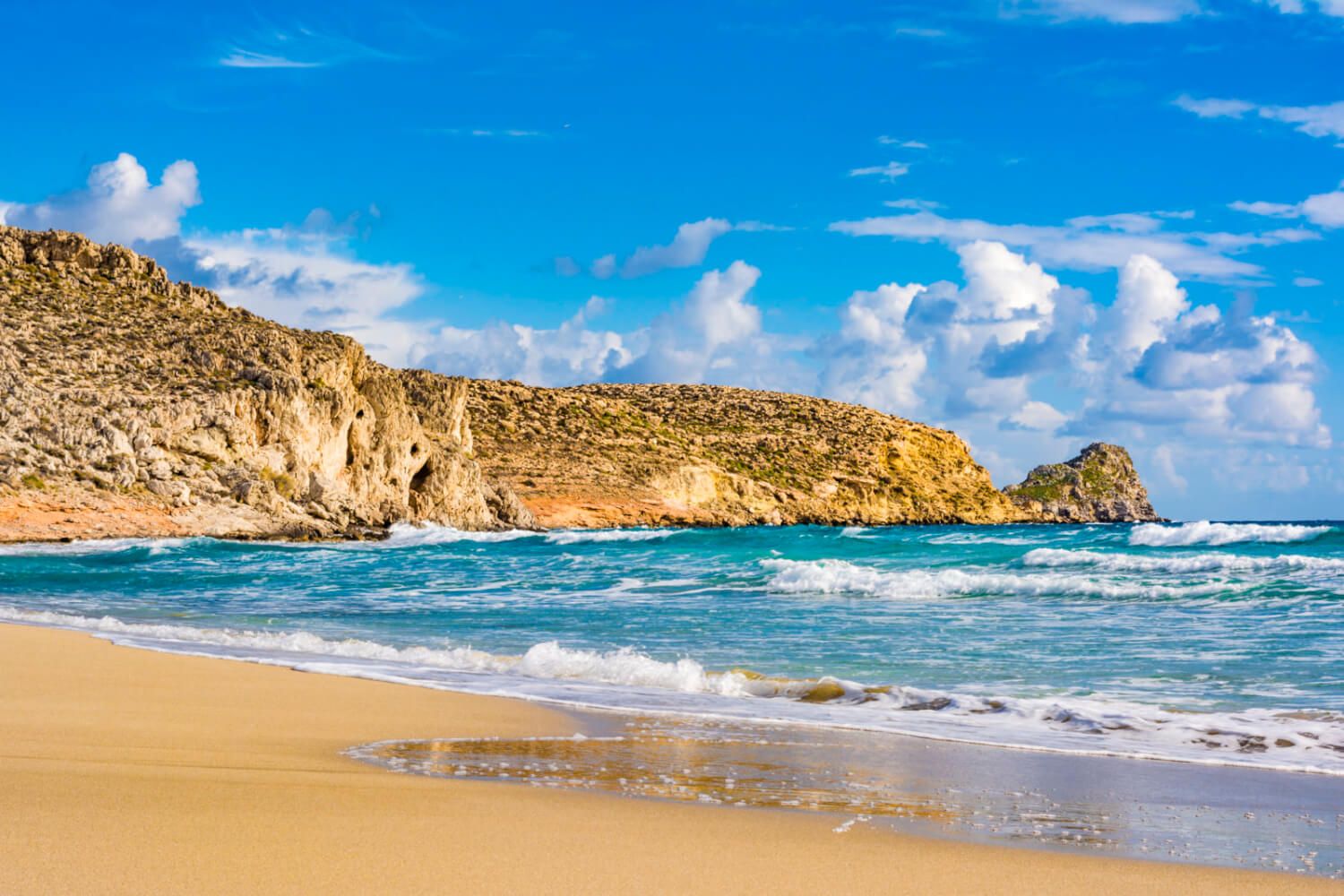 If you're anything like me, you occasionally want to be alone. You yearn for a setting, a scene, an encounter that will allow your mind to drift away. There are plenty of similar sites on Crete's east coast. Xerokampos, one of the island's less-visited sections, is a superb illustration of solitude and quiet in a gorgeous setting. You can hear God stretching as he awakens as you watch the sunrise here. You can see why the ancients worshiped the almighty and used solar symbols to signify their faith.
Xerokampos is around 103 kilometers southeast of Agios Nikolaos, 47 kilometers south of Sitia, and 69 kilometers east of Ierapetra. It offers several nice accommodations, as well as mini-stores and tavernas. A pharmacy, butcher, and petrol station may all be found in adjacent Zakros. The Zakros Minoan Palace is also a must-see. The Gorge of Lamnoni is another must-see, as is the picturesque church of Saint Nicholas with its blue dome and the ruins of the Hellenistic city of Ambelos, both of which are not far from the hamlet. Also, the Beach at Argilos is known for its medicinal clay, so you might want to consider taking a mud bath while you're there.
In more ways than one, Xerokampos is a planet apart. The peaceful vacation It's primarily a farming community, and it's so remote that your cell phone might not even operate here. On the other hand, the unearthly terrain, vast cave-filled mountainsides, and infinite coves and bays along Crete's far easterly coast make this the ideal place for those looking to unwind genuinely.
Greece has a rich history and way of life to offer. There are unique adventures in every part of this old land. A trip to Greece is not simply a journey into the past, but also into the future. Learn about Greece's rebirth of the founding principles of democracy!