What Is The Best Time To Travel To Greece?
Short answer, February. Very few people visit Greece in February, so it's the best time to go if you want to feel as if you have the country all to yourself. The weather is still cold, but there is less rain, so you'll be able to spend more time outside.
Long answer, it all depends on what you want to experience while visiting Greece. In this article we'll cover the best times to visit Greece, focusing on a month-to-month guide as well as a location-by-location guide.
Check out our comprehensive guide on the Greece Visa application process to help make your Greek fantasy a reality.
If food and Greek cuisine is one of the reasons why you are considering a trip to Greece, read our guide on the best Greek dishes and Restaurants to help you plan your trip.
A Couple Of Quick Tips Regarding Visas To Greece
As one of the European Schengen Area countries, Greece follows the same visa policy as the other countries which signed the Schengen Agreement for passport-free travel. The criteria for a Greek visa vary based on the visitor's nationality, the purpose of the visit, and the estimated duration of stay. Tourists worldwide should familiarize themselves with Greece's tourism visa policy well in advance.
All other nations are visa-free in Greece, with the length of stay varying based on the traveler's nationality. By presenting a valid national ID card at Greek borders, Schengen citizens can stay in the country indefinitely for whatever reason.
Other visa-free travelers to Greece, such as those from the United States, Canada, Japan, and Australia, must have a valid passport valid for at least three months from the date of arrival. These citizens who do not require a visa may stay for up to 90 days without a visa.
Several types of visas are used in this situation. Whether you intend to visit, study, or work in Greece and live there permanently, you will need to apply for a new Greece Visa.
Travelling to Greece
Anyone who has dreamt about a trip to the Aegean sea, visiting ancient ruins, or traversing one of the multitudes of islands can finally do so now that Greece has opened its borders to tourists. There is a lot to discover about Greece since it is a melting pot of Mythology and ancient gods, Mediterranean scents, and fascinating islands.
From its vast coastline to its soaring mountains, Greece is a country of unparalleled beauty. However, it is only a reflection of its citizens, who will greet you with open arms and quickly treat you to a taste of legendary Greek hospitality. Greece provides you with the ideal opportunity to take a step back and disconnect from the daily grind, thanks to its calm pace of life. The pace of life in Greece is relaxed, and you get the sense that no one is in a rush to get somewhere else. A vacation here focuses on the simple pleasures of life.
When Is The Best Time To Visit Greece?
Apart from February, the best periods to visit Greece are in the spring and early summer (mid-April to mid-June) or fall (September to mid-October). During these shoulder season periods, you may expect warm weather and fewer visitors. This season allows you to enjoy the pleasures of Greece without straining your budget.
With its raised prices, swarms of tourists, and high temperatures (heat waves with temperatures surpassing 100°F/+40°C are common), summer should be avoided at those times of the year. Likewise, August is best avoided unless you're looking for a blast of heat roughly 81°F, congestion, and overbooked airlines, ferries, and hotels. Summer disadvantages loom especially big if you plan on visiting some of the more famous islands, including Mykonos and Santorini.
How To Avoid The Crowds In Greece?
The Peak Season
Summer (July-August) is the busiest season in Greece, with tourists flocking to popular places such as Santorini, Mykonos, and Rhodes. In addition, locals take their annual vacation in August, which adds to the number of visitors.
Off-Peak Season
Spring (April-June) and Autumn (September-October) are the best times to visit Greece for a relaxing vacation after the summer bustle. The days are long and the climate is pleasant. If you want to relax on the beach in the autumn, the sea is warm and welcoming.
During The Low Season
The low season in sunny Greece is winter (November to March). While the larger islands, like Crete, Rhodes, and Corfu, are open all year, the smaller islands close for the winter. If you don't mind the cold, this is a great time to visit Greece for a relaxing vacation.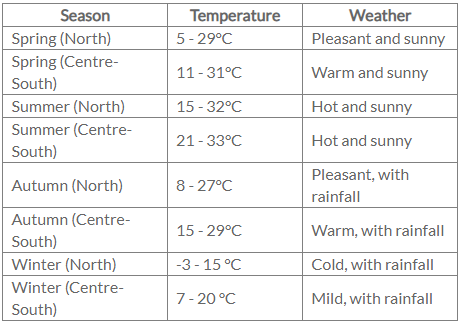 What Is The Weather Like In Greece?
The best time to visit Greece is determined by many factors other than the weather. When deciding when to go, keep in mind the type of vacation you want, as well as the crowds, festivals, events, and prices.
If you visit at the right time and you visit the right place, Greece is guaranteed to be a lovely destination all year. Unfortunately, in the country's northern regions, the winter months from December to March can be quite harsh. Temperatures can reach as high as 18 degrees Celsius (64F), which may surprise you. On the other hand, winter on the southern Greek islands, such as Crete, is often mild, sunny, and warm.
Late May to early October is the warmest time of the year on the mainland and the Greek Islands. The entire country is sunny and warm during these months, and swimming becomes easier as the water in the seas warms.
The ocean temperatures begin to rise in May, and the temperature is at its warmest from July until the beginning of September. So if you want to experience hot weather and great swimming conditions, this is the best time to visit Greece.
Mid-March to Mid-June: Spring
The best time to visit Greece is said to be in the spring. The tourists have yet to arrive, so there is a sense of tranquility and peace in this Mediterranean paradise. In addition, you may have all of Greece's greatest beaches to yourself!
Although it is still chilly on the mainland, islands such as Crete, Santorini, and Rhodes have enjoyed the sun since mid-April. After a long winter, the sea around the southern Greek Islands has finally warmed up enough to swim in.
Spring is an excellent season to visit Athens, Greece's capital. During these months, the city has suitable temperatures, but the summer heat is still present. In addition, during the spring months, the tourist hotspots are less congested.
Mid-June to Mid-September: Summer
Summer brings with it scorching temperatures and crowds of tourists. This is when Greece's weather reaches its apex, with daily temperatures reaching 90 degrees Fahrenheit (32 degrees Celsius).
The tourist goes into overdrive during the summer months, with people flocking to the Greek Islands. With so many great sites to see in Greece, we can't blame you for wanting to visit!
Mid-September to Mid-December: Autumn
The leaves turn red, brown, and golden, totally altering the landscape. At this time of year, leave the Greek Islands and travel to the mainland of Greece for a different perspective of the country.
Autumn is the beginning of the harvest season. The vineyards are in full swing, ready to harvest grapes. This is also an excellent time to get work as a picker because the famed Greek olives are harvested at this time. So if you're a traveler seeking some additional cash, search for work in the villages and local farms.
Mid-December to Mid-March: Winter
The weather in Greece changes dramatically during the winter months, particularly in the country's mountainous regions. Ice and snow have engulfed the high northern regions, utterly changing the landscape.
During the winter, tourism drops off. Millions of tourists have left, leaving only the residents behind. Therefore, this is the greatest time to visit Greece and see the country through the eyes of the locals.
If you are considering a trip to the Greek Islands around this time of year, you should reconsider. During the winter, most ferries stop running, and many taverns, restaurants, and hotels close as well.
Weather In Greece By Destination
Weather in Athens
Athens, Greece's capital, enjoys a Mediterranean climate with moderate rainy winters and bright, sunny summers. The cold air from the Balkan Peninsula can cause cold and rain for several days and snow in the winter (December to mid-March). Summer temperatures can reach 35°C, and even 40°C on rare occasions.
Average monthly temperature and rainfall in Athens:

Weather in Santorini
Santorini is the largest and southernmost island in the Cyclades (an Aegean Sea island group), and it has a Mediterranean climate. From October to March, you can expect rain. Santorini is sunny and warm from June to mid-September (summer), although the wind keeps the heat at bay. In the summer, it nearly never rains. Autumn is sunny and mild at first, but the first rains appear gradually and become more frequent as the season progresses. Winter days will be frigid, with temperatures averaging 10°C.
Santorini's average monthly temperature and rainfall:

Weather in Heraklion
Heraklion is the capital of Crete, Greece's largest island. Snow can be seen on the island's mountains throughout the winter. It can also be seen in the spring if you're lucky. As a result, Crete is not as exposed to cold weather as the other Greek islands are. Temperatures can reach 35°C on the island's shore and 40°C in the interior during heat waves.
Heraklion's average monthly temperature and rainfall:

Traveling in Greece: A Month-by-Month Guide
January
Whether on the mainland or the Greek islands, January is the coldest month of the year, with gloomy, rainy days and plenty of rain.
Despite the less-than-ideal weather, January is an excellent month for sightseeing, particularly in and around Athens. You'll have the ancient ruins to yourself, free from the hoards of tourists who flock to the area when the weather is nice. Just make sure you're well-equipped for your trip.
Ephiphany, where a cross is thrown into a body of water and swimmers are expected to retrieve it, and Patras Carnival, the most spectacular festival of the year, are both held in January. People take to the streets during this time to march around, dance to loud music, and socialize with those who have traveled far and wide to celebrate the New Year.
The day of Christ's baptism by St John is commemorated on January 6 across Greece.
February
If you visit Greece in February, consider Santorini, where you can enjoy some winter sun without the tourists, or Athens for some historical touring. But, again, prices are substantially lower than they are during peak season, no matter where you go.
If you enjoy a good party and can travel around Carnival, which begins three weeks before Lent, it's certainly worth it. February is a lot of fun in Greece because it is Carnival month, which is enjoyed all around the country. However, the finest parties can be seen in Athens and Crete, where citizens flock to the streets to eat, drink, dance, and march.
Clean Monday, a public holiday in which people spend time outside flying kites, marks the end of Carnival.
March
While it's still cold, the weather in Greece begins to improve in March, particularly as you travel further south. On the islands, temperatures can reach 70°F, warm enough for a day at the beach and comfortable exploration.
If you're visiting Greece in March, it's a terrific time to tour the mainland's ancient attractions. Visit Athens and Delphi without the hassle of long lines or crowds of visitors trying to take photos.
The most important event in March is Greece's Independence Day, which is marked by various celebrations across the country. Finally, people celebrate Greece on March 25th, with parades, drinking, and a lot of fun!
April
With the aroma of orange blossoms in the air, this is a fantastic month to visit. Easter weekend is a popular vacation spot for Greeks; book your hotel well in advance. For the week, some businesses close their doors.
Orthodox Easter is the main event. On Good Friday, communities commemorate Jesus' crucifixion with candlelight processions, and on Easter Saturday, communities celebrate his resurrection at midnight.
May
If you want to go hiking, May is an excellent season to do so in Greece. The weather is pleasant, and wildflowers add a burst of color to the scene. In addition, Greek kitchens are brimming with fresh produce.
The first day of the month is commemorated by a large migration from cities for country picnics. In addition, wildflowers are collected and used to make wreaths that are used to beautify homes. Finally, it's a day dedicated to the rights of workers.
June
June is hopping on the mainland for festival-goers searching for contemporary artists rather than typical village celebrations. Dance, music, and theater by top national and international talent fill atmospheric stages.
The Feast of St. John the Baptist is held on June 24. As Greeks light up the wreaths that they crafted on May Day. The country is ablaze with bonfires.
July
As the temps rise and the nightlife heats up, visitors throng to the islands' beaches. Athens' nightlife attracts travelers with outdoor movies and massive beach clubs.
Key Event: Rockwave Festival, which features prominent worldwide performers (with a focus on metal most years) and takes place over multiple weekends at Terra Vibe, a parkland site in Malakasa on the outskirts of Athens.
August
Respect the August heat by doing a little less and relaxing a little more. If you're traveling in the middle of the month, book early because Greeks flock to the highways and the sea in large numbers.
The August Moon Festival is a major event. Historical locations in Athens open for free moonlit performances under the brightest moon of the year.
September
The sun is shining brightly, but it is becoming less dazzling, especially on the islands. Midway through the month, the crowds begin to dwindle, and some boat timetables start to decline. However, fresh figs and grapes are abundant and in season.
Gennisis Tis Panagias is the main event. On September 8, the Virgin Mary's birthday is commemorated with religious services and feasting across the country.
October
While most of the islands begin to quiet down in October, the bright weather generally persists. Life in the city goes on as usual.
Ohi Day is a major event. When Mussolini asked for unrestricted passage through Greece for his soldiers on October 28, 1940, Prime Minister Metaxas famously responded with a simple "no" (ohi in Greek). The occasion has become a major national holiday with remembering services, parades, feasting, and dancing.
November
Temperatures decline in November as autumn approaches. In locations like Crete, olive harvesting is in full gear, and feta manufacturing is ramping up, offering you the chance to sample some very fresh cheese.
Thessaloniki International Film Festival is a major event. Around 150 films and concerts, exhibitions, discussions, and theatrical performances are squeezed into 11 days of screenings around the city in mid-November.
December
Although the islands are calm, Athens and Thessaloniki are nevertheless bustling. Expect icy seas and cooler temps as high as 18 degrees Celsius (64F). With fewer tourists, you're more likely to meet locals and avoid having to fight crowds at the key attractions.
Christmas is a major event. On December 25, this holiday commemorates the end of a 40-day fast.