A Quick Guide To The Greece National Visa (Type-D Visa)
A national visa for Greece is perfect if you want to stay in Greece for longer than 90 days. This visa is also sometimes called a long-stay visa, although officially referred to as the Greece Type D visa, and it allows travelers to stay in Greece for up to 1 year.
This visa serves as the gateway to many other travel documents and it is most frequently used to obtain the much-coveted residence permit, the Greece Golden Visa - arguably the most efficient way of making Greece your country of residence. The Type D Greece visa is perfect for the Golden Visa's lengthy application processes that require applicants to travel in and out of Greece over a period much longer than 90 days.
In this guide we'll look at:
What exactly is a Greece Type-D Visa?
What are the Main Reasons For Applying For A Greece Type-D Visa?
How To Apply For A Greece Type-D Visa?
What Exactly Is A Type-D Visa For Greece?
Greece does not issue separate visas for specific purposes. There's no Greece Study Visa or Greece Reunification Visa. Instead, Greece issues National Visas (Type-D Visas) with a specific reason or motivation. This means instead of receiving a Study Visa, you'll receive a Type-D visa that was issued to allow you to study. The Type D visa also allows you to stay in Greece for longer than the 90 day period which is standard for the Greece Schengen Visa
Pro Tip: To ensure that you are applying for the correct visa, you can read our comprehensive guide on Greece Visas.
The Type-D visa for Greece is also referred to as a National Visa to Greece, and a Long-Stay-Visa to Greece. All of these names refer to the same document, officially called a Type-D visa for Greece.
A type-D visa for Greece allows the holder to stay in Greece for a period exceeding 90 days, but no longer than 365 days. However, this duration also depends on the reason for applying. This means that a Type-D visa issued for study purposes may be shorter than a Type-D visa that has been issued for investment purposes.
A Type-D visa allows the holder to exit and enter Greece as many times as they want, during the permitted time. As an added bonus the holder of a Type-D Greece Visa may travel to other Schengen Area Countries for one quarter per semester.
How to Get a Greece Visa on Atlys
You can now save over 15 hours, and use Atlys to apply for a visa to Greece in under 5 minutes on Atlys. Download the Atlys app, put in your travel details, and let Atlys handle all the paperwork for you.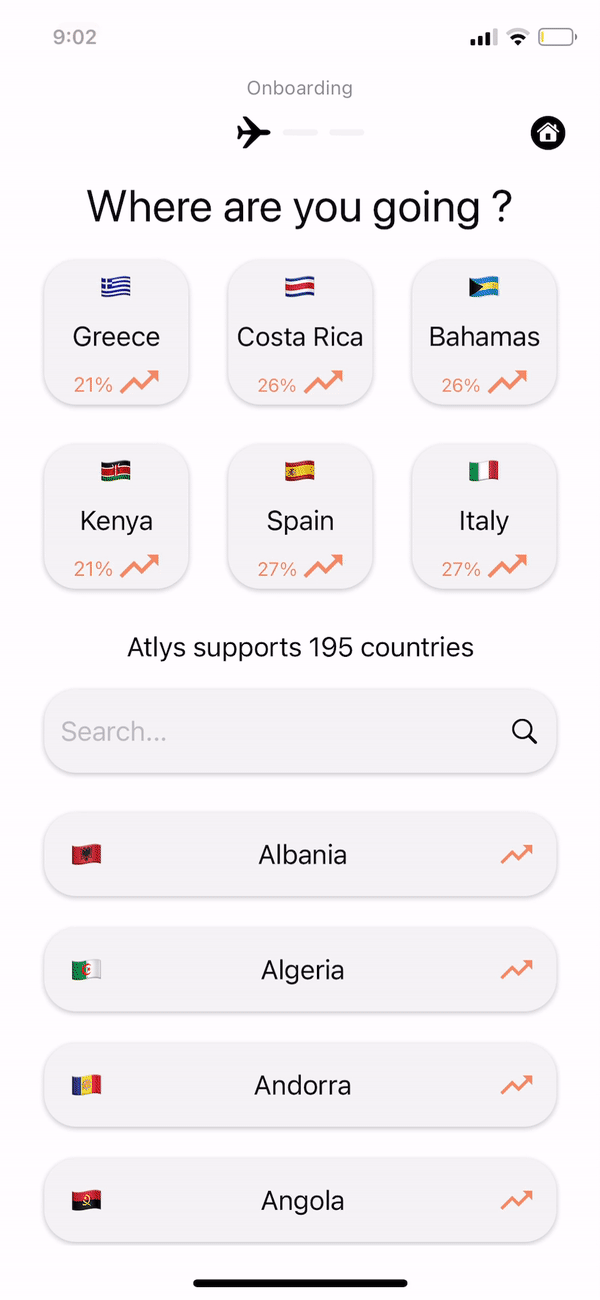 What are the Main Reasons For Applying For A Greece Type-D Visa?
Officially there are 6 reasons recognized as valid when applying for a Greece National Visa:
Reunification Of Family Members
This option allows a person to return to their family currently living in Greece. So let's say you are a second-generation Greek American, and you want to return to Greece to live and take care of your Pappous and Giagia (grandpa and grandma) then this is the option you should choose.
Employment
If you have obtained the valid documentation that allows you to work in Greece then you can apply for a Type-D visa under the "residence for employment" option.
Studies/Research/Training
If you need to travel to Greece to complete your studies, or if you are heading to Greece to perform research then this option will be best suited for you. This option is also valid for persons traveling to Greece to complete training.
As Company Staff
If you are traveling to Greece to work for the same company that you are working for, then this option will be for you. So let's say you are an accountant in Boston, but your company has just opened up a new branch in Athens, and they want you to go there and apply your numerical skills. This is the option on which you'll receive your National Visa to Greece.
Independent Financial Activity Or Investment
If you're considering the Greece Golden Visa this would be the option to choose. The mentioned guide will also explain why the Greece Golden Visa is one of the best choices for permanent residence in the European Union. You can complete the investment-for-residence visa on a Schengen visa, but the likelihood of the processing time is longer than the 90 days allowed by a Schengen Visa is just too high to be practical. Plus the Greece National Visa allows for unlimited movement to and from Greece during the allotted time, so overall it's just smarter.
Accreditation
Much like the study motivation, accreditation allows you to travel to Greece to complete a short course or program and achieve accreditation.
How To Apply For A Greece National Visa?
Here we'll take you through the steps of applying for a Type-D visa to Greece.
Step 1: Fill Out The National Visa Type-D Application Form
You will find the form here. At Number 24 - Main Purpose Of The Journey choose the motivation that best fits your situation.

From Number 27 to Number 36 (Section A) the visa application form is only pertinent to travelers who seek to be reunited with their family members in Greece. Fill this in if at Number 24 (Main purpose of the journey) you indicated reunification.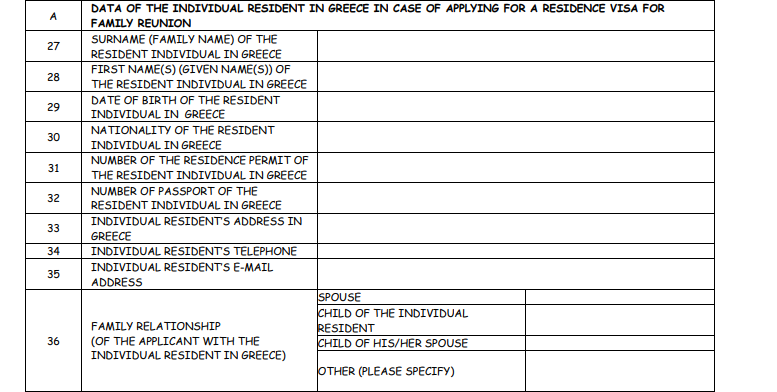 Likewise, from Number 37 to Number 45 (Section B) is only for those applicants who indicated employment as the main purpose of the journey.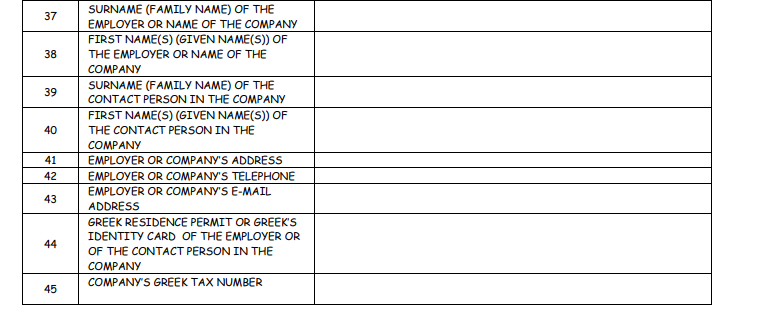 Finally, from Number 46 to Number 51 (Section C) it deals with applicants who are traveling to Greece to further their studies, training or perform research. Complete this section if this is the main reason for your journey.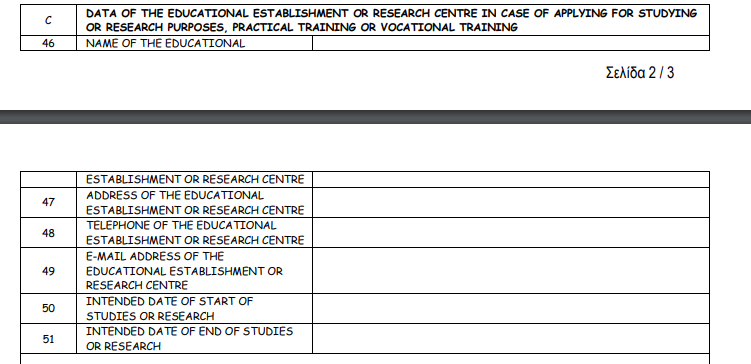 Print it out, and complete it as sincerely as possible. Then date and sign it. Attach a photo by pasting it on the area indicated. Do not staple the photo. For the precise requirements of the photos you can check out our guide on Greece Visas.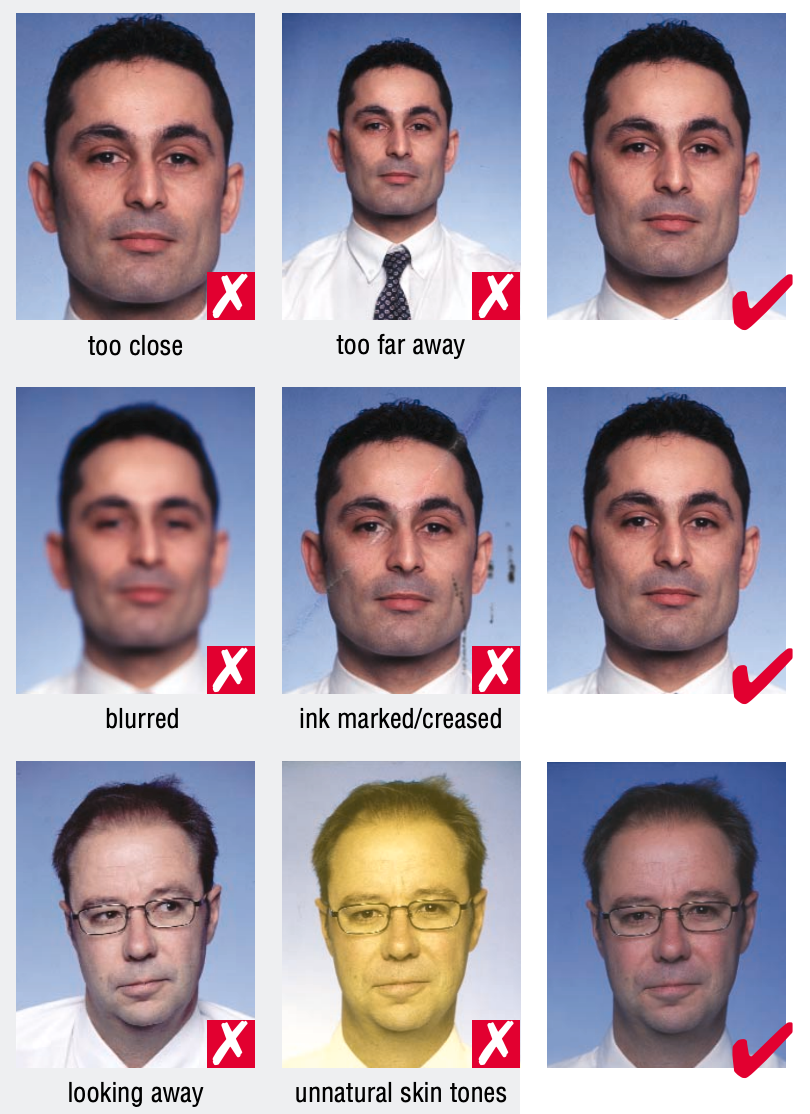 Step 2: Schedule A Visa Appointment
You can only submit a visa application to a Greek embassy or consulate if you have made a prior appointment. These institutions do not accept walk-in submissions. It is advisable that you try and make an appointment at the Greek consulate closest to you.
Here is a list of The Consular Services of Greece in the United States:
How To Make A Visa Application Appointment When There Are No Appointments Available
In theory, you simply need to call the relevant consulate and schedule an appointment. However, due to the constraints of COVID19, there is a massive backlog of visa applications and the waiting list for new applications can be anywhere between 3-6 months.
Unfortunately, there's no workaround or smart solution, as is the case with the Greece Schengen Visa, and only perseverance will see you through. We can only advise you to email the consulate every day, and also phone them at 2:30 pm. If it is at all possible to travel to the Hellenic Republic of Greece on a Schengen Visa, we recommend you do so. For more information on Schengen Visas, you can read this guide. An added bonus of the Schengen visa is that it allows you to travel through other Schengen countries from the member state you received your travel document from.
After you've made your appointment it's time to move on to the next step…
Step 3: Gather the relevant Documents.
Once you've arranged your appointment it's time to start gathering your required documents. We'll now look at the general documents that are required for all the Type-D motivations. You'll find more detail on the motivation specific documents in our comprehensive guide to Greece Visas.
Documents Required
A Valid Passport- 2 Passport Photos, as per specifications. The passport needs to feature the relevant residence permits which will allow you entry back into the US. It must also feature at least three blank pages

Health Insurance & A medical Certificate

Travel Insurance that covers the traveler for a total of EU 30,000.00

A return flight ticket- Evidence of sufficient financial means- Proof of accommodation
Take all of these documents, with the motivation-specific supporting documents, and the completed application form and hand them all over when you…
Step 4: Attend The Interview At The Consulate
The appointment you made in step 2 now allows you to attend an interview and submit the documents gathered directly to the consular official. During the interview, answer the question as honestly as possible, and remember to corroborate the statements that you made in your application.
Once the interview is over, you'll submit your biometric data and pay the visa fees. All that's left now is to wait for your visa application to be processed.
Most of the time a denied visa application is due to not meeting all the visa requirements, but in some cases, it could also be due to a serious issue like a criminal record.