Tanzania Visa From The UK: Online Application Process 2023
Last Updated : 2 Oct 2023
Atlys in the news
30-Second Summary
UK citizens need a visa to enter Tanzania and can apply for the Tanzania e-visa. You can use the e visa to travel for tourism and sightseeing.
The Tanzania e-visa is a tourist visa that you can get online.

You can apply for this visa online through the Tanzania e visa website.

Once your visa is approved, you will get a digital copy that you can use to enter the country.
Atlys provides this visa.
Important Information
Tanzania
— Is A Visa Required For Tanzania?
Yes, UK citizens require a visa for Tanzania.
— Tanzania Visa Fees
The single entry Tanzania Evisa costs USD 50.
— Visa Processing Time
The processing time for a Tanzania eVisa is approximately 10 working days.
— Length Of Stay
The Tanzania visa UK allows a stay of 30 days.
Are you traveling from the UK to Tanzania? Well, then, you need a Tanzania visa.
This post has everything UK passport holders need for a successful Tanzania visa application. I'll discuss the types of visas, costs, processing times, documents required, the online application process, and loads more.
Do UK Passport Holders Need A Visa For Tanzania?
Yes, you do. United Kingdom citizens need to apply for a Tanzania visa online before traveling.
The eVisa system allows UK citizens to apply and obtain their visa for Tanzania online, without the need to visit an embassy or consulate.
This provides a convenient alternative to obtaining a visa on arrival or through the traditional embassy route.
Who Is Eligible For The Evisa For Tanzania?
These countries are eligible to apply for the e-Visa:
Albania, Algeria, American Samoa, Andorra, Angola, Argentina, Armenia, Aruba, Australia, Austria, Bahrain, Belarus, Belgium, Benin, Bhutan, Bolivia, Bosnia and Herzegovina, Brazil, Bulgaria, Burkina Faso, Burundi, Cambodia, Cameroon, Canada, Cape Verde, Central African Republic, Chile, China, Colombia, Comoros, Congo, Costa Rica, Ivory Coast, Croatia, Cuba, Curacao, the Czech Republic, Democratic Republic of Congo, Denmark, Dominican Republic, Ecuador, Egypt, El Salvador, Estonia, Fiji, Finland, France, French Polynesia, Gabon, Georgia, Germany, Greece, Greenland, Guadeloupe, Guam, Guatemala, Guinea, Guinea-Bissau, Haiti, Honduras, Hungary, Iceland, India, Indonesia, Iran, Iraq, Ireland, Israel, and Italy, Japan, Jordan, Kuwait, Laos, Latvia, Liberia, Libya, Liechtenstein, Lithuania, Luxembourg, Macedonia, Maldives, Marshall Islands, Martinique, Mexico, Micronesia, Moldova, Monaco, Mongolia, Montenegro, Morocco, Myanmar, Nepal, Netherlands, New Caledonia, New Zealand, Nicaragua, Nigeria, Niue, North Korea, Norway, Oman, Pakistan, Palau, Panama, Paraguay, Peru, Philippines, Pitcairn Islands, Poland, Portugal, Puerto Rico, Qatar, Reunion, Russia, SSaint Barthelemy, Saint Martin, Saint Pierre and Miquelon, San Marino, Sao Tome and Principe, Saudi Arabia, Serbia, Slovakia, Slovenia, South Korea, South Sudan, Spain, Sudan, Suriname, Sweden, Switzerland, Syria, Taiwan, Thailand, Timor-Leste, Togo, Tunisia, Turkey, Ukraine, United Arab Emirates, United Kingdom, United States of America, Uruguay, U.S. Virgin Islands, Venezuela, Vietnam, Wallis and Futuna, and Yemen.
Is There A Tanzania Visa On Arrival For UK Citizens?
Yes, there is a Tanzania visa on arrival.
How To Apply For A Tanzania Visa Online Through Atlys
Atlys collaborates with associates to streamline the Tanzania visa application procedure, ensuring you face no hassles and sparing you from gathering a mountain of paperwork.
Required Documentation with Atlys Application
When applying for your Tanzania eVisa via Atlys, please ensure you have the following documents:
A digital scan of your passport's information page: Ensure your passport has a minimum validity of six months from your intended travel date.

A recent passport-sized photograph: The photo should be taken within the last 6 months and set against a white backdrop.
Applying Via Atlys: A Step-by-Step Guide
Navigating the Atlys application is straightforward and user-friendly. Here's a detailed walkthrough to assist you:
1

Install the Atlys Application: Start by downloading the Atlys app from your preferred app store. Register by using your email address.

2

Find Your Destination: Key in your desired travel destination in the app's search bar.

3

Fill Out the Application Form: Ensure you provide all necessary details, such as travel dates, full name, passport number, and its expiration date. Don't forget to attach the required documents.

4

Process the Visa Payment: Utilize the integrated online payment system to cover the visa charges.

5

Finalize and Submit: Once the payment is settled, submit your application. Your visa will then undergo processing.
How Do I Monitor My Tanzania Visa Status Via Atlys?
Tracking your Tanzania eVisa status on Atlys is simpler than the initial application process. It's essential to regularly monitor your status to ensure timely visa receipt.
Follow these steps:
2

Select the "Profile" option.

3

Navigate to "My Documents," located at the screen's base.

4

Here, you'll be able to view the current status of your Tanzania e-visa.
Tanzania Visa Requirements For UK Nationals On Government Portal
The Tanzania visa requirements play an important role in the visa application process. Therefore, you must ensure you meet all of these visa requirements and gather all the documents required.
What Are The Required Documents For The Tanzania Visa?
The documents required are an important part of your visa application. If you forget one of these documents, it could prolong the processing time, or in extreme cases, officials can deny your visa.
You'll need the following documents:
What Are The Tanzania Visa Photo Requirements?
You need to make sure that your passport photo meets the requirements. The photo requirements are as follows:
The size of a Tanzania visa photo must be 2"x2" or the Passport size is 45x40 mm.

The photo must be in color.

The photo must have a white background.

You can only wear daily reading glasses, no sunglasses, and there should be no glare on the photos.

Headgear is allowed only for religious purposes.
If you apply online, you must ensure the photo is in digital format.
What Are The Passport Requirements For The Tanzania Visa?
Just like with the passport photo, your passport must also meet certain requirements.
Your passport must have six months' validity beyond your intended date of travel.

Your passport should also have at least two blank pages.
What Are The Requirements For Minors?
You still need to provide all the required documents mentioned in this post. However, visa applications for minors under 18 years should be accompanied by a notarized letter, jointly signed by parents or legal guardians, approving the minor to travel.
Visa Application For A Tanzania Visa Through Government Channel
If you want to apply for your Tanzanian Visa online, you can follow this step-by-step guide:
Step 1: Go to the e Visa Tanzania website
The first thing you need to do is to go to the website.
Scroll down to the bottom of the page. You'll see a green block that says "Start New Application" click on it. This will take you to another page where you need to provide your "Basic Information" like your email address, passport number, passport issue country, and a security question.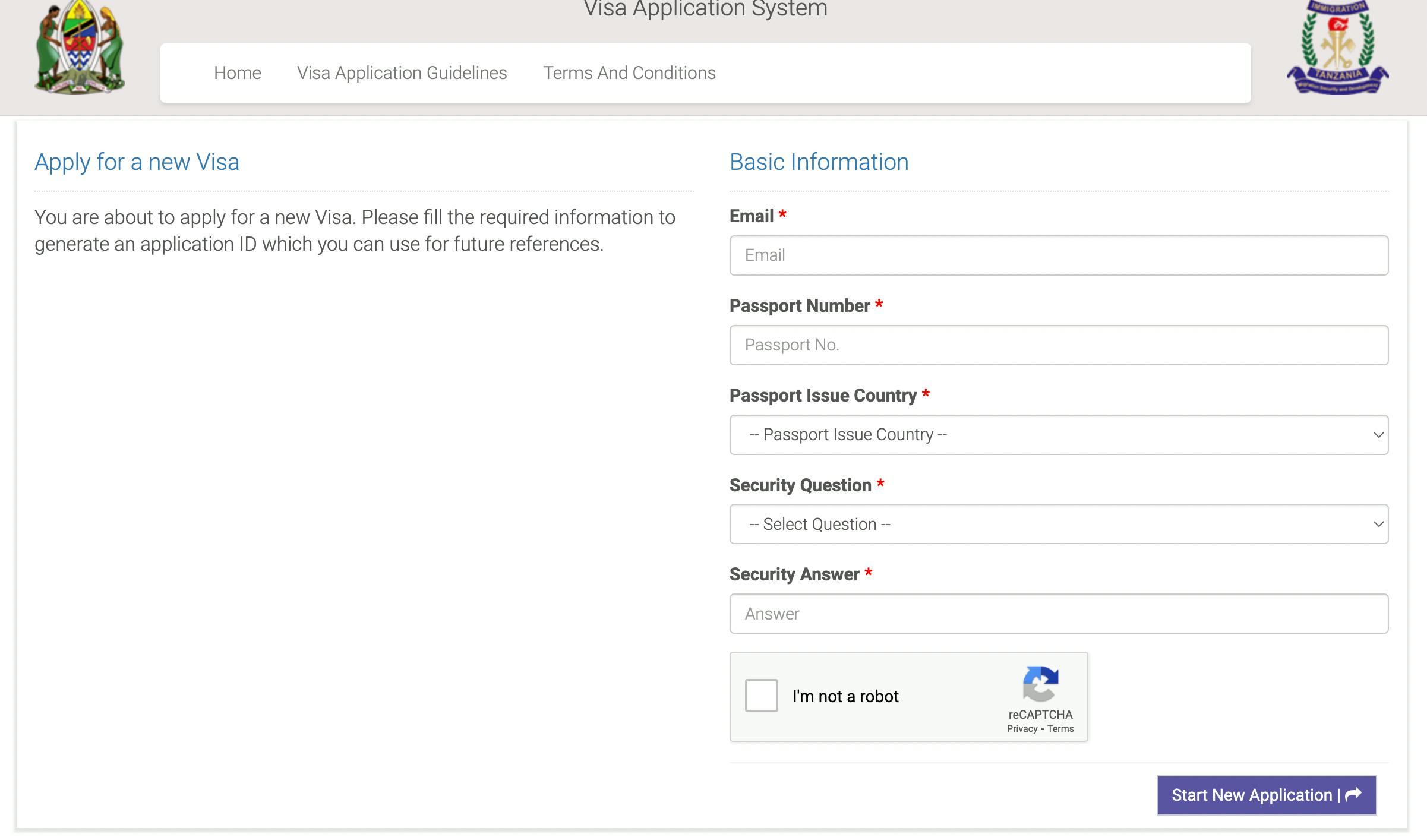 After you complete everything, click "Start New Application."
Step 2: Copy Your Application ID
On the next page, you'll find your application information and ID. Make sure you copy your application ID and also take a screenshot.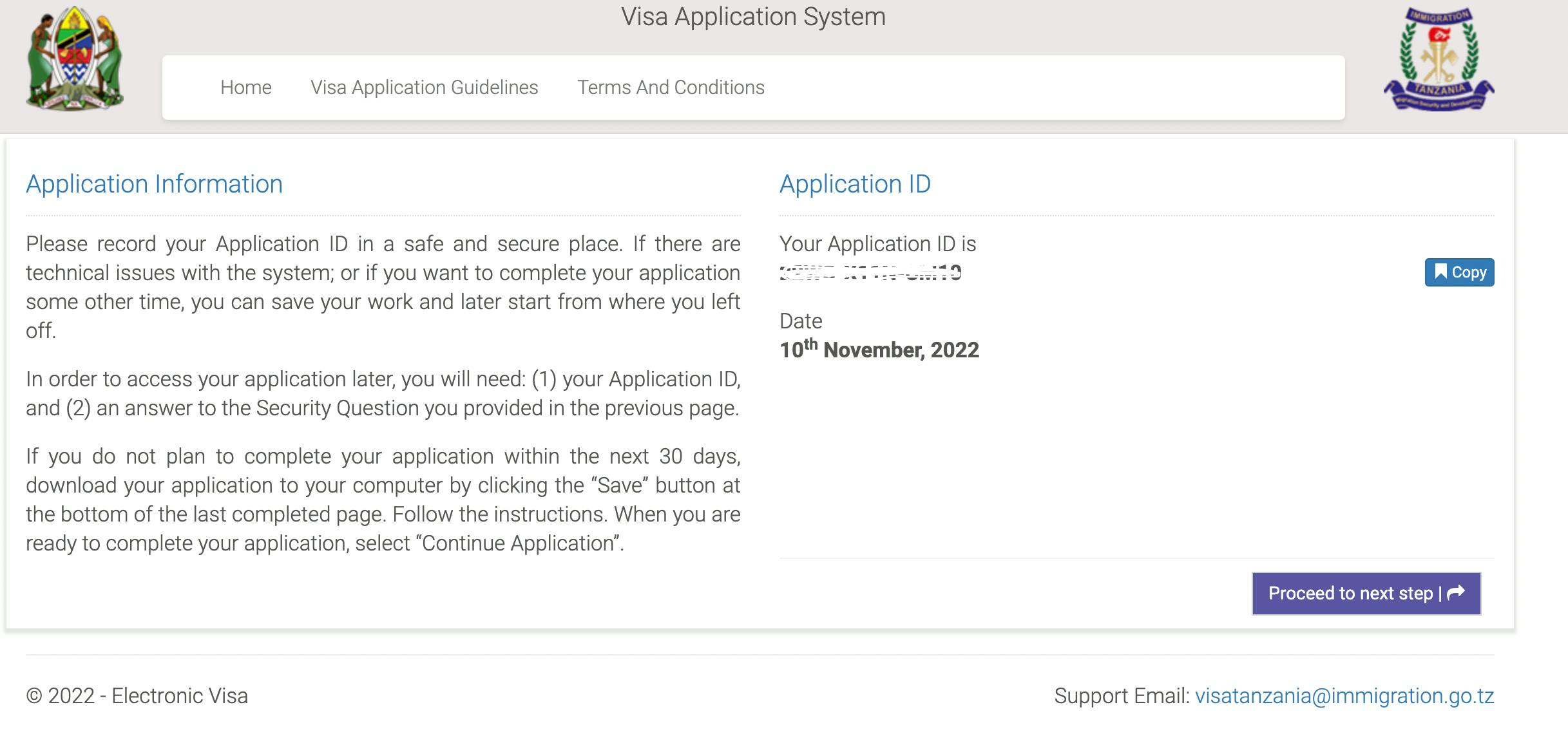 You'll need your application ID to complete the application if you choose to complete it the next day or at a later time. You might also need it to check your visa status.
Step 3: Complete The Online Application Form
The online application form is divided into 5 sections: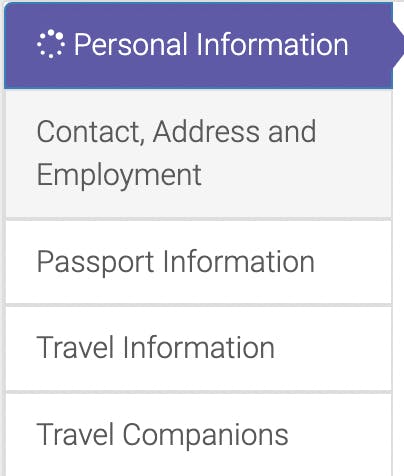 On the first page of the online application form, you need to provide personal details like your name and surname, gender, marital status, date of birth, and nationality.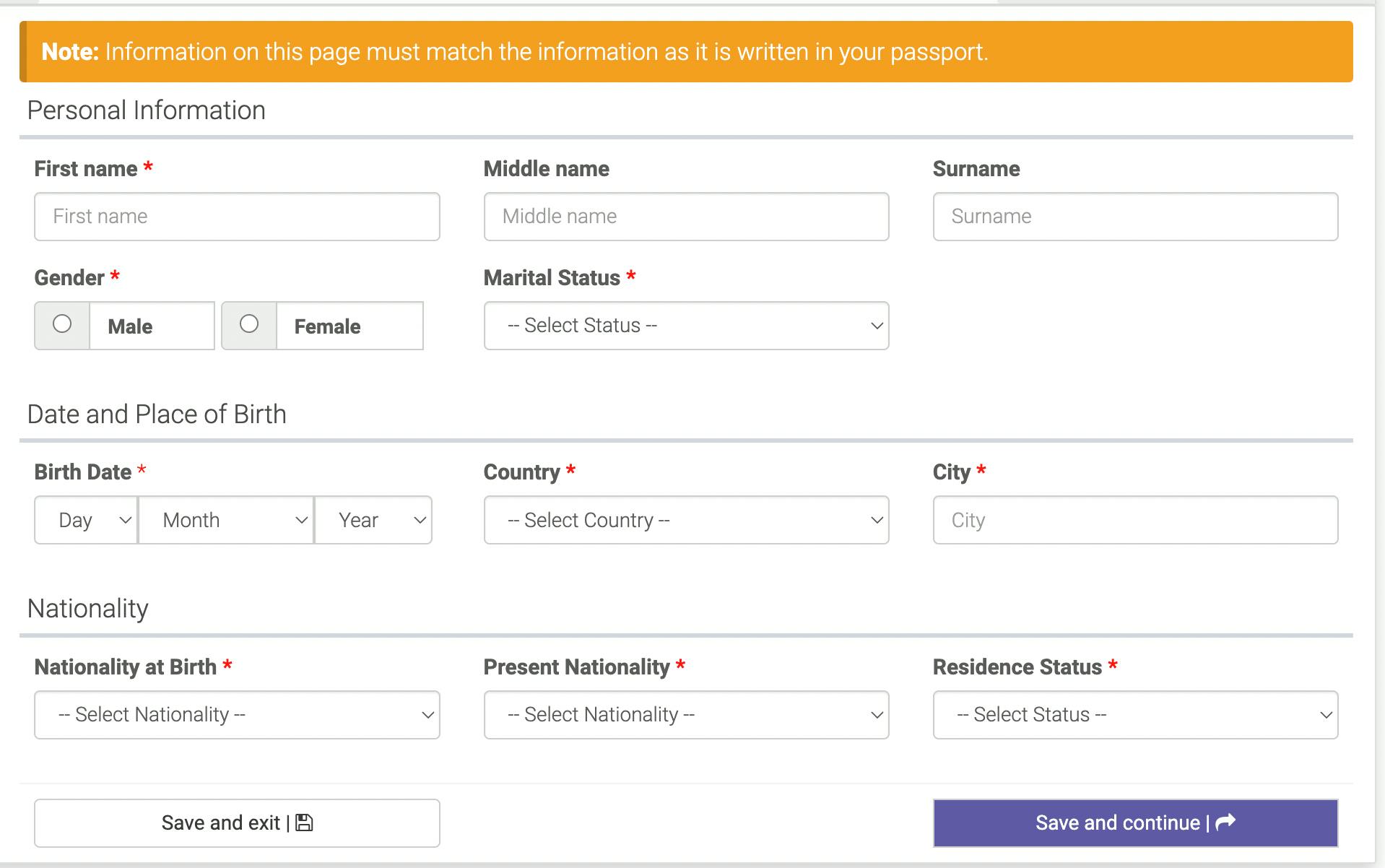 After you complete this first page, click "Save and Continue."
On the next page (second section of the visa application form), you must provide details like your contact information, present physical address, present city, present country, permanent address, and employment status.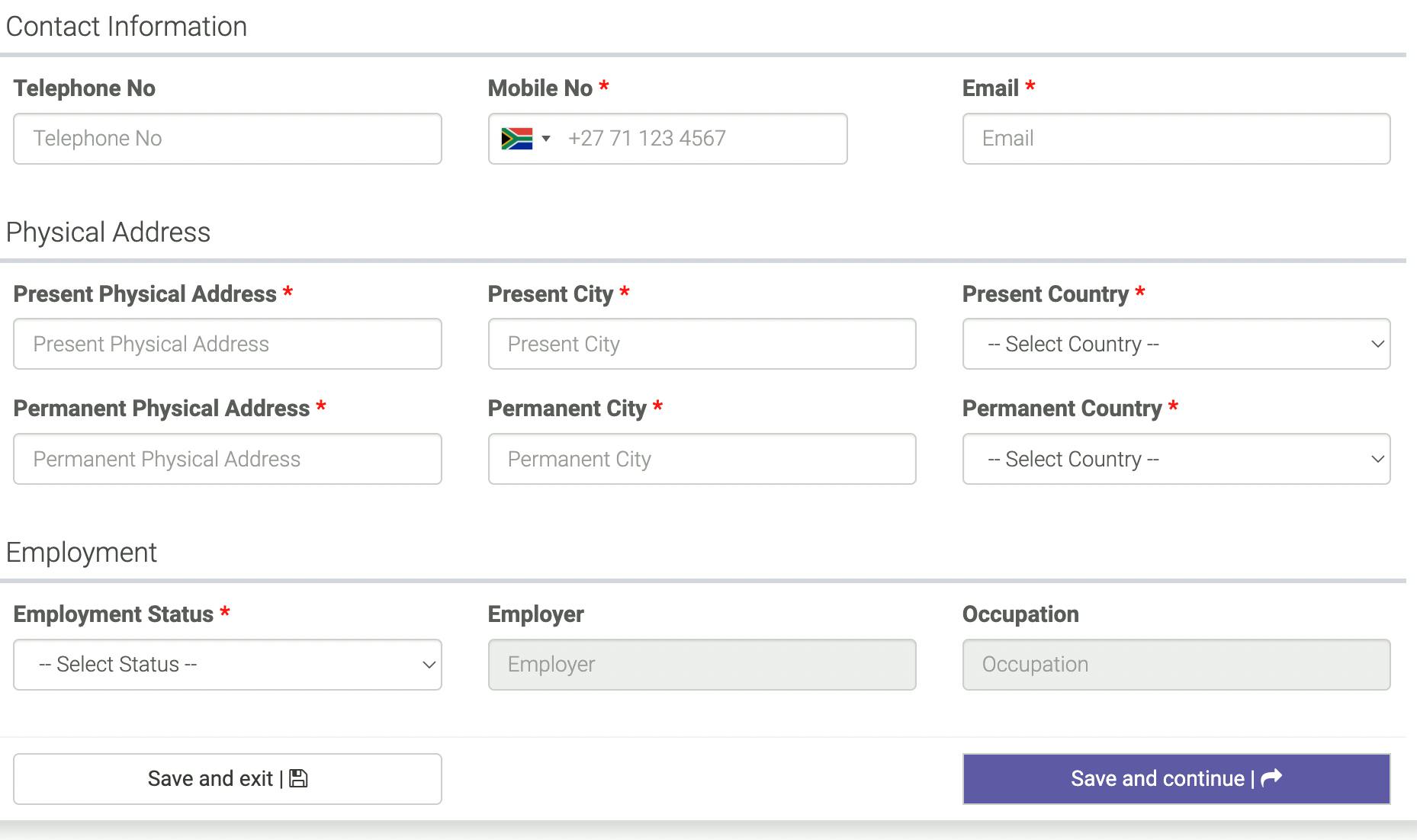 Once you complete this section, click "Save and Continue."
Next, you need to provide your passport information. This includes passport type, passport number, country of issue, date of issuance, etc.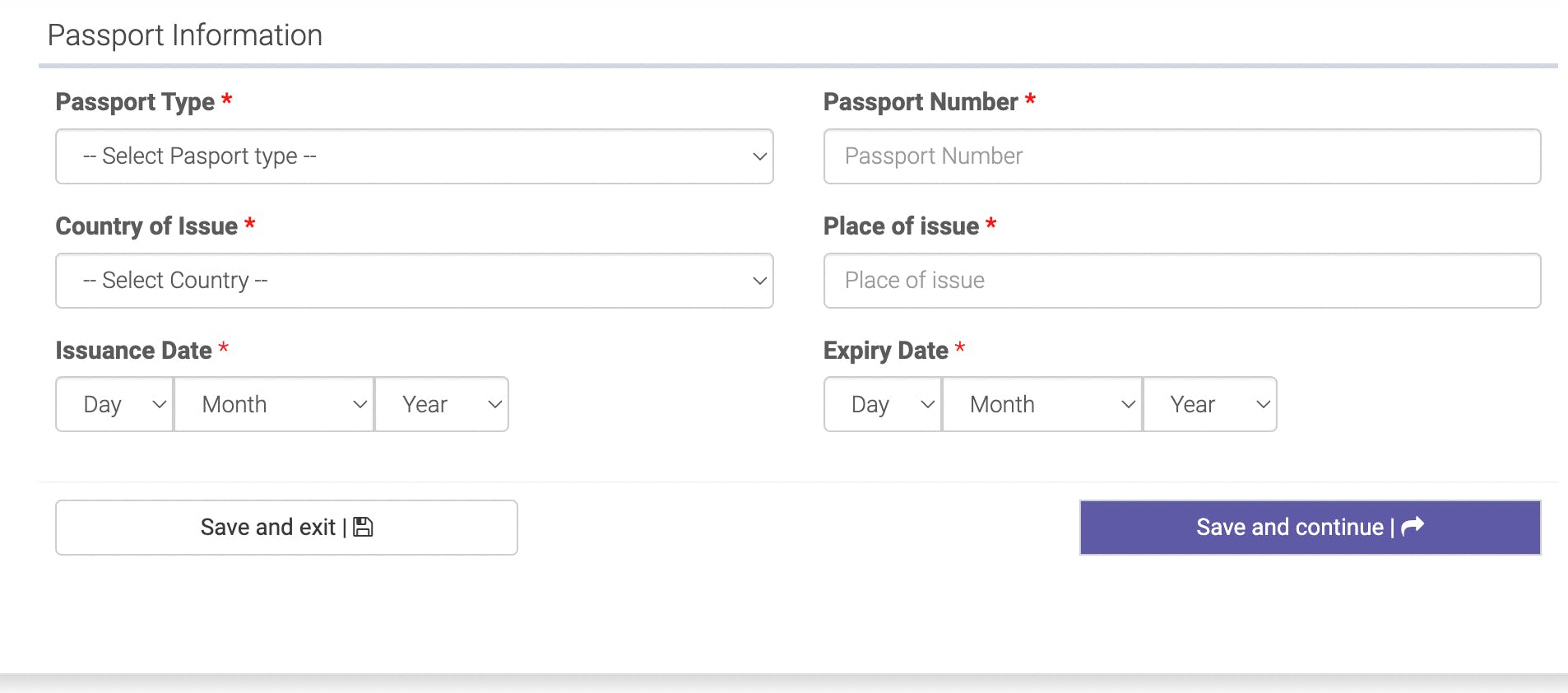 Once again, click "Save and Continue" once you're done.
Then finally, we get to the travel information section of the application form. You need to provide any information about your travels, like your type of visa, the purpose of visit, destination, port type, port of entry, date of arrival, host information, where you're going to stay, and your physical address.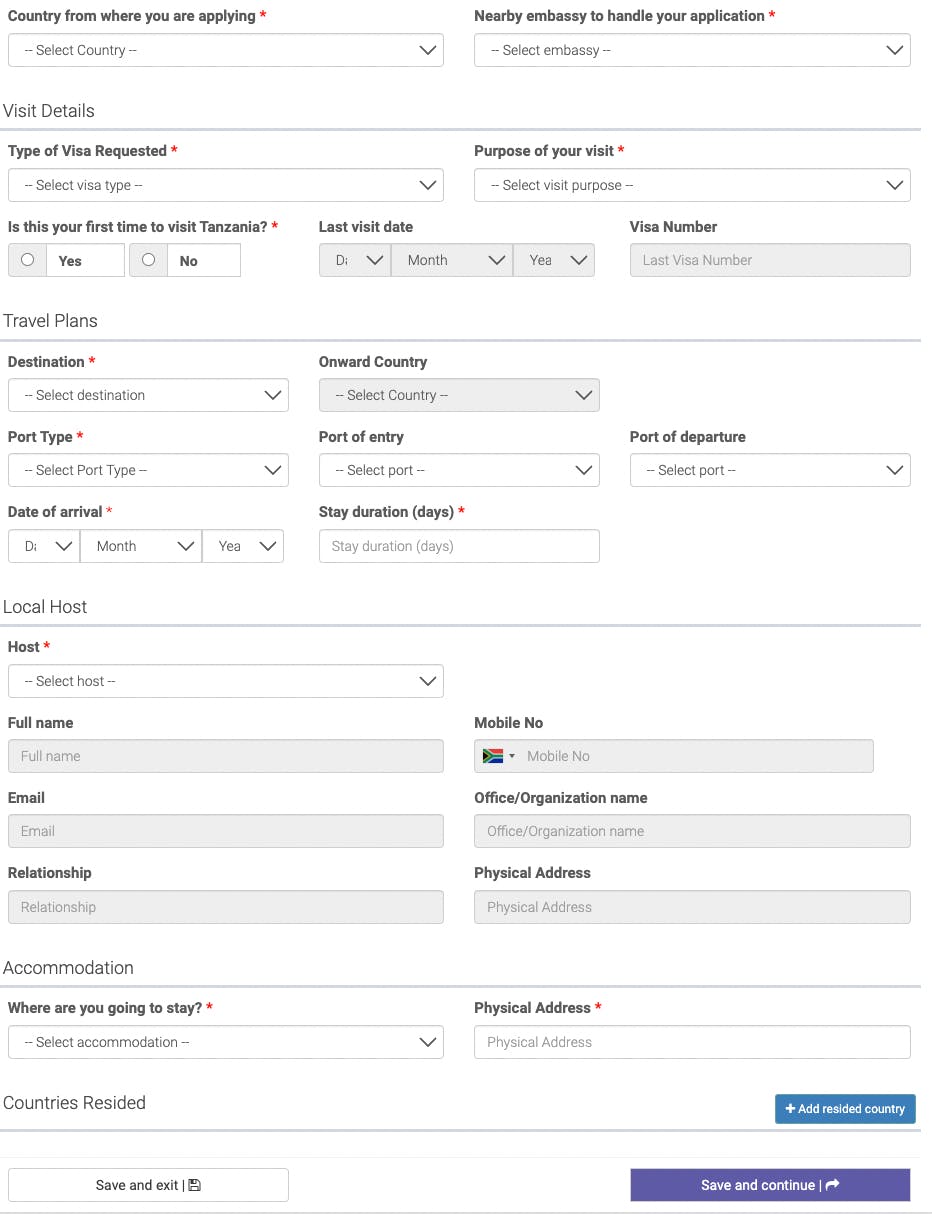 Next, you need to choose if you're traveling as part of a group or organization and whether you're traveling with a minor.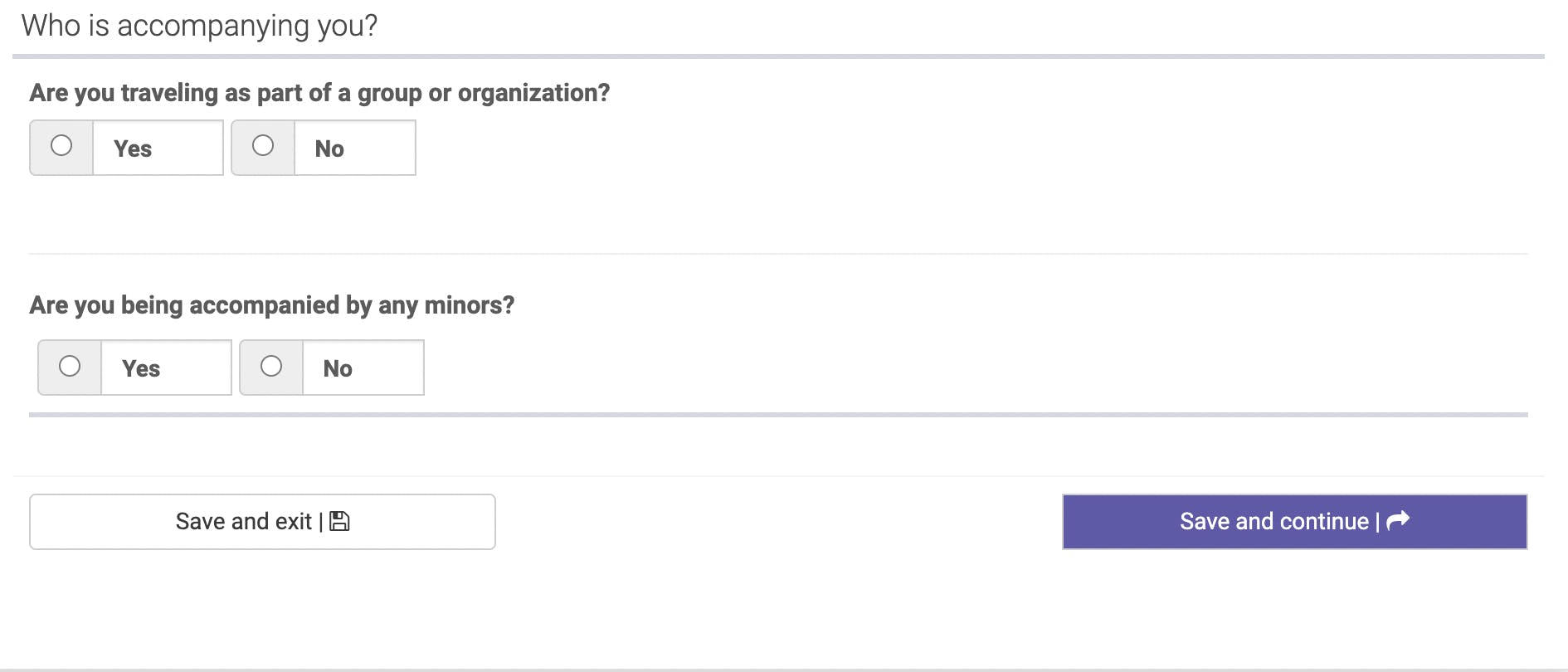 Step 4: Upload The Required Documents
Next, you must upload all the required documents they ask for. This includes your passport photo and a copy of your passport biodata page.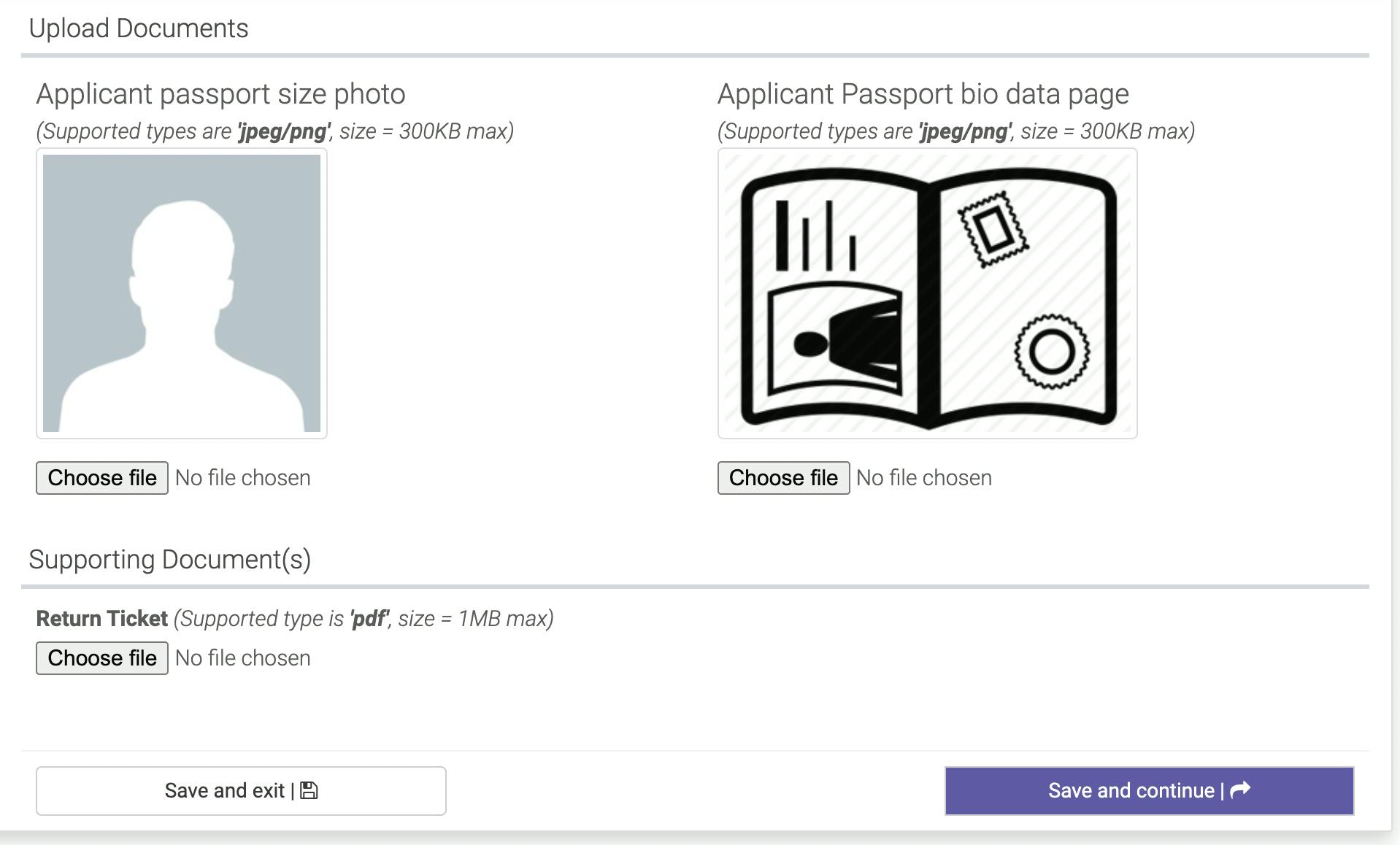 Once you're done, click "Save and Continue."
Step 5: Pay the visa Fee
Finally, you get to the visa payment. Again, you can pay the visa fee through the secure online system with a credit or debit card.
Step 6: Submit Your Visa Application And Wait For Your E Visa
Lastly, you must submit your visa application. Once you do, you'll most likely receive a confirmation email. Then, you must wait for your visa approval. It takes between 5-10 business days to process your e visa application.
Once you receive your visa via email, you must download and print out a copy of your visa to present to an Immigration officer in Tanzania.
In-Depth Details About The Tanzania Visa For UK Citizens
What Is The Tanzania Tourist Visa, And Why Do I Need One?
The Tanzania eVisa is an official electronic visa that allows travelers to enter and stay in Tanzania for a specified duration. It is a digital alternative to the traditional paper visa, enabling applicants to submit their visa requests online without visiting an embassy or consulate.
Once approved, the eVisa is sent to the applicant's email, which they can print and present upon arrival in Tanzania. The eVisa system is designed to simplify the visa application process, reduce waiting times, and promote tourism.
eVisas can be issued for tourism, business, transit, or other travel purposes.
What Is The Tanzania Visa Processing Time?
If you apply for the e Visa Tanzania, the processing time is 10 business days.
This does not include public holidays or weekends.
How Long Can I Stay In Tanzania With A Valid Visa?
The Tanzania Tourist Visa online is valid for 90 days, but you can only stay in Tanzania for 30 days maximum.
What Is The Tanzania Visa Cost?
The Tanzania Visa cost is USD 50 for a single-entry Tanzania e-visa. That is approximately 42 pounds.
What Are The Types Of Visas For Tanzania?
There are different types of Tanzania visas you can apply for. You need to make sure that the visa you apply for suits your main purpose of visit (tourism, business, work, etc.)
The different types of Tanzania visas are:
Tanzania Tourist Visa (Ordinary Visa): You can apply for this visa if your purpose of travel is for tourism, leisure, holiday, attending conferences, humanitarian and charity activities, family visits, or for health treatment. You can apply for this visa online (Tanzania e visa) or at an Embassy.

Tanzania Multiple-Entry Visa: You can apply for this visa if your purposes of visits call for frequent visits to the United Republic of Tanzania. These may include Directors of Companies registered in Tanzania who do not reside in the country, persons engaged in Bilateral Meetings, spouses married to Tanzanians/Residents, and any other person as may be determined by the Commissioner General of Immigration.The maximum validity of this Visa is 12 months. However, you cannot stay in the country for 12 consecutive months. 

Tanzania Business Visa: You can apply for this visa if your purpose of travel is to conduct special assignments such as fixing or repairing machines, running short-term training, conducting short time professional roles such as auditing accounts, making feasibility studies, establishing professionals and business contacts, making arrangements for investments during the startup period, etc. This visa is valid for 90 days.

Tanzania Transit Visa: You can apply for this visa if you're transiting through to another destination outside the United Republic for a period not exceeding seven days. 

Tanzania Student Visa: A student visa is granted to foreign national who enters the country for Academic conduct, such as Research Students, Intern, Volunteering, EAC Students, Exchange students (EAC and Exchange students are free of charge), and Prospective Students admitted in recognized and legally registered Institutions. This Visa may be issued for a period not exceeding two years.
What Does A Tanzania eVisa Look Like?
A Tanzania e Visa looks something like this: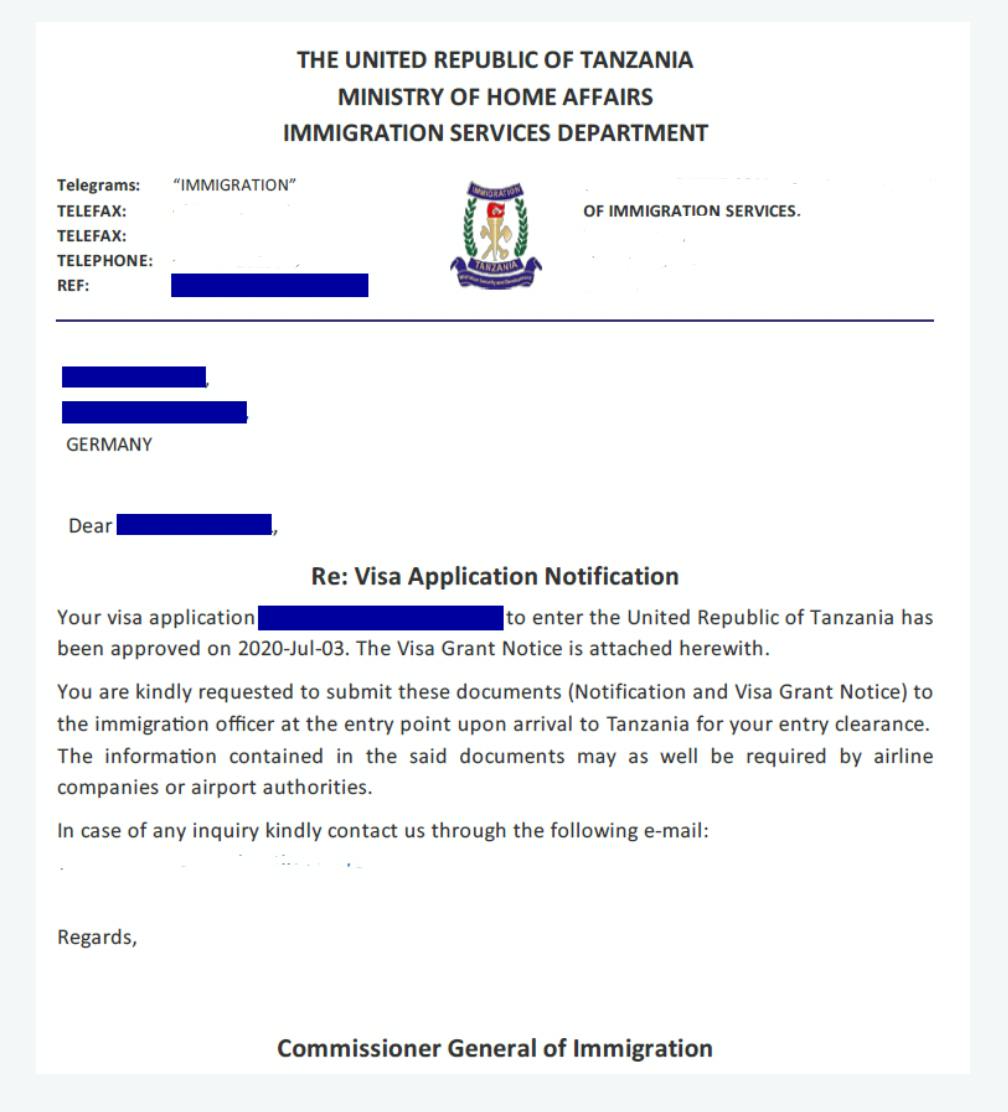 Tanzania Visa Rules While In Tanzania
The two most important visa rules you need to remember are:
You can't work in Tanzania on a Tourist visa. If you want to work, you need to apply for the appropriate visa.

Don't overstay your visa. You'll receive a fine for each day you overstay.
Can I Extend My Tanzania Visa?
Yes, you can. You can extend your visa for up to 90 days after arrival in Tanzania. You can extend your visa for three to six months at the immigration office in Dar es Salaam. 
You'll need to complete the visa extension form and then submit the documents required (same as for the visa) and the extension form at the Immigration office.
What Happens If I Overstay My Visa For Tanzania From UK?
If you overstay your visa validity, you must pay a fine. Once you realize that you have overstayed your visa, you must go to the Tanzania Immigration Head Office in Dar es Salaam.
There, you'll be issued a pass after paying a fine of $600. There is no way around the penalty, and paying for anyone who has overstayed their visa is a must.
Example: Your visa is valid until 12 January but you stay until the 14th. Then, you must pay the fine.
Can I Work In Tanzania With My Tourist Visa?
No, you can't. Unfortunately, you can't work in Tanzania with a Tourist Visa. If you want to work in Tanzania, you must apply for the appropriate visa (work visa)
Can I Get A Tanzania Multiple Entry Visa?
No, The visa with multiple entries is mainly for Americans.
This Visa caters to foreign individuals frequently visiting Tanzania. It's suitable for directors of Tanzanian companies based abroad, participants in bilateral meetings, those married to Tanzanians, government consultants, global NGO representatives, and others as approved by the relevant immigration authorities.
What Is The Difference Between A Single Entry Visa And A Multiple Entry Visa?
A single-entry visa is a visa that allows you to enter and exit Tanzania once. However, a multiple-entry visa allows you to enter and exit Tanzania more than once during your visa validity period.
Tanzania Entry requirements
You require the following documents to enter Tanzania:
Clear passport-size photographs.

Proof of a Yellow Fever vaccination if traveling from or through a country with a risk of yellow fever transmission.
Is Zanzibar's Visa Policy Identical to Tanzania's?
For those considering a trip to Zanzibar, note that its visa regulations align with Tanzania's overall policy. There isn't a distinct e-Visa for Zanzibar; travelers should apply for the Tanzania e-Visa when intending to visit Zanzibar.
What To Expect When Arriving In Tanzania
Once you arrive in Tanzania, you'll need your passport, visa, and return flight ticket. This is just to show an Immigration officer. 
That's it!
In conclusion, the Tanzania eVisa system offers a convenient and efficient pathway for UK citizens eager to explore the wonders of Tanzania.
By streamlining the visa acquisition process, it eliminates the traditional challenges and delays often associated with embassy visits or on-arrival visas.
Government Sources
At Atlys, we thoroughly examine each detail to ensure precision. Our information is sourced directly from trustworthy Tanzanian government channels, assuring you of genuine insights. Additionally, this blog leverages AI support to break down intricate concepts.
Frequently Asked Questions
The processing time for a visa for Tanzania from UK is 10 business days.

However, it's advisable to apply at least 14 days before your intended travel date to account for any unexpected delays. It's also essential to note that during peak tourist seasons or due to other unforeseen circumstances, processing times might vary.
Author: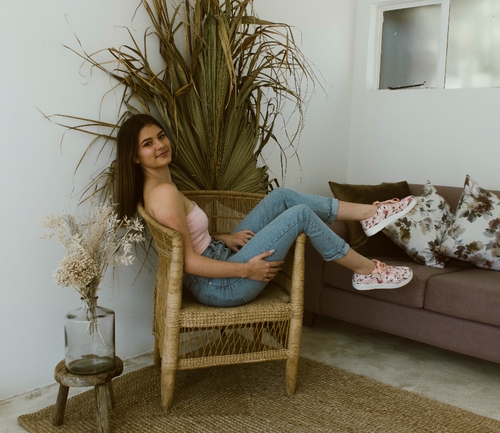 Laliq Schuman
Verified Author: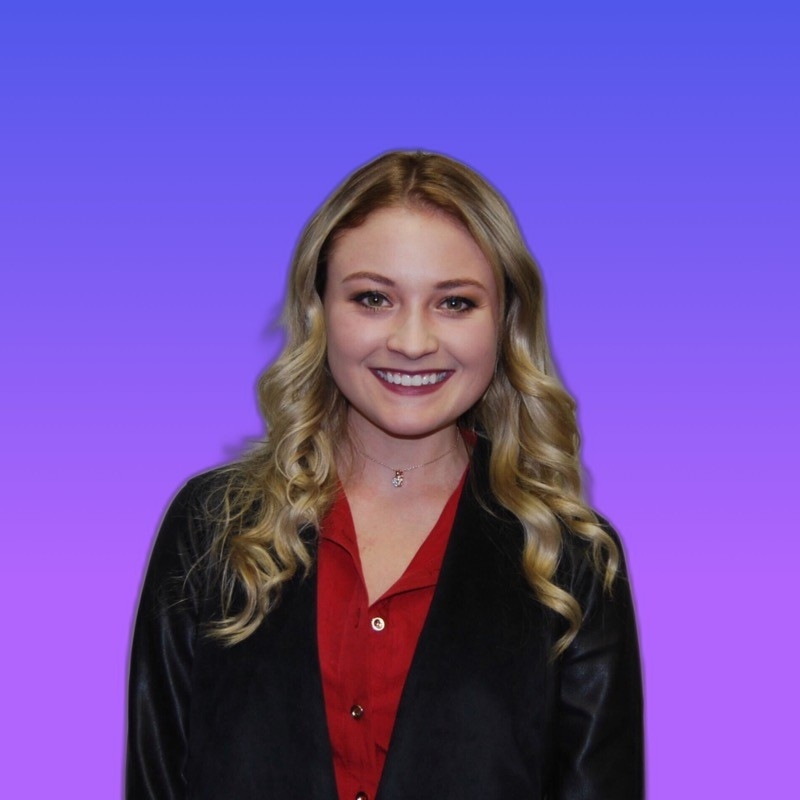 Shannon Reeler