Your Guide On How To Ace Your Schengen Visa Application
A Schengen Visa will grant travelers entry to 22 European countries, with views and regions ranging from the majestic Alps and Norway's breathtaking fjords, to Spain's immaculate beaches and Greece's ancient cities, to name but a few..
But to be able to enjoy seemingly borderless travel within the European Union, travelers will need to ensure that their Schengen Visa Application is faultless, as even the smallest of mistakes may lead to a Schengen Visa being denied.
With such a small margin for error, it's understandable that people report that a Schengen visa application is one of the most stressful experiences of our modern life, up there with moving house, job interviews, and public speaking.
That's why Atlys has created this guide to walk you through the Schengen Visa Application process and ensure that you ultimately submit the perfect visa application. In this surefire guide to the perfect Schengen Visa Application we'll look at the following:
However, before we start with the application proper, we need to clarify a few things. While all Schengen Visa Applications are essentially the same, they differ on some details like the country applied for and the reason for applying. For the sake of this article, we'll apply for a Schengen Tourist Visa To Portugal and we'll be using this Schengen Visa Application Form. If your form differs from this one, chances are you have the harmonized Schengen Visa Application form, which contains the same information, but it's formatted differently.
Now that we've got that out of the way, we'll start you on your way to completing the perfect Schengen Visa Application! To start with, we're going to look at the Schengen Visa Application Form.
Completing The Perfect Schengen Visa Application
PAGE 1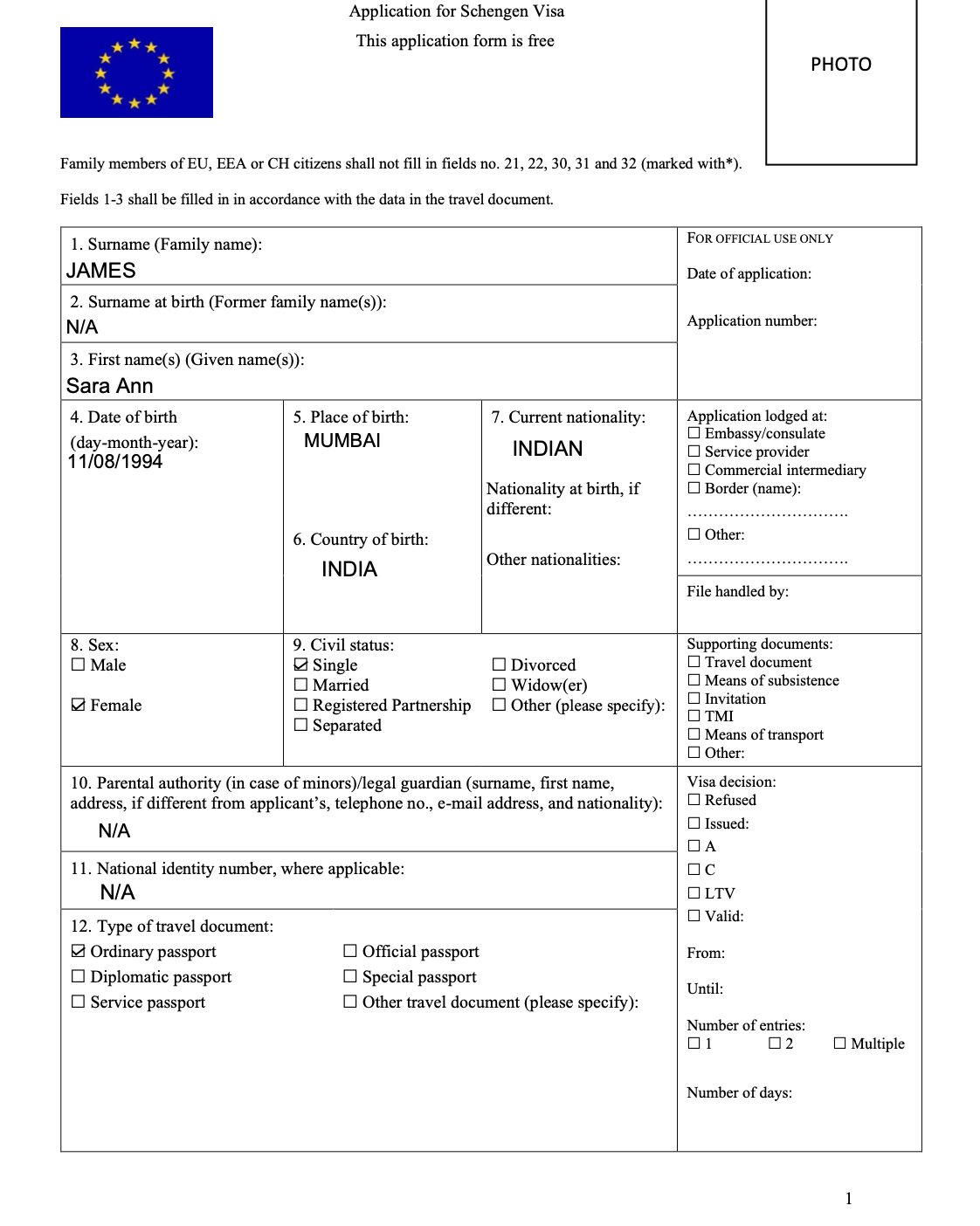 Page 1 of the Schengen Visa Application form deals mainly with your general information. You'll need to report your names (#1-3), date of birth (#4), place, and country of birth, ie. New York, USA (#5 & 6), your nationality (# 7), your sex (# 8), and civil status (#9).
If you are completing the form for a minor, you'll need to complete #10.
At #11 - "National Identity Number" you should report your national ID number if you have one. If not, simply fill in "N/A". US citizens do not have national identity numbers, so all US passport holders can report "N/A." Finally, report the type of passport. For most cases, select "Ordinary passport." The rule of thumb is, if you are unsure about the type of passport you have, it's most probably an ordinary passport.
Other Things To Remember When Completing Page 1 of Your Schengen Visa Application
When you fill in the application form, you must ensure that the name you enter exactly matches the name on your passport. This means that if you have a middle name on your passport, you must include it on your Schengen Visa Application Form.
Ie. If your passport reports your name John Jack Smith, you will enter "John Jack" for the given names section, and "Smith" for the surname sanction.
If you are unsure, simply refer to the bio page in your passport. This is the page that features all of your information as well as a picture of yourself. Information found here must be identical to the information reported on your Schengen Visa Application.
Report your current nationality and your nationality at birth if it differs. Your current nationality will almost always correspond to the nationality of the passport that you are using.
The name must match the passport exactly, even if a middle name is included. Double-check that all the information reported is correct and corresponds exactly with what is stated in your passport.
This is especially important because discrepancies between the information on your passport and the information reported will lead to your Schengen Visa application being denied. Once you are 100% sure that your information is correct, you may proceed to Page 2.
PAGE 2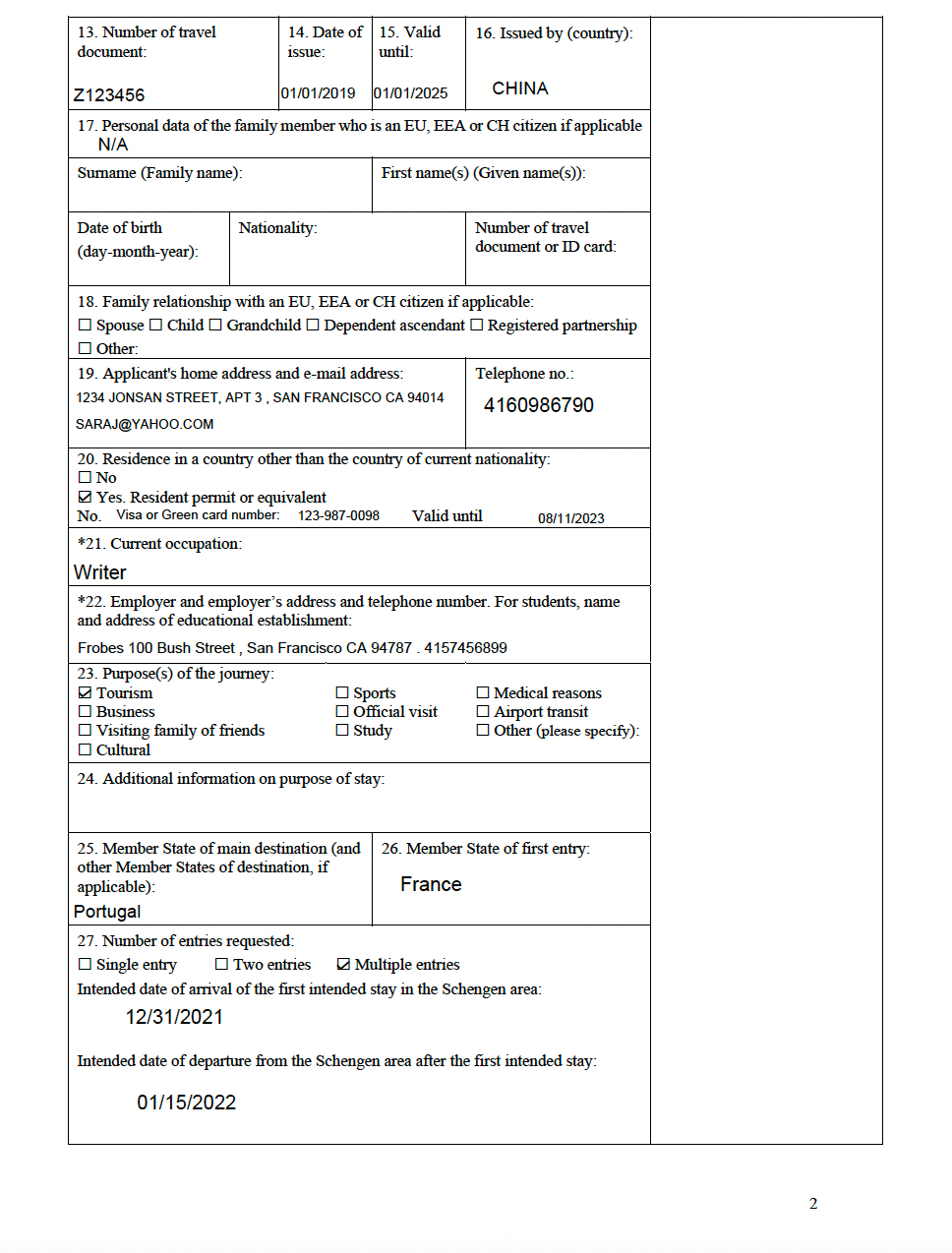 Page 2 of the Schengen Visa Application form focuses on additional information from your passport, as well as some information that pertains to your stay in the country that you are applying to.
#13. "Number of Travel Document" - This simply refers to your passport number. You'll usually find the passport number in the upper right area of your passport's bio page. Make sure that you fill in the passport number correctly.
#14 and #15 is your passport's date of issue, and date of expiration, respectively. #16 refers to the authority that issued your passport. In most cases, it's the same as the nationality of the passport you hold.
#17 and #18 are only relevant if you are staying with a friend or family member within the Schengen area country. If you are not staying with a friend or family member leave these entries blank.
At #19 report your physical address, your email address, and your telephone number.
At #20, check yes if you are currently a resident of a country other than the nationality of your passport. Please note that simply staying or living in a country does not equal residence. Residence in this case refers to an official visa or travel document that grants the holder residence status in a specific country, like a US Green Card. You'll also need to report your residence permit number and how long it is valid.
#21 state your occupation i.e. "professor (former student)" or "retired (former sales manager)". If you have no occupation, write "no occupation". It is worth noting that while Schengen Visas are available to unemployed people, the process to obtain a Schengen visa while unemployed is one filled with obstacles.
At #22 report your employer's address. If unemployed, report N.A.
At #23, choose the option that best fits with the reason for visiting the country you are applying to. Be honest, if you are traveling to a country for business reasons, i.e. to meet with potential partners or inspect an investment, state your purpose as a business. If you lie at this point, you'll most probably be discovered during the subsequent Schengen Visa Application Interview. If you choose "Other" at #23 you'll have to provide more information at #24. Else, just leave #24 blank.
At #25, report the "Member State" which you'll be visiting. Member state is the Schengen Area country in which you'll spend the most time. #26 Refers to the first country in the Schengen Area that you'll visit, ie. the country of entry into the Schengen Area.
If, for instance, you are traveling from the US to the UK (not part of the Schengen Area), and then travel from the UK to France (part of the Schengen Area) before traveling onward towards Portugal where you'll spend the majority of your time in the Schengen Area, you'll report it on the Schengen Visa Application form as follows: #25: Portugal; #26 France.
Pro Tip If you are spending equal time in each country that you visit, the country of entry will also be the Member State.
At #27 you should select the type of Schengen Visa you are applying for, ie. single entry or multiple entries. If you are traveling to the Schengen Area and only stay within the European Union and Schengen Area before traveling home, you'll only need a single entry visa. If you plan on traveling to the Schengen Area, then exiting the Schengen Area before returning to the Schengen Area again, you'll need to apply for a multiple entry visa.
For instance, if you are traveling to Portugal from the US, and then travel from Portugal to Morocco before traveling to Spain, you'll need a multiple entry visa. It is worth mentioning that the chances of a multiple entry visa being granted are much lower than a single entry visa being granted.
PAGE 3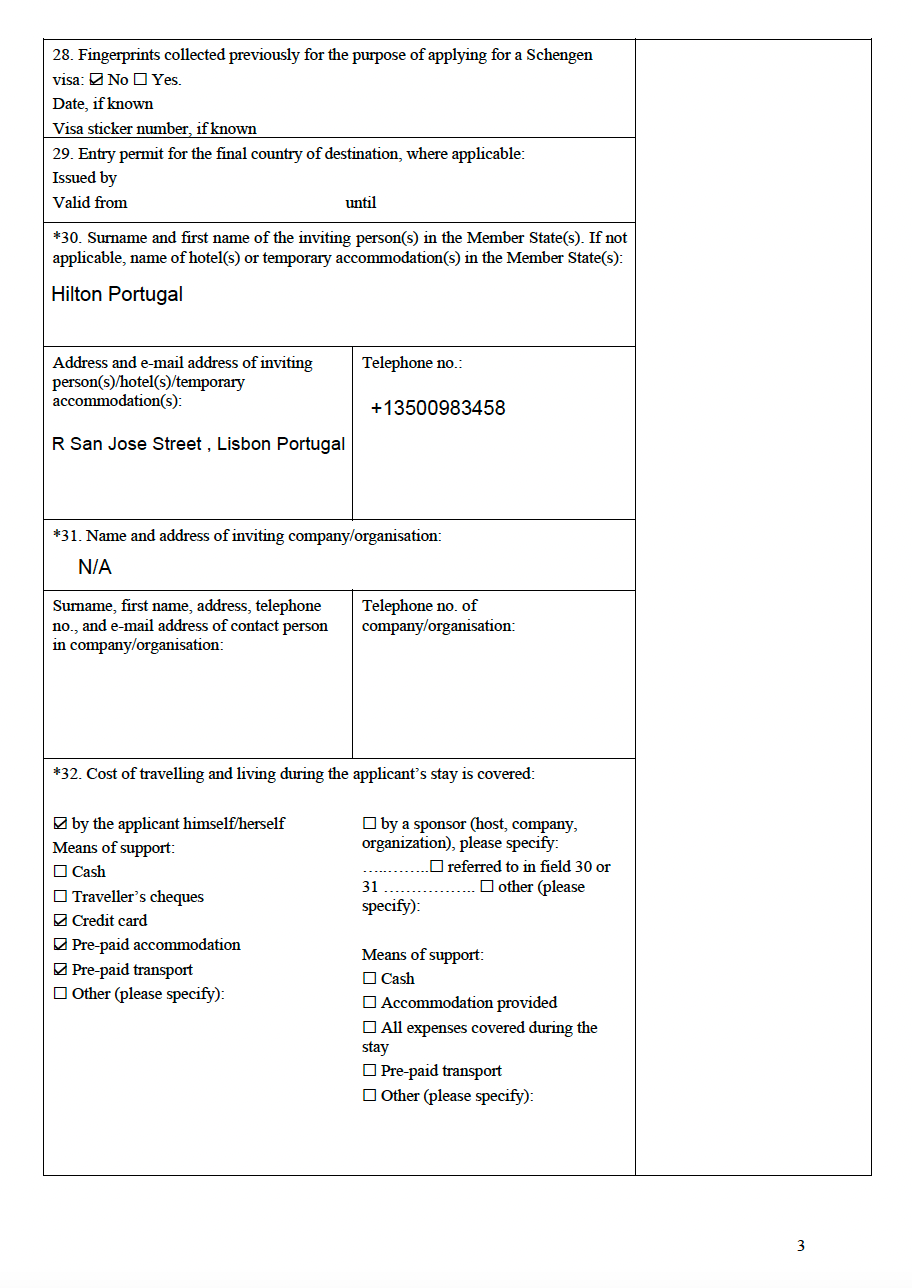 Page 3 starts off with one of the most confusing parts of a Schengen Visa Application: the Fingerprints previously collected option.
At #28 The rule of thumb is that if your last travel to the Schengen Area was during 2016 or later, you must select "Yes" as from 2016 onwards the collection of biometric data was compulsory. The advantage of having your biometric data previously collected is that your application would be processed quickly because the existing data will be pulled from a central database. If you don't have the exact date of your previous application, don't worry, you can leave it blank.
For #29 you'll need to provide proof that you are allowed to travel onwards out of the Schengen Area if your next destination is not your home country. For example, if you are an Indian national living in the US on a Green Card, you'll need to provide that Green Card to show you'll be able to re-enter the US from the Schengen Area.
At #30 enter the Hotel(s) where you'll be staying, or the person inviting you. #311 refers to the address of the person inviting you, or the organization if you are traveling for business or official reasons. When applying for a Schengen Tourist Visa, you can enter N/A.
#32 is one of the areas that applicants either get wrong or leave out, which may lead to an application being rejected. Check the appropriate boxes, for instance, if you will be using a credit card during your travels and your accommodation has already been paid for, check "Credit Card" and "Prepaid accommodation".
PAGE 4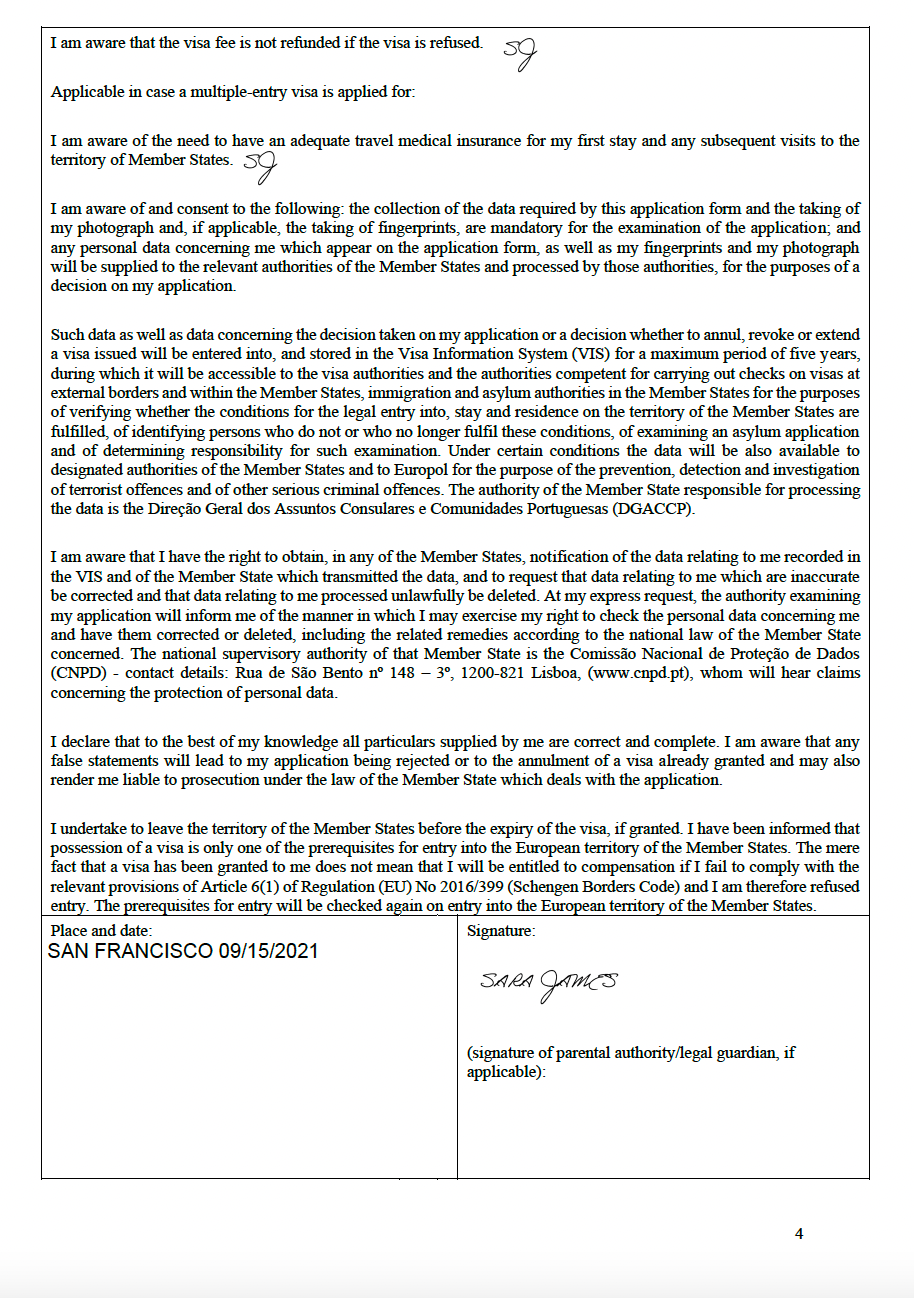 The final page of your Schengen Visa Application will require your initials and signature, as well as the date and place where you signed it.
Provide your initials at the top of the page where it states: "I am aware that the visa fee is not refunded if the visa is refused."
Also initial where it says: "I am aware of the need to have adequate travel medical insurance"
At the "Date and Location": Write the place and date where you are filling in the form, even if this date is different from the day you are going to the visa service.
Finally, sign the document. The Visa application form should be completely filled and signed by the Visa applicant and not another person. If the visa applicant is a minor (under 18), the application must be signed by a person having parental authority and their relationship should be included
The Required Documents For A Faultless Schengen Visa Application
In this part of the guide, we will go through the requirements for your perfect Schengen Visa Application. These are mostly supporting documents that will accompany your Schengen Visa Application form. Once you've completed the application form, you should start gathering these documents. Generally, the requirements for Portugal are very similar to other Schengen Countries, but to be on the safe side you can contact us to make sure of your specific country's requirements.
Passport Photos You'll need two 35 x 45 color passport photos, taken on a white background. The photos should follow these specifications and be no older than 6 months

Copy Of The Bio Page In Your Passport As we mentioned before, the bio page is the page in your passport that contains all of your information and features your photo. You'll need to include a printed copy of this page, preferably in color. You would also need to provide printed copies of any previous Schengen visas you've had in the past 5 years, even if it's on the old passport. 2 photos 35X45 white background and not older than 6 months.

Copy Of Your Residency Permit If you are a resident in a country outside of the country of your passport, you'll need to supply a copy of that permit. If the permit is a card, like the US Green Card, be sure to make a copy of the front and back of the card.

Personal Cover Letter This is a letter written by the applicant in which they state why they wish to visit the country and the itinerary of their travels through the country. It is also advisable to have a list (or index) of all the documents that you are supplying for your application. Doing so will make it easier for the Embassy agent to process your application.

Bank statements From The Last 3 Months Provide the last 3 months' bank account statements showing the applicant's name and an end balance dated within the last month prior to the visa application submission date. Alternatively online bank account printouts are also accepted

Provide a No Objection Letter From Your Work or University/School. A no objection letter is basically a letter from your current employer or educational institution, which states that the applicant is in good standing with them and that they have no objection to them traveling to the country during the period applied for.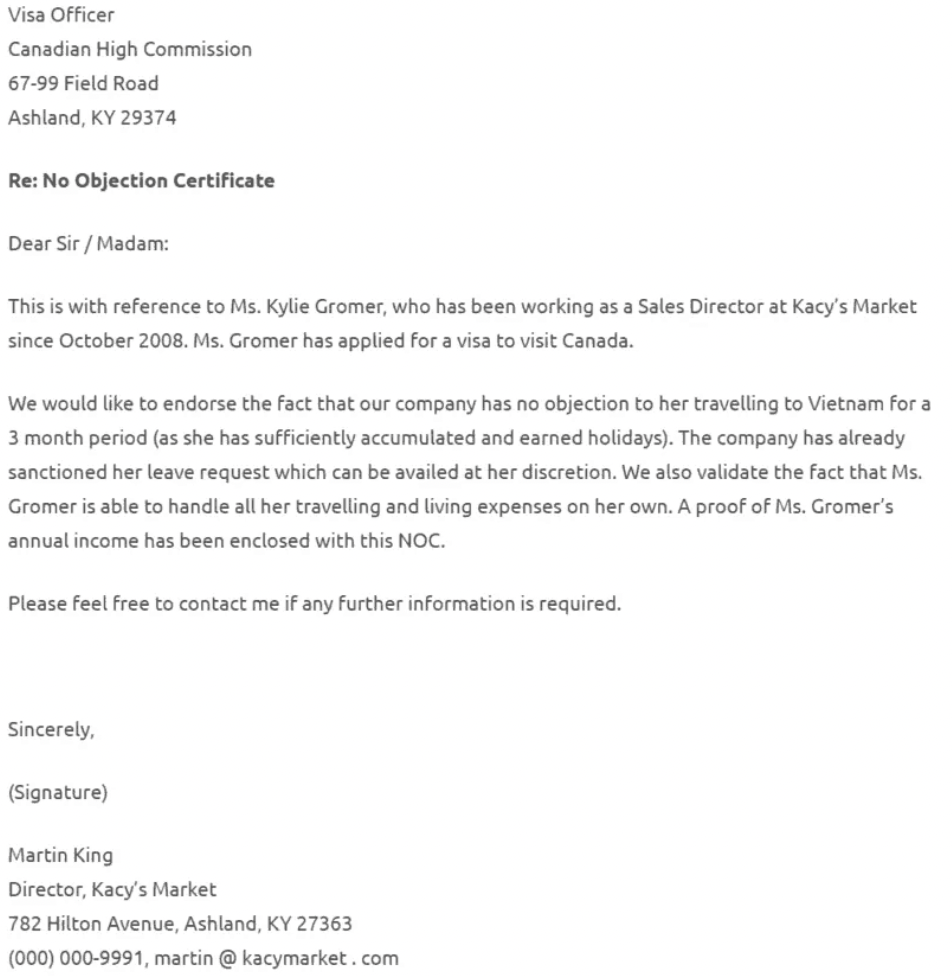 Proof Of Your Current Occupation If you are employed, you'll need to provide proof of that employment. This will consist of an original signed letter from your employer confirming your employment and the last 3 months' payslips.
If you are self-employed you'll need to provide an original and signed cover letter confirming your self-employed status. This can be done by attaching a copy of the certificate of incorporation when your business was registered. If your name is not reported on the certificate of registration, additional proof, demonstrating the connection to yourself should be supplied.
A recent tax return statement for your business should also be supplied.
If you are an international student residing in America you'll need to provide a copy of an original I-20 form. You don't need to submit the original. Page 2 of the I-20 needs to be endorsed by the International Student department at the university. The endorsement must be signed within 6-12 months depending on the country you are applying to.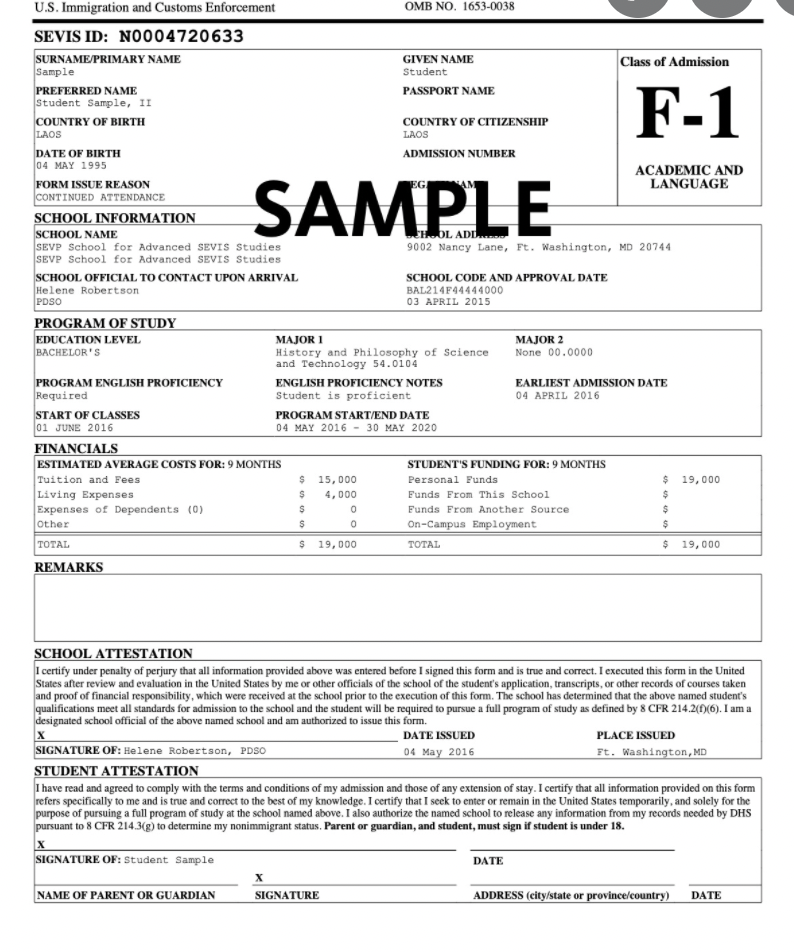 Provide Your Travel Itinerary Your name and travel details must be stated on the travel itinerary.
Schengen Area consulates will ask for a flight reservation document when you submit your visa application. The reason they ask for this document is that it is used to confirm that the applicant is actually intending to travel to the places on the dates stated on the application form. The travel dates must match the flight itinerary exactly.
For example: Let's say you are traveling to Portugal and will travel to Spain for one day. Even if it's only one day and you are either going by train, car rental, or bus - you'll need to show proof of travel even if it's within other Schengen Countries. If you've rented a car, then you need to produce your car reservation. The Consulate wants to see how you will enter and exit the Schengen countries regardless of what transportation you use. If you stated multiple Schengen countries on question number 25 on the application form, then you would need to provide the itinerary for all these countries
Finally, Provide Proof Of Your Travel Insurance:
The travel insurance – clearly showing the applicant's name - has to be valid throughout the complete territory of the Schengen Area and must cover the entire period of the applicant's intended stay in the Schengen Area; the minimum coverage for medical emergency and repatriation needs to be the equivalent to Euros 30,000 with Euros 0 deductibles.
If you have all of these required documents and proofs, you should contact the embassy and schedule a Schengen Visa Appointment. During this appointment, you will be subjected to an interview. You will hand over your application to the consulate employee, pay the visa fee, and wait to hear if your application was successful. For more information on the Schengen Visa Appointment process, you should consult our comprehensive guide on the matter.