Malaysia Visas: Comprehensive Guide To Different Visa Types
Indian passport holders require a visa to enter Malaysia. The visa is an official endorsement or stamp on the passport or in the form of an electronic visa granting you permission to enter and stay in Malaysia.

The Malaysian visa allows you to legally travel to and enter Malaysia. It specifies the duration of your stay, entry and exit dates, and any additional conditions on your visa.
Differenent Types of Malaysia Visa for Indians
Malaysia Evisa for Indians
A Malaysian Evisa is required for Indian citizens to visit Malaysia for purposes such as travel, tour, visiting friends/family, and short trips to Malaysia. It allows a single entry during the visa's 30-day validity period.
You can also apply for an eVisa allowing for multiple entries within a specified period. The processing time for the visa application is usually around 2 working days. You can apply for the visa on Atlys in a few simple steps.
Official Visa Name:

Malaysia Evisa

Number of entries:

Single or Multiple Entries
Documents Required for the Malaysia Evisa:
Valid passport: Your passport should have at least six months of validity remaining from the date of entry into Malaysia.

Passport-sized photographs: You must provide recent, coloured photographs in size 35 mm x 50mm. Learn more on the Malaysia visa photosize.

Proof of accommodation: This can be hotel bookings or an invitation letter from a host stating your accommodation arrangements.

Proof of travel arrangements: This includes flight tickets or a travel itinerary showing your planned entry and exit dates from Malaysia.

Sufficient financial means: You may be required to provide bank statements or a sponsorship letter to demonstrate that you have enough funds to cover your stay in Malaysia.

Travel itinerary or tour package details: This document outlines your planned activities and destinations during your visit.

Travel insurance: While not always mandatory, it is recommended to have travel insurance to cover any unforeseen circumstances.
How To Apply For Malaysia eVISA
Here's a quick step-by-step guide for applying for a Malaysia online visa:
1

Fill Form: Complete the online visa application form with personal and travel information. Or simply visit Atlys to apply for your visa online hassle free.

2

Collect Docs: Gather passport copies, photos, flight and hotel details, and bank statements.

3

Book Appointment: Schedule a visit to the Malaysian embassy or visa center, pay fees, and submit the application.

4

Wait: Allow about 5 working days for visa processing.

5

Approval & Collection: Once approved, retrieve your passport with the Malaysia tourist visa.
Malaysia Processing Time, Length of Stay and Visa Fees
Malaysia Visa Processing Time
Malaysia eVisa
Malaysia Visa on Arrival (VOA)
Malaysia Transit Visa
Malaysia eNTRI Visa
Malaysia Business Visa
How To Check My Malaysia Visa Status
If you used Atlys to apply for your Malaysia visa, you can easily track its status using the Atlys app:
1

Open the Atlys app on your device.

2

Navigate to the "My Documents" section.

3

Locate and select your visa application to view its current status.
If you applied for your visa through another website, you can do the following:
1

Go to the Malaysia website or the visa application portal.

2

Find "Check Visa Status" and give the info they ask for, like passport or visa application numbers.

3

Submit and wait. The system will show if your visa is approved, pending, or rejected.
You can check the Malaysia visa status check blog to learn about other ways to check your status.
What factors can affect the processing time of a Malaysia visa application?
The processing time of a Malaysia visa application can be influenced by various factors, including the type of visa, the completeness of your application, the volume of applications being processed, and any additional security or background checks required.
Malaysia Visa Fees
Malaysia eVisa
Malaysia Visa on Arrival (VOA)
Malaysia Transit Visa
Malaysia eNTRI Visa
Malaysia Business Visa
Malaysia Visa Fee Questions
Are the visa fees refundable if my application is rejected?
The visa fees are non-refundable, even if the application is rejected. The fees are meant to cover the processing costs associated with the visa application.
Are the visa fees for Malaysia subject to change?
Yes, visa fees can be subject to change. It is advisable to check the latest fee information with the Malaysian embassy.
Do children have to pay the same visa fee as adults for a Malaysia visa?
The visa fees for children applying for a Malaysia visa are the same as for adults.

Can the Malaysia visa fee be paid in instalments?
Typically, the Malaysia visa fee is required to be paid in full at the time of application. Instalment payments are not accepted.
How can I pay the visa fee?
The Malaysia visa fee can be paid using various methods such as cash, debit/credit cards, bank transfers, or online payments.
Length of Stay
Malaysia eVisa
Malaysia Visa on Arrival (VOA)
Malaysia Transit Visa
Malaysia eNTRI Visa
Malaysia Business Visa
Malaysia Visa Extentions
Unfortunately, extending your Malaysia eVisa is not possible due to Malaysian Government rules. Instead, you'll have to apply for a new visa from India. Just make sure to exit Malaysia before your current visa expires.
In exceptional or extreme cases, an extension could be granted for a short-term visa under special circumstances like illness, accidents, or war in the visitor's home country.
Proof of the situation is required, along with a confirmed return ticket to the home country or a different country. Lastly, for long-term visas, extensions for staying longer may be granted if certain conditions are met and eligibility criteria are fulfilled.
Address: Immigration Department of Malaysia Headquarters (Ministry of Home Affairs) No. 15, 1-7 Floor, (Podium) Persiaran Perdana, Presint 2, 62550 Putrajaya.
Telephone: 03-8000 8000
The Issues You Can Encounter When You Apply For The Malaysia Visa
In this section, we'll talk about the problems that can come up when you're trying to get a Malaysia visa. Sometimes, there are challenges you might face during the visa application process, and we'll explore those issues here.
Error Message When Paying For Your Malaysia Visa Application:
Sometimes, applicants may receive error messages during the payment process for their Malaysia visa application. These error messages could be related to invalid card information, insufficient funds, or technical issues with the payment gateway.
Payment Page Error When Making A Payment:
You might encounter errors on the payment page when making the payment for your Malaysia visa application. This could be due to technical issues, incompatible browsers, or incorrect payment details.
Unable To Register Or Login To The Visa Website:
Another challenge that applicants may encounter is being unable to register or log in to the Malaysia visa website. This could be due to incorrect login credentials, system maintenance, or technical issues with the website.
Malaysia Visa Online Payment Won't Go Through:
One of the common issues applicants may face is difficulties with online payment for the Malaysia visa. This could occur due to technical glitches, connectivity issues, or problems with the payment gateway.
You can learn more about the Malaysia visa issues you can encounter when you apply and how to solve them. 
Countries That Can Travel To Malaysia WITHOUT A Visa
List of Malaysia Embassies in India
High Commission Of Malaysia, New Delhi
Address: 50-M, Satya Marg, Chanakyapuri Republic of India New Delhi

Tel: Admin: +91-11-2415 9300 / +91-11-2415 9310 Consular: +91-11-2415 9311 Visa: +91-11-24159340-43/9355/9312/9306

Email: mwdelhi@kln.gov.my
Consulate General Of Malaysia, Mumbai
Address: 5th. Floor, Blue Nile Building, 24th. Road, Off Turner Road Bandra (W), Mumbai Maharashtra, India

Tel: General Enquiries: +91 22 2641 5751/ 2641 5752 Visa Enquiries: +91 22 2641 5540 / 2643 5542 Emergency for Malaysians only: +91 99201 35131

Email: mwmumbai@kln.gov.my
Conclusion and Summary
In conclusion, this comprehensive pillar page discusses how Indian nationals can get different types of Malaysia visas before their trip.
We've looked at different types of visas, from eVisas and Business visas to Transit and Work visas, including their eligibility criteria and application processes. Each type of visa allows you to travel to Malaysia for a specific purpose for a specific time period.

When travelling, make sure to carry all the necessary documents with you. Just remember, knowing the latest rules and following them will help you have a smooth and enjoyable trip to Malaysia.
For a smoother visa application, trust Atlys to handle all the hassles for you. Complete the visa application in a few easy steps on the Atlys website.
Trusted government sources
These sources provide comprehensive and up-to-date details about visa types, application procedures, required documents, fees, and any changes in visa policies. In this blog, we have used official government sources, such as the:
Author: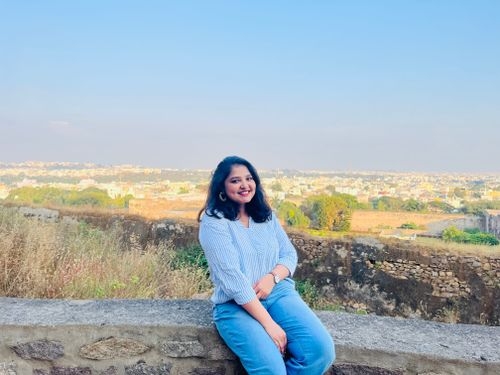 Nikhita Rathod
Frequently Asked Questions
The visa requirements for Malaysia vary depending on your nationality. Some countries are exempt from obtaining a visa for a certain duration. In contrast, others need to apply for a visa in advance.