Armenia Visa for Indians: Application Process & Requirements
Last Updated : 04-Sept-2023
Atlys in the news
Are you planning a trip to Armenia but need help figuring out where to start? Here is what you need to know:
Visa required: Armenia visa for indians
Tourist visa fees: USD 7 approximately ₹ 578
Stay period & Validty: 90 days for stay upto 21 days
Processing time: 3 days
Do Indians Need A Visa For Armenia?
Yes, As an Indian national, you must get an Armenia visa for Indians if you wish to travel to Armenia. Indians can get a visa on arrival if they present a valid visa (sticker) or a valid resident card issued by the countries listed below:
EU and Schengen member states
What Are The Armenia Visa Requirements For Indian Citizens?
The following are the visa requirements for traveling to Armenia:
Passport: You will need a valid passport or travel document. Additionally, you may be required to provide copies of passport pages that show previous visas obtained within the past three years or your resident card.

Visa Application and Photo: You must complete a visa application form and submit a recent passport-sized photograph (3.5x4.5cm) along with it.

Air Ticket: You should have a confirmed air ticket indicating your entry into and departure from Armenia.

Hotel Reservation: It is necessary to provide proof of accommodation, such as a hotel reservation or any other document that confirms your place of stay in Armenia.

Invitation Letter: In some cases, you may require an invitation letter from your host in Armenia, such as a company or an individual, indicating the purpose and duration of your visit.

Proof of Financial Means: You will need to demonstrate your financial capability to cover your expenses during your stay in Armenia. This can be done by submitting documents such as bank statements or any other evidence of sufficient funds.

Health Insurance: It is advisable to have travel insurance that covers any potential medical expenses during your stay in Armenia. You may be required to provide proof of health or travel insurance.

Cover Letter: If you are traveling as part of a family or group, a single cover letter should be submitted on behalf of the entire group. The cover letter should mention the names of all the group members.
How To Apply For Armenia Visa For Indians Through The Online Application System?
To apply for an Armenia visa for Indians through the e-visa issuance system Republic of Armenia, follow these steps:
Start Your Online Application:
Start your online application to access the online application portal. Enter the necessary details, including the kind of travel document you are using (a regular, current passport), the nation where it was issued (India), and your email address. Verify your entry with the Captcha, then click "Next" or "Back" as appropriate.
Check Your Email Inbox:
After completing the previous step, a confirmation email will be sent to the specified email address. Please check your inbox and confirm your email address by clicking the email link. The validity of this email is for 24 hours.
If the email isn't in your inbox when you check, check your spam folder as well. You can resubmit the form if you haven't received the email.
Fill out the Visa Application Form
From the Email confirmation, you'll then fill in the application form with your information, such as passport information, contact details, and Purpose and duration. Then review your application, and you can proceed to the next step.
Pay the Armenia Visa Fees:
You must pay the Armenia visa fees before submitting your application. The payment can be made using the "E-payments" system, an electronic mechanism for paying state taxes and other obligations.
Payments can be made using a PayPal account, a VISA, MasterCard, American Express, Discover Card, or another card. Please be aware that the visa fee for Armenia is non-refundable.
Follow the directions on the official online application portal carefully, and ensure you have all the required paperwork and information before beginning the application process. Please, note that the Armenia visa fee is non-refundable.
Receive Approved Armenia e-Visa:
Be sure to print a copy of the approved Armenia e-Visa once you've received it in your email. You must provide this printed document when you arrive at the Armenian border crossing.
How To Check Armenia Evisa Application Status?
To check the status of your Armenia e-Visa application, visit the eVisa portal and click on "CHECK APPLICATION STATUS" to check the status.
Then provide these details:
Enter the Application ID: After paying for your Armenia e-Visa application, you will receive an application ID through email. Your visa application's unique identifier is this application ID.

Provide Correct Captcha: Enter the Captcha image's characters exactly as they are displayed. If the current one is unclear or hard to read, by clicking on the refresh button, you can create a new Captcha image.
Once you have entered the application ID and refreshed the Captcha, click on "CHECK VISA STATUS" and check the status of your Armenia e-Visa application.
The system will provide you with the current status, whether it is still under review, approved, or rejected.
How To Apply For Armenia Visa For Indians Through The Embassy?
To apply for an Armenia visa for Indians through the Embassy, follow these steps:
Visa Application Form: Download the visa application form from the Embassy's website. Then, fill out the form accurately and attach one passport-size color photograph.

Passport: Ensure your passport is valid and has at least six months remaining. Make a photocopy of the passport's main pages.

Submission: You can submit your application in person at the Embassy of Armenia in New Delhi or through a travel agent with your authorization letter.
If your visa application is rejected, the Embassy does not provide any clarifications or comments. The Embassy of Armenia in New Delhi is India's only location providing consular services.
Detailed Information On The Armenia Visa For Indians
The Armenia visa for Indians is available for Indian nationals who intend to visit Armenia for short-term purposes such as:
Visiting relatives or friends,
The visa can be issued as either a single entry or multiple entries, depending on the traveler's needs.
What Are The Types Of Armenia Visa For Indians?
There are types of visas for Indians available that you can apply for depending on your traveling purpose and how long you plan to stay in Armenia.
A visitor visa: Is issued to Indians who intend to enter the Republic of Armenia for tourism, visiting relatives, business visa, medical treatment, or other short-term stays. A visitor visa is issued for single or multiple entries with a validity of one year. Short Term, which is up to 21 days, or Visitor Visa Long Term, which is up to 120 days.

A Transit visa: A transit visa is required for travelers passing through the Republic of Armenia while going to another country. This applies to foreigners from any country who are using air or land transport to transit through Armenia. To obtain a transit visa, you need to have either a ticket to your destination country or an entry visa from another country. The maximum duration of stay in Armenia for transit purposes is 72 hours unless there is an emergency situation.
What Are The Armenia Visa Fees for Indians?
The Armenia visa cost for indians is USD 7, approximately ₹ 578 for a short-term visa. Then the Armenia visa cost for the long-term visa is USD 34, approximately ₹ 2 809. When submitting an online application for a visa, this cost must be paid.
Payment options include a PayPal account, a VISA, MasterCard, American Express, Discover Card, or another recognized method. You should be aware that the visa fee for Armenia is non-refundable, so gather the necessary documents and information before submitting your application and paying the money.
What Is The Armenia Visa Processing Time?
The processing time differs depending on how you have made your Armenia Visa application.
The Armania E-VISA for Indians processing time is 3 working days. The processing time is calculated starting from the next business day after your application's online submission through the Armenia E-VISA for Indians system.
The Ministry of foreign affairs is entitled to request additional information and documents, which may cause a delay in the application concerned.
How Long Can I Stay With Armenia Visa For Indians?
You can stay for a maximum of 21 days with a short-term visa. And with the Long- term visa, you can stay for up 120 days.
What Is Armania EVisa Validity For Indians?
The Armenia visa for Indians depends on the visa type you choose. The short-term visa is valid for 90 days, and the long-term visa is valid for 180 days.
Can I Extend My Armenia Visa For Indians?
Yes. The Armenia visa extension is up to 60 days. To extend the entry visa period, it is necessary to apply to the Migration and Citizenship Service of the RA Ministry of Internal Affairs, submitting an entry visa extension application questionnaire that states the reason for extending the period of stay in Armenia.
What Happens After Applying For Armenia Visa For Indians?
After applying for an Armenia visa as an Indian national, here is what happens:
Entry Requirements: To enter the Republic of Armenia, you need a valid passport, entry visa, or a document confirming your residency status. Indian minors can enter accompanied by their parents, a parent, or a legal representative.

Entry without Valid Documents: If you arrive in Armenia without a valid identity document or visa, or if you refuse to obtain an Armenian visa, you will not be allowed to enter and will be returned to India.

Leaving Armenia: To leave Armenia, you must have a valid passport and any necessary documents validating your stay in Armenia. You can exit the country through state border crossing points with the permission of the border control body.

Entry Restrictions: Those who arrive at the Republic of Armenia border crossing point without a passport or a document replacing it, or those with an invalid passport or denied entry visa will not be allowed to enter the country. They are usually immediately returned to their place of origin or the state they arrived from. If you have insufficient funds, the costs of your return will be covered by the carriers who brought you to the Armenian borders.
It's important to ensure that you have the necessary documents and comply with the entry requirements to avoid any issues during your travel to Armenia.
What Are The Activities Indians Can Participate In Armenia?
Here are some activities that Indians in Armenia can enjoy:
Visit Historic Churches: Armenia is home to several old, over a thousand-year-old churches and monasteries. A rich cultural and historical experience, with beautiful architecture and sophisticated designs, can be had by touring these old holy places.

Explore Dalan Art Gallery: This well-known tourist attraction is on one of Yerevan's charming roads. One of the earliest shops in Armenia to sell souvenirs was this one. You can peruse a variety of exhibitions in the gallery, including magnets, pomegranates, grapes, and pictures of Mount Ararat.

Discover Vernissage Market: Vernissage is a busy outdoor market where many kinds of goods are available. There is something for everyone, including souvenirs, jewelry, musical instruments, and artwork. As you visit the market and shop, show off your negotiating abilities.
These activities provide a glimpse into Armenia's rich cultural heritage and offer opportunities to explore its artistic side. So whether you're interested in history, art, or shopping, Armenia has something to offer every Indian visitor.
All Done
Now that you know more about how to get yourself the Armenia Visa for Indians, you can start your Armenia visa application process. Go out there and enjoy the place famously known for its natural setting attractions. Happy traveling.
Government sources
The information in this blog was gathered from government sources. It was written with AI assistance for better understanding and readability:
Frequently Asked Questions
Yes, Indian passport holders need a visa to visit Armenia.
Author:
Mable Chidi
Verified Author: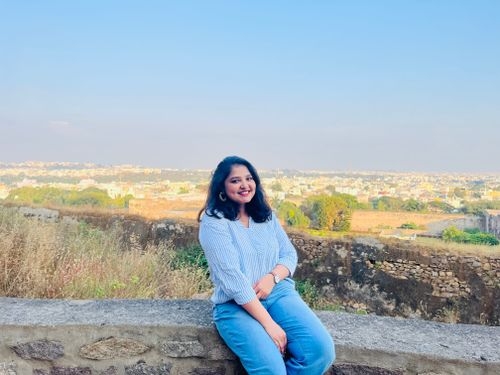 Nikhita Rathod