Armenia Visa Status Check | Online And Embassy Visa Tracking
Last Updated : 20-Nov-2023
Atlys in the news
30-Second Summary
When you have applied for your Armenia e-visa, you track your visa by doing an Armenia visa status check:
1

Visit the online portal.

2

Select "Check Application Status".

3

Enter your application ID.

5

Submit the status application to see your visa's current status.
Are you excited about your visa for Armenia and wondering where it's at? Don't worry; we've got you covered! We'll guide you through the process of tracking your Armenia visa and help you understand the different updates you might get.
What Is A Visa Status Check?
Before we go through the steps of checking your visa status, let's see why you would do a status check. 
When you track your visa, you can see at what processing stage it is, such as if it got approved or rejected or is still in progress. 
This will help you to plan your travel more efficiently without any hassle.
Checking Your Armenia Visa Status
Before you can check your visa status, you must ensure that you have your application ID with you. You would have received the application ID number when you completed the online visa application.
Checking Your Armenia Visa Status Through The Online Portal
You can check your visa status online when applying for your Armenia e-visa through the online portal. Here are the steps you can follow:
1

Go To The Online Portal: To check your status, visit the Armenia government online portal.

2

Opt To Track Your Visa: Select "Check Application Status" on the government portal.

3

Enter ID: Next, you must enter your application ID number.

4

Enter Captcha: Complete the security check by entering the captcha. You can refresh the captcha by clicking on the provided captcha.

5

Submit: Click "Check Visa Status" to view your status.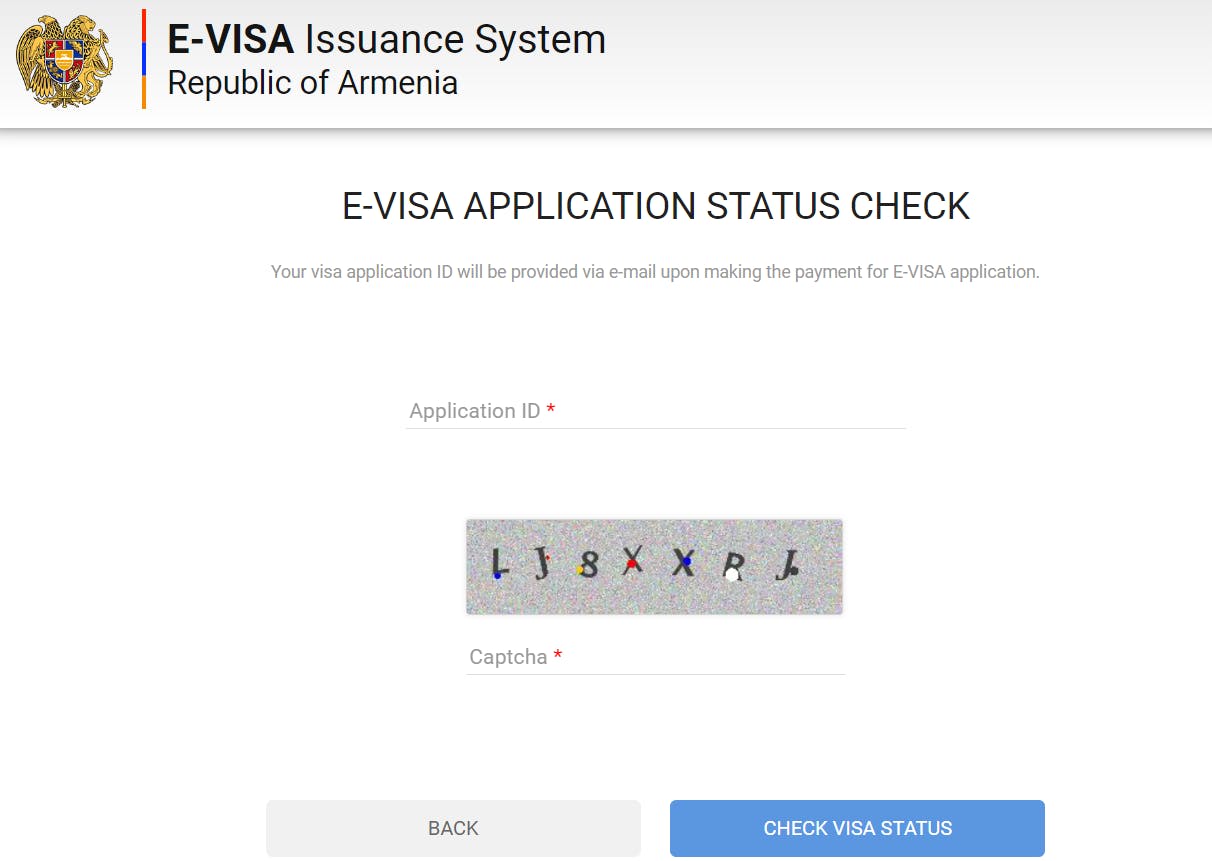 Checking Your Visa Status Through The Embassy
When you have applied for your visa through the embassy, you cannot see your visa status through the online portal.
Instead, you will need to contact the embassy and ask if you can inquire to see your visa status.
Here are the embassy details for India:
Address: Armenia Street D-133, Anand Niketan, New Delhi-110021, India
Contact: (+91 11) 46025958 / (+91-11) 2411 2851 
Email: armindiaembassy@mfa.am
Website: https://india.mfa.am/en
Working Hours: Monday to Friday, 10:00 to 18:00.
Possible Status Updates
Once you have inquired about your visa status, you can receive one of the following possible updates:
In Progress/Pending: Your visa is still being processed, and the authorities have not yet decided.

Approved: An approved status means that your visa has successfully been approved.

Denied: Your status will be denied if the authorities find reasons not to grant your visa.

Issued: This status indicates that you have received your visa, which will be in digital format via email.
Additional Information About The Armeia Visa
Next, we will cover some additional information about the Armenia visa, such as rejection reasons and the benefits of doing a status check:
Benefits Of Doing A Status Check
Doing a status check has multiple benefits. Here are some of the main benefits:
Real-Time Updates: The online system will provide real-time updates, ensuring you have the most updated information.

Convenience: Checking your status online is convenient since you can see it with a few clicks, and it won't require visiting an embassy.

Limits Delays: Some portals will update you if your visa needs additional documents. You can then provide the required documents to limit any delays in your visa processing.

Planning Your Travel: By knowing your visa status, you can plan your travel better by arranging transport or other travel details.

Peace Of Mind: Seeing your visa progressing gives you peace of mind, knowing it is being processed.
Possible Rejection Reasons
Various reasons can cause your visa applications to be rejected. Some of the main reasons include:
Missing Documents: If you do not provide all the required documents, the authorities can reject your visa since they do not have the required information.

Incorrect Information: Your visa can get rejected if you provide false information on your documents.

Insufficient Funds: If you have insufficient funds to cover your stay in Armenia or show a lack of documents for sufficient funds. Your visa could be denied.

Criminal Record: If you have a criminal history with serious offences, the authorities can reject your visa for security reasons.

Visa Overstay: When you have overstayed a visa previously in Armenia or other countries for a long period, your application can be denied.
What Should I Do If My Visa Gets Denied?
Since the Armenian embassy does not provide a reason for visa rejection, you can review your documents to fix any mistakes. Ensure you have all the required documents and that all the information you have provided is accurate. You can reapply for your visa once you are happy with your documents.
What Type Of Armenia Visas Can Indians Apply For?
Armenia only provides a few visa types. A visit visa and transit visa. However, you can enter the country for various reasons with a visit visa. Let's see some of the activities you can do in Armenia with a visit visa:
Tourism: The visit visa can be used as a tourist visa. This will allow you to perform leisure activities like sightseeing and exploring.

Study: Indian nationals can use the visit visa as an Armenia study visa. With this, you can study at an approved educational institution.

Business: Business travellers can use the visit visa to perform business activities, such as attending meetings, conferences, or discussing business deals.

Medical Treatment: When travelling to Armenia for medical treatment purposes, you can apply for a visit visa.

Visiting Family: The visit visa can be used to visit family members and relatives in Armenia.
When you apply for your visa, you must specify the reason for your visit. 
To Summarize
Ultimately, we have seen that Indians can do an Armenia visa status check online. By following the step-by-step guide, you can successfully complete and submit your Armenia visa tracking.
You can also contact the embassy to inquire about your visa status. This can only be done after the expected approval date of your visa.
Enjoy your travel to Armenia!
Government Sources
Atlys is committed to providing you with accurate information. This is why all the details from this blog were gathered from trusted government websites such as:
Frequently Asked Questions
The Armenia visa processing time varies based on where you applied and the type of visa you applied for. Generally, the e-visa takes about 3 days to process, and when applying at an embassy, it will take about 10 days.
Author: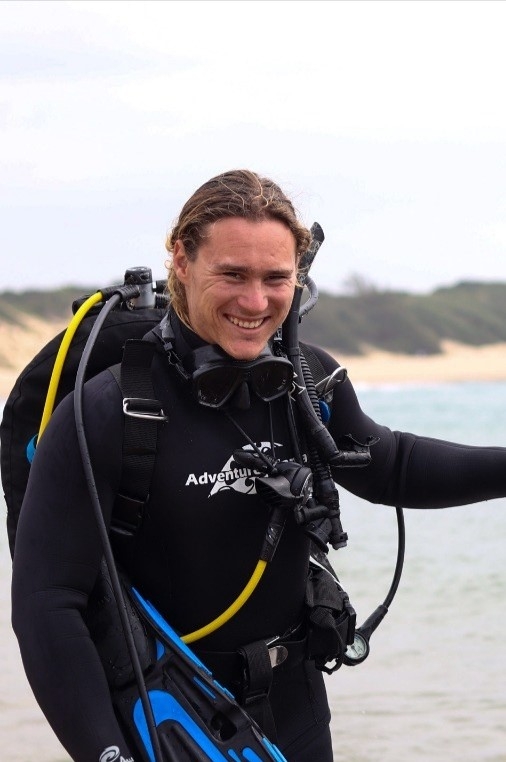 Gustav Mummbrauer
Verified Author: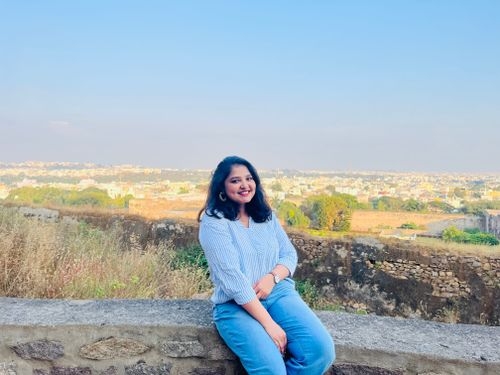 Nikhita Rathod