Azerbaijan Student Visa | Step-By-Step Application Process
Last Updated : 29-Sept-2023
Atlys in the news
30 Second Summary
Indians need an Azerbaijan study visa to enter the country and can apply for the visa online or through the Embassy. 
The Azerbaijan Student Visa is specifically designed for international students who wish to study at recognised educational institutions in Azerbaijan.

The Azerbaijan visa for Indians does require you to submit your passport at the Embassy.

Once your visa is approved, you will be notified and can collect it at the Embassy unless you applied for the ASAN evisa.

You must submit the Azerbaijan visa application at least 3 weeks before travelling.
*Atlys does not provide the Azerbaijan Student Visa
Important Information
Azerbaijan
— Is A Visa Required for Indians?
Yes, Indian students need to apply for a visa to enter Azerbaijan.
— Azerbaijan Visa Fees.
Single entry for 90 days is 20 USD.
— Azerbaijan Visa Processing Time.
Processing time can range from 5 to 15 working days.
— Length of Stay.
The length of stay with Azerbaijan visa is 90 days.
Obtaining an Azerbaijan study visa is crucial for international students wanting to pursue their education in this country. This guide outlines the essential steps and requirements for applying for an Azerbaijan Student Visa, ensuring a smooth and successful application process for Indian students.
What is an Azerbaijan Study Visa?
An Azerbaijan Student Visa for Indians is a legal authorisation issued by the government of Azerbaijan that allows foreign students to study at recognised educational institutions. 
This visa category is specifically designed for international students who wish to study in Azerbaijan. It ensures that students can stay in Azerbaijan for the duration of their academic program and engage in educational activities.
Citizens from the Republic of Belarus, Georgia, the Republic of Kazakhstan, the Kyrgyz Republic, the Republic of Moldova, the Republic of Uzbekistan, the Russian Federation, the Republic of Tajikistan, and Ukraine do not require a visa.
Do Indians need a Student visa to study in Azerbaijan?
Yes, Indian students planning to pursue their studies are required to obtain an Azerbaijan study visa. To get a Student Visa, applicants usually must meet certain criteria set by Azerbaijan authorities and provide documents related to their educational program. 
Indians can get the visa through Azerbaijan Embassies in their home country or by using ASAN VISA.
What Documents are Required for your Azerbaijan Student Visa
The Azerbaijan Student visa requirements with documents include:
A passport or travel document with a validity period exceeding the expected visa validity by at least 3 months, including copies of the main pages.

Two colour photographs (3x4cm) that follow the biometric identification requirements.

A copy of a medical insurance certificate unless the host agrees to cover medical expenses.

Proof of payment of the state fee for visa issuance.

An invitation letter submitted by a host party inviting a foreigner or stateless person to Azerbaijan. The executive authority must approve the letter's format and may require a registered copy of a certificate for non-governmental organisations. Here is a sample.

A copy of the travel ticket.

A copy of the contract with the receiving institution.

A bank-certified document demonstrating that the individual possesses ample financial resources to cover expenses such as accommodation, education, and other living costs in Azerbaijan. This requirement applies when the education is not financially supported by the individual's country of citizenship or permanent residence.

Supporting documents specified in articles 25-34 of the Migration Code, depending on the purpose of travel.
Please remember that the embassy may require additional documents to support your application. The documents listed here are general guidelines for the most commonly required items.
How to Apply for the Azerbaijan Study Visa from the Embassy
Step 1: Receive An Offer Of Admission
Firstly, secure an acceptance letter from an accredited educational institution in Azerbaijan, ensuring the institution is authorised to admit international students.
Step 2: Start the Online Application
Visit the official visa application portal and initiate the visa process. Select the "new application" option and indicate your location.
Step 3: Complete the Application on the Portal
Provide your personal information, travel details, occupation, and contact details. Click "Create application." A registration code will be sent to your provided email address.
Once you receive the registration code, input it into the system and continue to provide your travel details, migration history, visa data, and upload essential documents, such as:
A colour photo of yourself (sized 3x4cm)

A digital copy of your passport
Ensure that under the visa data section, you specify "Education" as your purpose of visit. You can submit a hard copy of this to the Embassy.
Step 4: Pay the Visa Fee
The Azerbaijan Student Visa fee is non-refundable, regardless of the processing outcome. The Embassy does not accept cash payments. Pay the required visa fee and retain proof of payment. Bank details can be found on the official Embassy government website.
Single-entry visa (up to 90 Days): 20 USD

Multiple-entry visa (up to 180 days): 350 USD
Step 5: Collect the Necessary Documents
Ensure you have all the required documents as mentioned earlier, including hard copies of each. Don't forget to bring your proof of payment and your completed visa application form. 
Please note that document submission via postal mail or courier services is not accepted. You must submit your application in person.
Step 6: Visit the Embassy
To apply for your Azerbaijan study visa, schedule an appointment at the Azerbaijan Embassy in your country. Be mindful of the embassy's operating hours. Be well-prepared with all necessary documents and information when scheduling your appointment.
Step 7: Submit your Application and Await Visa Processing
After submitting your visa application at the Azerbaijan Embassy, you'll need to wait for the visa processing to be completed. The Azerbaijan Study Visa processing time typically ranges from 5 to 15 working days.
Step 8: Collect Your Visa
Once your Azerbaijan study visa application is processed and approved, you must personally collect it from the embassy. Ensure you have proper identification, including your passport, and bring any relevant receipts or proof of payment with you for a smooth collection process.
Applying For An Azerbaijan Student Visa Online
This is the same application portal where you apply for the tourist evisa therefore, the application process is the same. For a more in-depth application process, read our detailed blog on the Azerbaijan evisa for Indians.  
2

Start a new e visa application and provide the necessary details.

3

The purpose of your visit will be "Education". 

4

Decide whether you want standard processing (3 days) or urgent processing ( 3 hours). 

5

Provide your travel dates, then complete the personal information, email verification, data control and payment sections. 

6

The visa fees will be displayed on your application (usually, the standard processing visa fee is 20 USD, and the service fee is 5 USD).
Here are a few things to note for the ASAN student visa: 
The e-Visa validity period is 90 days. 

The period of stay cannot exceed 30 days.

Foreign nationals and stateless individuals can apply for a new electronic visa only once they have departed Azerbaijan territory.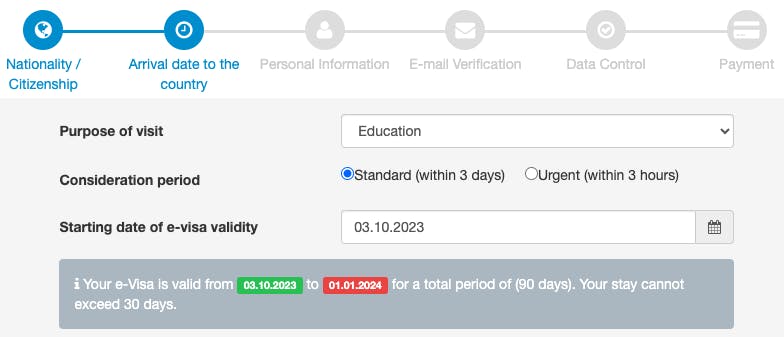 As you can see here, the purpose of the visit will be "Education", and your evisa validity will be displayed for you.
How to Check the Azerbaijan Student Visa Status
Tracking the status of your Student Visa to Azerbaijan is a straightforward process. Here are the following steps:
If you applied on the ASAN portal: 
2

Retrieve your visa status using either your Registration Number, Email Address, or Passport Number.

3

Input the required information.

5

You will then gain access to your visa application status.
If you applied through the embassy: 
2

Click on "Manage application." 

3

Provide your registration code (that was sent to you) and your email address. 

4

It will find your application. If no updates are given here, you must contact the Embassy directly.
Overview of the Azerbaijan Study Visa from India through the Embassy
What are the Azerbaijan Study Visa Fee and Payment Processes?
The single entry visa (up to 90 days) is 20 USD.
The multiple entry visa (up to 180 days) is 350 US. 
When submitting your application at the embassy, verifying the payment process in advance is essential. Check whether you need to make the payment before your appointment and provide proof of payment or if paying in cash is acceptable. It's worth noting that the embassy website states that cash payments are not accepted.
What is the Azerbaijan Student Visa Processing Time?
Visa processing times typically range from 5 to 15 days, although the duration can vary based on individual circumstances.
What is the Azerbaijan Student Visa Length of Stay?
The length of stay with Azerbaijan student visas is up to 90 days.
Must I Register My Place of Stay?
Yes, foreigners or stateless individuals who plan to stay in the Republic of Azerbaijan for over 15 days must undergo a registration process at their place of residence. It's important to note that no government fee is associated with this temporary residency permit.
Study in Azerbaijan Centralized Admission Service
SIACAS, which stands for Study in Azerbaijan Centralized Admission Service, is an online platform located at portal.edu.az. Its primary purpose is to streamline the admission process for international students seeking to study at Azerbaijan's secondary special and higher education institutions. These institutions include universities, academies, colleges, conservatories, and more.
Here's how SIACAS works: Students can apply for free, and the platform forwards their applications to relevant institutions. The institutions assess applications and communicate decisions through the platform. 
Students may need to provide additional documents, attend interviews, or make payments depending on the institution's response. Once all the Azerbaijan student visa requirements are met, the admission process is complete, and students can focus on visa, travel, and accommodation arrangements.
And We Are Done!
To wrap it up, if you're an Indian student dreaming of studying in Azerbaijan, here's what you need to know: Get accepted by an Azerbaijan institution, apply online or at the embassy, pay the visa fee, wait for processing, and pick up your visa when it's ready. 
Don't forget to register your stay if you plan to be there for over 15 days. With these steps, you'll be on your way to pursuing your education in Azerbaijan hassle-free. Good luck!
Government Sources: 
Atlys is committed to providing accurate and up-to-date information by exclusively sourcing data from official government websites. It's important to note that websites can undergo changes and updates without prior notice. Therefore, please take a moment and go through the State Migration Service and Government websites to ensure a smooth journey.  
Government visa application portal 
Embassy of the Republic of Azerbaijan to the Republic of India 
Frequently Asked Questions
No, if you want to work in Azerbaijan, apply for the proper visa, such as the Azerbaijan Work Visa or the Azerbaijan Business Visa. Part-time student work might be permitted on a student visa, but not full-time employment.
Author: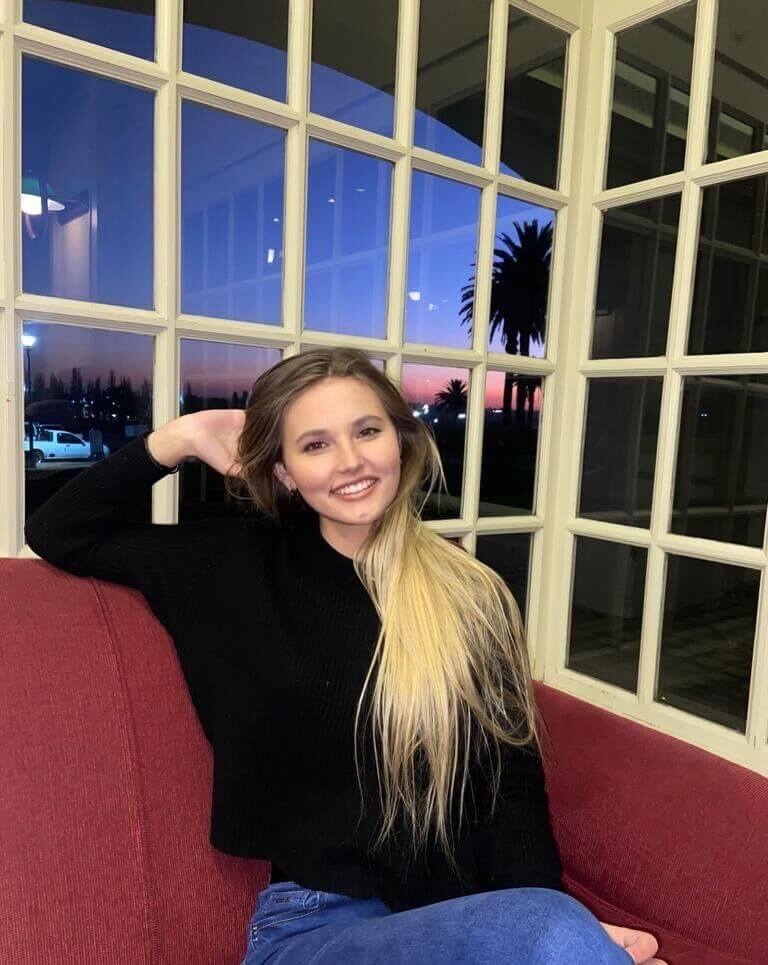 Zaskia Kukard
Verified Author: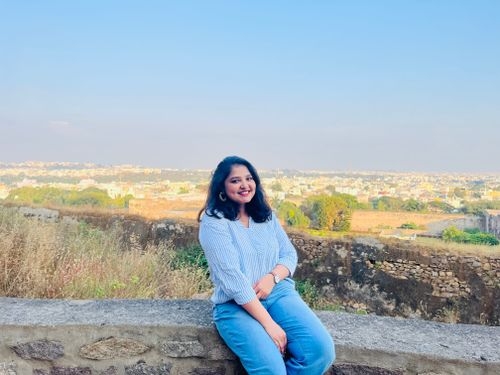 Nikhita Rathod