Bahriain Visa Check - How To Check Your Visa Status
Last Updated : 01-Nov-2023
Atlys in the news
30-Second Summary
Indian citizens can check their Bahrain visa status online.
It's important to check your visa status every now and then to stay updated on the progress of your visa.

If your Bahrain visa is approved you'll receive an email from the Bahrain Embassy or your sponsor with the visa attached.

You need your reference number along with other details to check your visa status.
If you're looking for a post about the Bahrain visa check for Indians, you found it. This post will cover the ways you can check your visa status and why it's important that you check your status.
Why Should I Check My Bahrain Visa Status?
Checking your Bahrain visa status is crucial for several reasons, as it helps you stay informed and ensure a smooth travel or work experience in Bahrain:
Confirmation of Approval: The most obvious reason to check your visa status is to confirm whether your visa application has been approved. This confirmation is necessary before you can make travel plans or start working in Bahrain.

Timely Travel Plans: Knowing your visa status allows you to make timely travel plans. If your visa is approved, you can make arrangements for your journey to Bahrain, including booking flights and accommodations. On the other hand, if your visa is rejected, you'll need to explore other options or address any issues that led to the rejection.

Preventing Delays and Issues: Sometimes, visa processing can experience delays or errors. By checking your visa status regularly, you can identify any issues early on and take corrective actions. This proactive approach can prevent last-minute complications in your travel or work plans.

Peace of Mind: Knowing your visa status provides peace of mind, as you can make sure that your visa application is on track. This peace of mind can reduce stress and uncertainty associated with travel and work in a foreign country.
In summary, checking your Bahrain visa status is a responsible and necessary step to ensure your legal compliance, facilitate travel plans, and avoid potential issues or complications associated with visa applications. 
How Do I Know If My Bahrain Visa Is Approved?
When your Bahrain visa is approved, you will typically receive a notification from the relevant authorities, the sponsor, or the visa processing agency. This notification is sent via email or physical mail, depending on the method you or your sponsor chose during the application process. 
For example, if you applied for a Bahrain e visa, you'll receive an email with your e visa attached. However, if you applied for a work visa your employer will send you an email with your visa.
How Do I Know If My Visa Is Rejected?
If your Bahrain visa application is rejected, your visa status will show "Rejected". You will receive a formal notification from the immigration authorities or your sponsor. The rejection notice will specify the reason for the denial. You may also check your visa application status using the application number on the official website, and it will indicate if your application has been rejected.
Bahrain Visa Check For Indians
This section will cover the different ways you can check your Bahrain visa status online.
How Can I Check My Bahrain E Visa Status?
You can do a Bahrain visa check by passport number. You will need to enter the following information:
Your application reference number
How to check your visa status:
First, you must go to the Bahrain Ministry of Interiors webpage.
You will need to go to the tab that says Visa Services on the main menu at the top of the website. When you go to this tab, there will be a drop-down with several services.
Here, you must click on the one that says Check Application Status, click on it. This will take you to a new page.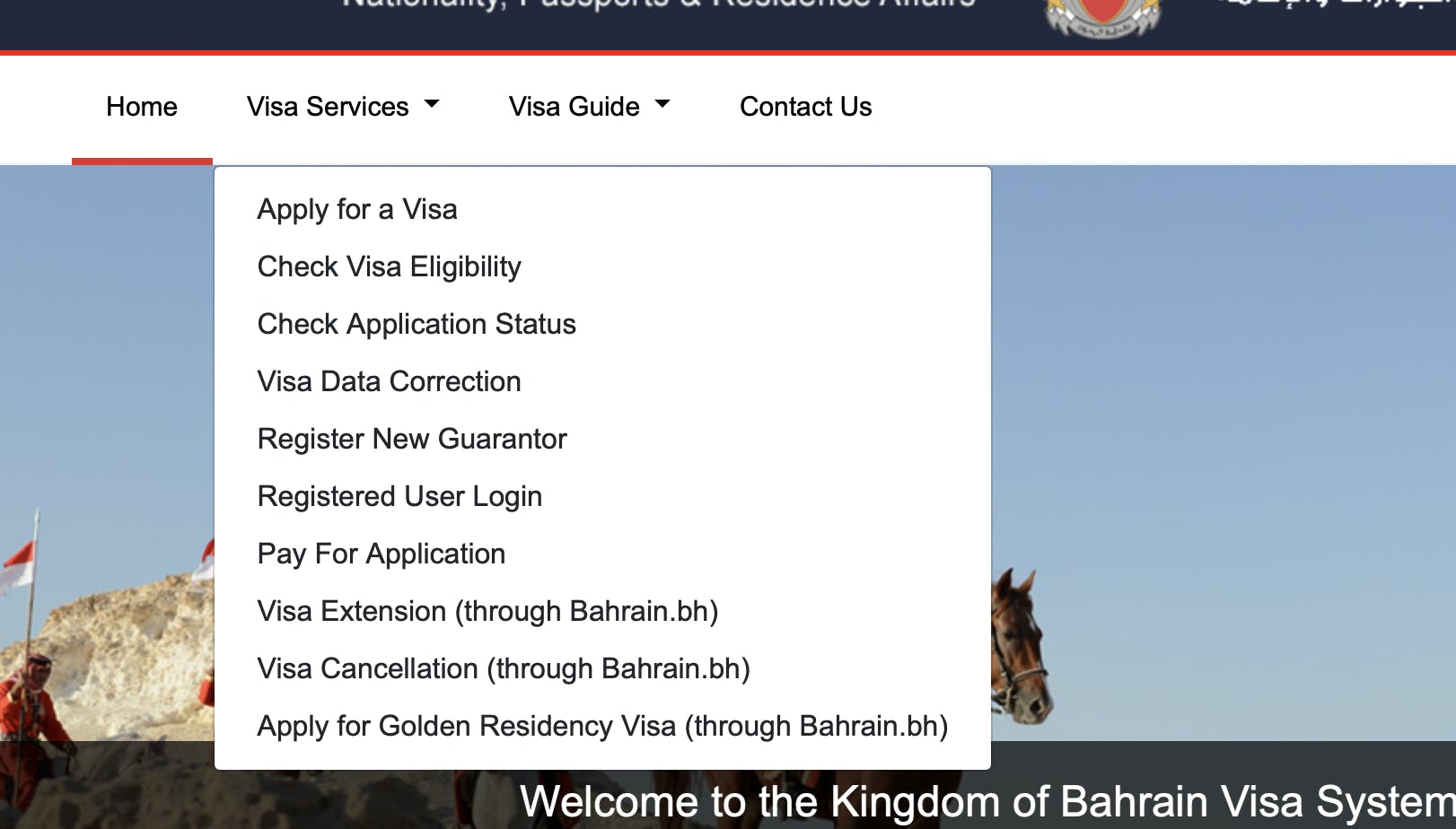 On this page, you will need to fill in the required information, and once you click on ' Submit', you will be able to see your Bahrain e visa status.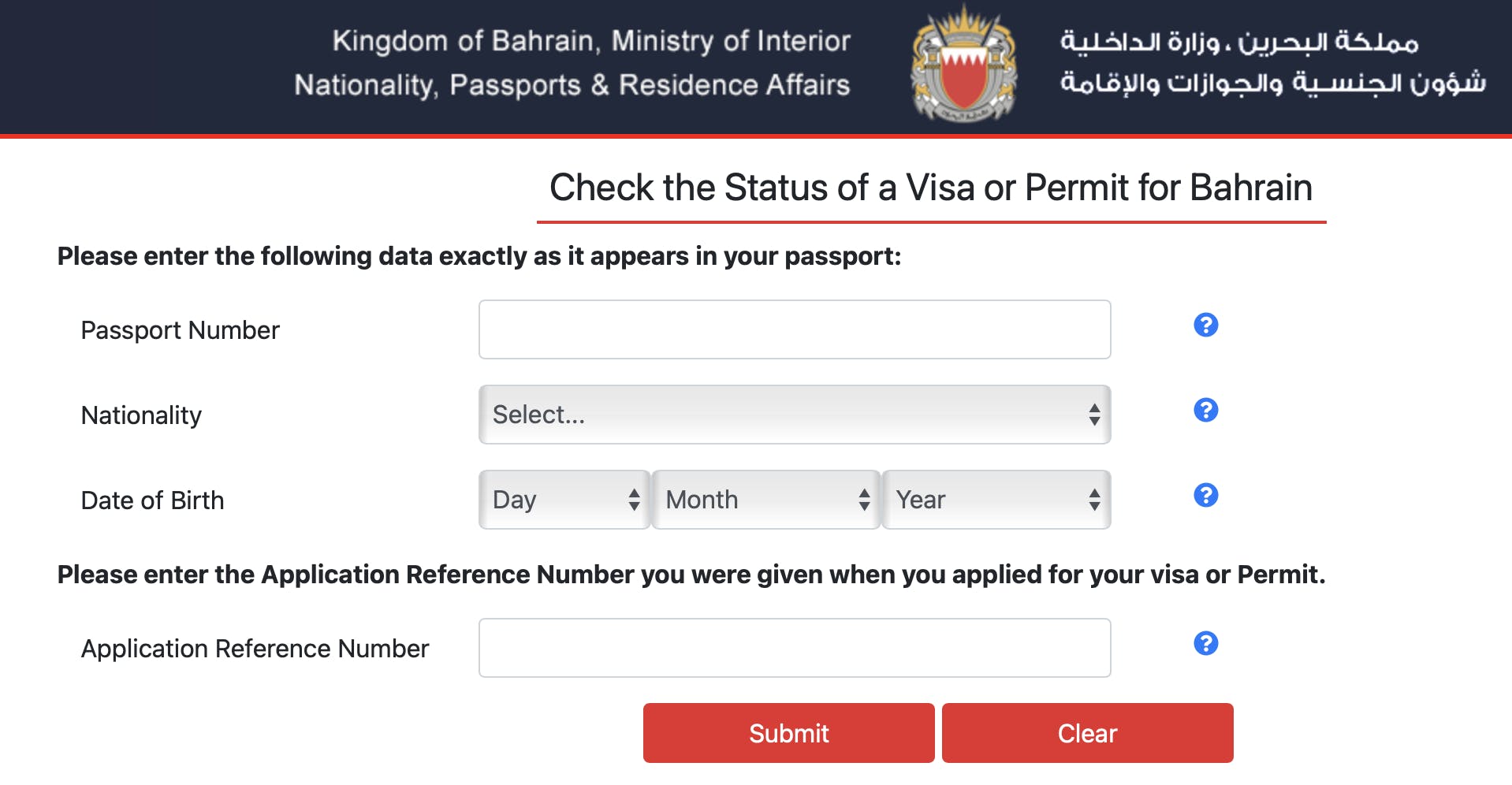 How Do I Check My LMRA Status?
Unfortunately, you can't check your LMRA status unless your employer gives you their login details. Otherwise, your employer must check the visa status and then let you know,
To check your LMRA (Labor Market Regulatory Authority) status, you can visit the LMRA website and use their online services. Your employer must log into their account, where they can check your work permit and visa status. This is essential for individuals working in Bahrain.
Bahrain Visa Status Check If You Applied Through Atlys
If you applied for your Bahrain tourist visa through Atlys, you can check the visa status on the app. Here's how:
3

Click on "My Documents."
This will take you to your dashboard where you'll be able to see the status of your visa.
Can I Track My Visa Application With An Application Number?
Yes, you can track your Bahrain visa application with the application number. Visit the official website of the General Directorate of Nationality, Passports & Residence (NPRA) in Bahrain. There is typically a section for tracking visa applications, where you can enter your application number to check the status.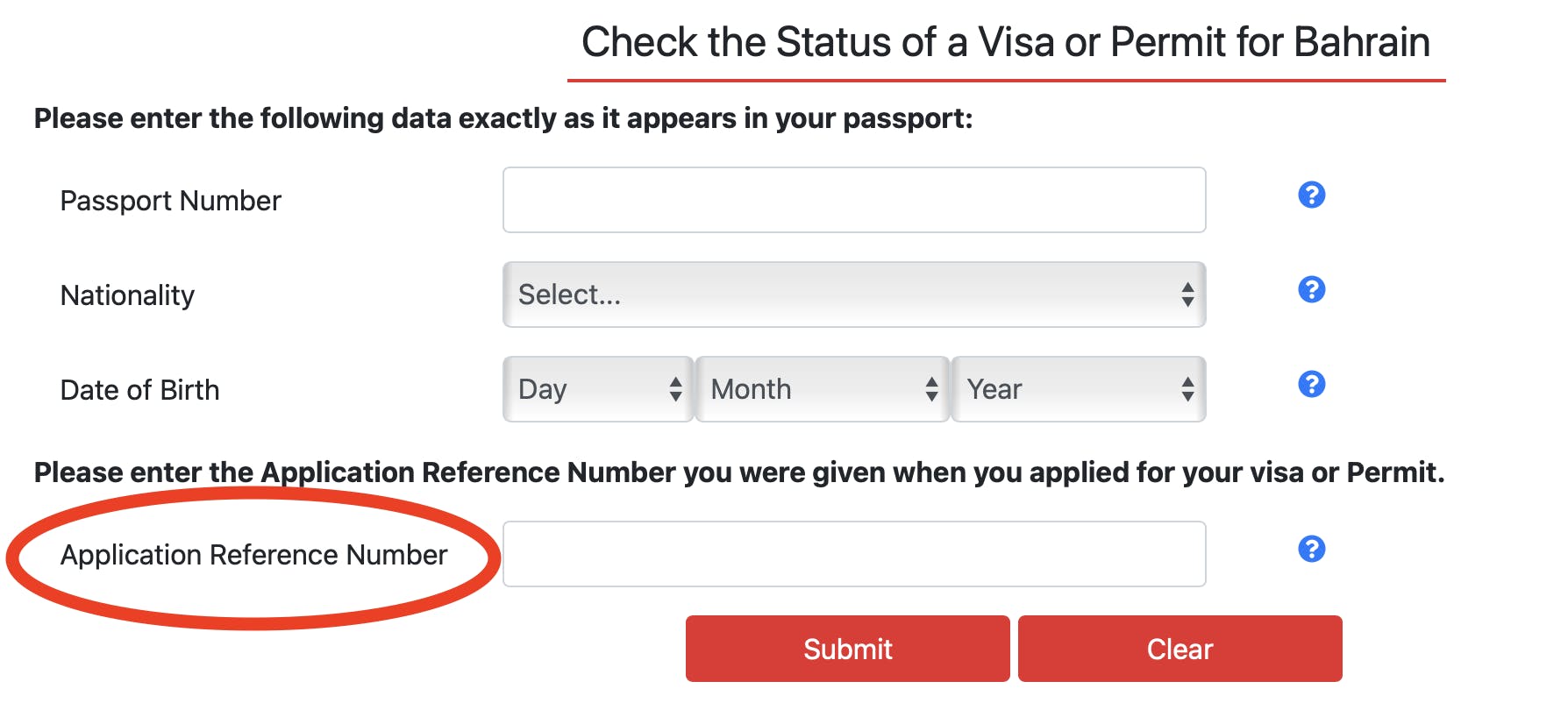 Can I Check My Bahrain Visa Status Without An Application Number?
No, you can't. The application number is a unique identifier used to track and verify the status of your visa. It is typically provided to you during the visa application process. If you've lost it, consider reaching out to your sponsor or the relevant government agency for assistance.
That's It!
Now you know everything you need to know about the Bahrain visa status check for Indians. If you have any other questions, you can read through our FAQ section.
Government Sources
Atlys only wants to provide you with up-to-date and accurate information. This is why we only used the Bahrain government websites as sources for this blog post.
Frequently Asked Questions
How long does it take for a Bahrain visa to be approved?
The processing time for a Bahrain visa can vary depending on the type of visa, the specific circumstances, and the workload of the immigration authorities. In some cases, it may take a few weeks, while in others, it could be several months. It's advisable to check with your sponsor or the visa processing agency for an estimated processing time.
Why is my Bahrain visa not approved?
Bahrain authorities may deny a visa for various reasons, including but not limited to:
Incomplete or inaccurate application.

Failure to meet the visa requirements.

Concerns about your background or intentions.

Overstay or violation of previous visas.

Discrepancies in submitted documents.
To understand the exact reason for visa denial, you can find this information in the rejection notice or consult with the relevant authorities for clarification.
What information do I need to check my Bahrain visa status online?
You typically need your application number, passport details, and personal information to check your Bahrain visa status.
What does it mean if my Bahrain visa status shows "under process"?
"Under process" typically means your visa application is still being reviewed and has not been approved or rejected yet. It's a normal status during the application processing.
Can I check my visa status with just my passport number?
No, you can't. You'll need your application number in addition to your passport details to check your Bahrain visa status. Passport number alone will not be enough.
What should I do if my Bahrain visa is about to expire, and I haven't received any status update?
If your visa is about to expire and you haven't received an update, it's crucial to contact the relevant authorities or your sponsor immediately to avoid legal issues.
Author: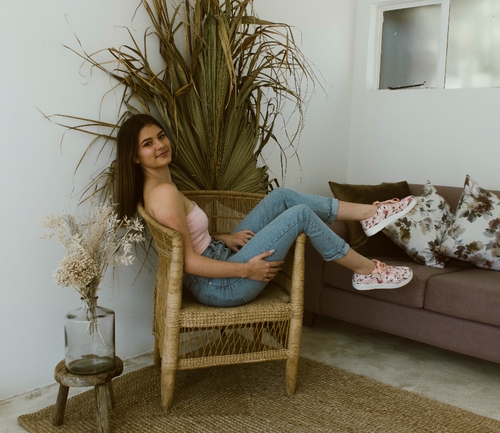 Laliq Schuman
Verified Author: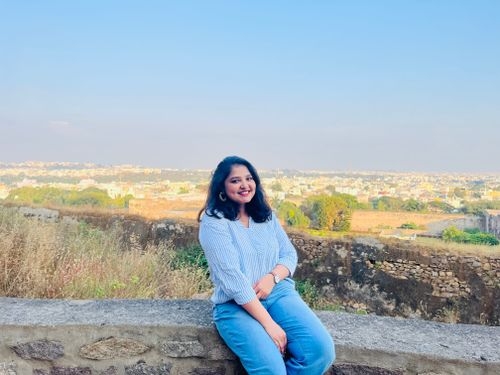 Nikhita Rathod