How To Get A Brazil Visa For Indians Effortlessly In 2023?
Last Updated : 04-Sept-2023
Atlys in the news
30-Second Summary
Indian nationals travelling to Brazil must apply for a Brazil tourist visa which allows them to visit for Tourism.
You should schedule an appointment online and submit your application in person.

Brazil tourist visa requires you to submit your passport offline.

Once your visa is approved, you will get a visa in your passport that you can use to enter the country.

You must submit the Brazil tourist visa application at least 30 days before travelling.
Important Information
Brazil
— Do Indians Need A Visa?
Yes, Indians need a tourist visa to enter Brazil for tourism purposes.
Learn More
— Brazil Visa Fees
The visa cost for the Brazil tourist visa is €88.
— How Can I Apply?
You can apply through Atlys or through the Brazil Embassy.
Learn More
— Brazil Visa Validity
The validity of the Brazil visa is 180 days.
— Duration Of Stay
The visa holder to stay in the country for up to 90 days.
— Brazil Visa Processing Time
Processing time for the Brazil tourist visa for Indians takes about 10-15 days.
Learn More
Indian nationals require a valid visa to travel to Brazil. In this blog, you'll find all the important information about the Brazil visa for Indian citizens, which you must go through before you plan to travel to South America.
Do Indian Nationals Need A Brazil Visa?
Yes, Indian nationals must get a visa before travelling to Brazil. The visa is needed for all types of travel, including tourism, business, and transit.
The Brazil visa for Indians is a travel document issued by the Brazilian government that allows Indian nationals to enter Brazil. ​​
Is There A Brazil Visa On Arrival For Indian Citizens?
No, there is no visa on arrival available for Indian passport holders.
What Are The Brazil Visa Requirements For Indian Citizens?
To obtain a Brazilian visa as an Indian passport holder, there are some documents required for Brazil tourist visa from India. These include:
Valid passport: A valid passport with at least 6 months of validity remaining. At least two blank pages are needed. Take note that pages marked for amendments are not valid for visa applications.

Visa application form: The completed visa application form must be completed online. Downloading a printable version is not possible.

Passport-sized photograph: The photo must be recent, against a white background, in the local standard specifications (3 x 4 cm).

Copy of the Travel prearrangements One of the following needs to be submitted, such as flight tickets, hotel reservations, etc.,

Proof of sufficient financial means: It must be compatible with the entire stay in Brazil, such as bank statements, income tax returns, etc.) The applicant must have access to about US$ 150.00 daily to cover costs.

Yellow fever vaccination certificate: If you'll be entering Brazil from countries where yellow fever is a risk, as an Indian visitor, you must have the yellow fever vaccination certificate showing you have been vaccinated.
The Brazil visa photo size is 3 x 4 cm

Taken against a white background

Taken within the last 6 months

Full-face view with a neutral facial expression and both eyes open

Validity: Indian nationals should have at least six months of validity left from the date they plan to enter Brazil.

Physical Condition: The passport must be in good physical condition. Any significant damage, such as water damage, torn pages, or a damaged chip, might render the passport invalid for travel.

Blank Visa Pages: The Indian passport should have at least one or two blank visa pages. Some countries might only allow entry if there are enough blank pages.

Lost or Stolen Passport: If a passport is lost or stolen, it should be reported immediately to the local police.

Travelling to Brazil will require you to show that you have enough funds to cover your stay. You should have around $150, approx ₹ 12 450 per day available.

This can be shown via bank statements or payslips no older than 3 months.
Brazil Tourist Visa For Indians Application Process
Applying for a Brazilian visa can seem like a tiresome process, but with a little bit of preparation, it can be a simple process. Here is a step-by-step guide to apply for a Brazil visa:
1

First, you will need to see what type of visa you require. If you are travelling to Brazil for tourism, you'll need to apply for the Brazil tourist visa for Indians.

4

You can submit your application to the Brazilian Embassy or Consulate once you've filled out the form and gathered all the required documents. You must also pay the visa fee there.

5

You must wait for your Brazil tourist visa to be processed after submitting your application and paying the visa fee. Even though the processing time can differ, it usually takes 2 weeks.

6

You can pick up your approved Brazil tourist visa in person at the Brazilian Embassy or Consulate or have it mailed to you.
To check your visa status, you'll use your date of birth and full name as it appears on your passport to check your status.

1

Go to The Brazil visa status check portal

2

Enter your name as they appear on your passport

3

Enter your date of birth as it appears on your passport

4

Enter the given phrases for security reasons

5

Click search to see the results
Overview Of The Brazil Visa For Indians
Before you can start the application process, here is what you need to know about the visa for Brazil for Indian citizens:
The validity of the Brazil visa is 180 days, and it allows you to stay in the country for 90 days from the date of entry into Brazil.

The processing time for a tourist visa for Brazil from India is 10 - 15 working days.
What To Expect At Immigration?
When arriving in Brazil with a tourist visa, here's what you can expect at immigration:
1

Documentation: Present your valid passport with the tourist visa stamp or sticker affixed.

2

Questions: Immigration officers might ask about the purpose of your visit, duration of stay, and where you'll be staying.

3

Proof: Have your return ticket, accommodation details, and financial means ready for verification.

4

Entry Stamp: Upon approval, you'll receive an entry stamp in your passport, indicating your allowed stay duration.

5

Customs Form: Fill out a customs declaration form if required.

6

Baggage Inspection: Your baggage might be subject to inspection by customs officials.

7

Enjoy Your Stay: Once cleared, you're free to explore and enjoy your time in Brazil.
Remember to follow all immigration and customs regulations to ensure a smooth entry process.
All Done!
Now that you know about the Brazil visa for Indians, you can begin planning your trip to this beautiful country.
Remember to apply for your visa in advance and ensure you have all the important documents and information to support your application.
Government sources
This blog was written with the assistance of AI. However, all the information has been verified and fact-checked. Atlys provides you with accurate information that has been gathered from trusted government sources.
Frequently Asked Questions
Yes, Indians need a Brazil visa to enter the country. To enter Brazil as a visitor, you must apply for a visa in advance at a Brazilian consulate office in India. Brazil doesn't have a visa on arrival for Indians.
Author:
Mable Chidi
Verified Author: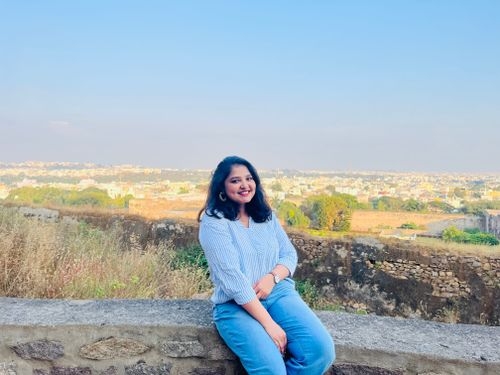 Nikhita Rathod