Cambodia Business Visa For Indians: Application Process
Last Updated : 07-Nov-2023
Atlys in the news
30 Second Summary
Indians need a visa to enter Cambodia and can apply for the visa online or through the embassy. The business visa is designed for Indians travelling for business activities.
You can complete the application online or at the embassy.

You can either submit your passport in person at the embassy or upload it through the online application portal.

Once your visa is approved, you can easily obtain it by printing it from the website or collecting it from the embassy.

You must submit the Cambodia visa application at least 2 weeks before travelling.
*Atlys does not provide this visa.
Important Information
Cambodia
— Is a Visa Required for Indians?
Yes, Indians require a visa to enter Cambodia.
— Visa Fees
The Cambodia visa cost is 42$ for the online application.
— Cambodia Visa Processing Time
The processing time is 3 business days.
— Length of Stay
You are allowed to stay for 30 days.
— Cambodia Visa Validity
The single-entry visa is valid for 3 months.
Planning a business trip to Cambodia from India? You'll need a Cambodia Business Visa for Indians. This essential guide provides Indians with easy-to-follow steps, fees, processing times, and visa options—whether you choose to apply online or through the embassy.
Don't stress because Atlys has got you covered. Let's dive right in and unravel the process of obtaining your Cambodia Business Visa for Indians.
Do Indians Need a Cambodia Visa for Business?
Yes, Indian citizens intending to pursue business activities must obtain a Cambodian visa before entering the country. 
This Business visa for Cambodia allows Indians to participate in various business-related activities, such as meetings, trade, and investment opportunities. You can apply online or through the embassy, depending on what visa type you need. 
What is The Cambodia Business Visa?
The Cambodia Business Visa, known as the Type E visa, comes in different types designed for business-related travel. Indian citizens can easily apply for this visa online through the same portal used for eVisa applications. When applying, just select "business" as your purpose of visit.
The online visa application is sufficient if you plan to make a single-entry, short-term visit. However, you must visit the embassy in person if you require a longer business visa. Applying for a visa in person is referred to as a Cambodia sticker visa.
Cambodia offers both single and multiple-entry business visas to cater to different travel requirements.
Documents Required When Applying For A Cambodia Business Visa
Online Application Documents Required :
When applying through the online portal, you'll need to upload the following documents:
A copy of your valid passport

A digital photo of yourself

Business letter of invitation 

The format of the documents must be. JPG. JPEG. PNG or. PDF

The uploaded documents must not exceed a maximum file size of 2MB.
Additional Documents Required for Embassy Applications:
These are the Cambodia business visa requirements when applying online. However, if you choose to apply at the embassy or want to be prepared with additional documents in case they are requested, you can consider the following:
Proof of flight tickets or bookings

Proof of current residence 

Proof of travel insurance

Financial Documents such as bank statements

If you apply through the embassy, remember the visa fees 
Preparing these documents ahead of time can make the visa application process more efficient.
Application Steps for the Cambodia Business Visa for Indian Travellers
The online application process is straightforward, but let's now go through each step in detail.
How to Easily Apply for the Business Visa
Step 1: Start the Online Visa Application
Visit the official Government website of Cambodia. Scroll down and click on "Apply now".
Step 2: Provide Required Details
After entering the confirmation code, proceed to fill in the necessary personal information. This is what the front page requires and looks like: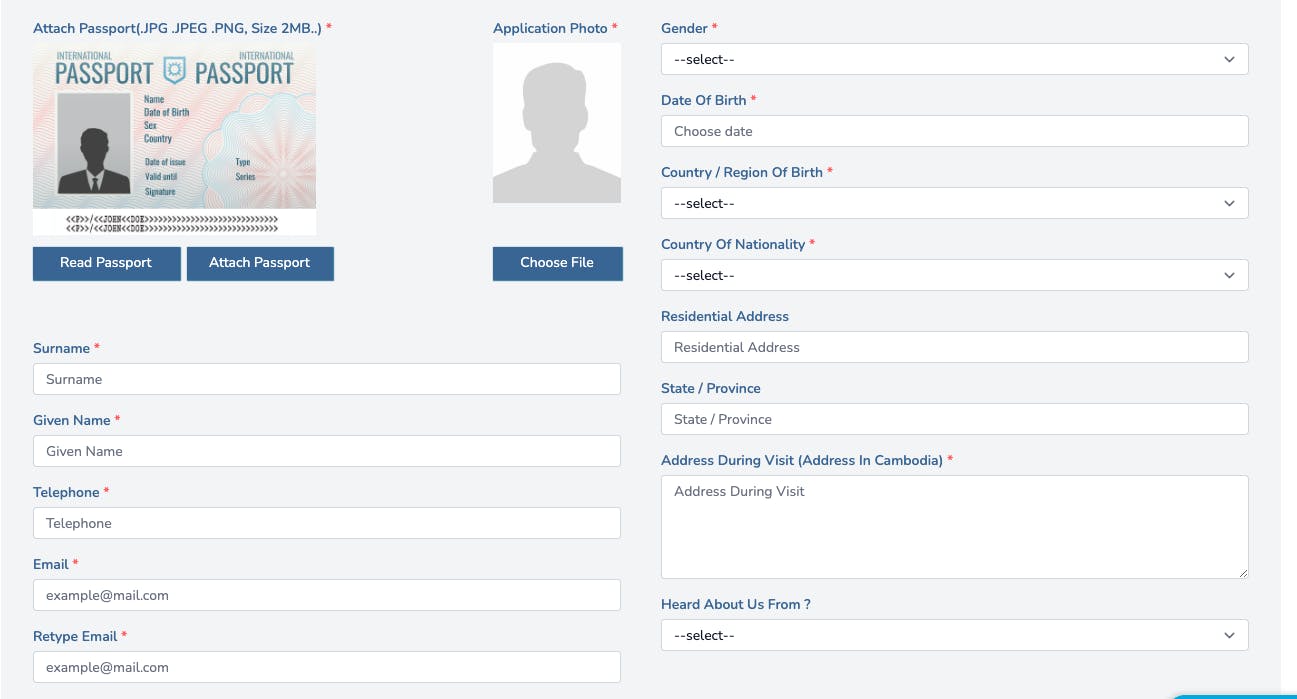 Step 3: Attach Required Documents
You must attach a copy of your passport and an application photo of yourself.
A copy of your passport cannot exceed 2 MB and needs to be in the following format: JPG, JPEG, PNG.
Step 4: Move on to the Travel Details 
In the "Travel Details" section, choose Visa Type E and select "Business" as your entry purpose. If you're uncertain, please refer to the provided screenshot for guidance.

Next, proceed to fill out the remaining details and ensure you have all the necessary supporting documents, including the invitation letter, proof of accommodation, and details of your point of entry.
Step 5: Make Payment 
This marks the final step in your application process. The Cambodia Business visa fee is $42 and will be clearly indicated on the payment page.
Your payment methods include:

It's important to note that your application is not being processed or approved until you have successfully made the payment.
Step 6: Wait for your visa to be processed
Now, all that is left to do is wait. But don't worry, the wait is not long, only 3 business days. 
After your visa has been approved, you will receive your Cambodia tourist visa for Indians via email, or you can print the visa from the application portal.
Take Note: The email you receive during the application process clearly states that you should not attempt to resubmit your application if you encounter a payment issue. Instead, you will be sent an email with instructions on how to resubmit your payment.
Checking Your Cambodia Visa Status
Staying updated and informed about your visa status is crucial. And it is so easy to do, look:
To check the status of your Business eVisa application or download the eVisa, visit the Official eVisa portal.

Provide your Reference Number and Email Address.

Click on 'Submit' to view the visa application status or download the eVisa.
Overview of Business Visa for Cambodia
What Are the Cambodia Business Visa Fees?
The online Cambodia business visa for Indians price is $42, which will be clearly indicated on the payment page. It's important to note that this fee is non-refundable in the event of a visa application rejection.
What Is The Processing Time For The Business Visa?
The processing time for the Cambodian evisa is typically 3 days, although it may vary due to potential application delays.
To minimise the visa processing time, it's crucial to ensure the accuracy and correctness of your application while diligently following all the required steps.
What Is The Business Visa Stay Period?
The Cambodia business visa allows for a 30-day stay starting from your arrival date in the country.
What Is The Validity Period For The Business Visa?
The business visa is valid for 3 months from the issue date and permits a single entry during this period.
Is It Possible To Get a Cambodia Business Visa Extension?
Yes, business travellers can apply for a visa extension at the Immigration Department in Cambodia. This extension allows you to stay for a maximum of 30 days. It's advisable to initiate the extension process a few days before your current visa is set to expire.
What Are The Other Business Visas For Indians?
Cambodia offers four different types of Business Visas, each with its own visa processing fee and validity.
Visa Type E (Business): This single-entry visa is available for $42 when applied online and is valid for 3 months. If you choose to apply through the embassy, the fee will be $35.

Visa Type E1 (Business): This is a multiple-entry visa with a visa fee of 50$ and is valid for 1 year.

Visa Type E2 (Business): This is a multiple-entry visa with a visa fee of 75$ and is valid for 2 years.

Visa Type E3 (Business): This is a multiple-entry visa with a visa fee of 100$ and is valid for 3 years.
You Are Ready
You're all set and fully equipped with the knowledge you need to secure your business visa to visit Cambodia. We've walked you through the entire process, from application to fees and processing times, ensuring your journey is smooth and hassle-free.
Travel safely and enjoy your time in this lively and diverse country.
Government Sources:
Atlys is committed to providing you with accurate information sourced directly from government websites. It's important to visit these official websites independently, as regulations and details can change without prior notification. We hope that Atlys has answered all your questions and provided you with the necessary information. You are our top priority!
Frequently Asked Questions
If you need to apply for the sticker visa in person, follow these steps:

Collect and fill out the Cambodia Business Visa application form.

Prepare the required documents, including your valid passport, passport-sized photos, proof of accommodation, business invitation letter, flight bookings, and financial documents.

Submit the completed application form and all supporting documents to the embassy.

Pay the visa fee (in this case, $35 for a business visa Type E).

Wait for the embassy to process your application, which may take a few business days.

Once your visa is approved, collect it from the embassy and thoroughly review all the details for accuracy.
Author: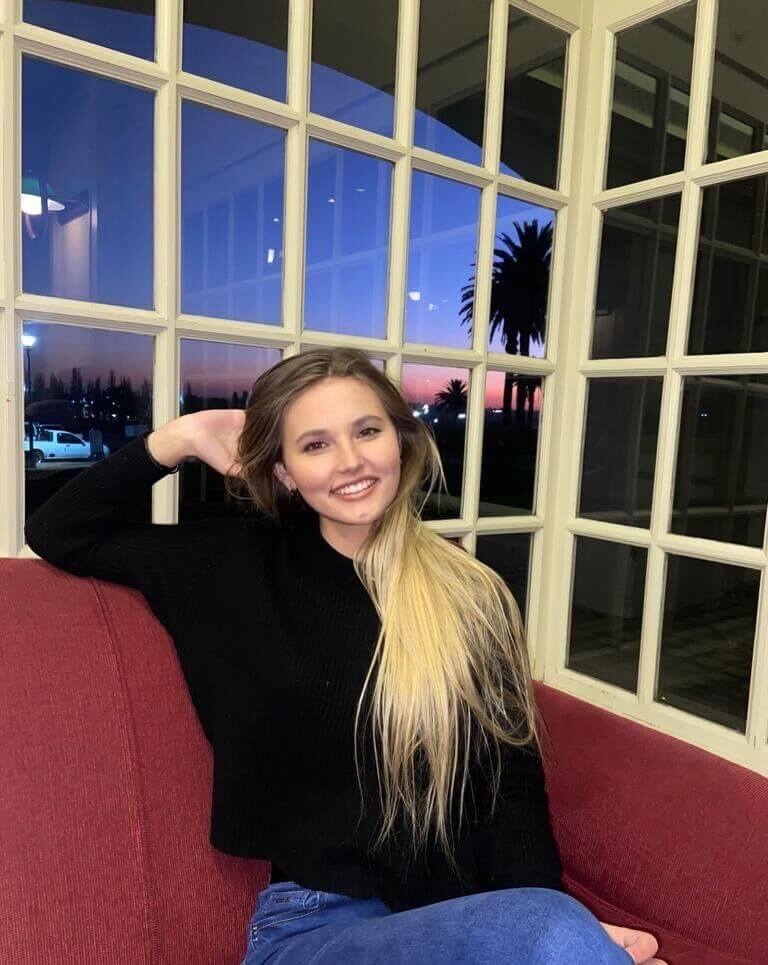 Zaskia Kukard
Verified Author: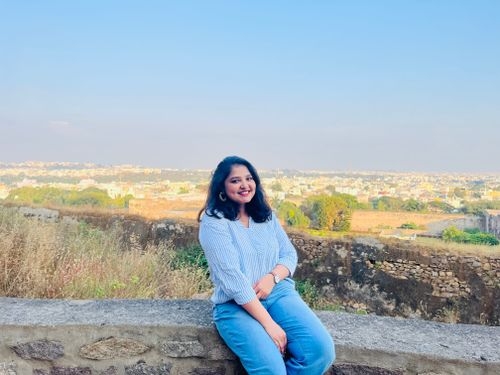 Nikhita Rathod