How to Check Your Cambodia Visa Status | Easy Steps
Last Updated : 01-Nov-2023
Atlys in the news
30-Second Summary
Staying updated about your Cambodia visa status is crucial, and there are various methods available for checking your visa's status:
You can check your visa status through Atlys or,

Perform status tracking using the government portal.

If you submitted your application through the embassy, you can contact them for status updates.
Apply for your Cambodia e-visa via Atlys and easily track your visa status.
Setting out on a trip to visit Cambodia is an exciting opportunity filled with promise and new adventures. You've navigated the visa application process, and now you want to know how to stay updated with the visa status. 
Checking your visa status is a vital step in ensuring your travel plans unfold smoothly. This blog highlights the importance of keeping track of your visa status and offers helpful guidance for a smooth journey.
How To Check Your Cambodia Visa Status?
After applying for your Cambodia tourist visa, you can check the status depending on where you applied. You can make use of the following:
       or 
Apart from that, if you submitted your application at the Cambodian embassy, you can contact them to ask about your visa status. When you submit your application through the embassy, you apply for a sticker visa. 
Information Required For A Cambodia Visa Status Check
When checking your visa status, you may be required to provide certain essential details to ensure an accurate update. Here's the information you'll typically need to have ready for a Cambodia visa status check:
Visa Application Reference Number: This reference number is usually provided when you apply for your visa. It serves as a unique identifier for your application.

Passport Number: Your passport number is a unique identifier for your travel document. It is crucial to provide the correct, valid passport number associated with your visa application and any passport information required. 

Date of birth: Your date of birth is an essential piece of personal information used to verify your identity and match it with your visa application.

Email address: The email address you used during your visa application is necessary for receiving updates and notifications about your visa status.
Prepare these details in advance to speed up the visa status check process.
How to do a Cambodia Visa Check Online
Whether you submitted your tourist visa application via Atlys or the official government evisa portal, you can conveniently check your status online.
Staying informed about your online visa status is crucial, and the good news is you can do it in less than 10 minutes. Let's discuss how you can check your evisa for Cambodia status online:
How to Check Your Cambodia Tourist Visa Status through Atlys
When using Atlys, you will receive real-time notifications about your visa status, and you can easily check your status on the online portal.
1

With your mobile device, download the Atlys app.

2

Scroll down and select "My Documents."

3

Locate the visa you wish to check the status of.

4

Click on your visa to view its current status.
And just like that! Atlys strives to make everything as easy as possible for you. Even getting your visa through Atlys is a simple application process.
Cambodia Visa Tracking Through the Government Portal
If you've applied for your e-visa through the government portal, you can check your Cambodia online visa status the following way:
2

Click on "Check and Changes" in the top menu bar.

3

Provide your reference number that was sent to you via email when you applied. 

4

Provide the email address you used when applying for your visa.

5

Then press submit and view your status.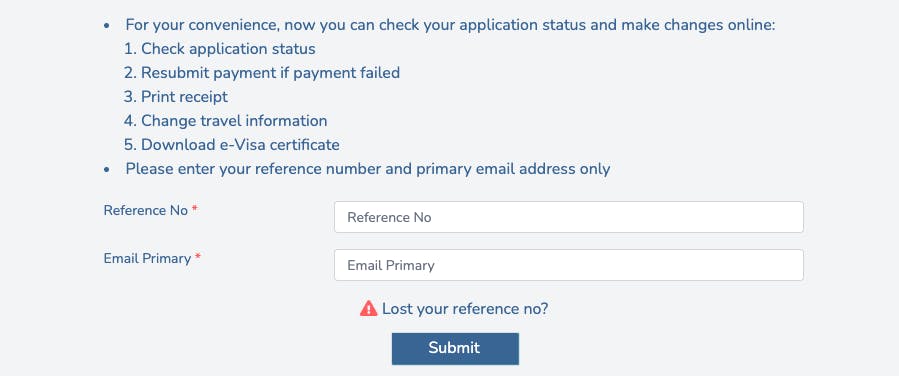 If you forgot or can't find your reference number, you will need to do a Cambodia visa check using your passport number by following these steps:
1

Click on "lost your reference number". 

2

You will then need to provide your passport number.

3

You will still need to provide the email address that you used when you applied.
This is how you do a Cambodia visa check by passport number.

How to Check your visa status through the Embassy
Contact the Embassy: Reach out to the Cambodia Embassy in New Dehli, either by phone or email, to inquire about your visa status. You may find the contact information for the Embassy on their official website.
Address: A-1/309, Safdarjung Enclave, New Delhi 110029

Phone: +91 11 41717136 / 11 41717143

Office Hours: Monday to Friday: 9:00 am - 12:30 pm, 2:00 pm - 5:00 pm
Provide Personal Information: When contacting the Embassy, be ready to provide personal information such as your full name, passport number, date of birth, and any reference or application numbers related to your visa.
Please note that checking your visa status through the Embassy may vary based on their specific processes and requirements. Ensure you have all your necessary personal details and application information on hand when reaching out to the Embassy for a smoother experience.
Why Is Cambodia Visa Status Important? 
Ensuring your visa stays valid is crucial during your time in Cambodia. Letting your visa expire or become invalid can result in legal issues, financial penalties, or even deportation from the country. Therefore, it's essential to regularly check and confirm your visa's validity to prevent any problems or interruptions during your stay in Cambodia.
Benefits Of Doing A Cambodia Visa Check Online
Convenience: Online tracking allows you to check your visa status from anywhere, eliminating the need to visit an embassy or immigration office.

Real-Time Updates: You can receive immediate notifications and real-time updates on your visa status, ensuring you stay informed throughout the process.

Time-Efficient: The online tracking process is usually quick, saving you time and reducing the hassle of making in-person inquiries.

Peace of Mind: By tracking your visa online, you can have peace of mind, knowing you're staying on top of your visa status and avoiding potential issues.

User-Friendly: Online tracking systems are designed to be user-friendly, making it easy for applicants to navigate and check their visa status with ease.
All Done
In summary, checking your Cambodia visa status is vital for your travel experience, as you need a visa to enter Cambodia. Use online tracking for a seamless journey and ensure your visa stays valid to prevent any legal or unexpected complications. Stay informed, and enjoy your time in Cambodia. Safe travels!
Government Sources:
At Atlys, we take pride in delivering accurate and dependable information to our readers. All the insights you've explored have been carefully collected from credible sources:
Frequently Asked Questions
Yes, you can reapply for a visa if your previous application was rejected. However, it's essential to address the reasons for the rejection and make necessary improvements to your new application to increase your chances of approval.
Author: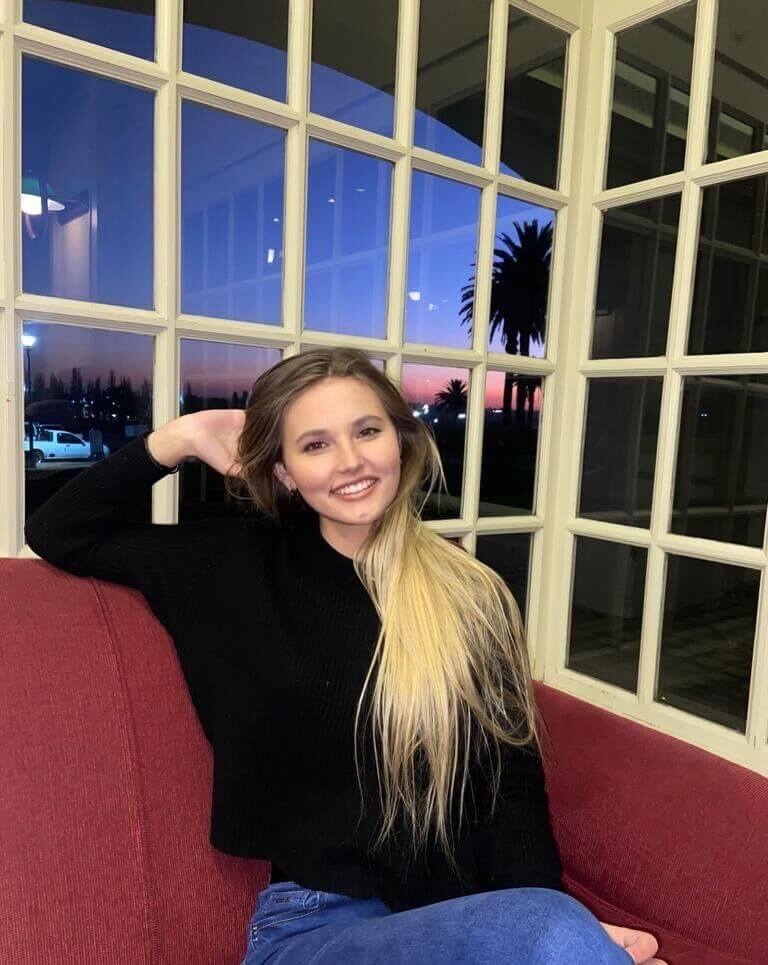 Zaskia Kukard
Verified Author: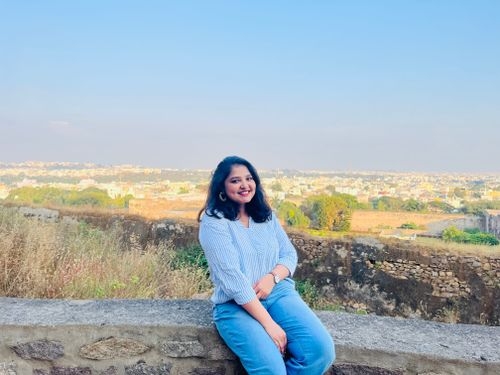 Nikhita Rathod