Canada Tourist Visa From India: Eligibility & Application
Last Updated : 04-Sept-2023
Atlys in the news
Are you planning a trip to Canada, but you don't know where to start? Here is what you need to know:
Visa required: Canada tourist visa from IndiaCanada tourist visa fees: CAD 100 or approx. INR 6 135Stay period & Validty: 6 months stay and valid for 10 yearsProcessing time: 28 days
Do Indians Need A Visa For Canada?
Yes, Indian citizens need a visa to visit Canada. Indian citizens are required to obtain a valid tourist visa, also known as a visitor visa, before traveling to Canada for tourism, leisure, or visiting family and friends.
The Canada tourist visa allows Indian citizens to enter and stay in Canada temporarily for the approved duration of their visit. However, it is important to note that the visa application process must be completed before travel, and the visa must be obtained before entering Canada.
What Is The Canada Visitor Visa Eligibility From India?
To be eligible for the Canada tourist visa, you must meet some criteria requirements. Here are the eligibility requirements:
Have a valid travel document

Have no criminal records or immigration-related convictions.

Have proof of home ties such as a job, home financial assets, or family members to convince the immigration officer

You must have enough money to fund your stay in Canada

A medical examination. Canadian Immigration needs an Immigration Medical exam (IME). If you plan to stay in Canada for more than 6 months, but if you visit for less than 6 months, you won't need to do any medical tests. You will find the office in New Delhi, India

A letter of invitation from a Canadian (if applicable)
What Are Canada Tourist Visa Requirements For Indian Citizens?
There are documents required for a canada tourist visa from India you need to submit along with your application.
Travel History: The travel history must show if you've traveled to other countries and got a visa in the past. Submit a copy of your past visas on your passport, used within the last 10 years to travel outside India, and these can be expired or valid visas.

The Itinerary: The itinerary can show how long you plan to stay in Canada and what you'll do in Canada. You have to submit the following copies along with your Canada visa for Indians application: your flight details, hotel reservations, and registration for the event.

A Bank Statement: The bank statement must show the bank name and contacts, allowing the government of Canada to contact your bank with questions. The bank statements must reflect the account for the last 6 months.

For Identity Documents: The government of Canada accepts, the regular Passport. It must be a clear color copy of your valid passport that shows your date of birth and country of origin. Submit a copy of any pages with stamps, visas, or markings. The passport must also have blank pages for new Canada visa for Indians.

Cover Letter: The cover letter must mention your details, such as your travel details and the travel details of the members traveling with you (If applicable).
How To Apply Online For Canada Tourist Visa From India
Here is how to get a canada tourist visa through the IRCC Portal.
1. Create an account and sign in:
If it is your first time using the IRCC Portal, the Canadian government will ask you for your email address and give you a code to sign up for an account.
2. Complete the online visa application form:
You need to complete the application form then upload your documents. After you answer all the questions, you'll get a list of the required documents you must upload. It includes the documents that show that you are eligible to travel to Canada and support your Canadian visa application.
3. Pay the visa fees:
You'll have to pay with a credit card, and the Canadian government accepts credit cards and prepaid cards from Visa, Mastercard, American Express, JCB, and Union Pay.
4. Biometric:
You must book your biometric appointment as soon as possible to avoid processing delays.
5. Processing your visitor visa application:
The Canadian government will check your application to ensure you have all the necessary documents. If the tourist visa for Canada application is incomplete, they will return your application without processing it. They might also ask you To go to an interview with Canadian officials in India.
6. If they approve your application online:
You will get two letters from the IRCC account.
A letter with instructions to submit your passport.
The approval doesn't mean you can travel to Canada. You need to wait until the authorities put the Canada visa for Indians in the passport which you submit to them.
7. If they refuse your visa application:
You'll get the decision in your IRCC account. It will explain why they refused your application.
8. Prepare For Your Travel:
When you prepare to travel to and arrive in Canada, you may need to bring the documents you submitted with your visa application or present additional documents to the border services officer on arrival in Canada.
Make sure to check the expiration date on your Canada visa for Indians before.
Detailed Information On The Canada Tourist Visa (Visitor Visa)
A Canada tourist visa, also known as a visitor visa, is an official document issued by the Government of Canada that allows foreign nationals to enter and stay in Canada for temporary purposes, specifically for tourism, leisure, or visiting family and friends. It is a non-immigrant visa that grants temporary entry into the country for up to 6 months.
Foreign nationals who would like to visit Canada for a tourist visa:
Leisure and tourism purpose
All the above require having a visitor visa to enter Canada. This is a type of temporary resident visa.
What Are The Types Of Canada Tourist Visa For Indians?
There are two types of canada tourist visas for Indians that are available for Indians depending on the time you want to spend in the country.
But applications are automatically considered for the Multiple entry visa.
Single entry visa: You're allowed to enter Canada only once during the allowed time. Once you leave Canada, the visa becomes invalid, and if you wish to re-enter the country, you will need to apply for a new visa

Multiple entry visa: A multiple entry visa will let you travel as many times as you want to travel to Canada for six months at a time while it is still valid.
How Much Is The Tourist Visa For Canada From India Fee?
The canada tourist visa fees from India are 100 Canadian dollars and approximately 6 135 Indian Rupees.
How Long Can I Stay In Canada With Canada Tourist Visa From India?
You can stay for up to 6 months in Canada. If you're allowed to enter Canada, the border services officer may allow you to stay for less or more than 6 months.
What Is Canada Tourist Visa Validity For Indians?
The multiple entry is valid for up to 10 years or one month before your passport expires, whichever is shorter. You must arrive in Canada on or before the expiry date of your visa.
What Is The Canada Visitor Visa Processing Time From India?
If you're Indian national planning to apply for a Canada tourist visa from India, the processing time is around 28 days.
You may need to give your fingerprints and photo (biometrics) with your application.
This processing time does not include the following:
The time it takes to send an application between a visa application center and the office.

The time you need to give your biometrics.
All Done
The visa application process can be long and complicated. Still, with proper preparation and an understanding of the requirements, you can successfully obtain your Canada visa for Indians. Then, with the right documents and correct information, you can confidently move forward with your travel plans. Good luck!
Government sources
The information in this blog was gathered from government sources and was written with AI assistance for better understanding and readability:
Frequently Asked Questions
Yes, Indian nationals can apply for a Canada tourist visa. However, the applicant must hold a valid passport for up to 6 months.
Author:
Mable Chidi
Verified Author: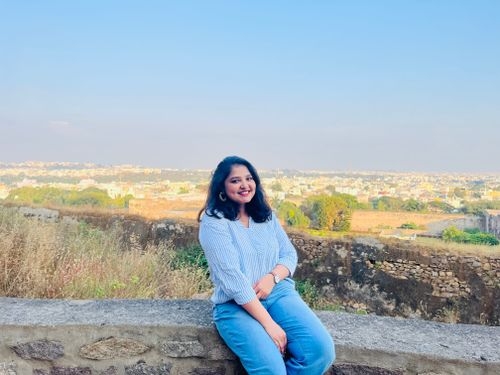 Nikhita Rathod