Dubai Visa Processing Time - Fast & Easy | Apply Now
Last Updated : 07-Sept-2023
Atlys in the news
30-Second Summary
The dubai visa processing times vary, depending on the type of visa you apply for. Here are the respective processing times for the Dubai visas:
Dubai Tourist Visa: 3 - 4 days.

Dubai Tourist Visa: 3 - 4 days.
Source: The United Arab Emirates Government Portal
*Please note that visa times can change without warning due to different reasons like current visa applications and new rules.
UAE Visa Types and Factors Affecting Processing Time
The tourist visa for Dubai is for Indian nationals who want to visit the city for tourism purposes. This tourist visa for Dubai from India is valid for 58 days and allows you to stay in the country for 30 days or 60 days and allows you single or multiple entries. The documents required are simple, including your passport and visa photo and the application can be completed online. Indian nationals can apply for a Dubai tourist visa online on Atlys and get their visa processed within 3 days.

The UAE employment visa processing time in 2023 can vary depending on various factors, such as the company sponsoring the visa, the nature of the job, and other requirements. UAE work visa processing time typically takes around 7 - 15 working days for this Dubai work visa for Indians to be processed at the embassy from India. However, it can take longer, and it would be best to contact the relevant authorities for an accurate time frame for Dubai employment visa processing time. Lastly, this Dubai working visa processing time does not include the work permit application after arriving in the UAE, which can take an additional 7 - 15 days.

The UAE Golden Visas are available for investors, entrepreneurs, and highly skilled professionals. The Golden Visa for Dubai allows you to live, work, and study in the UAE long-term for 5 to 10 years, based on your eligibility. The UAE Golden Visa processing time is 2 - 30 days; however, it can also vary based on different factors, such as the eligibility criteria and each applicant's specific circumstances.
Step-by-Step Visa Application Timeline
Understand that the Dubai visa processing time will differ depending on the type of visa you are applying for. Additionally, you might have to take additional steps, such as applying for a permit once you have arrived in the UAE, gathering additional documents, completing a medical checkup if required, etc. 
However, here is what you can expect when applying for a visa and the general UAE visa processing times for each step:
Depending on the type of visa you are applying for, you will need to provide different documents during your UAE visa application process. Based on your visa type, you might need to collect attested or translated documents, which can take a few days to process. For instance, if you are applying for a Dubai tourist visa, you can complete the application online with scanned copies of the documents, which barely takes 1 hour to complete. Check with the embassy or consulate if there are any additional things they need from you before submitting your application.

Depending on what type of visa you are applying for, this process can take anywhere from a few minutes to several days. However, you should be able to complete the application within a day if you have all the necessary documents, especially if the application is online. Be sure to double-check all the information, read through your application thoroughly, and provide accurate information, as any mistakes or discrepancies may lead to a delay in processing or even a rejection.
Checking Visa Status
Here are the ways to check the Dubai visa status:
Atlys: Receive real-time updates directly on your phone with Atlys. Or you can easily track your application status on our online application portal or Atlys app. 

Online: You can do the Dubai visa status check online through the GDRFA or use the ICA smart services UAE visa status check. You can also use airline sites or any other platform you've applied through to check your UAE visa status. 

Call centre: You can also call the ICP or GDRFA call centre to check your visa status for UAE at numbers 600522222 or +9714-313-9999, respectively. Or try the company you've applied through. 

Email: You can also email the GDRFA, ICP, or any platform you applied through to check your visa status if you are experiencing any issues.
To check UAE visa status, you will need to provide the following information:
Your visa application or reference number
Once you have provided this information, you can see your UAE visa status. Your visa status will indicate whether your visa for Dubai from India has been approved, denied, or is still pending.
Expedited Visa Application
Experience the ultimate convenience and speed with Atlys! Get your Dubai visa application processed in half the time. Our exclusive visa service guarantees a fast-track experience, ensuring you receive your visa in half the time. 
No more waiting anxiously! Say goodbye to long waiting periods and embrace the convenience of Atlys for a swift and hassle-free Dubai visa approval.
Trusted Sources
This blog is exclusively crafted using government websites, ensuring that every word is backed by reliable sources.
Frequently Asked Questions
Yes. You can apply for a Dubai tourist visa on Atlys. You can choose from a 14-day visa, a 30-day single or multiple entry visa, and a 60-day single or multiple entry visa.
Author:
Mable Chidi
Verified Author: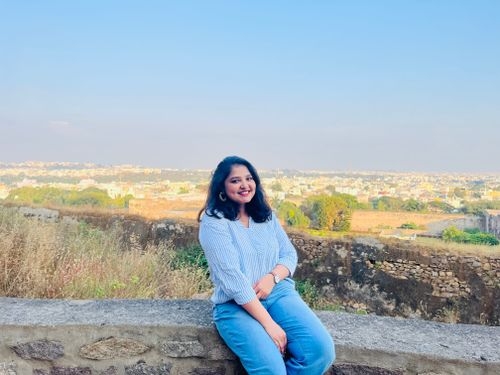 Nikhita Rathod