Egypt Tourist Visa for Indians | Complete Step By Step Guide
Last Updated : 18-Oct-2023
Atlys in the news
Atlys is Officially Authorized by Government of Egypt
30-Second Summary
Indian nationals travelling to Egypt must apply for an Egypt sticker visa for Indians, which allows them to visit the country for tourism. 
Indian citizens can apply for the Egypt Tourist Visa through the embassy

It does require you to submit your passport at the Embassy. 

The required documents for the embassy application include a completed application form, a passport with two blank pages, and more.
You can apply for the Egypt online visa through Atlys.
Important Information
Egypt
— Is a Visa Required?
Yes, it is. You must apply for an Egypt visa before traveling.
Learn More
— Visa Processing Type
The Egypt tourist visa is an in person application.
— Egypt Visa Validity
The visa is valid for 3 months.
— Length of Stay
The length of stay is 30 days.
— Egypt Visa Cost
The visa cost is INR 2500 for a single entry visa.
— Egypt Visa Processing Time
The processing time is between 3-15 business days.
Learn More
Do Indians Need A Visa To Go To Egypt?
Yes. Indian citizens will need to obtain an Egypt Tourist Visa for Indians before entering the country. Indian nationals can apply for one of the following visas:
Can Indians Get A Visa On Arrival In Egypt?
No, Indian citizens need a valid visa to enter Egypt, and obtaining a visa on arrival is not available for Indians. It's recommended for all travellers, including Indians, to apply for a tourist visa in advance when planning a trip to Egypt.
Egypt Tourist Visa Requirements For Indian Citizens
Now that you have a general understanding of the Egypt sticker visa for Indians, we can look at the Egypt visa requirements for Indian citizens and the application process.
Documents Required For Egypt Visa For Indians
Here are the documents you'll need to submit to the Embassy:
Two recent passport-size photographs that meet the requirements are mentioned below.

A valid passport or travel document with at least two blank pages. It must be valid for 6 months after the end of your trip and be issued no later than 10 years ago.

Scanned and printed copies of the front and back of your passport.

A return flight ticket that proves you plan to return to your home country.

Proof of accommodation for your entire stay.

Proof of financial funds in the form of original bank statements, stamped & updated for the last 6 months with a bank seal with a minimum of INR 50,000 balance.

A document from an authorized Egyptian travel agent, with their legal stamp and signature, as well as contact details of the travel agent on a letter-headed paper.

A Covering Letter from the applicant mentioning name, designation, passport number, purpose, and duration of visit in brief.

The letter should be duly signed by the authorized signatory with a company stamp and addressed to – The Visa Officer, Embassy of Egypt, New Delhi/The Visa Officer, Consulate General of Egypt, Mumbai.
Egypt Visa Photo Size For Indians
Your passport photo must meet the following Egypt visa photo size requirements:
Two recent passport-size photographs with matt or semi-matt finish, 60% face coverage.

Must have a white background and without border in size: 3.5cm x 4.5cm.

Photographs should not be more than 6 months old, scanned/stapled, and should not be used in any of the previous visas.

Also, keep in mind that the Government is very strict on the photograph requirement; please ensure that your photos are as per the specifications.
Document Requirements Depending On Employment Status
Depending on your employment status, you may be required to have the following documents when applying for your visa.
If employed, you need to provide the last 3 months' salary slips and a Leave Sanctioned Certificate with a company seal providing approval for leave.

If you are self-employed, you need to present Business Proof (Registration License/MOA/Partnership deed), Company Bank Statement stamped & updated for the last 6 months with a bank seal, and Company Income Tax Returns for the last 3 years.

If you are a student, you must present a copy ID card from school, college, or institute.

If you are retired, you must provide retirement proof such as a pension book, statement, etc.
What Are The Minimum Financial Egypt Visa Requirements For Indian Citizens To Visit Egypt?
You'll find that all countries have their own minimum financial requirements. This requirement has been implemented to ensure that visitors have the financial means to support themselves during their stay.
Even though it is said that you only need to provide the last six months' bank statements with a minimum balance of INR 50,000, it is best to have at least INR 3 to 4 lacs, depending on the duration of your travel.
How To Apply For An Egypt Visa From India?
If you wish to apply through the Egyptian embassy in India, you can get the visa by following these steps:
Step 1 - Collect The Required Documents
Start collecting the required documents first.
Doing this first will allow you to leave enough time for unexpected delays, such as collecting an incorrect document, finding accommodation, etc.
When gathering all your required documents, list what you need to get. It's the easiest way to keep track of the documents you've collected.
Step 2 - Fill In Your Egypt Visa Application Form
Okay, so you've got all the required documents. Now, fill out the Egypt Tourist Visa for Indian Application Form.
Remember, all the information you provide must be correct and accurate.
The form is self-explanatory, but ensure that you fill in all the details carefully. Once done, download, print, and sign the form.
Step 3 - Find Where You Need To Apply At
As mentioned earlier, if you want to apply for your electronic visa for Egypt, you will need to apply using Atlys.
You can only get a paper-based visa if you apply at the embassy or consulate in New Delhi or Mumbai in person.
Step 4 - Schedule Your Visa Appointment
After determining where to apply, you must gather all the relevant documents and visit one of the two centres to submit your visa application in person.
Contact the embassy or consulate to ensure that you need an appointment to submit the visa application.
Step 5 - Attend Your Visa Appointment
On the day of your appointment, visit the visa application centre at the scheduled time. Arrive at least half an hour early in case of a rush at the centre, and ensure you carry all the documents with you.
Once the visa officer checks your document, they might interview you briefly, but there is nothing to be nervous about. Answer each question truthfully, and it should be okay.
.
Step 6 - Receive Feedback From The Embassy
After completing steps 1 - 5, you're basically done. The only thing left is to wait for your visa to be processed. As mentioned, this can take between 3 to 15 days.
The visa will be attached to your passport, which must be shown at the immigration counter in Egypt.
Everything You Need To Know About Egypt Tourist Visa For Indians
Now that we have looked into the visa application and its requirements, let us address some of the most popular queries travellers tend to have before applying for an Egypt sticker visa for Indians.
What Are The Types Of Egypt visa for Indians
Egypt offers various types of visas for Indian citizens who wish to visit the country.
What Is The Egypt Tourist Visa For Indians Processing Time?
Excluding the submission date, weekends, and public holidays, it typically takes 3 to 5 working days. However, applying 15 days in advance is best to avoid any disruptions or unexpected delays.

When getting a visa from an embassy, the processing time can be time-consuming for several reasons. So, it's important to apply early and keep track of your application status online.
How Much Is The Egypt Tourist Visa For Indian Fees?
You can expect to pay the following fees for your Egypt sticker visa for Indians:
Egypt Visa Fees For Indians (single entry): INR 2400/- per person

Egypt Visa Fees For Indians (double entry): INR 5500/- per person
What Is The Validity Of The Egypt Tourist Visa For Indians?
The Egypt tourist visa for Indians is valid for 3 months from the date of issue. You can travel to Egypt once, since it is a single entry visa, and stay in the country for a maximum of 30 days.
What Is A Guarantee Of An Authorized Tourist Agent In Egypt?
A "Guarantee of an Authorized Tourist Agent in Egypt" is a document issued by a registered travel agency in Egypt.
The Egyptian government requires the guarantee for visa purposes and is often requested by Egyptian embassies and consulates when applying for an Egyptian visa.
It is important to ensure that the tourist agent is authorized and licensed by the Egyptian Ministry of Tourism to avoid any potential issues during your trip.
The guarantee includes information about the traveller's itinerary, the name and contact information of the travel agency, and the period of stay in Egypt. The document also includes details about the tourist's hotel accommodations, transportation arrangements, and other services provided by the travel agency.
Where Can I Apply For The Egypt Visa?
The Egypt tourist visa can be obtained from the Embassy of Egypt in New Delhi or at the Consulate of Egypt in Mumbai the as a paper visa.
Also, please note that the Embassy/Consulate reserves the right to ask for additional documents or a personal appearance for an interview in special cases.
But if you want to skip the queue and the drive to New Delhi, why not use Atlys, which allows you to apply for your evisa on your phone without a hassle?
What Is The Immigration Process When Traveling From India To Egypt?

The Immigration, Egypt process will start after you leave the plane and enter the terminal building.
You should have all your travel documents with you, such as a visa, passport, boarding card, and other essential documents, such as a bank account/bank statement, cover letter, and details for your accommodation.
You will have to present yourself before the immigration Egypt officer at the border entry when you arrive (either by air or sea).

You will be asked questions regarding your visit to Egypt and explain the purpose of your visit.

You must take it upon yourself to ensure you have everything with you.

Your passport will be stamped by the immigration officer, showing your conditions and the Egypt sticker visa for Indians duration.
Enjoy Your Trip
In conclusion, the Egypt tourist visa offers Indian citizens the opportunity to enjoy leisure and tourism in Egypt.
The application process involves applying in advance at the Egyptian embassy or consulate in India and providing the necessary documents.
To ensure a hassle-free travel experience, you can apply for the Egyptian evisa easily through atlys.

Now you know how to apply for your Egypt Tourist Visa for Indians!
Government-Backed Blog:
If you're tired of sifting through unreliable sources for accurate information, you've come to the right place. This blog is created using only government websites, providing you with trustworthy and insightful content every time.
Frequently Asked Questions
The Egypt Visa, also known as the Egypt Tourist Visa for Indians, allows you to enter Egypt for tourism purposes. Such purposes include vacation, site seeing, leisure, and so on. No business-related activities can be performed under this visa.

If you wish to participate in short-term business activities for yourself or your company, you need to obtain an Egypt Business Visa.
Author:
Mable Chidi
Verified Author: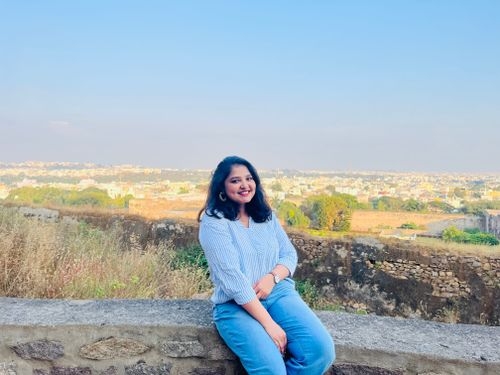 Nikhita Rathod