France Visa for Indians: Know Your Visa Requirements and Steps
Last Updated : 04-Sept-2023
Atlys in the news
Important Information
France
— Is a Visa Required?
Yes, Indian nationals must apply for a visa to France before travelling.
— France Visa Validity
Your visa to France is valid for a duration of 180 days.
— Length of Stay
You can stay in France for up to 90 days within 180 days.
— France Visa Fees
The France visa fee is €80 for adults, €40 for children (between 6 - 11 years), and free for minors (under 6 years).
— France Visa Processing Time
The France visa processing time can take between 15 - 45 days.
— Visa Appointment Availability
Find a visa appointment with Atlys. You can opt to use AtlysBlack to get your France visa from India.
30-Second Summary
Indian nationals must apply for a France visa from India in order to enter the country. The application process, made easier by Atlys, requires a fee of 80 euros and typically takes 15-45 days to be processed. It's recommended to apply for your visa at least 2 months in advance to avoid any unforeseen delays.

Key documents include a Schengen visa application form, a valid passport, a return flight ticket, proof of accommodation, and evidence of financial stability, demonstrating at least EUR 120 per day for the trip's duration.
The most challenging part of the France visa for Indians is to find and schedule an available visa appointment. You can use Atlys to find a visa appointment slot for your France visa.
Do Indians Need A France Tourist Visa?
Yes. As an Indian citizen, you need a France tourist visa before entering France. However, France is part of the Schengen Area, meaning you can visit France if you have a valid visa for one of the Schengen countries with it.
As an Indian citizen, you need the visa mentioned above to visit France for tourism purposes or to visit friends and family in France.
What Is The France Visa?
The France tourist visa, or Schengen visa, allows Indian passport holders to enter France for tourism purposes such as vacation, site seeing, leisure, and so on.
You can apply for a short-stay visa or long-stay visa for various purposes such as tourism, visiting friends, or short business trips. However, you can't work in the country with these visas. Acceptable business purposes include attending meetings, functions, meeting clients, etc.
Depending on your purpose of visit, you can choose a suitable tourist visa for France from India. You can apply for a short-stay visa for single, double, and multiple entries, an airport transit visa, and a long-stay visa for 1 year, 3 years, and 5 years.
In this post, we will mainly focus on the France tourist visas for Indians.
What Are The France Visa Requirements For Indians?
First, let's look at the requirements and application process when applying for a tourist visa for France from India.
What Are The Required Documents For The France Tourist Visa For Indians?
One of the first things you would need to do before you begin the application process is to ensure that you have all the necessary documents ready.
Here are the documents you'll need to submit to the France embassy:
ID Documents:
A valid passport or travel document with at least two blank pages. It must be valid for 3 months after your trip's end and issued no later than 10 years ago.

One passport photo of yourself, you can take a visa photo with Atlys's tool for free. The tool crops and edits the photo to meet the visa requirements.
Travel Itinerary:
A return flight ticket that proves you plan to return to your home country.

Proof of accommodation. This can be private accommodation, a rental agreement, hotel reservations, etc.

Accommodation proof must cover the duration of the entire stay and all the Schengen countries you plan to visit other than France.

If you have booked a packaged tour, attach a detailed travel itinerary. If you are staying with a private individual, you must present a CERFA form as proof of accommodation.

A cover letter explaining the purpose of your trip, what you plan to do, and when you'll return home. Basically, it just proves the purpose of your trip.
Travel Insurance:
Schengen Travel Insurance/Medical Insurance with a minimum coverage of EUR 30,000 and is valid for the entire travel duration.

The insurance must cover the entire Schengen area and not just France.
Financial Proof:
Proof of financial funds. This includes a cover letter and a bank statement for the last 3 months, stamped and signed by your bank manager.

A copy of the Income Tax Department Return + ITR V acknowledgment of the previous financial year and a signed and stamped leave permission from your employer.

If you are self-employed, you must present a copy of your business license in India. In addition, the bank manager signed and stamped company income tax returns for the past two years and a copy of the company's bank statement for the past 3 months.

If you own a business in India, you need to present the certificate of registration of the company (Form B, rule 5(1) or Form ST3, rule 11).
Situational Documents:
If you are a student, you must present a copy of the enrolment paper that proves the applicant has planned to study in that school/university.

Proof of employment/studies on official letterhead, stamped and dated.

Documents showing your employment status.
What Are The Visa Photo Requirements For A France Visa For Indians?
When submitting your visa application, make sure your visa photo meets the requirements:
ONE passport-sized photograph must be submitted

Must be 45 x 35mm in size

High resolution and taken on a white background
It must meet the France visa photo specifications set out by France.
What Are The Minimum Financial Requirements To Visit France?
You'll find that all Schengen Member States have their own minimum financial requirements when visiting. This requirement has been put in place to ensure that visitors have the financial means to support themselves during their stay.
If you plan to visit France, the minimum financial requirement is to show EUR 120 per day for the duration of your travel. So, for instance, if your visit is for 30 days, you have to show a minimum of €120 x 30 days = €3,600 in total.
Remember, this is only the minimum amount. Your visa application will look much more compelling if you prove you have more finances.
How To Apply For The France Visa From India?
You now know the documents you must submit for a successful Schengen Visa application. Next, I'll walk you through the steps you need to take when you start your application.
Step 1 - Collect The Required Documents
Start collecting the required documents first.
It's the most time-consuming part of the process. However, doing this first will allow you to leave enough time for unexpected delays, such as collecting an incorrect document, finding accommodation, etc.
When gathering all your required documents, create a list of what you need to get and add collected documents to a file. It's the easiest way to keep track of the documents you've collected.
Step 2 - Create Your Account
Okay, so you've got all the required documents. You can start applying for the visa.
To apply, first, you must create your account on the visa application site.
Click on "Start your visa application" on the home page of the website. This will take you to the following page:


Click on "Access the visa application," which will ask you to either create an account or log into an existing account.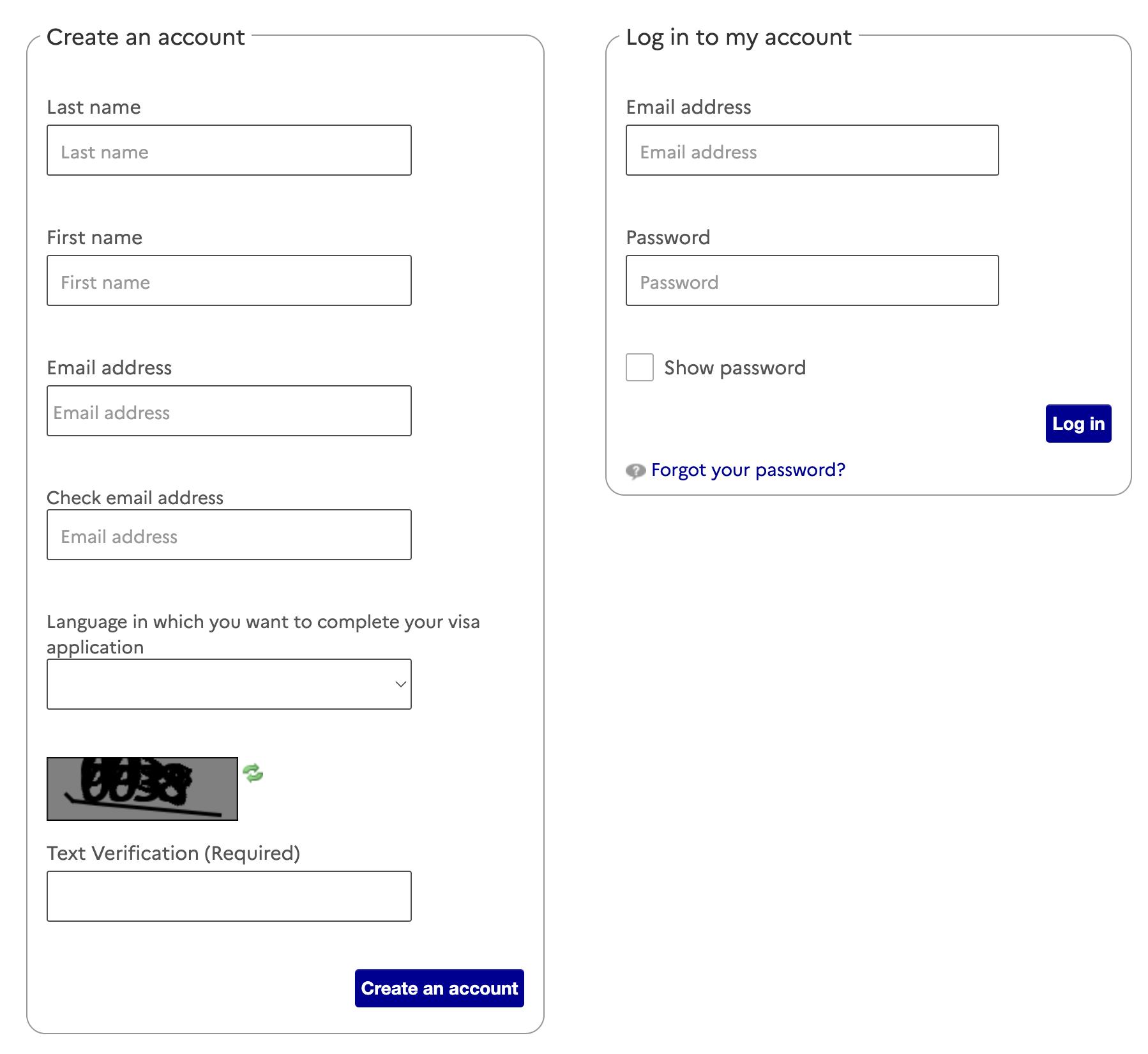 After creating an account, you will have to verify your email address and then start filling out the application form.
Step 3 - Fill In Your Schengen Visa Application Form
Now start filling in the France visa application form. Remember, all the information you provide must be correct and accurate.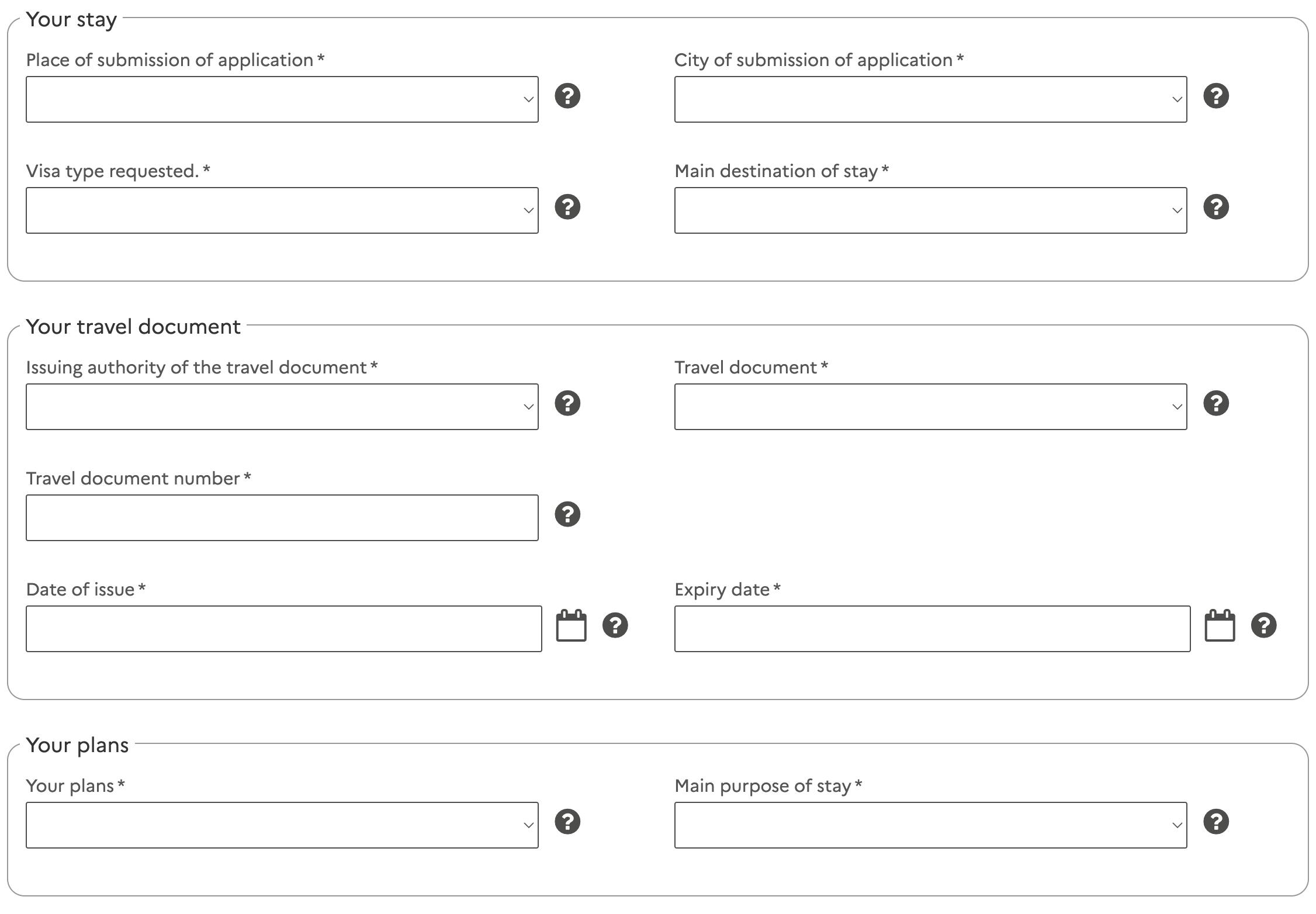 Once the form is filled, it will show you a detailed list of documents you would have to submit during your appointment.
At the last screen, you will be prompted to submit your application and book a France tourist visa appointment at the nearest center.
Keep your passport close to you when filling out your visa application form. Always refer to your passport when entering your personal details.
Did you know:
Most visa applications get denied because of incorrect information on a visa application form. Here's a guide highlighting the mistakes you should avoid when applying for your Schengen Visa.
Step 4 - Find Where You Need To Submit The Application
As I mentioned, not all countries have a local France representative. Therefore, before submitting your application, you should always check where you need to apply.
In India, you can submit your visa application through Atlys or a visa application center such as VFS.
Step 5 - Schedule Your France Visa Appointment
After you've determined where you need to apply, you must schedule a France visa appointment.
Please note that you might not find a VFS France appointment time suitable to your needs. However, you can keep your schedule open for the next few weeks or at least until you find an appointment. This is another reason you should start your visa application procedure soon to receive your France visa for Indians in time for your travel.
We will discuss the scheduling and how to get VFS France appointments for the France visa for Indians later in the blog.
Step 6 - Attend Your France Visa Appointment
On the day of your appointment, visit the visa application center at the scheduled time. Arrive at least half an hour early in case there's a rush at the center, and make sure you have all the documents.
Once the visa officer checks your document, they might interview you for a short while, but there is nothing to be nervous about. Answer each question honestly, and it should be okay.
You can use your required documents to support your answers. For example, you can present your proof of accommodation if they ask where you plan to stay in France.
After attending your interview and submitting your documents, you'll be requested to submit your biometric information.
What's that?
It's just your fingerprints and a digital photo of yourself. This is not required if you've been to the Schengen Area in the last 59 months.
Step 7 - Receive Feedback From The Embassy
After completing the above steps, you're basically done. The only thing left is to wait for your visa to be processed. As mentioned, this can take between 15 - 45 days or longer.
After it's processed, you'll receive feedback from the visa application center via email, a call, SMS, or your preferred contact method.
You can travel back to the visa application center to collect your passport if your France tourist visa is approved. You'll find your brand new France visa for Indians attached inside.
How To Schedule A France Visa Appointment In India?
As mentioned earlier, scheduling a VFS France Appointment can be difficult due to the lack of appointments available. However, you might have several questions regarding the VFS France Appointments, which we'll look at in this section.
What Are The Steps To Get Your France VFS Appointment In India?
The first step to a France visa appointment is to fill out the visa application form. Once you do that, you must head to the VFS website to make your VFS France appointment.
The France VFS appointment page looks something like this: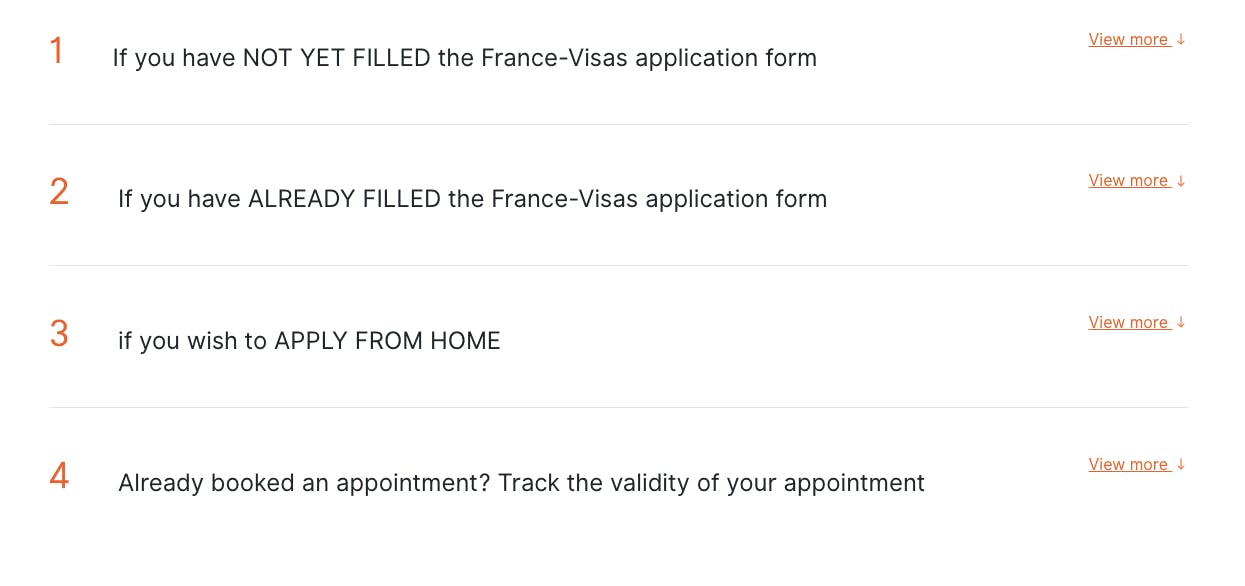 Simply log in or create an account and choose your desired location and date to book your appointment.
You must pay ₹ 2,588.00 online on the VFS website to make your VFS France appointment. Once you have paid the fees, you will receive your appointment confirmation via email.
What Is The Wait Time For A France VFS Appointment?
Depending on how busy the French Embassy is with the visa application, the time could be shorter or longer. Currently, the waiting period is 1 to 2 months.
The embassy advises that you apply for the France visa for Indians at least 3 months before your travel date but no longer than 6 months.
Why Is The VFS France Visa Appointment Wait Time So Long?
The France VFS appointment wait is long, mostly due to the number of visa applications they receive. Additionally, the embassy has a backlog of applications they must go through.
How Do I Know Of The Delay For My VFS France Appointment?
The VFS application center will contact you in case of a delay or should your appointment needs to be shifted to a different date. Additionally, you can follow the VFS webpage for any news on specific application centers in India.
What Documents Do I Need For My France VFS Appointment?
Once you are ready to go for your France VFS appointment, you must have the following documents with you:
Letter of confirmation of your visa appointment

The file with all the required documents mentioned earlier.
How Do I Track France Visa Application In Indians?
If you apply for your Schengen visa using Atlys, it eliminates the need for France visa tracking. You can track the application via your phone, and the app also provides an estimated time when you can expect your visa.
But Indian citizens that have applied for their France visa for Indians via VFS can track their application on the online France visa tracking portal.
Alternatively, you can also visit the France Government website to track the visa application, depending on how you apply for it.
General Information About The France Tourist Visa For Indians
As an Indian citizen traveling to France, here's what you need to know before applying for a France visa for Indians.
How Much Is The France Tourist Visa Fees In India?
You can expect to pay the following visa application fees for your France tourist visa for Indians:
For adults: ₹ 7061 | EUR 80

For children 6 - 11 years: ₹ 3530 | EUR 40

For children under 6 years: Free
The amount is in the current exchange rate.
Please remember that you must pay an additional service fee of EUR 32.20 | ₹ 2,778 approx. at the VFS Application center and a convenience fee of ₹ 165.
But, if you apply for your visa using Atlys, you only pay a processing fee. You can do the entire France visa application process online.
How Long Can I Stay In France With A Schengen Visa?
The Schengen Visa will allow you to visit France for a maximum of 90 days within every 180 days. Always check the validity period on your visa sticker before traveling.
Remember, overstaying your welcome in France can lead to heavy fines, jail time, and even a ban.
What Is The France Tourist Visa Processing Time In India?
The usual processing time for a tourist visa for France from India is between 15 to 45 days. Still, it is best to apply earlier in case there are delays or you can't find France appointments in India.
When Must I Apply For My France Visa?
At the latest, you can start your visa application 15 days before your planned trip. But, I don't suggest starting your application this late as you may have to provide additional documents or appear for interviews.
So, the earliest you can apply is 3 months before your trip. However, I recommend starting your application as soon as possible so that you have enough time should something unexpected happen (like a longer visa processing time).
Can I Travel To Other Schengen Countries With The France Schengen Visa?
You're allowed to travel to any Schengen state with your France Schengen Visa. However, in your application, you must clearly state that you plan to travel to other countries.
You can visit the following Schengen Member States with your France tourist visa from India:
Austria, Belgium, Czech Republic, Denmark, Estonia, Finland, France, Germany, Greece, Hungary, Iceland, Italy, Latvia, Liechtenstein, Lithuania, Luxembourg, Malta, Netherlands, Norway, Poland, Portugal, Slovakia, Slovenia, Spain, Sweden, and Switzerland.
Ready For France?
Now you know how to apply for your France tourist visa from India! If you have any more questions, feel free to check out the FAQ section.
Enjoy Your Travels!
Trusted Government Sites
Finding trustworthy information is difficult on the internet, so we make sure to only use government websites to fact-check and verify the information. All the information in this blog was gathered from the following sites:
Frequently Asked Questions
Yes. The Schengen Visa and France tourist visa are the same visas. It all depends on what you like to call it. Nonetheless, this is the visa you'll need if you plan to visit France for tourism purposes.
Author: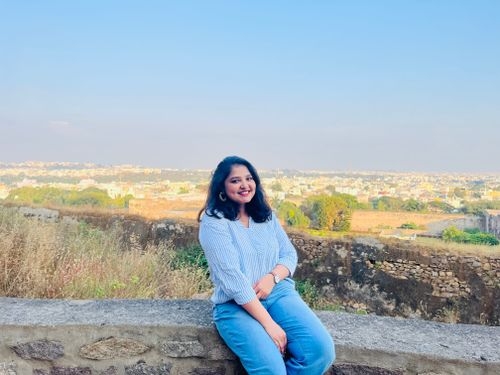 Nikhita Rathod
Verified Author: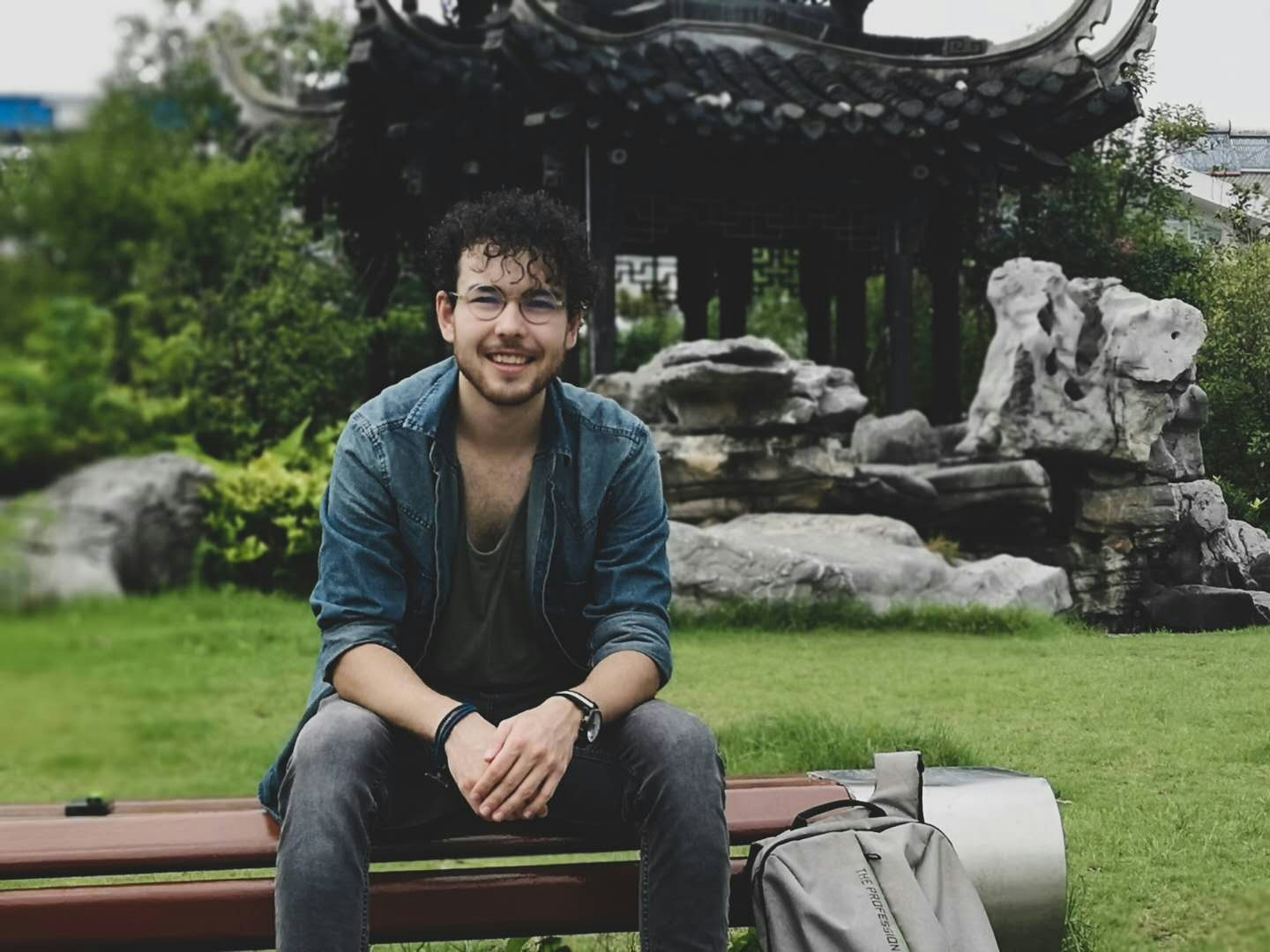 Richard Dettmar
Related Articles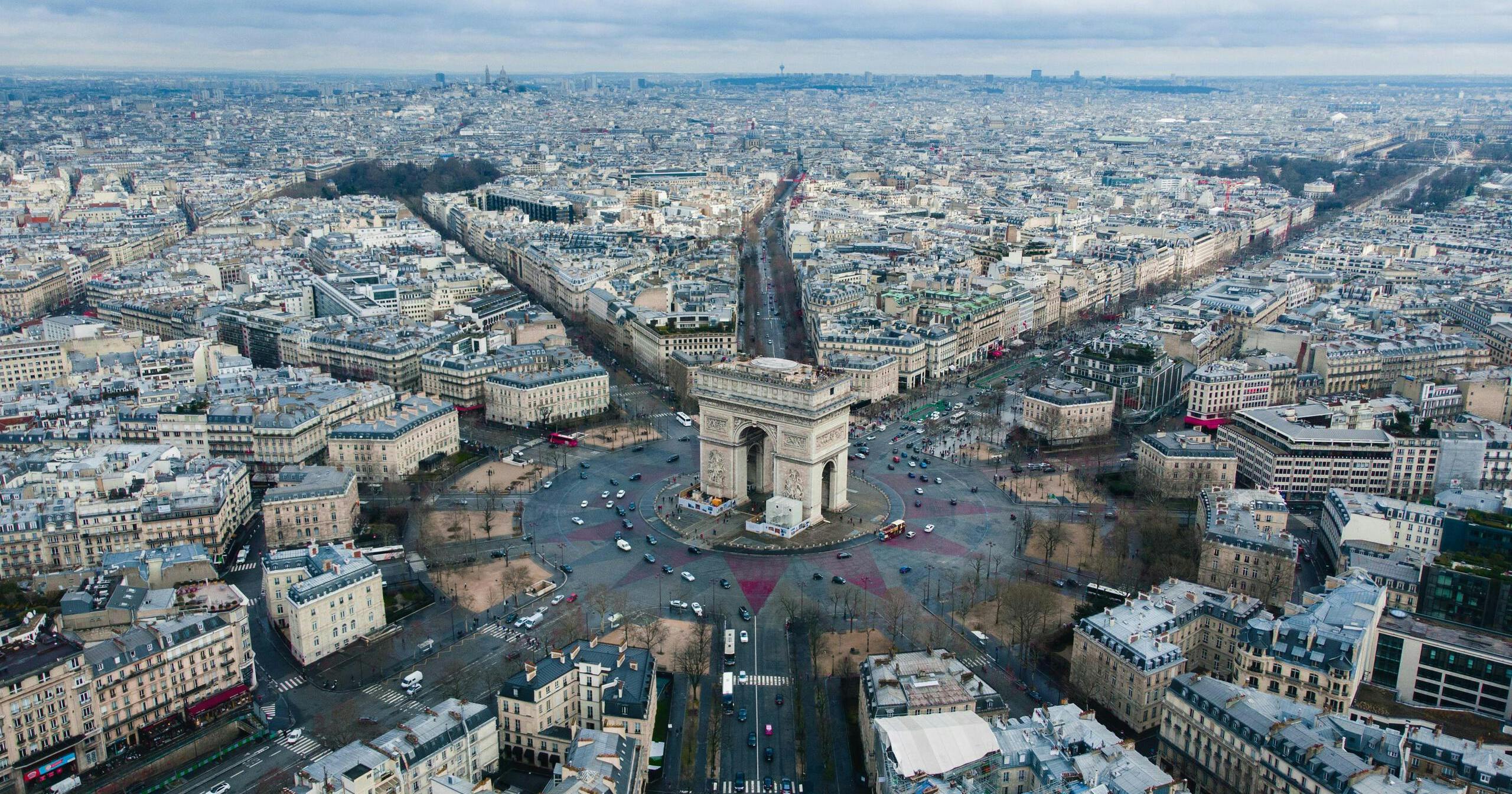 Learn how to schedule and prepare for your Frace visa appointment with our expert guide. Get everything you need to know before you go.