Georgia Visa For Indian Students | Fees And Application
Last Updated : 02-Oct-2023
Atlys in the news
30-Second Summary
Indian nationals wanting to study in Georgia must apply for a Georgia visa for Indian students. This visa will allow you to study in the country long-term.
You are required to visit an embassy to submit your documents.

This means you must submit your passport in person.

Once your visa gets approved, you can collect it at the embassy.

Apply at least 2 months before travelling to Georgia.
*Atlys does not provide this visa.
Important Information
Georgia
— Is a Visa Required?
Yes, Indians need a visa to study in Georgia.
— Where To Apply?
You must complete your application at an embassy.
— Processing Time
The student visa processing time takes about 30 days.
— Validity Period
The study visa is valid for 1 year but can be extended to 6 years.
Are you an Indian national ready to start your educational journey or enhance your current education? Look no further; here, we will provide you with all the information for the Georgia visa for Indian students.
Do Indians need a Georgia Student Visa?
Yes, Indian students planning to pursue their studies in Georgia need a student visa to live and study in the country legally.
The student visa is also known as the D3 visa for Georgia, allowing you to study in Georgia for up to 6 years.
Indian nationals can get a student visa for Georgia Tbilisi to study at an approved higher education institution.
Requirements For The Georgia Visa For Indian Students
To obtain a study visa, Indians must ensure they meet all the requirements before applying for their Georgia student visa from India:
Eligibility Requirements
To be eligible for a student visa, you must meet the following criteria:
You must have an acceptance letter from a Georgian educational institution to apply for the student visa.

You must be able to support yourself financially while staying and continuing your education in Georgia.

Travel insurance is required when travelling to Georgia for the long term.
Documents Required For A Georgia Study Visa
Passport: You must submit a valid passport for 3 more months after you depart from Georgia.

Photo: A digital passport-sized photograph must be submitted when completing the application form.

Application Form: The application must be completed online accurately before you visit the embassy.

Payment Receipt: Show proof of payment by providing your payment receipt.

Travel Itinerary: Provide proof of your travels to Georgia, such as flight tickets.

Educational Documents: Ensure the Ministry of External Affairs (MEA) has certified or verified your educational documents with an Apostille.

Program Confirmation: If you are studying a specific program that is not Georgian, you need proof that the institute offers this program.

Proof Of Stay: Provide proof of where you will stay through thorough documents such as a rental agreement or accommodation bookings.

Health Insurance: You require health insurance that covers you for the duration of your stay in Georgia.

In the case Of A Minor: When issuing a visa for a minor, an additional document is required to state that the parent or guardian consents the minor to travel to Georgia for study reasons.
Additional Documents
For the study visa, you must submit additional documents, which are:
Documents Proving Your Purpose Of Travel: Show the reason for travelling to Georgia by providing proof, including the following:
Order from the Ministry of Education approving your enrollment in Georgia.

An admission confirmation from a Rector or Dean of a Georgian educational institution.

Documents confirming enrollment in an international program approved by the Ministry of Education.

NEET scorecards for medical studies (only if applicable).
Documents That Proof Sufficient Funding: Provide proof that you have enough funds to cover your stay in Georgia through either:
Document stating you will cover your expenses.

If sponsored, submit a certified affidavit of sponsorship, evidence of ID for the sponsor, three months' worth of bank statements, and a Salary Certificate from the employer.

Evidence of scholarships, education, or financing for studies.

Bank statements for the last 3 months.
Application Process For The Student Visa
Now that we have seen what documents we require, we can go and follow these steps to apply for our Georgia visa for Indian students:
1: Begin The Online Application
You will start your application by visiting the Georgian online site.
There, scroll down and choose the option of "Enter Georgia".
2: Choose Your Embassy
Once you have chosen the option of "Enter Georgia", you can then select the e-mail application registration, where you will choose your country and the embassy that you can use to complete your application.
3: Select Your Visa Type
Next, you must select the visa type you want to apply for. For the Georgia student visa for Indians, you must choose the immigration visa since it is a long-term visa.
After that, select what service you use to complete your Georgia student visa application, such as submitting documents at an embassy, an application centre, or postal services.
4: Provide Personal Information
This step will require you to provide your personal information. Be sure to carefully read what information is required since a lot of information is needed.
When choosing the reason for your travel, be sure to choose "study for more than 90 days".
5: Review Your Application
Once you have filled in all your information, review all the details you have provided and ensure all information is accurate.
Once you are happy with your details, all that is left is to submit your application.
6: Completing Your Application
When you have either visited an embassy or an application centre or used the postal service to submit your passport and other documents, your visa will start the processing journey.
Once your visa gets approved, you can either collect it from the embassy, the application centre, or via postal services.
Now, you are ready to start your studying journey to Georgia when you have your visa.
Checking Your Student Visa Status
After applying for your visa, you can follow up on its status by doing a Georgia visa status check. Follow these steps to complete the online visa check:
1

Go to the Georgia government website.

2

Scroll down the page until you find the option of "Common Electronic Register of Application."

3

Click on this option and provide your serial number and release date.

4

Now, click on search to see your visa status.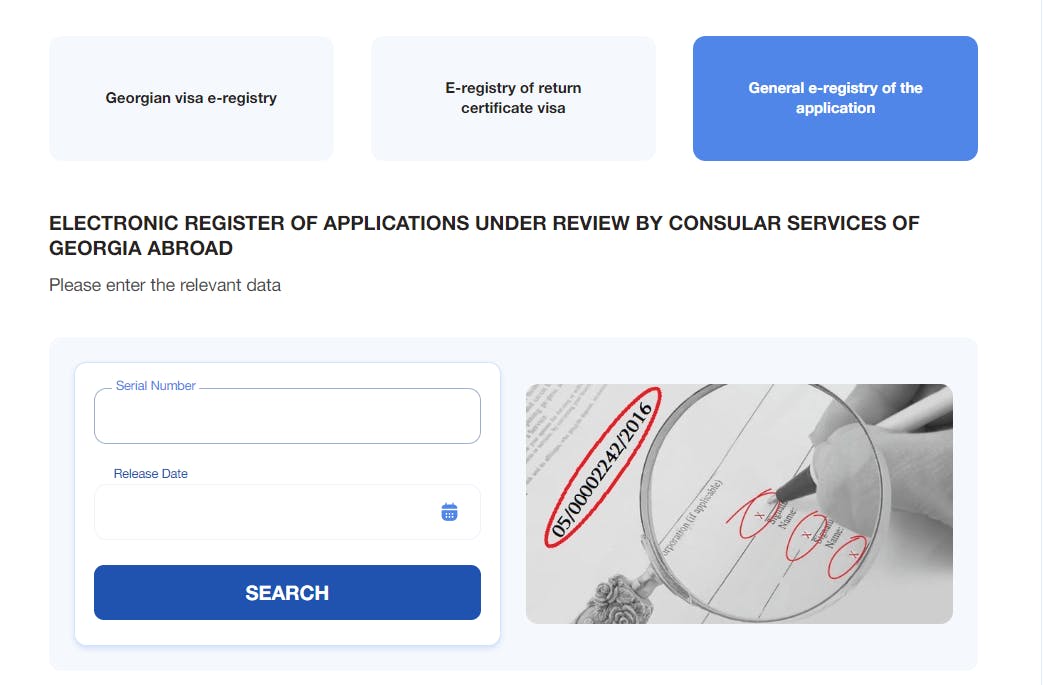 Key Points Of The Georgia Visa For Indian Students
Now, we have the knowledge to complete the application for a Georgia visa for Indian students. Let's look at some important information regarding the Georgia visa for Indian students:
What Are The Georgia Student Visa Fees?
The fee for the study visa will vary based on the duration of your time in Georgia. There will be an application fee of $20 when applying for your visa.
Contact the embassy or consulate To ensure the most accurate and up-to-date fee.
How Long Can I Stay In Georgia With A Study Visa?
When the Georgia visa for Indian students gets issued, it is valid for 1 year. After that, you can extend the visa for up to 6 years.
How Long Is The Student Visa Processing Time?
The Georgia student visa processing time generally takes about 30 days.
It is important to ensure that you provide all the information accurately since missed or inaccurate information can cause the processing time to take longer.
Can I Work In Georgia With A Study Visa?
Yes, Indian students can work part-time for a certain number of hours a week. There is no need to obtain a work visa for Georgia as a student since you only work part-time to gain experience.
Can I Extend The Study Visa For Georgia?
Yes, the Georgia visa for Indian students can be extended. When it gets issued, the visa will be valid for 1 year; after that, you can extend it to 6 years.
You can extend your visa while staying in Georgia. You must provide the necessary documents to the Ministry of Foreign Affairs of Georgia or at branches of Public Service Hall, territorial offices of the Public Service Development Agency and Community Centres.
Now We Know
You must first obtain a Georgia visa for Indian students to pursue your academic goals in this wonderful nation. Ensure you meet all the requirements, accurately complete your application, and keep up with visa costs and processing times. With planning and preparation, you can successfully start your educational career in Georgia.
Good luck on your educational journey!
Government Sources
Atlys takes the information we provide very seriously, which is why all the information you have read was gathered from trusted and reliable government sources to ensure accuracy:
Frequently Asked Questions
To apply for your Georgia visa for Indian students, you must complete the online application, where you will also confirm an appointment date. Once that is completed, you will visit the embassy, consulate, or application centre to submit your documents and then wait for the processing of your visa.
Author: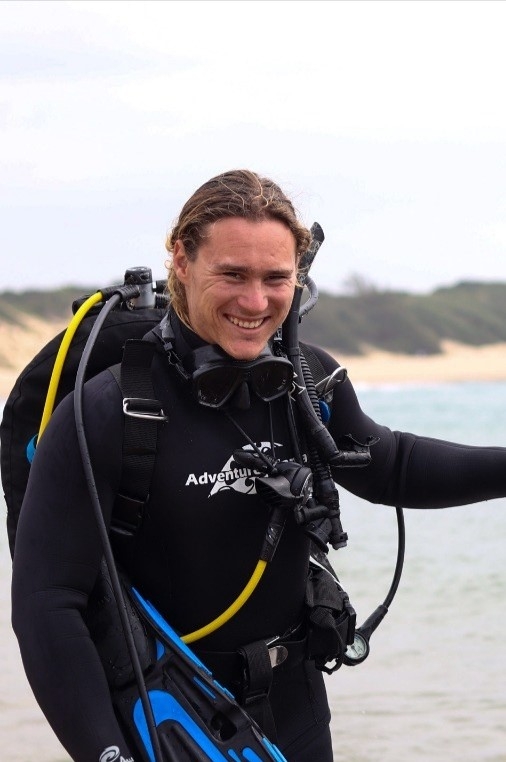 Gustav Mummbrauer
Verified Author: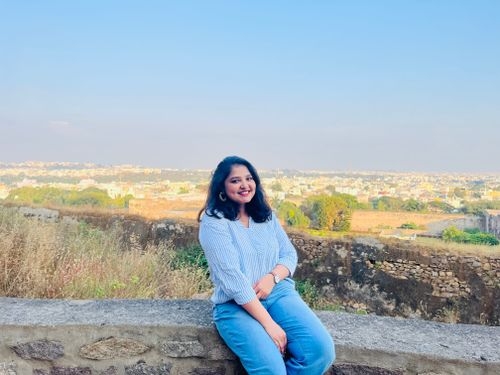 Nikhita Rathod