Germany Visa For Indians: Processing Time, Fees & Appointment
Last Updated : 04-Sept-2023
Atlys in the news
Traveling to Germany can be an exciting adventure, but before you embark on your journey, it's crucial to understand the visa requirements, fees, and application process. As an Indian traveler, this guide will provide you with all the information you need to successfully obtain a Germany visa for Indians.
Type Of Visa: Germany tourist visa for Indians.Germany Visa Fees: EUR 80, approx. INR 7,095.Visa Processing Time: 15 - 30 days.Visa Validity: 90 days during 180 day period.Is There An On Arrival Visa For Germany? No.
Do Indians Need Visa For Germany?
Yes, Indians need a visa for Germany from India.
The Germany tourist visa from India, also known as the Schengen tourist visa, allows individuals to visit Germany for tourism purposes. It permits travelers to explore the country's attractions, experience its culture, and enjoy leisure activities.
You can visit the following Schengen Member States with your Germany Tourist Visa for Indians:
Austria, Belgium, Czech Republic, Denmark, Estonia, Finland, France, Germany, Greece, Hungary, Iceland, Italy, Latvia, Liechtenstein, Lithuania, Luxembourg, Malta, Netherlands, Norway, Poland, Portugal, Slovakia, Slovenia, Spain, Sweden, and Switzerland.
Germany Visa Requirements For Indian Citizens
These are the documents required for the Germany visa from India:
Valid Passport: Your passport should be valid for at least three months beyond your intended stay in Germany.

Passport Photos: Provide recent passport-sized photos that meet the specified requirements regarding size, format, and background.

Travel Itinerary: Present a detailed travel plan, including flight reservations, accommodation bookings, and a clear outline of your activities in Germany.

Financial Means: Demonstrate sufficient financial means to cover your expenses during your stay in Germany. This can include bank statements, sponsorship letters, or proof of paid accommodation. Min. of at least EUR 45 (approx INR 4,049.18) a day.

Employment and Income Proof: Provide documents that verify your employment status, such as an employment letter, income tax returns, or business registration documents.

Proof of Accommodation: Show evidence of your accommodation arrangements in Germany, such as hotel bookings, rental agreements, or an invitation letter from a host.

Purpose of Visit: Clearly state the purpose of your visit, whether it's tourism, business, studies, or other activities. Submit relevant documents such as invitation letters, conference registrations, or acceptance letters from educational institutions.

Previous Travel History: If you have traveled to Schengen countries before, include previous visa copies or entry/exit stamps as proof of your travel history.

Travel Health Insurance: Obtain travel health insurance with a minimum coverage of EUR 30,000 that covers medical emergencies, hospitalization, and repatriation for the entire duration of your stay.

Additional Documents: Depending on the purpose of your visit, you may need to provide additional documents such as a No Objection Certificate (NOC) from your employer, proof of enrollment from an educational institution, or a marriage certificate for family visits.
Germany Passport Requirements
For an Indian citizen applying for a Germany visa, the passport must meet specific requirements, including:
Validity: The passport or travel document should have a validity of at least three months beyond the intended departure from Germany. It should also have been issued no more than ten years ago.

Blank Pages: The passport should contain a minimum of two blank pages to accommodate visa stamps and endorsements.

Renewal: If your passport is set to expire within the next six months, it is advisable to obtain a new passport before applying for the Germany visa.
Requirements Based On Employment Status
Here are the documents you need to provide based on different situations:
Self-Employed: Copy of your business license in India, Company income tax returns for the past two years, and copy of the company's bank statement for the past three months, signed and stamped by the bank manager.

Business Owner: Certificate of registration of the company (Form B, rule 5(1) or Form ST3, rule 11).

Student: Copy of the enrollment paper as proof of planned studies at the school/university, and copy of the No Objection Certificate from the respective school or university.

Salaried: Proof of employment/studies on official letterhead, stamped and dated. The letter should contain contact information (address, email, telephone number) and name, position, and signature of the countersigning officer. The letter must state the name and position of the applicant, salary, years of employment/studies, and approval of absence/position after leave.

Unemployed: Unemployment certificate. Proof of income, if any (for married individuals: employment certificate of spouse, document of spouse's income, and marriage certificate).
Minor Requirements
When it comes to the Germany Schengen visa requirements for minors, they must provide the same documents mentioned above, along with some additional ones:
Application Form: Minors need to submit an application form that is signed by both parents.

Birth Certificate: A copy of the minor's birth certificate should be included in the application.

Family Court Order: In cases where only one parent has full custody of the child, a family court order should be provided as supporting documentation.

ID/Passport Copies: Certified copies of the ID or passport of both parents/legal guardians need to be submitted.

Parental Authorization: If the child will be traveling alone, a notarized parental authorization signed by both parents or legal guardians is required.

Stepchildren: If you are traveling with stepchildren, a letter from the biological mother or father granting permission for the children to travel with you must be provided.
German Visa Photo Requirements
When applying for your visa, ensure that your visa photo adheres to the following requirements:
Submit one passport-sized photograph

The photo should be taken within the last six months

The Germany visa photo size 2023 must have dimensions of 45 x 35mm

The photo should be high resolution and captured against a white background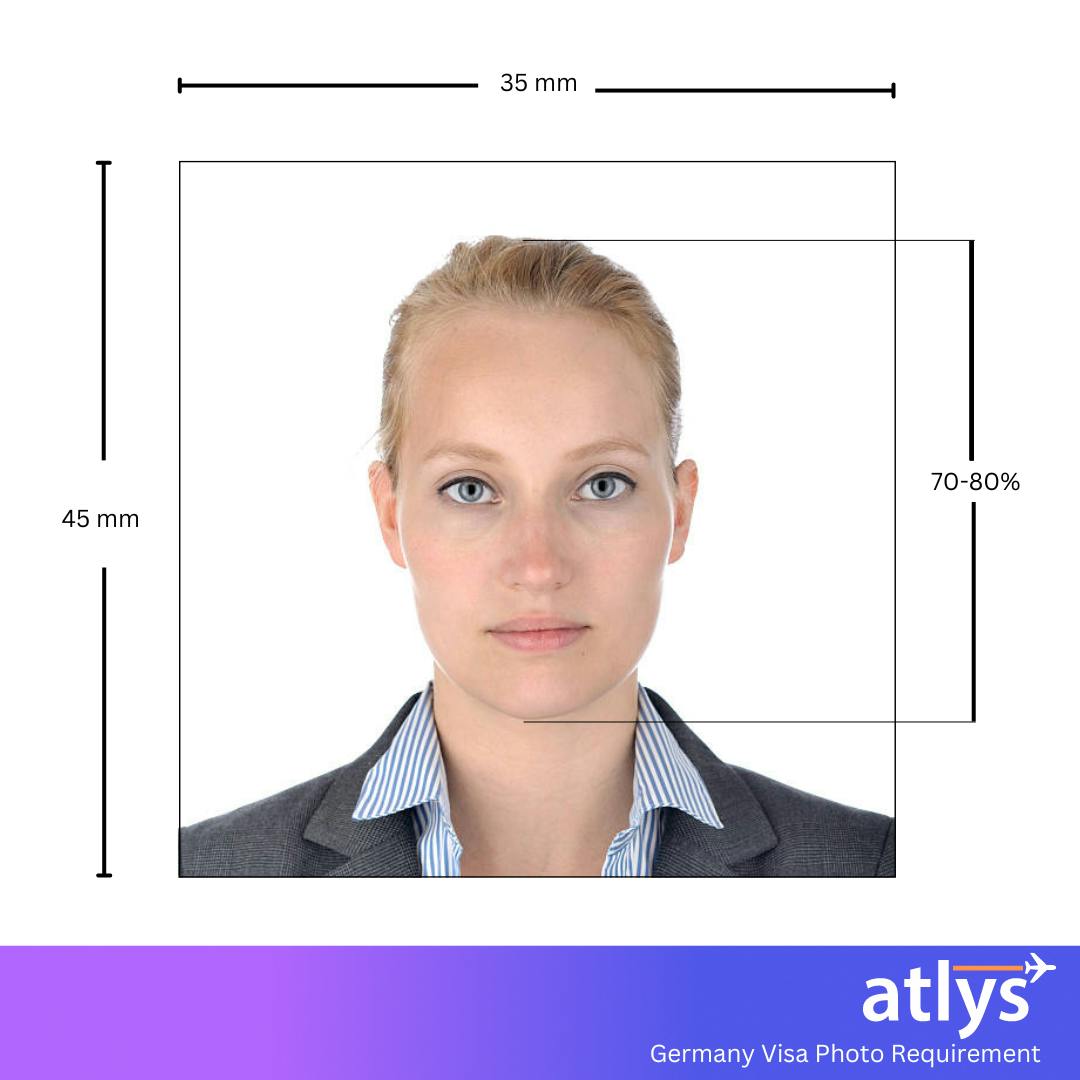 How To Apply For A Visa For Germany From India?
VFS center mainly handles the application for the Germany tourist visa for Indians. Applying for a Germany tourist visa from India involves the following steps.
Step 1: Determine The Visa Type
Confirm that you need a tourist visa for your visit to Germany.
Step 2: Gather Required Documents
Prepare all necessary documents, including a valid passport, completed visa application form, passport-sized photos, travel itinerary, proof of accommodation, travel health insurance, financial documents, and any additional supporting documents based on your circumstances.
Step 3: Book An Germany Visa Appointment
The application process is now majorly handled only by VFS Germany visa application centers across the country. You can book a Germany Visa appointment at the closest VFS center by registering online with VFS.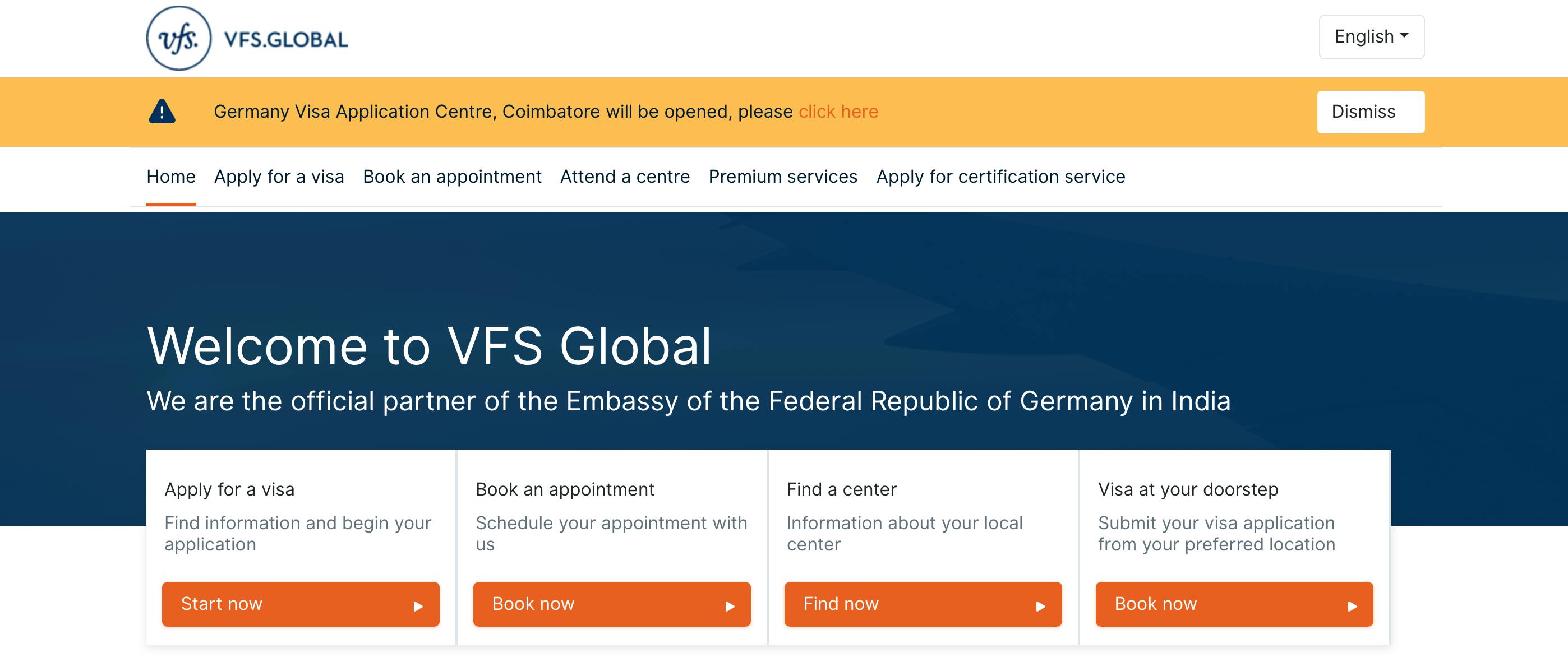 Step 4: Complete The Visa Application Form
Fill out the visa application form accurately with the required information. Print the form and sign it.
Step 5: Pay The Germany Visa Fees From India
Arrange the visa application fee payment. Ensure you have the required amount in the accepted mode of payment.
You can pay your visa fee in cash or via a credit/debit card. VFS Application centers also accept Demand Drafts made in favor of VFS Global Services Pvt. Ltd.
Step 6: Attend The Germany Visa Appointment
On the scheduled date and time, visit the German embassy or VFS in India as specified on your booking. Bring all the required documents, including the completed application form, photos, and proof of payment.
Make sure to answer the answer truthfully. Here are some tips for your Germany interview questions.
Step 7: Submit Your Application
Submit your visa application along with all supporting documents at the embassy or consulate.
You may be required to provide your biometric data, including fingerprints, at the visa application center during your appointment.
Step 8: Await Your Visa
Once your visa application is processed and approved, collect your passport with the visa from the visa centre. Make sure to check the visa details for accuracy.
How To Do Germany Visa Tracking?
Germany visa tracking can easily be done by following these steps:
Obtain the tracking number: During your visa application submission, you will receive a tracking number or reference number. This number is crucial for tracking the progress of your application.

Visit the official website: Go to the official VFS website where you submitted your visa application.

Find the visa tracking section: Look for the visa tracking or application status section on the website. It is usually located in the visa or consular services section.

Enter the tracking number: Enter the tracking number or reference number provided to you during the application submission process.

Check the status: Submit the tracking number and wait for the website to display the status of your visa application. The status may include whether the application is in process, approved, or rejected.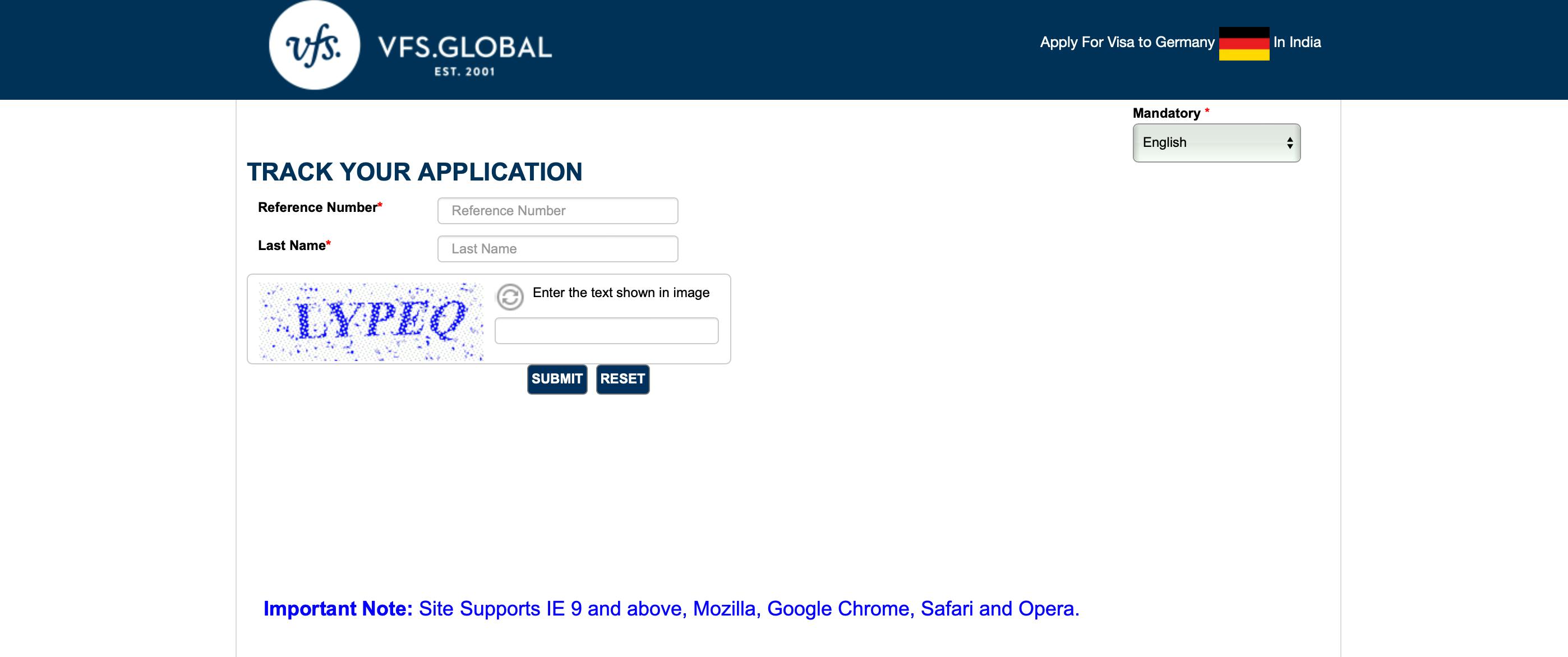 How To Get A Germany Visa For Indians Hassle-Free?
7 out of 10 people need a visa when they travel. Though visas have become a mandatory aspect of travel for billions of people, the visa application process is widely disliked by travelers.
However, it doesn't have to be that difficult.
Atlys is a visa company that assists in helping Pakistan passport holders apply for a visa effortlessly. How does it work?
​​It's really quite simple all you have to do is:
First, download the Atlys app from the app store

Next scan your travel documents.

Lastly, submit your application.
Review about Atlys:
Richard: Fantastic Service. Will never think twice about how to apply for a visa.

Jack: Will never have to stress about visas again. Thank you Atlys.
We are working very hard to make the Germany visa for Indians available on the Atlys app. In the meantime make sure to sign up for the Earlybird waitlist.
Overview Of The Germany Visa From India
This section covers everything you will need to know about the Germany tourist visa from India.
What Is The German Visa Processing Time?
Typically, Schengen visa Germany from India are processed within a timeframe of 15 to 30 days. However, during peak seasons or in certain situations, the processing time may be longer.
To ensure a smooth process, it is recommended to apply for the visa up to six months in advance.
What Is The Germany Visa Validity?
The tourist visa for Germany from India validity period is 90 days in 180 day period. Meaning your stay in Germany cannot be more than 90 days with a 180 period in a year.
What Are The Germany Visa Fees?
You can expect to pay the following Germany visa fees in Indian rupees 2023:
For adults: EUR 80, approx. INR 7,095

For children 6 - 12 years: EUR 40, approx. INR 3,200

For children under 6 years: Free
VFS charges an additional service fee of INR 1,720.
What Are The Germany Visa Types For Indians?
The type of Germany visas are as follows:
Work Visa knowingly as Employment Visa (EU Blue Card)

Skilled Workers - Academic Degree

Work Visa knowingly as Employment Visa (Recognition of Foreign Professional Qualifications)

Family Reunion Visa for the parent of a German citizen or EU citizen Child

Family Reunion Visa for a Child joining one or both parents in Germany

Dependents are accompanying spouses or children

Germany Student Visa For Indians

German national visa - self-employment

German national Germany Visa For Indians– self-employed freelancers (Section 21 (5) of the Residence Act.

Voluntary Service Germany Visa For Indians
All Done!
Obtaining a tourist visa Germany from India doesn't have to be a daunting process. With the right information and proper preparation, you can navigate through the requirements, fees, and application process smoothly.
By following this guide, you'll have the necessary knowledge to embark on your visa application journey confidently. Good luck, and enjoy your time exploring Germany!
Government Sources
All the information in this blog was gathered from reputable sources such as:
The blog was fact-checked and written with the help of AI.
Frequently Asked Questions
Yes, Germany visa is open for Indians. Indian citizens can apply for various types of visas to visit Germany, including tourist visas, business visas, study visas, and more.
Author: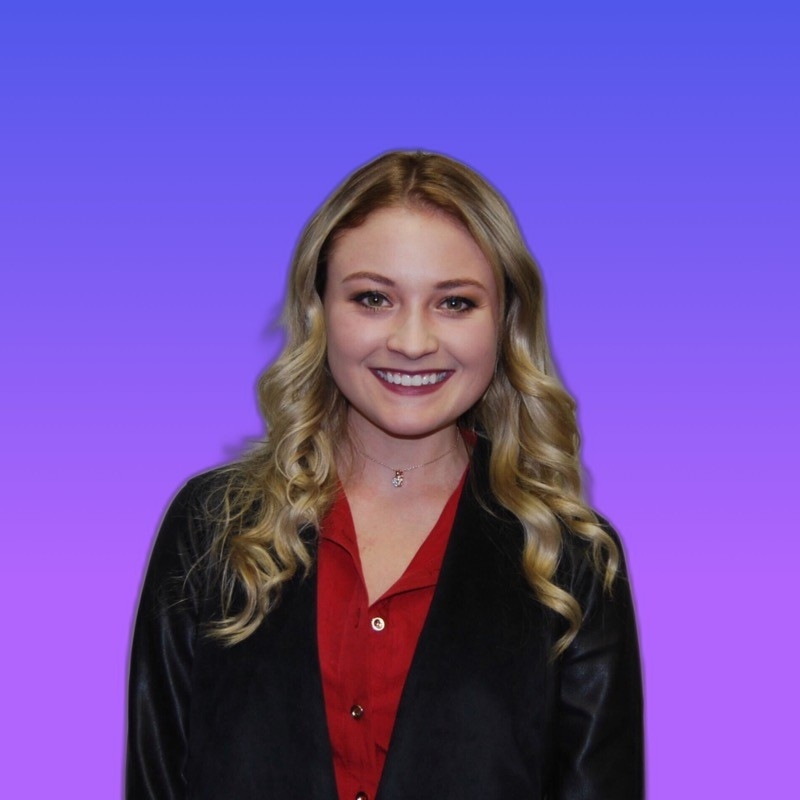 Shannon Reeler
Verified Author: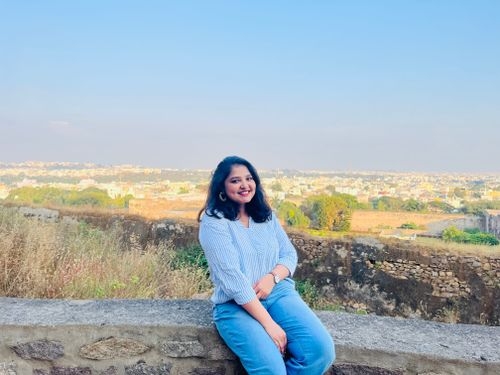 Nikhita Rathod
Related Articles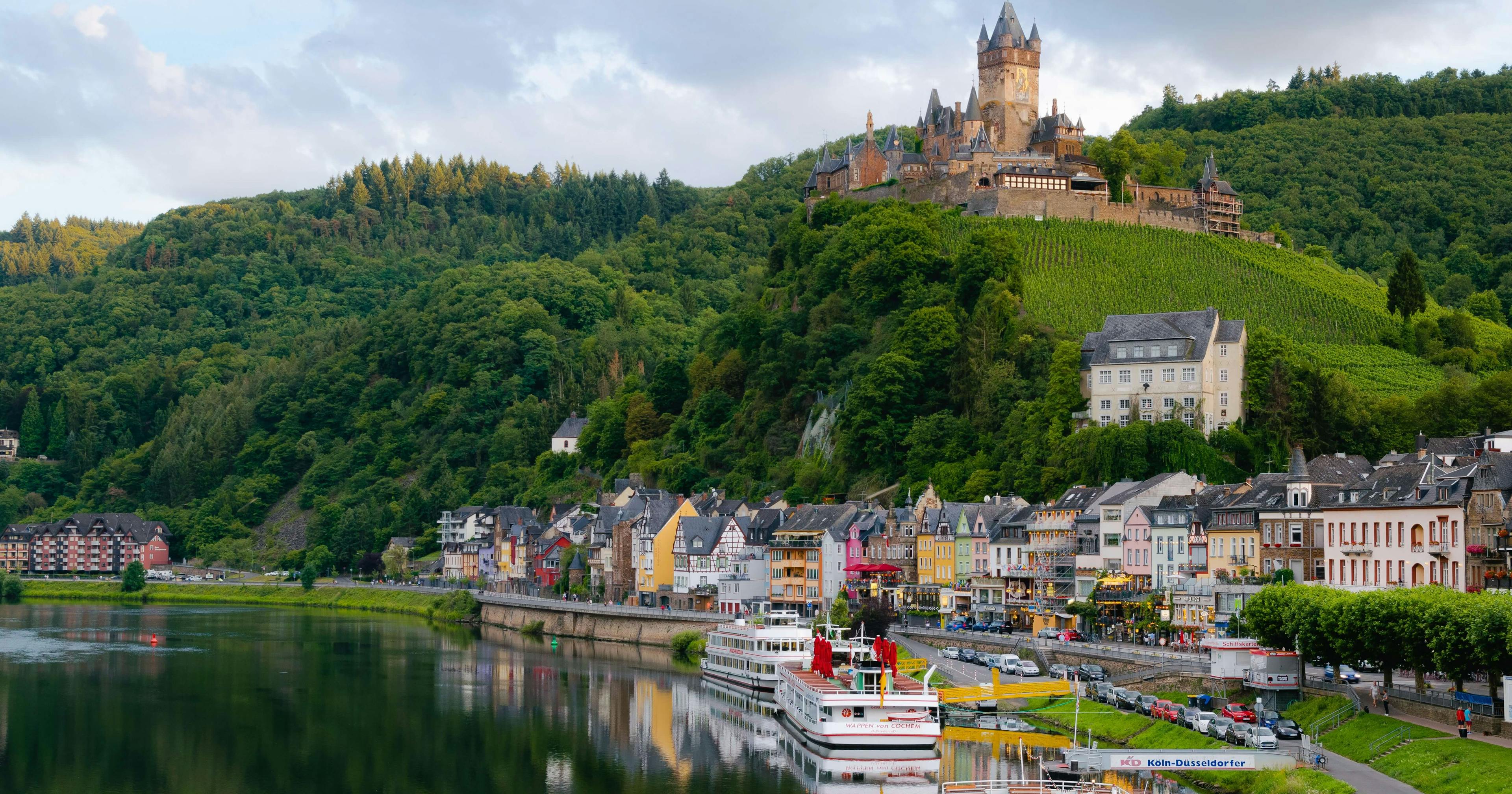 Discover Germany Visa Processing Times for Indians: Learn the average processing times, requirements, and tips for a smooth application process and stay informed.