Indonesia eVOA for Indians: Apply For eVOA In Advance
Last Updated : 12-Oct-2023
Atlys in the news
30-second Summary
Indians planning to visit Indonesia need a visa to enter the country. You can get an Indonesia eVisa, a digital tourism visa.
You can complete the visa application online, so you don't have to go to the Embassy in person.

Unlike some visas, you won't have to send your physical passport anywhere. Everything is done digitally.

If your eVOA is approved, you'll get a digital visa to use when travelling to Indonesia.

It's a good idea to start your application about a week before your trip to ensure everything goes smoothly.
This guide will help you through the process of getting your Indonesia visa without any hassle.
Important Information
Indonesia
— Is a Visa Required?
Yes, Indians need the Indonesia eVOA.
— EVOA For Indonesia Validity
The Indonesia eVOA is valid for 90 days.
— Length of stay
You can stay for 30 days with Indonesia electronic visa on arrival.
— Processing time
The processing time for Indonesia eVOA is 3-5 days.
Are you an Indian planning to visit Indonesia? Before visiting Indonesia, you must first apply for an Indinesia visa for Indians, such as the Indonesia eVOA. Here is what you need to know about eVOA for Indonesia.
Can Indians Apply For An Indonesia Electronic Visa on Arrival or eVOA?
Yes. Indians can apply for the Indonesia eVOA, or Electronic Visa on Arrival. The eVOA is like a special permission slip for visiting Indonesia. 
You can use it to visit your family or friends living in Indonesia. This visa works if you have business meetings or just want to shop for goods in Indonesia.
You can attend meetings, events, and exhibitions in Indonesia, but not as a speaker or presenter. 
With this visa, you can stay in Indonesia for up to 30 days, and if you want more time, you can extend it for an additional 30 days.  Being financially stable during your visit is important, so make sure you can support yourself.
What You Can't Do With Indonesian eVOA:
Work: You're not allowed to work in a job while you're in Indonesia with this visa. You must obtain a work visa for Indonesia.

Speaking at Events: You can't be a speaker at events or give presentations.

Changing Visa Type: This visa can't be turned into another type of visa, so you need to plan accordingly.

Following Rules and Laws: You must follow the rules and laws of Indonesia. Overstaying your allowed time or breaking the rules can lead to fines, deportation, or legal issues.
So, this visa is for visiting and having a good time in Indonesia, but it's important to follow the rules and remember what you can and can't do with it.
What Are The Requirements For Indonesia Evoa For Indians
Each Indonesia tourist visa for Indians have different requirements depending the type of visa you are applying for. Here is what you will need when applying for the Indonesia eVOA:
Required Documents For The Indonesia eVOA Application
Indonesia e-VOA application is submitted with the following requirements.
Valid Passport: Your passport must be real, issued by the government, and not counterfeit. Your passport must be valid for at least six months beyond your intended departure date from your country.

A Return Ticket or Onward Ticket: It's evidence that you plan to leave the country after your visit. 

Photo: Use either *.JPEG, JPG, or. PNG in colour, the photo should be a minimum of 400x600 pixels. Keep it under 2 megabytes (2Mb).
How To Get A Indonesia eVOA From India ?
Now, we have seen what documents you require, lets look at how to apply for the Indonesia e-visa on arrival from India:
Indonesia EVOA Application Process
The eVOA allows Indian travellers to apply for a visa online before visiting Indonesia. Here are the steps to get an eVOA for Indonesia from India:
1

Go to the Website: On the Direktorat Jenderal Imigrasi website, you will find a form that needs your detailed information. This includes your full name, travel itinerary, and passport particulars.

2

Review Your Information: Before moving on, look at everything you wrote down. Make sure they match what's on your passport.

3

Pay the Fee: Verify your info, pay with Visa, MasterCard, or JCB, and keep the confirmation for your Indonesia trip.

4

Receive Confirmation: After completing the "payment confirmation" page, you must pay within 120 minutes. Otherwise, the system will not accept payment, and you must create a new request.

5

Wait for Processing: our request will be checked, but it usually doesn't take too long. Then, you'll get a special pass to visit Indonesia. You can print it or keep it on your phone.
Once you've finished paying, you'll get your e-VOA sent to you through email. Here's what comes next:
Download or Print: Before leaving for your trip, download and print your e-VOA.

Arrival: When you arrive in Indonesia, go to the e-VOA counter.

Processing: An officer there will scan the QR code on your e-VOA, check that your details are correct, and then add a special sticker to your passport.
How Do I Check Evoa Application Status Online?
Yes, you can typically check the status of a visa application online by visiting the official website of the visa issuing authority of the country you intend to travel to. To check the status, you can use various methods, including:
1

Passport Number: You can sometimes check the status by entering your passport number.

2

Application or Reference Number: Many visa application processes provide applicants with a unique application or reference number. You can use this number to track the status of your application.

3

Personal Information: Some systems may require you to provide specific personal information, such as your name and date of birth, in addition to your passport or reference number.
To obtain accurate and up-to-date information about your visa application status, it's essential to use the official website of the relevant visa issuing authority. Additionally, follow the specific instructions on the website for checking your visa status, as procedures may vary from country to country.
Everything You Need To Know About Indonesia Evisa On Arrival From India
Next, we will go through all the important information about the Indonesia E-visa on arrival for Indians:
What Is The Indonesia eVOA Cost From India?
The Indonesia e-visa on arrival fee is IDR 500,000. You can use Visa, MasterCard, or JCB debit or credit cards to pay for your e-VOA.

According to the financial institution's regulations, every Debit/Credit Card payment will incur additional fees.
What Is Indonesia eVOA Processing Time For Indians?
Getting an e-visa usually takes around 3 to 5 business days. But the time can change based on a few things like:
Lots of Applications: It might take longer if many people apply at once.

Security Checks: Sometimes, they need to check things for security, which can add time.

Complete Application: Make sure you fill out all the forms correctly. If not, it could slow things down.
How Long Can I Stay in Indonesia with the eVOA From India?
Indians with the Indonesia eVOA (Electronic Visa on Arrival) can stay in Indonesia for up to 30 days, with an opportunity to extend the visa.
What Is The Validity Of The Indonesia E Visa On Arrival?
You need to use this visa within 90 days from the issue date. It's important to remember that the visa's validity period is not the same as your allowed stay duration. Please check your visa for details about how long you can stay.
Can I Extend The Indonesia E-Visa On Arrival For Indians?
Yes, You can extend this visa for another 30 days of stay. But be careful! If you stay longer than allowed, do things you're not supposed to, or don't follow the rules, you might have to pay fines, get sent back home, or face legal trouble in Indonesia.
What Are The Different Short Term Visas For Indonesia?
When visiting Indonesia for a short term, there are multiple types of visas that Indian citizens can choose from. Here are the short term Indonesian visas for Indians:
Indonesia e-visa: Indians can obtain an Indonesia visa online by applying for the e-visa. The e-visa for Indonesia will allow you a stay period of 60 days.

Indonesia eVOA: The eVOA is an authorisation to obtain a visa on arrival. This gives you a higher chance of receiving a visa on arrival in Indonesia.

Indonesia visa on arrival: The Indonesia visa on arrival for Indians is a visa that you will apply for on arrival in Indonesia. This means you do not apply before travelling. However, the on-arrival visa is not guaranteed, and Indians must comply with the eligibility requirements.
What Entry Points Allow Entry Into Indonesia 
Indonesia allowed entry for travellers with the Electronic Visa on Arrival (eVOA) through specific entry points. Here is a list of some of the major entry points that typically accept eVOA holders:
International Airports:
Soekarno-Hatta International Airport (CGK) - Jakarta

Ngurah Rai International Airport (DPS) - Bali

Juanda International Airport (SUB) - Surabaya

Kualanamu International Airport (KNO) - Medan

Hang Nadim International Airport (BTH) - Batam

Adisutjipto International Airport (JOG) - Yogyakarta

Adisumarmo International Airport (SOC) - Solo

Sultan Hasanuddin International Airport (UPG) - Makassar

Sultan Syarif Kasim II International Airport (PKU) - Pekanbaru

Sam Ratulangi International Airport (MDC) - Manado
International Seaports:
Tanjung Priok Seaport - Jakarta

Tanjung Perak Seaport - Surabaya

Batam Center Seaport - Batam

Bandar Bentan Telani Lagoi Seaport - Bintan

Sri Bintan Pura Seaport - Tanjung Pinang

Nongsa Terminal Bahari Seaport - Batam
TPI Cross Border Post:
Entikong, West Kalimantan

Jagoi Babang, West Kalimantan

Nanga Badau, West Kalimantan

Sei Nyamuk, North Kalimantan

Mota'ain, East Nusa Tenggara

Motamasin, East Nusa Tenggara

Tunon Taka, North Kalimantan
Other Non-TPI Places:
Tersus Pariwisata Marina Del Ray, Nusa Tenggara Barat

Tersus Pariwisata Medana Bay Marina, Nusa Tenggara Barat

Tersus Tritunas Sinar Benua, Kepulauan Riau
Please note that entry points and policies can change over time, and new entry points may have to be added.
And that's it!
The Indonesia Electronic Visa on Arrival (eVOA) for Indians is a convenient digital visa option for eligible travellers, allowing them to visit Indonesia for tourism and certain other purposes. 
Applicants can complete the eVOA application online, receive a digital visa, and enjoy stays of up to 30 days in Indonesia without needing a traditional visa application process.
 It offers a user-friendly alternative for hassle-free entry into the country.

Government Source
At Atlys, we've collected information from sources we trust. The details in this blog come from reliable and dependable places like:

Frequently Asked Questions
Yes, you can extend your stay for an additional 30 days within Indonesia.
Author:
Mable Chidi
Verified Author: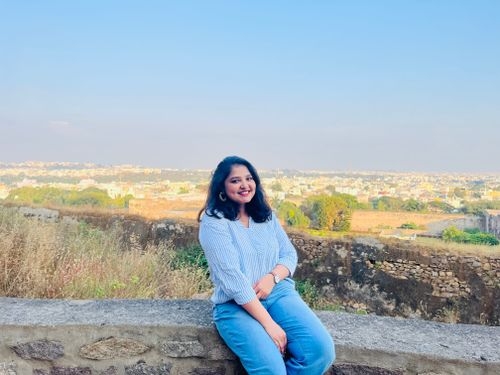 Nikhita Rathod