Ireland Visa for Indians: Application, Fees & Processing
Last Updated : 04-Sept-2023
Atlys in the news
The city of Dublin in Ireland is one of the top spots for foreigners to visit, but that doesn't mean that there are no other places in Ireland waiting to be discovered. Dublin is just the tip of the iceberg when you land in Ireland.
If this has enticed you to get a visa for Ireland from India, then you are in the right place. In this blog, we will talk all about the Tourist Visa for Ireland from India.
Type Of Visa: Ireland tourist visa.
Irish Visa Processing Time: 20 days.
Ireland Visa Cost: Single Entry Visa: 5,300 (INR).
Ireland Visa Validity: 90 days.
Is There An Ireland Visa On Arrival? No.
Do Indians Need A Ireland Visa 2023?
Yes, Indian citizens looking to travel to Ireland must apply for a Tourist Visa to Ireland first if they wish to be in Ireland. This is because Indian nationals are not on the Irish government's visa-free entry country list.
However, you can visit Ireland and the United Kingdom as an Indian using a single Irish Visa or UK Visa; if you have an Indian passport.
The Short-Stay Visa does not allow you to do any work, paid or unpaid, or use publicly funded services, such as a public hospital.
Ireland Visa Requirements For Indian Citizens
The required documents for the Ireland Visa for Indians that are listed below will be needed when you start your online application process. Therefore, ensure you have all the documents before starting your application process.
A Completed Irish Visa Application Form: You'll need to start your application online. This is where you'll complete your application form.

2 passport-sized photos: The photos you need to submit must not be older than 6 months with a white background.

Be a valid passport holder with 2 blank pages or travel documents: Your passport must be valid for 3 months after your trip.

Proof of accommodation: You'll need to prove to authorities where you plan to stay in Ireland. Documents include hotel reservations, Airbnb bookings, a rental agreement, etc.

A complete travel itinerary: It must include all your travel dates, flight numbers, places you plan to visit, tours, accommodation, etc.

An invitation letter (if applicable): If you plan to visit relatives or friends, you'll need to submit an invitation letter from the host. It must include all their personal details, contact details, duration of your trip, their accommodation, and so on. Also, the host must be an Ireland national or resident and provide proof of their immigration status.

Proof of financial sufficiency: Another requirement is that you prove you have enough money to support yourself for the entire duration of your trip. In addition, you'll need to submit a 6-month bank statement, pay slips, etc.

A cover letter (not mandatory): During the online application form, you can add additional information about your trip and the purpose of your trip.

A return flight ticket: This is used to prove that you'll return to your home country or leave Ireland after your visit.

Confirmation of residency (if applicable): If you don't reside in the country you're applying from, you'll need to prove you have legal residence in that country.

Proof of employment: Depending on your employment status, you can submit documents such as an employment letter, a letter from an educational institution, business registration documents, or recent invoices that prove ongoing self-employment.

Travel insurance for the duration of your stay.
All your documents need to follow specific Irish Visa application requirements not to be refused. First, ensure that all the required documents are original, legible, and verifiable; they must also be in English or Irish or translated with a certified translation. Lastly, your documents should not be inside envelopes or folders.
What Are The Eligibility Requirements For The Ireland Visa For Indians?
The eligibility criteria that are set out by the Irish government to be eligible for an Ireland Visa for Indians are as follows:
Leave Ireland after your trip

Be able to financially support yourself (and any dependents) for the entire duration of your trip

Be able to pay for a return flight ticket

Not live in Ireland longer than your visa stipulates, or make Ireland your home country
Requirements For Minors
To establish the relationship between a parent or guardian and a child for visa purposes, the following documents are typically accepted:
Birth or adoption certificate: This document confirms the parent or guardian's biological or adoptive relationship with the child.

Guardianship papers: If applicable, official guardianship papers can demonstrate the legal relationship between the parent or guardian and the child.

Marriage or divorce certificate: In cases where the parent has a different surname from the child, providing a marriage or divorce certificate can establish the connection.

Death certificate: If a parent is deceased, a death certificate may be required to validate the relationship between the surviving parent or guardian and the child.
Passport Photo Requirements
When applying for an Irish visa, it's crucial to adhere to the passport photo requirements. Here are some key points to keep in mind:
Size: The passport photo should be 35mm x 45mm in dimensions.

Appearance: The photo must be clear, sharp, and of high quality. It should have a plain white or light-colored background.

Facial Expression: The applicant should have a neutral facial expression, with their eyes open and clearly visible.

Head Position: The head should be centered and facing the camera directly. Avoid tilting or turning the head.

Eyes and Gaze: Both eyes should be open and fully visible. Avoid wearing glasses with tinted lenses or frames that obscure the eyes. Glares on glasses should be avoided as well.

Clothing: The applicant should wear normal attire that does not cover the face or head, except for religious or cultural reasons. Avoid wearing hats or headgear unless required for religious purposes.

Prohibited Items: The photo should not include any objects, accessories, or other people. Digital alterations or editing are also not allowed.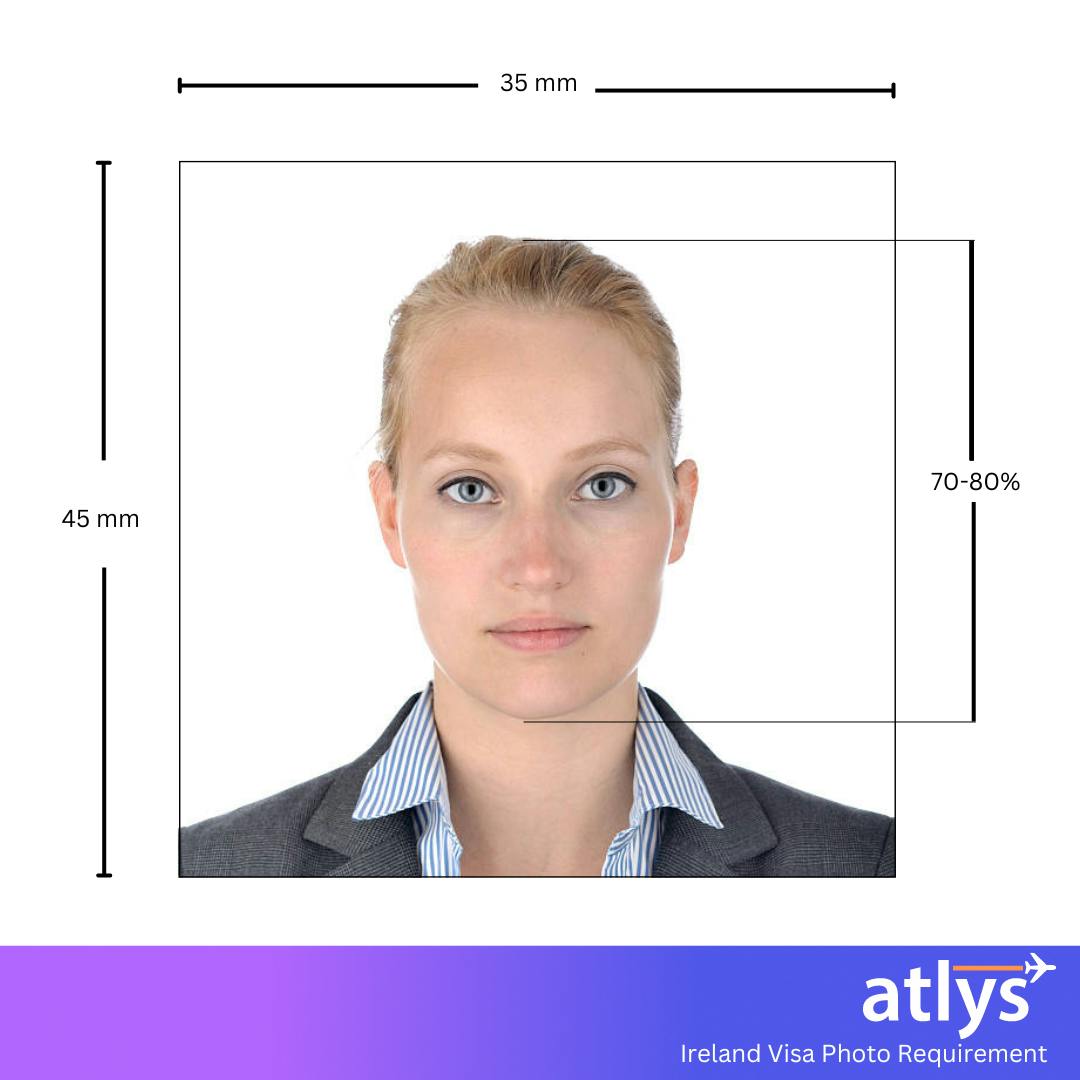 How To Apply For The Ireland Visa For Indians?
Now that you know about the Ireland Visa for Indians, you need to know about the Irish Visa application step. So let us look at the visa application process step by step.
Step 1: Gather All The Required Documents
In order to start your application process for your Tourist Visa to Ireland, it's best to have all the documents you will need with you to make the application process faster and more straightforward.
Step 2: Complete The Online Application Form
You will now need to complete the online application form. Unlike traditional visa applications, you can complete your visa application form on the Ireland government website through AVATS.
After completing the online application form, you'll need to print a copy and sign it. I highly recommend double-checking your application for the Ireland Visa for Indians form before submitting it. Be sure that all the information is accurate and correct.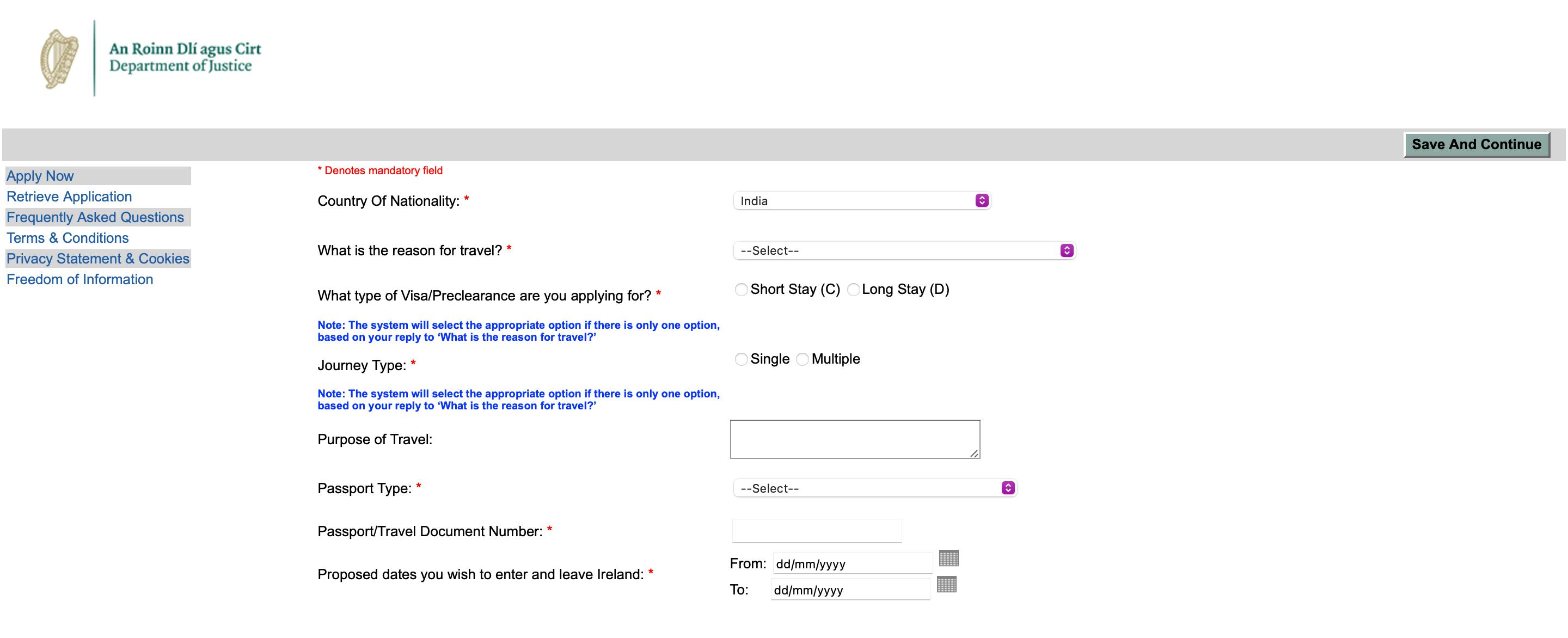 Step 3: Schedule A Visa Appointment
You can schedule an appointment at the nearest Irish Visa Application Center. The Irish Visa Application Center is the Embassy of Ireland, located in New Delhi:
Biometric information will be required for Ireland visa applications for Indians. Biometric information refers to your fingerprints and the digital photograph of your face. The biometric information will always be required when you apply for the Ireland Visa for Indians.
Step 4: Attend Your Visa Appointment
Once you have scheduled your appointment, you must wait for the interview date. However, you must schedule the visa interview as soon as possible to avoid any delays in India. The visa interview wait period could be pretty long, and you might not get the desired date or venue; as such, be sure to book your appointment ahead of time.
On the date of your VFS ireland appointment, you'll need to submit all the required documents requested for the Irish Visa. Additionally, embassy authorities will ask you some basic questions about your intended trip and the purpose of your travels.
Step 5: Wait For Your Visa To be Processed
Once you have a successful interview, you must wait for your visa to get processed. However, the visa processing time for the Ireland Visa for Indians will differ.
Step 6: Get Your Ireland Visa For Indians
And finally, the wait is over when you get your approved Ireland Visa for Indians. You can now go on your travels to Ireland without any worry. You must carry all the necessary documents with you, such as a passport, itinerary, and travel insurance on your trip.
Ireland Visa Tracking
When applying through VFS the Ireland visa tracking can easily be done by following these steps:
Locate the "Track Your Application" section on the website.

Enter the required details, such as your passport number and date of birth.

Click on the "Track" or "Submit" button to initiate the tracking process.

The system will provide you with real-time updates on the status of your visa application.

Regularly check the tracking tool for any updates or changes in the application status.
If you have any concerns or encounter issues during the tracking process, contact the VFS helpline or customer support for assistance.

Alternatively, you can check the weekly visa decision on the Department of Justice, Dublin.
Decisions are published on that page every Tuesday. To check if your application has been approved, please search for your visa application number in the table below.

An In-Depth Look At The Ireland Visa For Indians
Before we start with the nitty-gritty of the visa application process for the Ireland Visa for Indians, let us look at some topics that will help you understand more about the Irish visa. Some of the questions you might have before starting the application process for the Ireland Tourist Visa from India:
What Can I Do With An Ireland Tourist Visa?
The Ireland Visa for Indians will allow you to visit Ireland for a period of time for the following reasons:
To visit a family or a friend.

To study short term (you will only have 90 days).
If you want to stay for study purposes, you must apply for a student visa, not a short-stay visa.
What Are The Different Types Of Visas Indian Nationals Can Apply For?
The Irish Government has varying types of visas for Indians that you can apply for depending on the purpose of your visit to the destination you wish to stay in Ireland, granted that you meet the entry requirements.
Short-Stay Visa Type C (this is a visa that most people traveling to Ireland will apply for a Short-Stay Visa.)

Visa waivers for UK Visa holders
What Is The Cost Of An Ireland Visa For Indians?
The cost of the Ireland Visa fee can vary depending on which Ireland Visa for Indians you are applying for. There are 3 types of visa entry available for the Irish visa application for Indians, including the Ireland Visa fee for each of them:
For a Single Entry Visa: 5,300 (INR)

For Multiple Entry Visa: 9,000 (INR)

For a Transit Visa: 2,225 (INR)
What Is The Ireland Visa Processing Times For Indian Citizens?
The Ireland Visa processing time in India is 20 days.
While the processing time is outlined, you need to consider that problems might arise and cause delays in the processing times that are outside of the Visa office's control.
What Is The Ireland Tourist Visa Validity?
Tourist visas for Ireland have a validity period of up to 90 days, allowing visitors to explore the country's stunning landscapes and cultural heritage.
Common Reasons Why Your Dublin Visa For Indians Might Be Refused
There are several reasons why Ireland can refuse your visa application. First, you must make sure that you go through all the Ireland visa requirements. Then, you meet those visa requirements to avoid your Irish visa application being refused:
Your documents need to be complete (do not leave or attach blank pages with your application).

They cannot verify the information you supplied.

Your application is not signed.

You have sent a damaged passport with your Irish visa.

Your documents are not translated into English or accompanied by a notarized translation. Notarization translation is a verified letter certified by a licensed public officer who serves as an impartial witness to the signing of those documents. And it establishes the authenticity of the signatures). A notary's signature and seal are required to authenticate the signature on your letter or legal document.
Please note that your Irish visa application can also be refused if you do not include information regarding your past Irish visa refusals.
What Is The Immigration Process?
Now that you have arrived in Ireland as a non-EU, non-EEA national, you're an Indian tourist. You will have to present yourself before the immigration officer at the border entry when you arrive (either by air or sea). You will be asked questions regarding your visit to Ireland and explain the purpose of your stay. You must take it upon yourself to ensure you have everything with you.
This process at the border entrance requirements includes a visa, passport, boarding card, and other essential documents such as bank account/bank statement and details for your accommodation.
Even if you have a valid visa to visit Ireland as an Indian, the immigration officer can deny you access if they're unsatisfied with your explanation or documents. However, suppose you are allowed to enter the state. In that case, your passport will be stamped by the immigration office, showing your conditions and the Ireland duration.
All Done!
Now, you have successfully applied for your Dublin Visa for Indians, and you are familiar with the conditions of your stay in Ireland as an Indian tourist visiting Ireland. Now you can finally start packing your bags and start looking forward to your trip to Ireland.
So, enjoy your short stay and explore Ireland.
Happy Traveling!
Government Sources
All the information was gathered from reputable sources such as:
The information in this blog was fact-checked and written with the help of AI.
Frequently Asked Questions
Yes, Indian passport holders who wish to travel to Ireland will need to apply for the Ireland Visa for Indians.
Author: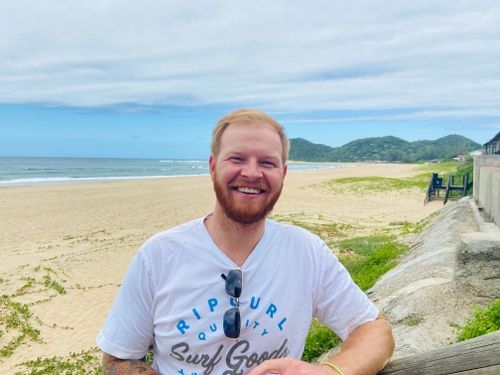 Tiaan Botha
Verified Author: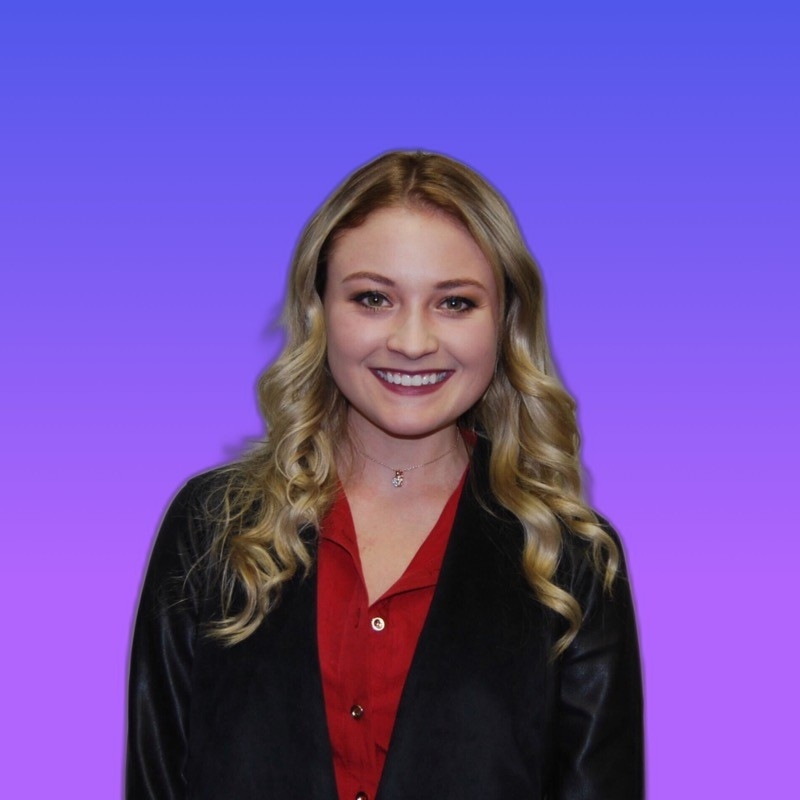 Shannon Reeler