Japan Transit Visa For Indians: Requirements And Visa Fees
Last Updated : 04-Sept-2023
Atlys in the news
30 Seconds Summary
Indian nationals transiting through Japan must apply for the Japan transit visa, which allows them to have a stopover.
You can complete the application in person at the VAC.

Japan transit visa for Indians requires you to submit your passport offline.

Once your visa is approved, you will get a stamp on your passport.

The Japan transit visa for Indians requires a copy of your valid Indian passport, visa application form, one-colour passport-size photographs, and more.
*Atlys does not provide this visa.
Important Information
Japan
— Is a Visa Required?
Yes, Indians need a Japan Transit visa.
— Japan Transit visa Validity
The Japan transit visa remains valid for 15 days.
— Japan Transit Visa Cost
The Japan transit visa fee is ₹50.
— Japan Transit Processing Time
The Japan transit visa processing time is 5 working days.
If you're an Indian getting ready to transit through Japan, here's some important stuff you need to know about the Japan transit visa for Indians:
Do I Need A Japan Transit Visa For Indians?

Yes, Indians need a Japan transit visa. A Japan transit visa for Indians is a temporary permit that allows Indian travelers to stop over in Japan for a short duration while on their way to another country. But remember, it's mostly for relaxing and resting during your stopover, not for working or visiting friends or family. Just a short and fun visit!
If you're traveling to another country and your next airplane is on a different day, you might need a transit visa to stay at the airport or in a hotel to rest. But if your next airplane is on the same day, you don't need the Japan Transit visa.
What Are The Required documents for the Japan transit visa for Indians?
You must give them all the right documents to ensure your Japan transit visa application goes smoothly. If you miss something, your application might not get approved. Here's what you need to show if you're from India:

A valid Passport (with more than two blank pages). Please submit your old passports also, if any.  

A filled and signed Visa Application Form. 

One photograph taken within the last 6 months. The photograph should be of size 2 x 2 inches, color with white background and printed on good quality paper.

A Cover letter stating the purpose of the visit and day-to-day details.  

Confirmed Travel Booking (Flight tickets, Travel itinerary and Hotel Booking)  

Copy of visa to the main destination country.

Original bank statement for the last three months.  

Latest Income Tax Return.

This list will help you give the right documents when you apply for a Japan transit visa. Sometimes, the Japan Embassy might want an interview or ask for more documents, depending on your personal situation.
How To Get A Japan Transit visa From India?
For the Japan Transit visa from India, you'll have to apply for the visa at through the Visa application centre.
If you want to transit in Japan as an Indian student, you'll need a Japan transit visa. Don't worry; I'll explain how to apply it.

Step 1: Start the Application

Download the visa application form.

Step 2: Make an Appointment

Choose a place to apply at a Visa Application Centre near you.

Book an appointment to go there.

Step 3: Pay the Fee

You must pay the applicable Visa fee and Service charge when submitting your application.

If you printed the form, you can pay when you go to your appointment.

Step 4: Visit the Centre

Go to your appointment at the Visa Application Centre.

Give them your application form and the required documents.

Step 5: Check the Progress

You'll get an email when they have news about your visa.

You can also check online using the reference number and your birthday.

Step 6: Get Your Passport Back

You can pick up your passport after they have decided about your visa.

If you want, they can send your passport to your house (you must pay extra for this).

Remember, each person needs their own appointment if you have a family or group. 
Additional Information for the Japan Transit Visa for Indians
Japan Transit Visa Application Guidelines & Tips


Here are some guidelines and tips for applying for a transit visa to Japan:
Eligibility Check: Make sure you're eligible for a transit visa, which is usually for travelers passing through Japan to reach another country without an extended stay.

Prepare Documents: Gather necessary documents like your valid passport, proof of onward travel (such as a flight ticket), and any other required papers.

Plan Your Trip: Have a clear plan for your time in Japan, including flight dates, times, and how long you'll be there.

Apply Early: Apply for the transit visa well before your travel date to avoid last-minute stress.

Explain Transit Purpose: Clearly state your travel purpose – transiting to another country. Present your onward flight details.

Financial Evidence: Some cases may require proof of funds for your transit period. Be prepared to provide this if needed.
That's it!

The Japan transit visa lets Indian travelers have a quick stop in Japan before they can reach their final destination. You can explore a bit, but it's not for staying long. Just ensure you know the rules, get the documents needed, and enjoy your short time in Japan!
Happy traveling!

Government Source
At Atlys, we're committed to providing true and right information. We get our facts straight from special government websites. This ensures everything we tell you is real and follows the official rules. 
We double-checked everything in this blog from trusted government sources, like:
Yes, a transit visa lets you leave the airport and explore the country during your layover.
Author:
Mable Chidi
Verified Author: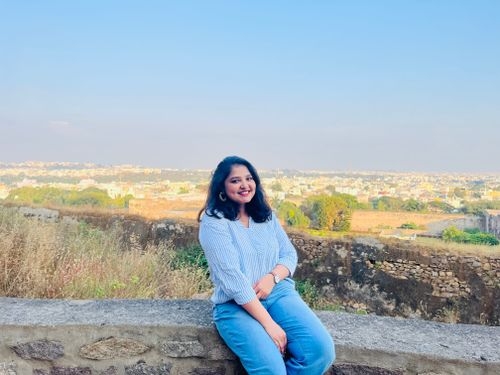 Nikhita Rathod