Japan Visa Online: Application & Fees For Japan Evisa 2023
Last Updated : 04-Sept-2023
Atlys in the news
30 seconds summary
Indians must possess a permanent residence visa from specific countries (Brazil, Cambodia, Mongolia, Saudi Arabia, Singapore, South Africa, Taiwan, the United Arab Emirates, the United Kingdom, United States of America) to be eligible for an online Japan visa application for tourism purposes.
You can complete the application online.

It does not require you to submit your passport offline.

To get your Japan eVisa, you require a copy of your passport, a flight ticket, a passport-sized photo, and more.

Once your visa is approved, you will get a digital copy that you can use to enter Japan (no visa stamp needed).
Important Information
Japan
— Is a Visa Required?
Yes, Indians need the Evisa to visit Japan
— Visa Process Type
The visa process type is an online application
— Japan Evisa Validity
The visa remains valid for a period of 3 months
— Length of Stay
The Japan Evisa allows you to stays up to 90 days
— Japan Visa Cost
The Japan Evisa fee is 3,000 Yen for a single-entry visa
— Processing Time
The Japan Evisa processing time is 5 working days
Are you planning a trip to Japan from India? One essential aspect you need to consider is obtaining a Japan visa. In this comprehensive guide, we will walk you through the process of acquiring a Japan online visa 2023, ensuring a smooth and hassle-free experience for Indian travelers.
Do Indians Need A Visa For Japan?
Yes, Indian citizens need a visa to travel to Japan.
It is important to note that only Indian citizens with permanent residency in certain eligible countries are able to apply for the Japan e visa for Indians. See the eligibility criteria below. If you are not eligible for a Japan e visa for Indians you will have to apply for a Japan tourist visa for Indians.
Eligibility For The Japan Online Visa
Indians need to have a permanent residence from the following countries for them to be able to apply for the Japan online visa:
Please note that nationals of Canada, Singapore, Taiwan, the United Arab Emirates, the United Kingdom, and the United States of America, who are eligible for visa exemption, do not need a visa for short-term stays.
However, Indonesian nationals residing in these countries/regions may apply for a visa online if they do not possess a "visa waiver registration" (seal or in electronic form).
Is there a Japan visa on arrival for Indians?
No, unfortunately, Indian citizens are not eligible for a visa on arrival in Japan. It is mandatory for Indian nationals to obtain a visa before their arrival in the country.
This means that Indian travelers must complete the Japan application process and obtain the necessary visa approval prior to their departure to Japan.
What Are The Japan E visa Requirements?
To obtain a Japan e visa for Indians, you need to fulfill certain Japan visa requirements for Indians. Here are the key criteria for the Japan online Visa application:
Valid Passport: You must possess a valid Indian passport with a minimum validity of six months from the date of entry into Japan. The passport should have at least two blank pages for visa stamping.

Completed Application Form: Fill out the Japan e-Visa online application form accurately and completely. The online form usually requires personal details, travel information, and the purpose of the visit.

Photograph: Attach a recent passport-sized color photograph with a white background. Ensure that your face is clearly visible without obstructions or shadows.

Travel Itinerary: Provide a detailed itinerary of your travel plans in Japan. This includes information about your intended places of visit, duration of stay, and accommodation details.

Proof of Accommodation: Submit proof of your accommodation arrangements in Japan. This can be in the form of hotel reservations, guesthouse bookings, or an invitation letter from a host in Japan if you are staying with a friend or relative.

Financial Documents: Demonstrate your financial capability to cover your expenses during your stay in Japan. This can be shown through bank statements for the last six months, income tax returns, or any other proof of financial stability.

Employment or Education Details: Provide information about your current employment or educational background. This includes details such as your employer's name and address, position held, duration of employment, or proof of enrollment in an educational institution.

Travel Insurance: It is recommended to have travel insurance coverage for the duration of your stay in Japan. Submit a copy of your travel insurance policy or certificate along with your application.

No Criminal Record: Declare any criminal history, if applicable. This includes any convictions or pending legal cases. Japanese authorities conduct background checks, and providing false information can lead to visa rejection.

Other Supporting Documents: Additional documents may be required depending on the purpose of your visit. For example, if you are visiting for business purposes, you may need to provide an invitation letter from a Japanese company or organization.
Japan Passport Photo Requirements
Here are the specifications and guidelines for Japan passport photos:
Size: The size of the Japan passport photo should be 45mm x 45mm.

Background: The background of the photo should be white in color.

Color: The photo should be in color, not black and white or grayscale.

Facial Expression: Maintain a neutral facial expression while looking directly ahead. Avoid smiling, frowning, or any exaggerated expressions.

Glasses: Do not wear glasses in the photo. Remove eyeglasses or sunglasses to ensure your eyes are clearly visible.

Headgear: Generally, headgear should not be worn unless it is for religious purposes. Even in such cases, make sure the headgear does not cover your facial features.

Photo Quality: The pictures must be of high quality, meeting specific standards: Avoid any glare or reflections on the photo, ensure there is no under- or over-exposure, keep the photo properly exposed, avoid any blurriness or lack of sharpness in the image, and do not edit or manipulate the photo in any way.
Use Atlys's free photo tool to assist you with passport photos.
How To Apply For The Japan Visa Online?
Here's a step-by-step guide on how to apply online for a Japan Tourist e-Visa for Indian citizens:
Step 1: Register An Account
To access the Japan Evisa website, you will first need to register an account or login to your existing account.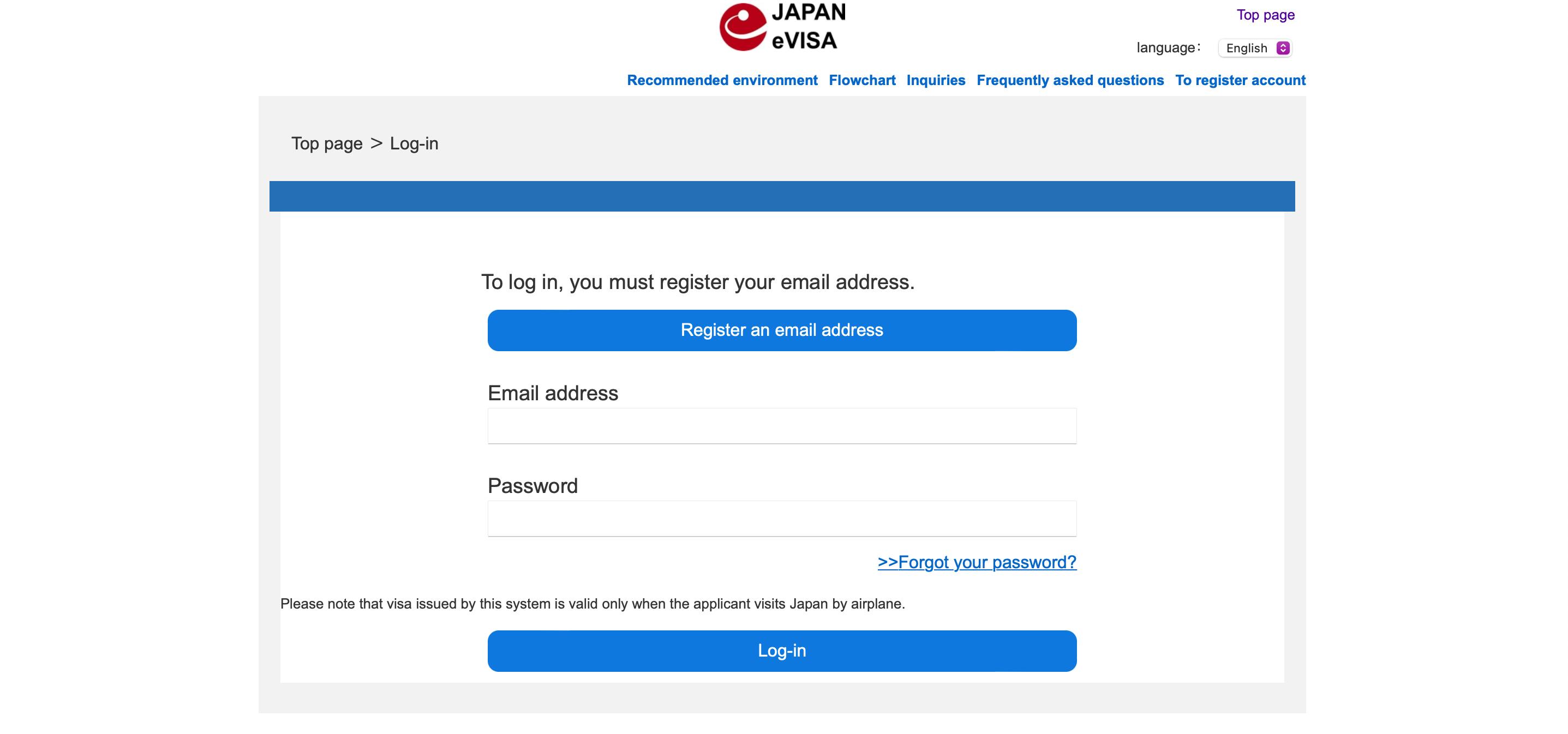 Step 2: Access the Application Portal
Visit the Japan evisa website to access the Japan online visa application portal. You will need to click on the 'New Registration' button.

Step 3: Complete the Application Form
Fill out the online application form accurately and completely. Provide the required personal information, travel details, and upload the required documents as per the instructions provided. Double-check all the information before submitting the form.

Step 4: Pay the Application Fee
After receiving an email titled "Notice of visa fees," you must visit the Japanese overseas establishment where you submitted your application.
Bring your passport and the "Registration information form" to pay the required fee. Online payment by credit card is available in some countries and regions.
Depending on the specific instructions provided by the embassy or consulate general, you may need to schedule an appointment for document submission or biometric data collection. If an appointment is required, follow the provided guidelines and book a suitable date and time.
Step 5: Submit the Documents
Submit the required documents in person at the designated location on the scheduled appointment date. Ensure you have all the original documents, the printed copy of the submitted application form, and any appointment confirmation.
Step 6: Track the Visa Application Status
After submitting the documents, you can track the status of your Japan online visa application using the reference number or tracking ID provided by the embassy/consulate general. Keep yourself updated on the progress of your application.
Step 7: Collect the Passport with e-Visa
Once your Japan online visa application is approved, you will receive your passport with the Japan Tourist e-Visa stamped in it. Collect your passport either in person from the embassy/consulate or as per the instructions provided during the application process.
How to Do A Japan Evisa Status Check?
To check the status of your Japan e-Visa application:
Visit the official website of the Japanese embassy or consulate.

Look for the "Check Visa Application Status" or similar options.

Enter the required information, such as reference number, passport number, and date of birth.

Submit the details and wait for the system to retrieve the application status.

Note the displayed status (e.g., "In Process," "Approved," "Rejected").

Save a screenshot or record the status for future reference.

Contact the embassy or consulate if you need further assistance or have specific inquiries.
Overview Of The Japan eVisa For Indians
This section will briefly cover everything you need to know about the E visa for Japan.
What Is A Evisa Japan?
The electronic Japan visa system allows certain travelers to obtain their visas online, offering convenience and efficiency in the application process. It eliminates the need for physically submitting documents and provides a streamlined method to acquire a Japan visa.
With e-Visa, travelers can apply for various types of visas, such as tourist, business, student, and more. The specific visa type required depends on the purpose of travel to Japan.
What Is The Validity Of The E Visa For Japan?
The visa remains valid for a period of 3 months starting from the day following its issuance. It is important to complete immigration procedures at the airport in Japan within this validity period.
What Is The Duration Of Stay?
The e-visa to Japan allows a stay of 90 days during a single-entry visa.
What Is The Japan E-Visa Cost For Indians?
Typically, the visa issuance fee for a single-entry visa is 3000 yen, approx. INR 1835.
However, please note that visa fees may be waived or reduced for certain countries and regions based on the nationality of the applicant.
What Is The Japan E-Visa Processing Time?
The Japan Evisa processing time is 5 working days.
Can Indian Nationals Extend Their Evisa For Japan?
No, the Japan evisa for Indians cannot be extended. The e-Visa is typically granted for a specific duration, and once it expires, you are required to leave the country.
If you wish to stay in Japan beyond the validity of your e-Visa, you would need to explore other options, such as applying for a different type of visa or seeking an extension through the appropriate immigration authorities in Japan.
What Happens When I Reach Immigration?
When you arrive at immigration in Japan with an e-Visa, follow these general steps:
Queue up at the appropriate immigration counter designated for visa holders.

Present your passport containing the e-Visa page to the immigration officer.

Hand over any additional required documents, such as your arrival card, if requested by the officer.

The immigration officer will review your passport and e-Visa details, verifying the authenticity and validity of the visa.

They may ask you some questions about your purpose of visit, duration of stay, or other relevant details. Answer truthfully and confidently.

The officer will stamp your passport with an entry stamp, indicating your permitted duration of stay.

Retrieve your passport and other documents from the officer.

Proceed through immigration to enter Japan and continue with your travel plans.
All Done!
Acquiring a Japan e-Visa is vital for Indian travelers planning a visit to this fascinating country. The convenience and efficiency offered by the e-Visa system make the application process streamlined and hassle-free.
Obtaining a Japan e-Visa opens doors to unforgettable experiences in a country rich in culture, history, and natural beauty. Visit Japan without any hassles.
Government Sources
At Atlys, we are committed to providing accurate information and take this responsibility seriously. To ensure the information's reliability, we exclusively use trusted government websites to gather the correct facts. Rest assured that all the information you find here originates directly from credible government sources listed below. The post was fact-checked and written with AI assistance.
Frequently Asked Questions
Yes, if they are permanent residents of one of the following countries: Brazil, Cambodia, Mongolia, Saudi Arabia, Singapore, South Africa, Taiwan, United Arab Emirates, United Kingdom, or the United States of America.

Otherwise, they must apply for the Japan tourist visa for Indians.
Author: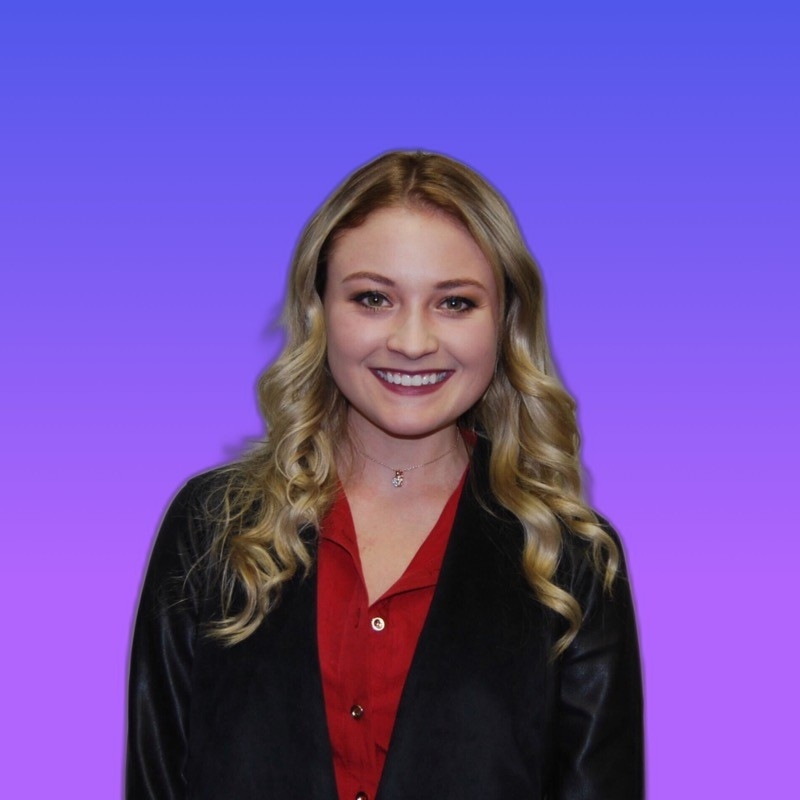 Shannon Reeler
Verified Author: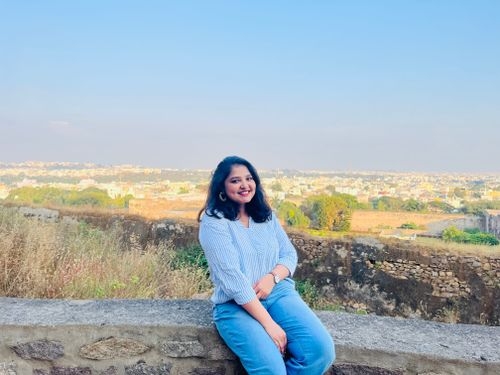 Nikhita Rathod