Japan Work Visa for Indians: Application Guide
Last Updated : 04-Sept-2023
Atlys in the news
30 Seconds Summary
Indian nationals travelling to Japan must apply for the Japan work visa, which allows them to visit for work purposes.
You can complete the application in person at the visa application centre.

Japan work visa for Indians requires you to submit your passport offline.

Once your visa is approved, you will get a stamp on your passport.

The Japan work visa for Indians requires a copy of your valid Indian passport, visa application form, passport-size photographs, and more.
*Atlys does not provide this visa.
Important Information
Japan
— Is a Visa Required?
Yes, Indians need a Japan work visa.
— Japan work visa validity
The visa remains valid for a period of 1 - 5 years.
— Japan work Processing time
The Japan work visa processing time is 5 - 10 working days.
— Japan work visa cost
The Japan work visa fee is ₹500.
Get ready to start on an exciting journey to Japan with a Work Visa. This guide will provide you with the essential steps and requirements to successfully secure your visa and start your new chapter in Japan.
Do Indians Needs a Japan Work Visa?

Yes, Indians need a Japan Work Visa to explore exciting career opportunities in the country. This visa allows you to live and work in Japan and immerse yourself in its unique culture.
The visa allows you to live and work in Japan for up to 5 years. It allows you to engage in employment or pursue specific professions within the country, fostering international exchange and collaboration.
Different Professions Eligible For A Japan Work Visa
Depending on your profession, you can apply for different types of work visas. Here are some of the professions that make you eligible for a Japan Work Visa.
Highly Skilled Professional (Type i): for Individuals considered "highly skilled human resources" meeting existing criteria, Dependents of highly skilled foreign professionals) and others meeting the criteria for highly skilled professionals).

Special Highly Skilled Professional: The highly skilled foreign professional with specified educational background, work history, and income level.

Highly Skilled Foreign Professional: Dependents of highly skilled foreign professionals and similar cases.
Requirements for Japan Work Visa Application
You'll need documents for the Certificate of Eligibility and for the japan visa.
The required documents for a Certificate of Eligibility


Savings Balance Certificate: This official document from your bank displays the amount of money you have saved in your account. It serves as evidence that you possess sufficient funds to cover your expenses, such as bank statements.

Income Certificate or Taxation Certificate: If you are employed or have a consistent source of income, you can provide a certificate that outlines your earnings over the past several years. This helps showcase your financial stability.

Guarantor's Income Certificate (if applicable): In cases where someone else, such as a parent or guardian, will be providing financial support for your stay, they might need to furnish their own income certificate as well.

Necessary Documents for the Japan work visa application:

A valid passport: Ensure your passport is valid for your entire stay in Japan.

Certificate of Eligibility: Original or a Copy (If you have an electronic Certificate of Eligibility, please show it at the visa application counter or provide a printed copy).

Visa Application form, completed and signed.
Steps To Apply For The Japan Work Visa For Indians
The process of applying for a Work Visa in Japan has two parts, firstly getting the Certificate of Eligibility and applying for the Japan Work Visa
Additional Information For The Japan Work Visa For Indians
What to Do After Entering Japan With a Work Visa?


Once you've entered Japan with a Work Visa, there are several important steps to follow:
1. Report to the Local Municipal Office: Within 14 days of arriving in Japan, you need to register your address and other details at the local municipal office. This is a mandatory requirement for all foreign residents.
2. Complete Residence Card Procedures: You'll receive a Residence Card at the airport upon your arrival. Make sure to keep this card with you at all times, as it serves as your official identification in Japan.
3. Open a Bank Account: Consider opening a bank account in Japan to manage your finances conveniently. Most banks offer accounts for foreign residents, and having a local account can help with salary deposits and daily transactions.
4. Enroll in Health Insurance: Join the National Health Insurance system to ensure access to medical care during your stay. This is important for your well-being and may be required by law.
5. Obtain a Driver's License (if needed): If you plan to drive in Japan, you might need to apply for a Japanese driver's license. Check the specific requirements and procedures in your local area.
And that's it!
In conclusion, obtaining a Japan Work Visa is a significant step towards realising your career aspirations and experiencing life in Japan. By following the application process, meeting the requirements, and providing accurate information, you're setting yourself up for success.
Government source:
At Atlys, we're your trusted source for the latest and most reliable information. With Atlys, you can stay ahead and access accurate and up-to-date information. All the content in this blog was curated and verified using the government sources such as:
Frequently Asked Questions
Generally, a job offer is required to apply for a Japan Work Visa, as you'll need to show the purpose of your stay. However, certain visa categories, like the Highly Skilled Professional Visa, may allow you to apply without a specific job offer.
Author:
Mable Chidi
Verified Author: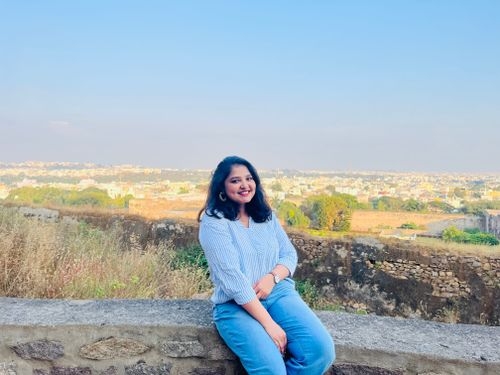 Nikhita Rathod