Kyrgyzstan Visa On Arrival: Essential Tips for Indians
Last Updated : 24-Nov-2023
Atlys in the news
30-second summary
Kyrgyzstan doesn't provide a visa on arrival. For a hassle-free entry, especially for Indians, consider applying for an e-visa in advance.
You can complete the evisa application online, so you don't have to go to the Embassy in person.

If your electronic visa is approved, you'll get a digital one when travelling to Kyrgyzstan.

It's a good idea to start your application about a week before your trip to ensure everything goes smoothly.
*Kyrgyzstan doesn't have a visa on arrival
Planning to explore Kyrgyzstan? Here's a crucial update for Indian travellers: the visa-on-arrival option is unavailable. But don't worry; we have a convenient alternative to ensure a smooth process.
Can I Get The Kyrgyzstan Visa On Arrival For Indians?
No, you can't get a visa when you arrive in Kyrgyzstan. As an Indian traveller, you must apply for e-visa before your trip. 
Getting an e-visa means sorting out your visa online before you travel to Kyrgyzstan. This is great because it makes entering the country much easier. 
You get the green light before you leave, lowering the chance of any last-minute issues at the border. So, with some planning ahead using the e-visa, your trip to Kyrgyzstan should be smooth!
Why Choose the E-Visa Route?
Applying for an electronic visa (e-visa) is your ticket to a smoother journey. This online application ensures a stress-free entry into Kyrgyzstan, saving you from unexpected airport surprises.
Pre-Approval: With an e-visa, you receive pre-approval before your trip, providing peace of mind and certainty about your entry.

Avoid Last-Minute Hassles: Since Indian nationals cannot get a VOA, applying for an eVisa helps you avoid last-minute hassles.

Smooth Immigration Process: E-visa holders enjoy a smoother immigration process, as the approval is obtained before travel.

Online Convenience: The e-visa application process is online, allowing you to complete it from the comfort of your home. 

The Entry Requirements For Kyrgyzstan
When you arrive in Kyrgyzstan, you must have the following documents to be able to enter the country:
A digital copy of a valid passport.

Proof of accommodation, such as hotel reservations.

Travel itinerary, including flight tickets.

Proof of sufficient funds for the duration of the stay.
How Do Indians get a Kyrgyzstan visa For Indians?
To obtain the Kyrgyzstan e-visa for Indians, follow these steps:
1

Visit Official E-Visa Portal: Go to the Kyrgyzstan e-visa portal and click "Apply for a visa."

2

Provide Passport Details: Select passport country, choose ordinary passport, specify e-visa type (Tourist TS), and select single or multiple entries.

3

Enter Personal Data: Fill in personal details. Receive an email with the e-visa reference number; confirm within 72 hours.

4

Submit Photos and Documents: Upload a digital photo, passport photo, and resident card (if applicable). Formats: .jpg, .jpeg, .png, or .pdf; sizes: 30 kb to 4MB.

5

Preview, Confirm, and Pay: Review the information and click "Confirm Data." Choose payment method (debit/credit card or exempt). After payment, wait for processing and receive the e-visa via email. Print a hard copy for the border presentation.
What Are The Types Of Kyrgyzstan Visas For Indians
Here are some common types of visas for Kyrgyzstan:
1

E-Visa: This type of visa is for individuals travelling to Kyrgyzstan for tourism purposes. Tourist visas are typically issued for a specific duration, such as one or two months.

2

Transit Visa: A transit visa is suitable for travellers passing through Kyrgyzstan to reach another destination. 

3

Student Visa: Students planning to study in Kyrgyzstan may need a student visa. This type of visa often requires documentation from the educational institution.

4

Work Visa: Individuals intending to work in Kyrgyzstan usually need a work visa. This type of visa often involves specific documentation, including a work contract.

5

Business Visa: Business visas are intended for individuals travelling to Kyrgyzstan for business-related activities. They may require documentation related to the purpose of the visit, such as an invitation from a Kyrgyz business entity.
Conclusion
This means sending the required documents online through the official website. Although it needs a bit of planning, the good thing is that the e-visa gives you pre-approval before you travel. 
This makes entering Kyrgyzstan easier and reduces the chance of problems at the border, making your exploration of Kyrgyzstan more stress-free.
Happy travelling!

Government Source
At Atlys, our commitment is to provide you with accurate information. We rely on the details provided by the Kyrgyzstan government to ensure the information we share is up-to-date and reliable. Our blog incorporates smart technology to simplify complex topics, making it easier for you to understand.
We trust official government sources to deliver the most recent and dependable information. 
Please be aware that government rules and fees are subject to change. We strongly advise checking the official website for the latest information before proceeding with your application.
Frequently Asked Questions
Indian travellers are recommended to apply for an e-visa in advance. The e-visa process provides a streamlined and efficient way to secure entry into Kyrgyzstan.
Author:
Mable Chidi
Verified Author: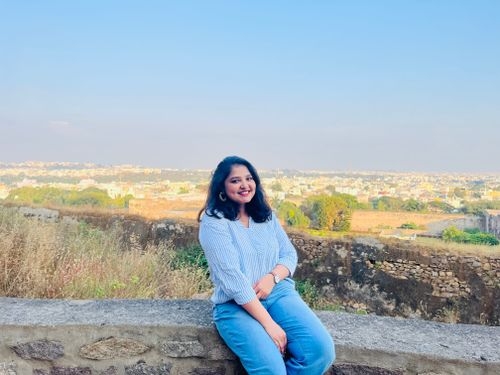 Nikhita Rathod