Navigate Kyrgyzstan Visa Process for Indians: Quick Guide
Last Updated : 24-Nov-2023
Atlys in the news
30 seconds summary
The time it takes to process visas in Kyrgyzstan depends on the type of visa you want. Below are the processing times for visas in Kyrgyzstan:
Kyrgyzstan Transit Visa: 5 Days

Kyrgyzstan Work Visa: 5 Days

Kyrgyzstan Student Visa: 5 Days
*Quick heads-up: these are rough estimates and may change due to recent rule adjustments.
Kyrgyzstan Visa Types and Factors Affecting Processing Time
Kyrgyzstan E visa |  5 Days
If you're an Indian tourist looking to explore Kyrgyzstan for leisure and tourism, you can obtain an electronic visa (e-Visa). This visa typically allows a stay of up to 60 days and is valid for a single entry.
The processing time for a Kyrgyzstan e-Visa is approximately 5 days. The e-visa system is designed to expedite the processing compared to traditional visa applications.
Ensuring that your Kyrgyzstan e-Visa application is thorough and accurate is crucial to avoid delays. The processing times may be affected by the workload at the Kyrgyzstan consular office when you submit your application.
Taking the time to complete your application carefully will contribute to a smoother process and enhance the likelihood of a successful and timely issuance of your Kyrgyzstan e-Visa.
Kyrgyzstan Transit Visa | 5 Days
The processing time for a Kyrgyzstan transit visa is typically 5 days. Several factors may impact the duration of processing for a Kyrgyzstan transit visa, with common influences being the 
consular workload, the application's thoroughness, and documentation verification.
Kyrgyzstan provides a Transit Visa specifically for travellers who are transiting through the country en route to another destination. 
This visa option is suitable for Indian nationals experiencing a short layover or stopover in Kyrgyzstan, necessitating a change of flights to reach their ultimate destination.
Kyrgyzstan Student Visa | 5 Days
The Kyrgyzstan Student Visa processing period for Indian applicants is 5 days. Several factors may influence the processing time and approval of a Kyrgyzstan Student Visa, including verification of documentation, communication delays, and consular workload.
The Student Visa is designed for Indian individuals who have secured acceptance into an educational institution in Kyrgyzstan and aim to pursue academic studies, such as enrolling in a university, college, or other educational programs.
Kyrgyzstan Work Visa | 5 Days
The processing time for a Kyrgyzstan work visa is 5 days. Kyrgyzstan offers various categories of work visas for foreign nationals seeking employment within the country.
A couple of factors can influence the speed at which you acquire your work visa for Kyrgyzstan, such as the Employer's assistance and the Nature of work.
A Kyrgyzstan work visa for Indians is an official authorisation granted by the Kyrgyzstani government, allowing Indian citizens to work legally in Kyrgyzstan. 
The application process typically involves submitting the necessary documentation and meeting specific requirements outlined by Kyrgyzstani immigration authorities.
Kyrgyzstan Business Visa | 5 days
The processing time for a Kyrgyzstan business visa for Indians is typically 5 days. Nevertheless, this timeframe can vary based on several factors, including the document Verification and consular Workload.

A Business visa (Type "B") is granted to individuals entering the Kyrgyz Republic for business-related activities, allowing participation in negotiations, conferences, meetings, and sports events organised by state offices, local governments, international organisations, and legal entities. The visa is valid for a duration of up to 60 days.
Step-by-Step Visa Application Timeline
When applying for a visa to Kyrgyzstan from India, how long it takes to get your visa depends on the type you need. Different visas may have extra steps, like getting a special permit when you arrive in Kyrgyzstan or providing more documents. Sometimes, you might even need a medical checkup.
Even though the process can be a bit different for each visa, here's a basic idea of what to expect and how long it usually takes to get a Kyrgyzstan visa:
Gathering Documents For the Kyrgyzstan Visa Application: 2 - 4 Days
The processing time for a Kyrgyzstan visa from India varies depending on the specific type of visa you require. Various visa categories may involve additional steps, such as obtaining a special permit upon arrival in Kyrgyzstan or providing extra documentation. In some cases, a medical checkup may also be necessary.
Despite potential differences among visa types, I can provide you with a general overview of what to anticipate during the visa application process and an estimate of the typical duration to obtain a Kyrgyzstani visa.
Completing the Kyrgyzstan Visa Application: 1 Day
It's important to be well-prepared before applying for your Kyrgyzstan visa. This means knowing the right type of visa, having all the necessary documents, and meeting any special conditions.
Gather and organise all the required documents in advance to ensure your application goes smoothly without any delays. Double-check that your documents are accurate, up-to-date, and meet the necessary standards. If you're applying for an Evisa and need digital copies, have them ready.
Being well-prepared will make the visa application process easier and faster for you.
Submitting the Visa Application and Pay Visa Fees: 45 Minutes
Paying for your Kyrgyzstan eVisa is a quick and straightforward process. After completing your eVisa application online, you'll be directed to the payment page.
For payment, you can use a credit or debit card, and it's usually processed right away. Once your payment is successful, you'll receive an email confirming it.
After you've submitted your online application, you'll need to wait for the visa approval. The processing time is around 5 working days. Once your visa is approved, they'll send it to you via email.
Remember to print the visa you receive in the email and bring it to Kyrgyzstan. You'll need to show it to the immigration officer upon your arrival.
Kyrgyzstan visa processing time: 5 days
Your journey to obtain a visa in Kyrgyzstan starts once you've met all the necessary requirements. Once you've done everything they need, processing takes time—anywhere from 10 days to a few weeks.
What type of visa you want matters. If it's a long-term one, like a work visa, it usually takes longer than the short-term one.
Visa Outcome: After the Kyrgyzstan visa processing time
If you're from India and applying for a visa to Kyrgyzstan, it's important to keep tabs on your application status, whether approved or not.
Checking the status of your Kyrgyzstan visa is simple. You can do it online through the visa check website. Just enter your application reference number or the necessary details to see how your application progresses.
Remember that you might need to go to Kyrgyzstan for the final application stages for certain visa types, which could involve some extra steps.
Checking Visa Status
To check your Kyrgyzstan visa application status online, follow these steps:
1

Visit Official Website: Go to the official website of the Kyrgyzstan visa application or the relevant government department handling visas and consular affairs.

2

Access Services Tab: Look for the "Check Status" option under the Services tab and click on it.

3

Enter Application Details: Input your application reference number.

4

Submit Inquiry: After entering the necessary details, submit the inquiry or check the status button. The system will display the current status of your visa application.

5

Receive Confirmation: Upon inquiry submission, you may receive an immediate online status update or be given a reference number for tracking.
Trusted Sources
Atlys is committed to providing you with accurate information. We depend on the details provided by the Kyrgyzstan government to ensure precision. Our blog uses smart technology to simplify complex information, making it easily understandable.
We exclusively rely on official government sources to ensure you have the most up-to-date and reliable guidelines. 
It's important to note that government rules and fees may change. We highly recommend checking the official website for the latest information before proceeding with your application.
Yes, Indians require a visa to enter Kyrgyzstan.
Author:
Mable Chidi
Verified Author: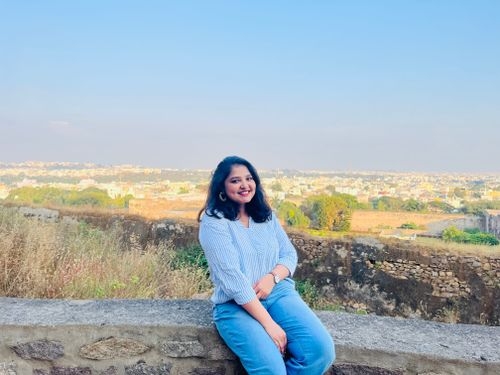 Nikhita Rathod