Malaysia Visa Photo Size | The Requirements And Size 2023
Last Updated : 02-Oct-2023
Atlys in the news
30-Second Summary
When applying for a Malaysia visa for Indians, you must submit a visa photo that meets the visa photo requirements.
Some visa photo requirements include the following:
Malaysia visa photo size: 35cm x 50cm.

Background: Your photo background must be white.

Print: It must be printed on quality photo paper.

Clarity: Ensure that there are no glare or blurred spots in the photo.
In the blog, you can read about the Malaysia visa photo size and all the requirements your photo needs to meet.
Planning a trip to Malaysia? Exciting! But wait, do you know the Malaysia visa photo size 2023 requirements? Here are the Malaysia visa photo requirements and specifications.
What Are The Requirements For Malaysia Visa Photo Size?
The photo you provide for your Malaysian visa application must satisfy both the Malaysia visa photo size and the additional Malaysia visa photo requirements outlined below.
Photo size: 35mm in width by 50 mm in height

Colour: Photos must be in colour; black-and-white pictures or images with filters will not be accepted.

Head position: Your full face must be in the center of the frame and around 25-30 mm of the image's height.

Background: A plain white background.

It should have appropriate contrast and brightness.

No glare, shadows, or over or underexposure.

Don't alter any distinguishing characteristics, such as a birthmark or scar from the image.

You must retake the photo if it has a red eye; do not edit it out.

Print on picture paper of high quality. No coloured photocopies or digitised images will be allowed.

The image must be free of any wrinkles or staple marks.

No enhancements or alterations to the image that would make your skin tone appear differently.
Make Use of Atlys
If you want to experience a seamless and effortless visa application process, use Atlys.
Unlike most services, you do not need to log onto your computer or laptop to apply for your visa. Instead, you can download the app and apply for the Malaysia eVisa straight from your phone.

You also get onboarded on what you must do when applying for your visa on the app. It will give you no trouble when filling out the form or paying.

Atlys offers a Visa photo tool that helps you meet all the photo requirements for the Malaysia visa in just 4 simple steps. 

Take your photo and try to meet the requirements as best as possible.

Leave the rest to Atlys. It will make the necessary edits regarding the Malaysian visa photo size and other requirements by cropping your photo and editing the background.

Download your photo in one click, and we are done!

To make your life easier when applying and you don't know the photo requirements, use the Atlys photo tool to help you through this process to get the best photo possible.

If you plan to submit a photo of your child for their visa application, you need to keep a few extra things in mind. First, of course, you'll want to ensure the photo meets all the standard requirements for a Malaysian visa application.

The child must be the only one in the image; you can't be visible holding them in the photo.

There can't be other items, such as toys or bottles, in the image.

The child must have their mouth closed and a neutral facial expression while facing the camera.

If the child cannot sit upright, you can lay them on a plain, light-coloured surface for the photo. You can place a white sheet on the surface and lay the child on it.

The size and background rules for a child's visa photo are identical to those for adults, which were explained earlier.

Before applying, you must ensure that your picture meets the following specifications.

Malaysia visa photo size: 35mm in width by 50 mm in height.

Your face should occupy between 60% and 70% of the visa photo.

The distance from the chin's bottom to the top of the head should measure between 25mm to 30mm.

The distance between your head and the top of the image must be about 5 mm.

The distance from your chin to the bottom of the image must be between 5 and 10 mm.

This section provides facial expression guidelines as you take the Malaysia visa photo size picture.

Maintain a neutral expression; avoid grinning, frowning, or smiling.

Maintain a straight gaze, no head turning or tilting.

Your hair must not hide your face. Instead, secure your hair to your ears.

You don't need to shave your beard off for the photo if you have one.

This section provides guidelines for the Attire and accessories as you take the Malaysia visa photo size picture.

Wear darker clothes that contrast with the white surroundings to ensure you're visible.

You are not allowed to wear a cap, headband, or any headgear.

If you wear religious headgear, it's allowed in the photo as long as it doesn't cover your face, including your chin and forehead.

You may wear prescribed glasses in the photo if they don't block your face. But, you must remove them if they have a thick rim or the glass reflects light.

No tinted eyewear, including sunglasses.

Don't wear big, flashy jewellery.

Ensure the photo is sharp and well-focused to avoid any blurriness.

Avoid red-eye, reflections, or shadows.

Maintain proper contrast for clarity.

Use uniform lighting to prevent shadows or reflections.

When taking the photo, ensure it's printed on high-quality paper with a minimum resolution of 600 dpi.
What Are The Documents Requirements For A Malaysia Visa For Indians?
When you apply for a Malaysian visa, you should have the following documents in addition to the two Malaysia pictures:

A completed Malaysia Visa Application Form

No Objection Letter from your employer

Proof of sufficient funds

Proof of paid Malaysian visa fee

Yellow Fever Vaccination Certificate (if applicable)

Ensure you meet the requirements to avoid having any Malaysia evisa problems.
What Are The Types Of Malaysia Visas?
One of the requirements is that the traveller meets the Malaysia visa Photo size. Here are the types of Malaysia visas you'll have to submit a photo.
Meeting the requirements, including the Malaysia visa photo size for 2023, is important to ensure a smooth visa application process for Malaysia.
There You Go!
Ensuring that your Malaysia visa application photo meets the specified requirements, including the correct size, is essential for a successful visa application. Following the guidelines and providing a suitable photo will help streamline the process and increase your chances of obtaining a Malaysian visa.
Happy travelling!
Government Sources:
This blog has been written with AI assistance; however, all the information in this blog post has been verified and gathered from reliable sources, such as:
Frequently Asked Questions
No, selfies are generally not accepted for Malaysia visa applications. You should provide a professionally taken photograph that meets the specified requirements.
Author:
Mable Chidi
Verified Author: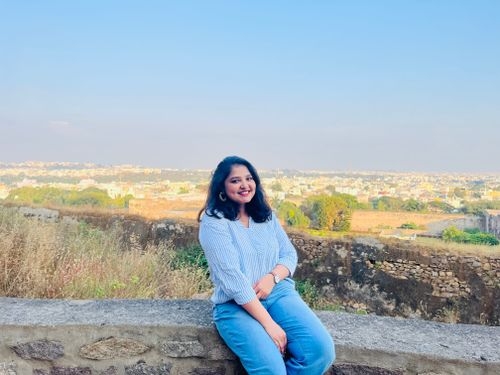 Nikhita Rathod