Russia Visa for Indians: Requirements for the Russia eVisa
Last Updated : 16-Oct-2023
Atlys in the news
30-Second Summary
Indian nationals must apply for a visa to enter Russia. Indian citizens can now avail of the Russia e-Visa.
The Russia visa for Indians (eVisa) can be submitted online. 

The Russian e-visa does not require you to submit your passport in person. 

Once your Russia evisa is approved, you will get a digital copy that you can use to enter the country (no visa stamp needed). 

You should apply for your visa at least 7 - 14 days before your flight.
Read this blog to learn how to apply for a Russian visa from India.
Important Information
Russia
— Is a Visa Required for Russia?
Yes. Indians need a visa to enter Russia and can now get the Russia eVisa.
Learn More
— Russia Visa Processing Time
The Russia visa processing time is around 5 - 7 business days.
Learn More
— Length of Stay
You are allowed to stay for a maximum of 16 days.
— Russia Visa Validity
The visa is valid for 60 days. You must use your visa in this time frame.
— Visa Processing Type
The Russia visa application can be completed online.
Learn More
Do Indians Need a Russia Visa?
Yes. Indians must apply for a visa before entering Russia. Russia recently launched their unified e-visa program, which allows Indians to easily apply for a visa to enter and exit the country*.

The Russia e-visa can be used to enter the country for the following purposes:
and participation in scientific, cultural, socio-political, economic, and sporting events.
Can Indians Apply for a Russia Visa on Arrival?
No. Indians can not apply for a visa on arrival when travelling to Russia. You can only apply for the Russia e Visa or the traditional Russia tourist visa (a sticker visa at the Embassy).
What Are The Russia Visa Requirements For Indians?
When you're applying for a Russian visa from India, it's really important to provide clear digital copies of all your documents. Also, make sure to carefully review your visa application form.

If there's any mistake or if your documents aren't clear, your visa application could be denied.
Document Required for the Russia eVisa for Indians
Valid national passport: To enter the Russian Federation, you must have a valid Indian passport issued by the Indian Government. Your passport must be machine-readable and valid for at least 6 months from the date of submitting the e-visa application.

Digital photo of passport data: You will need to provide a digital photo of your passport data in JPEG format. This photo should meet the requirements specified by the Russian authorities.

Digital photo of your face: You must also provide a digital photo of your face in JPEG format. This photo should also meet the requirements specified by the Russian authorities.

A bank card with enough funds to pay the visa fees.
Note: You are not required to submit an invitation letter, hotel booking, or any other document that provides the purpose of your stay (only applicable for the e-visa).
Requirements for the Russia Visa Application Form
The Russia visa for Indians requires you to submit a host of information on your application form*. In addition to your personal details, you must also submit the following information:
Details of your mother and father

Details of your previous travels

Details of your military history

Details of the social media you use
*Your visa will not be processed if any of your information is incorrect. You will be informed of the application mistakes that you need to change. You will have 2 calendar days to resubmit your application once you have made the fixes.
Visa Photo Requirements for the Russia E Visa
There are a lot of digital requirements your photo needs to meet. You can use Atlys to ensure all your documents are correct and meet the requirements of the government. If you do not use Atlys, be sure that you check the following:
The photo must be taken in full-face view, with your head not tilted or turned. Your eyes must be open and clearly visible, and your mouth should be closed.

The photo must have a neutral expression, with no hair covering your eyes.

The background of the photo should be plain and light-coloured, without any shadows.

If you wear glasses, your eyes must be clearly visible, and there should be no flash reflections or tinted lenses. Heavy frames should be avoided.

The photo must show the top of your head and the top of your shoulders, with your face taking up 70-80 percent of the photo.

The photo must be rectangular with a 35x45 aspect ratio.

The colours in the photo should be neutral, showing your natural skin tone.

The photo must be clear, well-defined, and in focus.

All digital copies and photos must be in JPEG format.
How to Apply for the Russia eVisa from India
There are 2 types of visa applications. The Russia e visa (an online visa application process) and the Russia embassy visa (or sticker visa).

The easiest and fastest way to get a Russia visa for Indians is to apply through Atlys. Atlys guarantees that you will receive your visa on time.
Apply for the Russia Visa Through Atlys
Atlys has streamlined the Russian visa application to make it as easy as possible for Indian nationals. You can get your Russia visa from India by following these steps:
2

Select Russia as your destination and enter your travel dates.

3

Quickly take digital photos of yourself and your passport.

4

Review your visa application form.

5

Submit your application and pay your visa fees.

6

Receive your visa on your phone, email, and the Atlys app.
Atlys provides real-time status updates so you can have peace of mind. We guarantee that you will receive your visa on time (or your money back).
Apply Through the Government Website
1

Gather your documents and ensure it is in the correct format and size.

2

Upload your digital documents to your computer or mobile device (in JPEG format).

3

Head over to the official government website portal and create an account.

4

Fill in your visa application form and ensure all your information is correct.

5

Upload your digital documents in JPEG format.

6

Pay the Russia visa fee.

7

Wait for your visa to be processed.

8

Receive your visa in your email.
Sample Of The Russia E-Visa
After the approval of your Russia e-visa, you will receive a digital copy. Ensure that you keep this digital copy with you when entering Russia. The e-visa will look similar to this: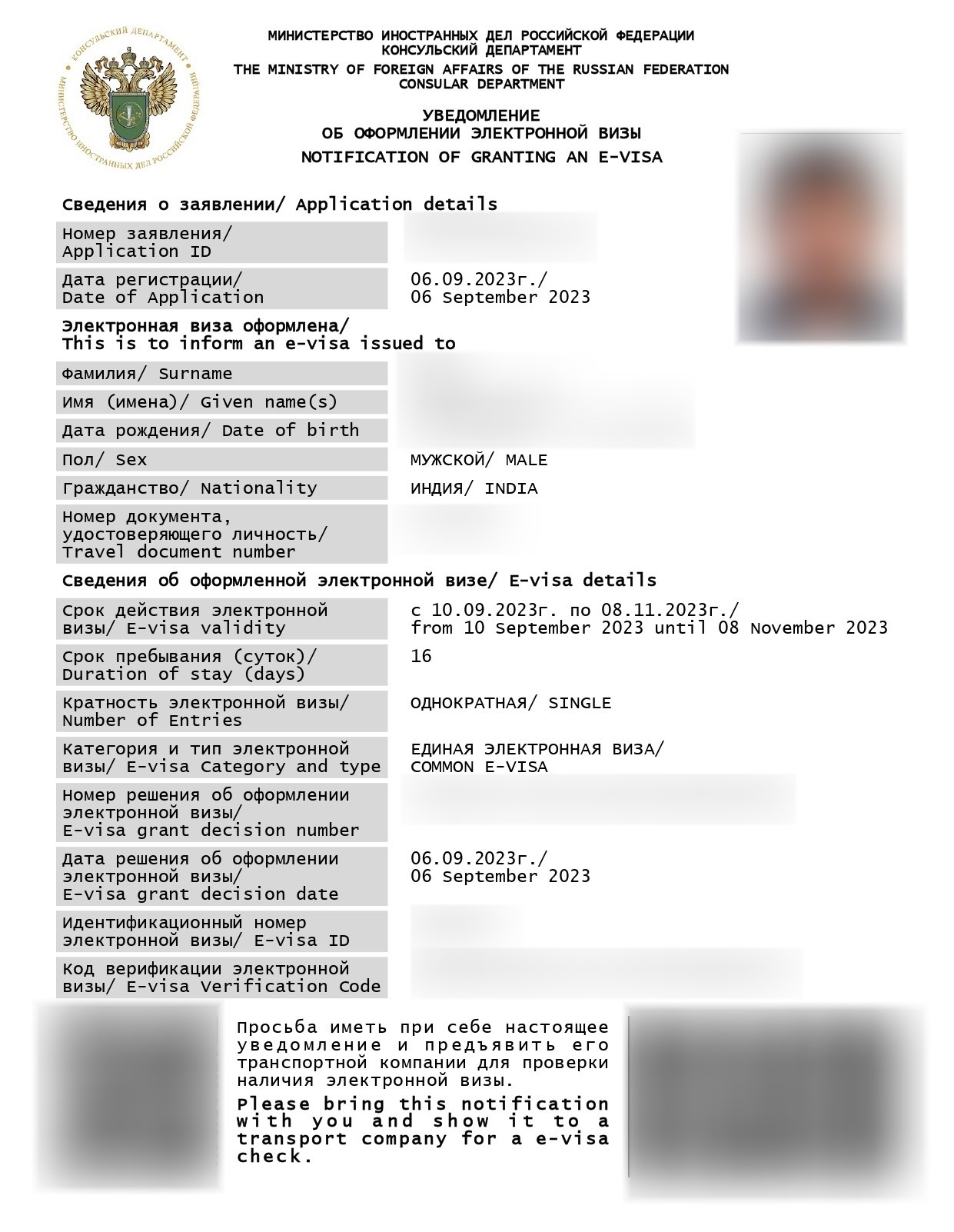 How To Get A Russian Visa For Indians At An Embassy?
The Russia sticker visa is different and more complicated than the Russia e visa for Indians. You will need to submit additional documents like an invitation letter and proof of accommodation. Once you understand the requirements, you can follow the steps to apply at the Russian Embassy.
1

Download and complete the application form from the gov website.

2

Gather all the required documents.

3

Make an appointment at the Embassy.

4

Go to the Embassy and submit your documents.
The embassy will notify you about the outcome of your visa via email or phone.
How to Check the Status of the Russia Visa for Indians
You can check your Russia visa status by logging into your personal account on the Russia's Ministry of Foreign Affairs website or their mobile app. Once your visa has been processed, the status of your visa application will change.
Steps to Check Your Russia Visa Status
2

Enter the Application ID

3

Enter the Verification Code

4

Click on the 'status check' to continue.
What are the Different Russian Visa Status Types?
Draft: This means you've started filling out the application but haven't finished it yet.

Awaiting payment: This means that you still need to make the Russia visa fee payment, or that your payment is being processed

Accepted for processing: This means that your visa has been submitted and is being processed.

Returned for editing: This means that authorities found some mistakes in your application. You'll need to fix them and resubmit the application (you have a 2 calendar days to do this).

Processing completed: Your visa has been successfully processed. You can download a PDF file with the result.
Additional Information About The Russia Visa for Indians
Now we have seen how to apply for our Russia visa, let's look at some other important information regarding the Russia visa:
What Are the Russia Visa Fees for Indians?
The total fee for a Russia Tourist Visa for Indian citizens, when applying through Atlys, is INR 6,700.
When Must I Apply for the Russia Visa for Indians?
You can apply for the Russia visa for Indians no earlier than 40 days and no later than 4 days before the expected date of entry into the Russian Federation. It is important to adhere to this timeframe when submitting your application.
Do Minors Need to Apply for the Russian Visa for Indians?
Yes, minors need a Russian visa from India. If you are travelling with children who are indicated in your passport, a separate application for a unified e-visa must be submitted for each child.

All minor children travelling with their parents must have a separate e-visa.

There is no visa fee for minors under the age of 6 years old.
Can I Extend The Russia E Visa?
No, you cannot extend the Russia e-Visa. The Russian unified e-visa has a fixed time limit, and you can't make it last longer. If you want to stay in Russia more, you must get a Russian sticker visa from a Russian embassy or consulate.

You can only stay longer with an e-visa if you can't leave Russia because of an emergency, like sudden medical treatment, an unexpected event you can't control, or a natural disaster.
What Happens When I Arrive At A Russian Entry Point?
1

Arrival at the Airport: After landing, follow the signs to the immigration area.

2

Immigration Control: The traveller will join the queue for foreign passport holders. Some countries have separate queues for visa holders and visa-free travellers.

3

Document Check: An immigration officer will check the traveller's passport and visa. They may ask questions about the purpose of the visit, where the traveller will be staying, and how long they plan to stay. It's important to answer these questions honestly and confidently.

4

Customs Declaration: If the traveller is carrying items that need to be declared (like large amounts of currency, food, or certain types of goods), they will need to fill out a customs declaration form. This form is usually provided on the plane before landing.

5

Baggage Claim: After passing through immigration, the traveller will collect their checked luggage.

6

Customs Check: The traveller may need to pass through a customs check, where officers may inspect their luggage. If the traveller has nothing to declare, they usually go through the "green channel".

7

Exit: After clearing customs, the traveller is free to exit the airport and enter the country.
Tips for a Successful Russia Visa Application
To increase your chances of getting a Russia Visa for Indians, keep the following tips in mind:
Avoid Common Mistakes: make sure to fill out the application accurately and completely to avoid any mistakes.

Submitting additional documents, such as bank statements, income tax returns, or travel itineraries, can strengthen your visa application.

Make sure to apply for the visa well before you travel to give yourself enough time, have all the required documents during your trip, and follow the rules and regulations of Russia.
All done!
Getting a Russian visa for Indians is simple if you fulfil the eligibility criteria and follow the application process accurately. With this guide, we hope to have provided you with all the necessary information to make your visa application process hassle-free.
Government Sources
All the information on the post has been gathered from trusted government sources.
This blog was written with the help of AI to make it easy to read and understand.
Frequently Asked Questions
Yes, you can apply for a Russia tourist visa online through the website of the Russian Embassy in India or on Atlys
Author: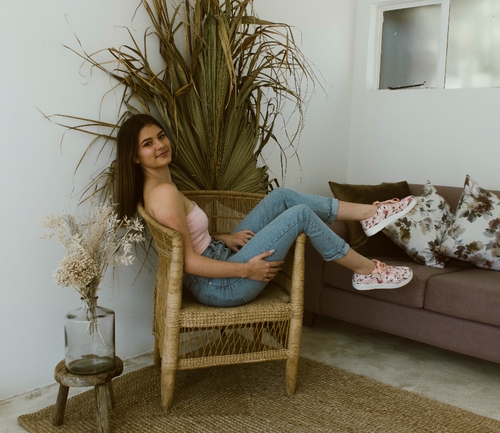 Laliq Schuman
Verified Author: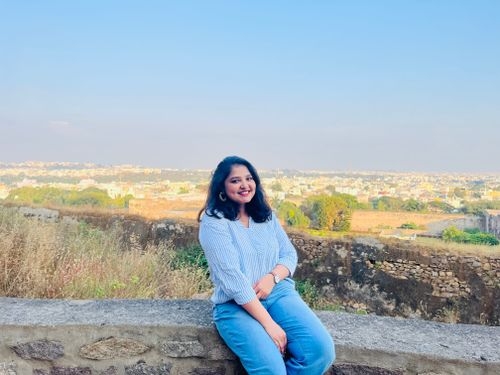 Nikhita Rathod