Saudi Arabia Transit Visa For Indians: Is Visa Required?
Last Updated : 08-Sept-2023
Atlys in the news
30-second summary
Indian nationals transiting through Saudi Arabia will need a Saudi Arabia transit visa, which allows you to have a stopover. 
You can complete the application online.

Saudi Arabia transit doesn't require you to submit your passport offline.

Once your visa is approved, you will get a digital 

The Saudi Arabia transit visa requires a copy of your passport, one photograph, and more.
Important Information
Saudi Arabia
— Is a Visa Required?
Yes, Indians need a transit visa for Indians.
— Transit Visa Validity
The Transit visa is valid for up to 3 Months.
— Transit Visa Cost
The transit visa is $10.5 for a single entry.
— Length of stay
The transit visa allows you to stay for 4 days.
Do I Need A Saudi Arabia Transit Visa For Indians?
Yes, if you plan to have a layover in Saudi Arabia, you will require a Saudi Arabia transit visa. This visa can be acquired through the online platform. The transit visa permits travellers to move through the country during their stopover.
When Is A Transit Visa Required For Saudi Arabia?
You'll need a transit visa if:
Your layover is more than 12 hours. 

You're planning to have a layover in the country and want to leave the airport during that layover.

You change flights or pass through immigration.
What Are The Requirements For Saudi Arabia Transit Visa For Indians?
The required documents are important to the visa application process, and submitting them could lead to a visa rejection. The following documents must be present for Indian citizens:

A valid original passport of a minimum of six months.

A passport-sized coloured photograph. The photograph must have a white background.

Proof of ticket booking confirming your stay-over in Saudi Arabia.
How To Get A Saudi Arabia Transit Visa From India?
To apply for a Saudi Arabia transit visa, follow these steps:
Start by going to the ENJAZ website. Once you're there, find the section meant for "Individuals" and click it. You'll then see different choices to pick from.

Choose the option that talks about "Application for Visa from Saudi Missions Abroad." This is where you can request the special paper you need to travel through Saudi Arabia. 

You must create an account if this is your first time on the website. Just click on "Register" to start. They'll ask you for important details, so make sure to fill them in accurately.

Before moving forward, you must agree to follow the rules. These rules are known as "Terms and Conditions." It's kind of like saying you agree to play by their rules.

When they ask you what kind of visa you want, pick "Transit Visa." This visa lets you pass through Saudi Arabia during your stop.

You have to put in all your information. It's like your name, where you're from, and other things. 

You'll also upload your passport-sized photo. The picture has to be a certain size – 200 x 200 pixels.

Then, you'll get to the page where you'll choose the travel insurance and pay the visa fee. Then, you submit the visa application.

The processing time can differ. Keep an eye on your email for updates or notifications about your application.

You'll receive your transit visa via email if your application is approved. This email might also include instructions on using the visa and what to do during your layover in Saudi Arabia.

Before travelling, ensure you have a printed copy of your visa approval and all necessary documents. Also, review any information or guidelines provided in the approval email.
Everything You Need To Know About Transit Visa for Indians
Here is what you need to know about the Transit visa for Indians.
The processing time for a Saudi Arabia transit visa for Indians is 3-5 working days.

Please note that the processing time can take a bit longer in certain cases. So ensure that you apply for your visa well in advance.

The Saudi Arabia transit visa is $10.5 for a single entry. 

You will have to choose Health insurance costs, and you'll get the total to pay.

Visa fees are non-refundable if your visa is rejected.

Tips For Indians With Saudi Arabia Transit 
Here are some useful tips for when you have a transit visa to Saudi Arabia:
Check Visa Conditions: Review the conditions of your transit visa, including its validity period, duration of stay, and any restrictions. Make sure you understand what you're allowed to do during your layover.

Plan Your Itinerary: Plan your layover activities: Research nearby attractions, landmarks, or places you'd like to visit. Create an itinerary that suits your interests and the time you have available.

Language: While English is commonly understood, having a few basic Arabic phrases can be helpful and appreciated.

Pack Essentials: Pack essentials like comfortable shoes, appropriate clothing, travel documents (including your visa approval), a power bank, and a small backpack for your belongings.

Currency and Payments: Carry some local currency (Saudi Riyals) for small purchases and a credit/debit card for larger expenses. Check if your card works internationally.
And That's it!
In conclusion, the Saudi Arabia transit visa offers Indian travellers the opportunity to make the most of their layovers in the country by allowing smooth passage through the airport and the chance to explore during longer stopovers.
Happy travelling!
Government Source
Here at Atlys, we gather information from reliable sources. This means you can trust that the details you get from us are accurate and up-to-date. Your travel plans are in good hands!
Frequently Asked Questions
Yes, you can apply for a Saudi Arabia Transit Visa online through the official visa application platform the Saudi government provides.
Author:
Mable Chidi
Verified Author: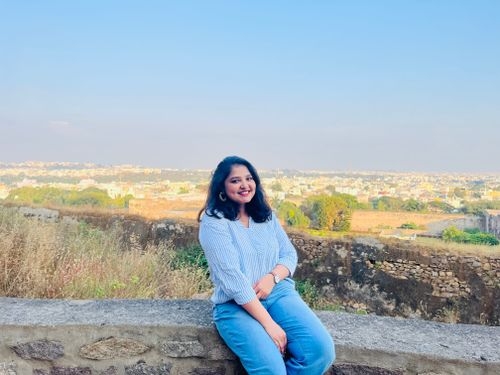 Nikhita Rathod