Saudi Visa Processing Time for Indian Applicants
Last Updated : 29-Sept-2023
Atlys in the news
30 seconds summary
The processing duration for visas in Saudi differs depending on the type of visa you're applying for. Here are the visa processing times in Saudi:
Saudi Arabia Evisa: 3 - 5 days

Saudi Arabia Transit Visa: 3 - 5 days

Saudi Arabia Umrah Visa: 3 - 5 days

Saudi Arabia Work Visa: 5 - 14 days
Source: Saudi Ministry of Foreign Affairs
*Just a reminder, these are rough averages and might be subject to change because of recent rule adjustments.
Saudi Visa Types And Factors Affecting Processing Times
Saudi Evisa |  3 - 5 working days
The Saudi eVisa is an electronic tourist visa for Saudi Arabia that Indian citizens can apply for online. It's designed for tourists visiting Saudi Arabia for leisure, sightseeing, or visiting friends and family.
You apply on Atlys or the official eVisa website, providing the necessary information and documents. The processing time for a Saudi eVisa is 3-5 days.
Some issues can affect this processing time: Security Checks, Technical Issues, and Application Volume. The eVisa is valid for 3 months, allowing a stay of up to 90 days.
If your application is approved, you'll receive the eVisa electronically, which you should print and carry when travelling to Saudi Arabia.
Saudi Arabia Transit Visa | 3 - 5 working days
Saudi Arabia offers transit visas for Indian citizens who are transiting through Saudi Arabia to reach their final destination in another country. The processing time for a Saudi transit visa is 3-5 days.
But different reasons can affect the processing time of a Saudi transit visa, such as peak travel seasons, document verification, and Incomplete Applications.
The transit visa allows travellers to stay in Saudi Arabia for up to 4 days while they are in transit between flights. The transit visa is specifically for travellers who have connecting flights through Saudi Arabia and need to change planes at a Saudi airport.
Saudi Arabia Umrah Visa | 3 - 5 working days
Saudi Arabia Umrah Visa is a special type of visa that allows Indian citizens to visit Saudi Arabia for the purpose of performing the Umrah pilgrimage. 
The application process for an Umrah Visa in Saudi Arabia involves submitting your application through an approved Umrah travel agent in India.
The processing time for a Saudi Umrah Visa is 3-5 days, depending on several factors such as Documentation Completeness and Peak Pilgrimage Seasons.  It's advisable to plan well in advance to account for these peak periods and any associated delays.
The Umrah Visa is generally valid for 30 days, allowing you to stay in Saudi Arabia for the duration of your pilgrimage. Once you complete your pilgrimage, you are expected to leave the country.
Saudi Arabia Tourist Visa |  3 - 5 working days
A "Saudi sticker visa" typically refers to a traditional visa that is physically affixed or stamped onto your passport or travel document. This type of visa is used for various purposes, including tourism, business, work, and family visits.
To obtain a Saudi sticker visa, you must usually apply through official channels, such as the Saudi Arabian embassy or consulate in India. The processing time for a Saudi sticker visa is 3-5 days.
Several factors can influence this duration, including time, such as Embassy/Consulate Workload, Application Completeness and Holiday Periods.  Plan to leave and re-enter Saudi Arabia during your stay.
You should be aware of the exit and re-entry requirements, including obtaining the necessary permissions or visas, if applicable.
Saudi Arabia Work Visa | 5 - 14 working days
Saudi Arabia offers work visas to Indian citizens planning to work there. The Saudi work visa often called an employment visa, is for foreign nationals who have secured employment with a Saudi employer.
The processing time for a Saudi working visa is 5-14 days. Here are some of the issues that can affect this processing time: Document completeness, Accuracy, Employer Efficiency and Sponsorship.
The validity of a work visa in Saudi can vary but is linked to your employment contract.
Saudi Arabia Family Visa |  3 - 5 working days
Saudi Arabia provides family visas to Indian citizens with close relatives residing there. These visas enable family members to reunite with their loved ones working and living in Saudi Arabia.
The processing time for a Saudi family visa is 3-5 days. Several factors can influence this duration, including Documentation and Sponsorship, Embassy/Consulate Workload and Residence Permit (Iqama)
The validity of a Saudi family visa depends on the type: A single-entry visa is valid for 3 months, and a multiple-entry visa is valid for 1 year.
Saudi business visa | 3 - 5 working days
A Saudi business visa for Indians is a type of visa that allows Indian citizens to enter Saudi Arabia for business-related purposes.
To obtain a Saudi business visa, applicants usually need an invitation from a Saudi-based company or sponsor and must provide relevant documentation to support the purpose of their visit.
The processing time for a Saudi business visa for Indians is 3 to 5 days. Several factors can contribute to delays in the processing of this type of visa: documentation completeness, invitation and sponsorship and background checks.
Step-by-Step Visa Application Timeline
When you're applying for a visa to Saudi Arabia from India, how long it takes to get your visa can vary depending on the type of visa you need.
Some visas might need extra steps, like getting a special permit when you arrive in Saudi Arabia or providing more documents. Sometimes, you might also have to go through a medical check.
Even though there can be these differences, I can give you a basic idea of what to expect during the visa application process and the usual time it takes to get a visa for Saudi Arabia:
​​Gathering Documents For the Saudi Arabia Visa Application: 3 - 4 Days
Having thorough and smooth documentation reduces the possibility that immigration officers may ask for more details or supporting documentation. 
Having all your documents in order and well-organized can lower the chance of immigration officers needing extra information or documents.
Different visa categories might take different amounts of time to review visa applications. However, submitting complete and neatly arranged documents can help ensure your application moves smoothly and sticks to the usual processing times.
If your documents are incomplete or messy, it could lead to delays in processing, which might make the visa processing time longer.
Completing the Saudi Visa Application: 1 Day
Before you apply for your visa, it's important to do your homework and fully understand what's required. This involves picking the right visa type, knowing which documents you need to support your application, and ensuring you meet any special criteria.
To keep your application on track and avoid delays, it's crucial to gather and organise all the necessary documents ahead of time. Ensure all your documents are accurate, up-to-date, and meet the necessary standards.
Being well-prepared will make the visa application process smoother and quicker.
Submitting the Visa Application and Pay Visa Fees: 15 - 20 Minutes
Paying for your Saudi eVisa is usually a fast and simple process. After completing your eVisa application online, you'll be taken to the payment page.
You can use a credit or debit card to make the payment. Usually, the payment is processed right away. Once your payment goes through successfully, you'll get an email confirming it, and your eVisa will be attached to that email.
This whole payment process usually only takes a few minutes, which is convenient and efficient for travellers wanting to get their Saudi eVisa.
Visa Processing: 3 - 14 days
Your visa application process begins once you've fulfilled all the necessary requirements. The Saudi visa processing time for Indian citizens can differ, typically ranging from 3 days to several weeks.
The specific type of visa you're applying for plays a crucial role; long-term visas, such as Saudi work visas, usually require more time than short-term visa processing.
Visa Outcome: After the visa processing time
When you're an Indian citizen applying for a Saudi visa, it's important to stay informed about the status of your application, whether it's approved or rejected.
To see if your Saudi visa for Indians is ready, you can easily check the status online using the Saudi Arabia visa check website. Simply enter your application reference number or the necessary details to determine how your application is progressing.
Remember that for certain types of visas, you might need to travel to Saudi Arabia for the final steps of the application process, which could involve additional procedures.
Checking Saudi Visa Status:
You can track the progress of your Saudi visa application process when you apply through Atlys. Here's how:
1

Log in to your Atlys account.

2

Visit your dashboard to check your visa status.
You can also check your Saudi visa status on the government's official portal. To check your visa status,
1

Visit the official immigration or visa department website.

2

Look for the "Check Visa Status" section.

3

Fill in your passport and application details.

6

Review your visa status once it's displayed.
Expedited Visa Application
With Atlys, you can easily apply for your visa from India to Saudi Arabia from the comfort of your home. Our mobile app and website are designed to be simple and user-friendly, so you can complete the application without hassle, saving you time and energy.
You'll also stay up-to-date with real-time updates. We'll send notifications directly to your phone, informing you about your visa application's progress at every stage.
Trusted Sources
At Atlys, we are committed to providing accurate and up-to-date information to our users. We rely on trusted government sources to ensure the reliability of our information.
Frequently Asked Questions
Factors like the type of work visa, the employer's documentation, and government workload can impact processing times.
Author:
Mable Chidi
Verified Author: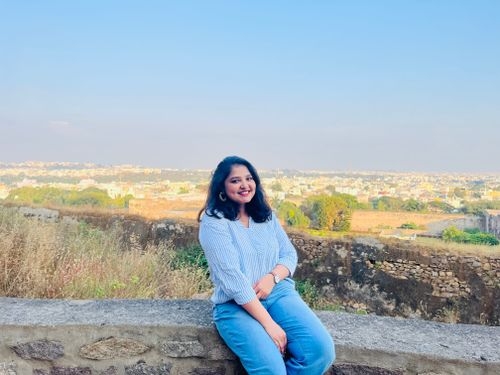 Nikhita Rathod