Sri Lanka Transit Visa for Indians: Step-by-Step Guide
Last Updated : 04-Sept-2023
Atlys in the news
30 seconds summary
Indian nationals travelling to Sri Lanka must apply for the Transit visa, which allows you to visit for transiting through the country to a third country.
You can complete the application online.

Sri Lanka Transit visa doesn't require you to submit your passport offline.

Once your visa is approved, you will get a digital copy that you can use to enter the country (no visa stamp needed).

The Sri Lanka Transit Visa requires a copy of your passport, proof of sufficient finances, travel Insurance and more.
Important Information
Sri Lanka
— Is a Visa Required?
Yes, Indians need the Sri Lanka Transit Visa.
Do I Need A Sri Lanka Transit Visa For Indians?
Yes, A Sri Lanka Transit Visa is a temporary entry permit issued to foreign nationals who are travelling through Sri Lanka to their final destination in another country. It is designed for individuals who do not intend to stay in Sri Lanka but must pass through the country while on their journey to another destination.
If you stay more than 24 hours to get your connecting flight, you must apply for a transit visa. It is valid only for 48 hours.
When Is The Sri Lanka Transit Visa Not Needed?


A Sri Lanka transit visa is NOT required if:
You fly out on the same aircraft and from the airport you arrived at.

You stay in the transit lounge and do not leave the airport.

If the airline provides a list of transit passengers and ensures their transportation on the next available flights, you don't need a Transit Visa either.

You won't need a Sri Lanka transit visa if your stay is less than 24 hours.
What Are The Requirements For Sri Lanka Transit Visa For Indians?
To transit through Sri Lanka from India, it is important to ensure you have the following documents prepared:

Valid Passport: Make sure your Indian passport has a minimum validity of 6 months from the date of entry into Sri Lanka. Additionally, ensure at least 3 blank pages are available for visa stamps.

Valid Visa for Final Destination: If your final destination after Sri Lanka requires a visa, have a valid visa or relevant supporting documents ready for presentation.

Flight Itinerary: Make your flight bookings available, including a confirmed return ticket. This indicates that you have planned your departure from Sri Lanka and intend to leave the country within the designated period or visa validity.
How To Get A Sri Lanka Transit Visa From India Online?
Here is how you can apply for the Sri Lanka transit visa for Indians online;
Step 1: Complete the Online Application Form
Collect all the essential scanned documents on your preferred electronic device to begin the process. The application process is quick and user-friendly, typically requiring only about 10 minutes to complete. It is a straightforward and seamless procedure, eliminating the need to visit your local Embassy or deal with physical documents.
Details to provide during the application:
Where you have been during the last 14 days before this travel
Step 2: Make the Payment For The Sri Lanka Transit Visa For Indians
After submitting your Sri Lanka visa online application, you will not be required to make any payment for visa fees. No fees are involved in the application process.
Step 3: Receive Your Sri Lanka Transit Visa For Indians
The processing time for the Sri Lanka transit visa is around 3 days. Once you have completed and paid for your visa application for Indian citizens travelling to Sri Lanka, you can expect the results of your application within a maximum of four days (excluding weekends). You'll get an email with your  Sri Lanka transit visa if your visa application is accepted, enabling hassle-free travel to Sri Lanka.
Overview Of Sri Lanka Transit Visa From India
Here is everything you need to know about the Sri Lanka transit visa for Indian citizens.
The visa processing time for Indians applying for a Sri Lanka visa is 3 business days. The processing time may vary depending on the type of visa, the volume of applications at the time, and other factors.

The transit visa for a stay of up to 2 days is available free of charge For nationals of South Asian Association for Regional Cooperation (SAARC) Countries (Bangladesh, Bhutan, India, Maldives, Nepal, Pakistan and Afghanistan). 

This free-of-charge transit visa is designed to cater to the needs of passengers who have layovers or connecting flights in Sri Lanka and do not intend to stay in the country for an extended period.

The duration of stay allowed on a Sri Lanka transit visa for Indian citizens is typically up to 2 days. This means you can stay in Sri Lanka for a maximum of 48 hours while transiting through the country on your way to your final destination.
All Done!
In conclusion, the Sri Lanka transit visa for Indians provides a convenient and efficient way for travellers to pass through the country on their way to their final destination. For Indian travellers seeking a seamless journey through Sri Lanka, the transit visa offers a straightforward solution to transit through this beautiful island nation.

Happy travelling!
Government Source


At Atlys, we focus on being accurate and dependable by getting information straight from government sources like:

Frequently Asked Questions
Foreign nationals who are not eligible for visa exemption and have a layover in Sri Lanka before continuing to their final destination require a transit visa.
Author:
Mable Chidi
Verified Author: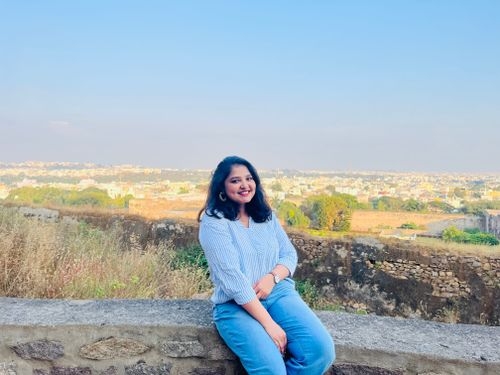 Nikhita Rathod