Sri Lanka Visa Processing Times And Application Guidelines
Last Updated : 07-Sept-2023
Atlys in the news
30-Second Summary
Each Sri Lanka visa type has its visa processing times. Here, we will look at the different Sri Lanka visa processing times.
Sri Lanka Online Visa From India: 3 days.

Sri Lanka Online Visa From India: 3 days.

Sri Lanka ETA On Arrival From India: N/A.
Source: Sri Lanka Electronic Travel Authorisation System
*Please note that visa times can change without warning due to different reasons like current visa applications and new rules.
Sri Lanka Visa Types and Factors Affecting Processing Time
The Sri Lanka Tourism ETA (Electronic Travel Authorization) is a specific type of online visa for tourists visiting Sri Lanka for leisure purposes. 

It allows Indians to apply for a visa online through the official website or Atlys. The visa is valid for 6 months, and you can stay in Sri Lanka for a maximum of 30 days with this visa. It usually takes around 3 business days to process the visa. With Atlys, the processing time is 30 minutes without any possible delays. 

The processing time for Sri Lanka Online ETA depends on the completeness and accuracy of the application, the current workload of Sri Lankan immigration authorities, and potential delays during peak travel seasons.

The Sri Lanka Business Visa is for Indian passport holders travelling to Sri Lanka for business purposes, like attending meetings or exploring business opportunities. You can apply for this visa through the official website or other channels. The Sri Lanka business ETA processing time is typically 3 business days. It may be possible to extend the visa, but additional requirements may apply. The processing time for Sri Lanka Business ETA is influenced by the type of business activities, verification of supporting documents and credentials, and the total number of business visa applications under review.

The Sri Lanka Transit Visa is for Indian passport holders who have a layover in Sri Lanka while travelling to a third country. It allows them to pass through the country's immigration area before continuing their journey. The processing time for Sri Lanka Transit ETA is affected by the purpose and duration of the transit stay, verification of travel itinerary and onward flight details, and the volume of transit visa applications being processed.

The standard processing time for Indian nationals is 3 business days. The visa is free of charge for SAARC country nationals and permits a stay of up to 2 days.
Step-by-Step Visa Application Timeline
If you're applying for a visa to Sri Lanka from India, the Sri Lanka eta processing time can differ depending on the type of visa you want. Certain visas may involve additional steps, like obtaining a permit upon arrival in Sri Lanka or providing extra documents. In some cases, a medical examination might also be necessary.
By following these steps and being well-prepared, you can have a smoother experience when applying for your Sri Lanka visa from India.
To make the process of obtaining your Sri Lanka Electronic Travel Authorization (ETA) easier, ensure that you have thorough and well-organized documents. This will reduce the chances of immigration officers asking for additional details or supporting documents.

Remember that processing times for visa applications may differ based on the visa category and how you apply. However, by providing complete and well-arranged documents, you can help ensure that your application moves smoothly through the system and meets with the standard processing times. On the other hand, incomplete or disorganized documents might lead to processing delays, potentially extending the overall visa processing time. So, being prepared with the right documents is important for a smooth and timely Sri Lanka ETA application.

Before you apply for your Sri Lanka Electronic Travel Authorization (ETA), it's important to do some research and fully understand the visa requirements. This involves choosing the correct visa category, knowing which supporting documents are necessary, and ensuring you meet any specific qualifications.

To prevent delays in your application, it's important to gather and organize all the required documents in advance. This includes a valid passport, completed application forms, passport-sized photos, proof of travel plans or accommodation, financial statements, employment letters, and any other documents specific to the type of visa you're applying for. Ensure all your documents are correct, up-to-date, and meet the required standards. Being well-prepared will help make the visa application process smoother and faster.

Getting your Sri Lanka Electronic Travel Authorization (ETA) is usually a quick and straightforward process. After completing your online ETA application, you will be directed to the payment page. There, you can conveniently pay using a credit or debit card. The payment is processed immediately; once it's successful, you'll receive a confirmation email with your ETA attached. The entire payment process usually takes just a few minutes, making it easy for travellers to get their Sri Lanka ETA.
Checking Visa Status
If you have applied for a visa and are curious about its status, worry not! The process is straightforward and can be conveniently completed online by following these steps:


Atlys: Stay updated on your visa application with Atlys! Our user-friendly portal keeps you informed about your application status in real-time. Get timely updates at every stage of the process.

Online: For Indian citizens applying for a Sri Lanka visa, you can easily track your application on the official eVisa website. Simply log in and enter your passport number to access the current status of your visa application. Follow these straightforward steps to keep track of your visa progress effortlessly.
To check the ETA (Electronic Travel Authorization) status for Sri Lanka, follow these steps:
2

Click on "Check Status": Look for a button or link that says "Check Status" or "Check ETA Status" on the website's homepage. Click on it to proceed.

3

Enter your details: You will be prompted to enter certain details to retrieve your ETA status. Enter the confirmation code. If the confirmation code is not known, please tick the check box. Then, enter your passport number and select nationality.

4

Submit: Click the "Submit" or "Check Status" button.
The website will display the current status of your ETA application. It will indicate whether your ETA has been approved, pending, or rejected.
Expedited Visa Application
With Atlys, applying for your Sri Lanka visa is now more convenient than ever. Our user-friendly mobile app and website allow you to complete the application process from the comfort of your home, saving you time and effort.
Stay updated throughout the process with real-time notifications. Our system will provide timely updates on your visa application status, ensuring you stay informed at every stage of the journey.
Trusted Sources
At Atlys, our main goal is to provide accurate and up-to-date information to our users. To ensure the reliability of our content, we rely on trusted government sources.

Frequently Asked Questions
The processing time for a Sri Lanka visa depends on the type of visa and the application method. In general, it can take anywhere from a few days to several weeks.
Author:
Mable Chidi
Verified Author: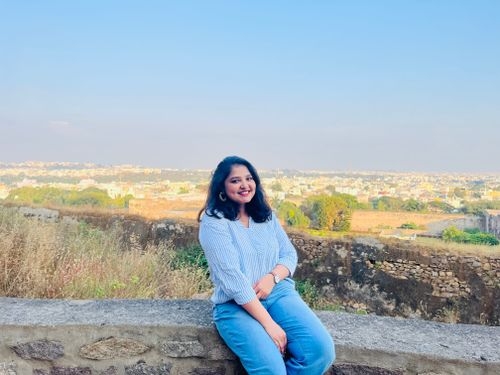 Nikhita Rathod