How To Get A Maldives Visa on Arrival for Indians
Last Updated : 19-Oct-2023
Atlys in the news
30-Second Summary
To have a dream trip to the Maldives, you need the right travel documents: a tourist visa on arrival and a Traveler Health Declaration form.
The application can be made through the Maldives Immigration portal.
Upon arrival, meet the basic entry requirements for a tourist visa: valid passport, accommodation proof, funds, return tickets, onward destination requirements, and the Traveler Health Declaration. This VOA allows a stay of 30 days, and a 90-day extension is possible.
Important Information
The immigration officer stationed at the port of entry has the ultimate authority to approve or reject the visa application. Their decision is final.

It is important to note that approval for the VOA is not guaranteed. Meeting the eligibility criteria does not automatically ensure approval.
Source: Maldives Immigration
Important Information
Maldives
— Is There A Maldives Visa On Arrival?
Yes, Indians are eligible for a VOA. However, there are strict eligibility to apply for the visa on arrival.
— Maldives Visa On Arrival Cost
The Maldives visa on arrival cost is free.
— Maldives VOA Duration Of Stay
The Maldives visa on arrival allows a duration stay of 30 days.
If you feel like up and leaving to experience the feeling of being surrounded by beautiful blue beaches, a green forest, and soaked in white beach sand, then the Maldives is your destination. You will find yourself some peace in the middle of the clear water, and this is the charm that the Maldives has over Indian tourists.
Do Indians Need A Tourist Visa For The Maldives?
Yes, the Maldives immigration officers will grant you a tourist visa upon arrival in the Maldives as an Indian tourist. As an Indian tourist, you won't need a pre-approved visa to travel to the Maldives.
However, you'll need to satisfy the basic entry requirements to get immigration clearance once you arrive in the Maldives.


What Documents Do I Need To Get A Visa On Arrival In The Maldives?
As you prepare for your trip, you must gather all the valid documents you will need as an Indian citizen travelling to the Maldives. The Maldives authorities will request the necessary documents upon your arrival at the Maldives International Airport.
Since you are not required to have a pre-approved Maldives visa before going to the Maldives, you must ensure that you have all the valid documents that the authorities will need in the Maldives upon your arrival as an Indian tourist. After that, it is for the immigration officers to grant you access to the Maldives.
Here are the necessary documents you will need to gather for your Maldives preparation Visit.
Proof of accommodation booking or your hotel reservation

Proof of funds (bank statements - at least 100$ per person per day)

Return ticket flights from the Maldives to India
How Can I Apply For A Visa On Arrival At Maldives International Airport As An Indian Tourist?
Unlike other countries, the Maldives doesn't have any visa application processes that you need to undertake as an Indian tourist before exploring the Maldives. Therefore, exploring the Maldives is hassle-free and easy, as you will only be required to meet their basic needs. The Maldives immigration officers will grant you in the Maldives so you can travel around the beautiful country as an Indian citizen.
You will only need to meet the basic entry requirements upon your arrival at the Maldives International Airport as an Indian national. They are as follows:
You will need your Indian passport with a Machine Readable Zone(MRZ) that has been valid for at least one month. A machine-readable zone (MRZ) is a particular area on your Indian passport with your personal information, e.g., names, surnames, date of birth, etc.

You will need a pre-paid hotel booking or accommodation.

You will need to have sufficient funds that will last you for the period of your stay in the Maldives for Indians.

You need to have your confirmed return tickets to India.

The entry facilities to your return destination (India), for example, the Visa

All travellers, including the Indian tourist, must submit a Traveler Declaration within 96 hours of the flight time during your arrival and departure to and from the Maldives.
Note as you fill in your travel declaration form, you will be required to take a photo of the passport data page. Your data captured through the photo will be collected only to fill up the Traveler Declaration; your information won't be stored or shared beyond this purpose.
Overview Of The Maldives VOA
This section provides a broad overview of everything you need to know.
How Long Is The Maldives Tourist Visa For Indians Valid?
The Maldives visa for Indian tourists is a maximum of 30 days (month validity); this is very important to note as the period of your stay can be less than or equal to 30 days. You will not claim the period of your stay; it lies at the discretion of Maldives Immigration if you are granted a maximum of 30 days, or you're getting less than 30 days.
As an Indian tourist, you'll need to check your passport upon your arrival in the Maldives for the arrival endorsement and check the number of days that you have been granted to stay in the Maldives.
As an Indian tourist, you need to be aware that the Maldives visa for Indians you receive upon your arrival doesn't permit you for the following things;
To engage in any form of business,

Occupation(either part-time or full-time),

Profession or paid employment while you are in the Maldives.
What Is The Maldives Visa Fee On Arrival for Indians?
For Indian citizens and all foreign nationals, the Maldives will provide a visa on your arrival, which is valid for 30 days. The Visa is free and does not have any hidden costs. However, there is a charge if you want to extend the Visa. Therefore, all nationals should have the necessary documents and their passport to receive the free Visa upon arrival.
What Are the Maldives Visa Processing Times For Indians upon Arrival?
Since you will get the Visa upon arrival, there is no processing time. You will meet the Department of Immigration and Emigration as they will check your stay details. If your documents are all in place, you will be allowed to have the best of your life in the Maldives.
Should I Buy Maldives Travel Insurance As An Indian Tourist?
Travel insurance is there to help you as you travel in case you meet with inevitable blows. Of course, buying travel insurance will not prevent your misfortune, but it will provide great help. For example, the Maldives is a coral reef island where you will have fun, enjoy yourself as a Maldivian, and relax. So imagine during your relaxation time, you lose your passport or your wallet. This thought of hassle might save you from getting your mood for your holiday. While enjoying the Maldives as an Indian citizen, check the water sports activities and explore the Maldives like a Maldivian.
If, for some reason, you are unable to start the trip to the Maldives after booking your flight tickets and you need to cancel your tickets, the travel insurance will cover them. To avoid any cancellation of tickets, ensure that you double-check your travel dates.
The travel insurance also covers injuries sustained while you are in the Maldives. This incident can be unfortunate if you do not have travel insurance. So enjoy all the water sports provided, knowing you are covered if you sustain any injury or need emergency help.
Suppose you get injured while participating in an activity but don't want to be treated in the Maldives. Moreover, if you want to cancel your stay in the Maldives and receive treatment in India, the travel policy will come in handy in such cases; it is regarded as Emergency Medical Evacuation. Moreover, if you are enjoying the Maldives and you happen to damage a third-party property in the Maldives as an Indian, the travel insurance will cover the cost caused.
What Other Types Of Arrival Visas Does The Maldives Offer For Indian Nationals
As has already been discussed above with the tourist visa, the Maldives offer Indian nationals a tourist visa upon their arrival. Moreover, the Maldives offers other types of visas to Indian nationals if you don't want a tourist visa and you have other commitments in the Maldives. Here are the types of Visas offered as well upon your arrival in the Maldives.
A Work Visa Is a permit that is issued to an Indian national to stay in the Maldives for the purpose of employment. The Maldives authorities will give you 15 days; to get this period, you must have a valid work permit issued by the Maldives Ministry of Economic Development.

A Business Visa Is a temporary multiple-entry issued to Indian nationals upon arrival in the Maldives. If you want to visit the Maldives as an Indian for business, you must apply for a business visa. The Maldives government authorities must approve your business before travelling to the Maldives.

A Dependent Visa (Family/friend visit Visa): If, as an Indian national, you're travelling to the Maldives to visit a friend or a family member. Certain documents will be required for you to get approval from the Maldives immigration officials.

A Marriage Visa is a visa that allows Indian nationals to continue living in the Maldives if they are married to a Maldivian citizen. Indian citizens travelling to the Maldives to marry or to register their marriage in the Maldives will need to be sponsored before they arrive.
What Can Cause My Maldives Visa On Arrival To Be Denied?
Several factors can contribute to denying a Maldives Visa on Arrival (VOA). It is important to be aware of these potential causes to increase the chances of a successful application. Some reasons that can lead to a VOA denial include:
1

Incomplete or Inaccurate Documentation: If you fail to provide all the required documents or if the information provided is incorrect or inconsistent, it may result in a visa denial.

2

Non-Compliance with Eligibility Criteria: If you do not meet the specific eligibility requirements, such as having a valid passport with at least six months validity, a confirmed return ticket, proof of sufficient funds, and a confirmed accommodation booking, your VOA application may be rejected.

3

Previous Immigration Violations: If you have a history of immigration violations, such as overstaying a previous visa or engaging in unauthorized activities during your previous visits to the Maldives, it may negatively impact your chances of obtaining a VOA.

4

Security Concerns: If there are security concerns or doubts about your intentions, background, or potential risks to the country, the immigration officer has the authority to deny the VOA.
To avoid the possibility of a VOA denial, it is crucial to ensure that you have all the required documents in order and that they are accurate and complete. If you have any concerns or specific travel purposes, it may be advisable to consider applying for a regular visa through the Maldivian embassy or consulate in India before your trip.
That Is All!
Now that you know all the visa types you can get as an Indian citizen upon your arrival in the Maldives. With numerous Maldives packages available, you can take a holiday break and be surrounded by the blue beaches and white sands as you enjoy the adventure activities available at your disposal. Happy travelling.
Government Sources
The information in this post is from reliable sources like the Maldives Immigration.
The post was fact-checked and written with AI assistance.
Yes, it is possible to extend the visa on arrival for Indian travelers in the Maldives. Extension requests must be submitted to the Maldives Immigration office before the current visa expires, and certain conditions may apply.
Author:
Mable Chidi
Verified Author: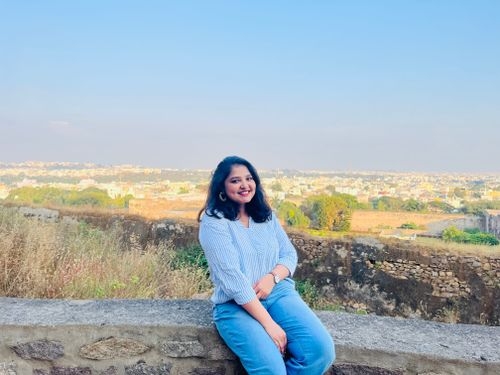 Nikhita Rathod