UAE Remote Work Visa For Indians: Eligibility And Visa Cost
Last Updated : 19-Sept-2023
Atlys in the news
30-Second Summary
Indian nationals looking to work in Dubai remotely must apply for a Dubai remote work visa. This visa will allow you to work remotely without having an office or workspace.
This visa can be obtained online.

There is no need to visit an embassy or to submit your passport in person.

Once your visa gets approved, you will receive a digital copy.

Ensure you apply for the visa at least 2 months before your intended travel dates.
*Atlys does not provide this visa!
Important Information
United Arab Emirates
— Where To Apply?
You can apply for the UAE work visa online on GDRFAD.
— UAE Visa Fee
The UAE remote work visa fee is about AED 1050.
— Validity Period
The UAE remote work visa is valid for up to 12 months.
— Processing time
The remote work visa for Dubai takes about 30 to 60 days to be processed.
In this digital age, professionals from all over the world are seizing the opportunity to explore new horizons while maintaining their careers. For Indian nationals seeking to embrace this flexible work lifestyle, Dubai has opened its doors with the Dubai Remote Work Visa.
Let's dive in and see what the UAE remote work visa is about.
Can Indians Apply For A Remote Work Visa?
Yes, there are no limitations based on nationality. However, the Immigration authority retains the right to refuse applicants on grounds of national security.
The eligibility criteria are:
Provide proof that you work remotely for an organization outside the UAE.

Provide proof that you receive a monthly income of USD 5,000.
What Is A Remote Work Visa In UAE?
Remote Work Visa is known as the Virtual Working Program. This program allows individuals to live and work remotely from the UAE for a specific duration without the need for a physical office or workplace within the country. It is valid for 12 months.
The purpose of the virtual work visa Dubai is for people who meet the qualifying requirements, entrepreneurs, and start-up businesses who reside or work outside the UAE.
Foreigners with valid work visas who are employed outside the UAE are allowed to live here. Foreigners with a one-year visa are allowed to enter the UAE of their own will and participate in employment that meets the visa's terms and conditions.
What Are The Dubai Remote Work Visa Requirements?
You must meet the UAE's requirements to apply for a remote work visa. You'll have to provide the following documents as proof:
A passport that is valid for at least six months.

Health insurance that is valid in the UAE.

Proof that you work remotely for an organization outside the UAE.

Proof of employment from a current employer with a one-year contract still in place.

A minimum monthly salary of US$ 5000.

Last three months' bank statements are all required.

Proof of company ownership for one year or longer, subject to extension, with a monthly average income of US$ 5000 or its equivalent in other currencies, as well as the bank statements from the three months prior.

Proof of employment or work completed outside of the United Arab Emirates and that it is remote.

To apply for permits for family members, applicants must provide their passports and proof of current health insurance. There is also a charge for each person.
How To Apply For Remote Work Visa In UAE?
The General Directorate of Residency and Foreigners Affairs - Dubai will review and process all applications (new applications and renewals) (GDRFAD).

Fill out the application form with accurate and up-to-date information. Be thorough and ensure that you provide all the required details correctly.

Within the online application portal, there will be a section to attach the necessary documents. Scan your documents and save them in a format compatible with the specified requirements. Attach each document in its respective section of the application form.

After submitting your application, you will be prompted to pay the applicable fees. Follow the instructions provided to make the payment securely through the online payment system.

Before submitting, review your application thoroughly. Double-check that all the information and attached documents are accurate and complete. Once you're confident everything is in order, submit your application.

You will also have to be required to undergo medical examinations, this is recommended to be completed before your travel through a recognized clinic.
Everything About The Dubai Remote Work Visa?
Here is what you need to know about the remote work visa in Dubai.
Every applicant must pay a remote work visa Dubai cost of USD 287, approximately ₹ 23 766, for the virtual working program fees.

Also, you must pay the processing fees and the premium for legal and medical insurance in the UAE. Keep in mind that paying the processing fee does not ensure application approval.

Note that the remote work visa fee can change anytime, so be sure to check out government websites before applying for your remote visa for Dubai.

The processing time for a digital nomad visa in Dubai is from thirty days up to sixty days.

However, the exact duration for processing the visa application could vary depending on various factors, such as the volume of applications, the completeness of documentation, and the efficiency of the processing system.

The Remote Work Visa program is valid for one year, renewable upon re-application.

No, you will need to re-apply as per the standard application process.

The UAE offers multiple visa types that can be used for working in the country. Here are some more options you can choose from:
What Are The Benefits Of UAE Remote Work Visa?
You can get all services, including telecommunications, utilities, healthcare, and education, through the virtual working program. Take advantage of Dubai's strong and smooth digital infrastructure, chances for international networking, and zero personal income tax.
High healthcare system: Dubai has an excellent healthcare system with cutting-edge facilities and high-quality medical care. In Dubai Healthcare City (DHCC), a contemporary medical complex that offers cutting-edge private health care across 150 specialities, there are more than 130 facilities from which to choose.

Access to Amenities: When you get your visas and arrive in the UAE, you will receive the Emirates ID. You can use your Emirates ID for various purposes in your daily life. For example, you will have access to a variety of services by having the ID, including banking, phone service, housing rentals, and, if you have kids, the option to enrol them in nearby schools.

Benefits of a tax-free lifestyle: Due to the absence of corporate or income taxes and any taxes on dividends or interest, Dubai has some of the highest levels of disposable income worldwide.

Fastest growing hub: Currently expanding quickly and on an exponential trend is remote work in the UAE. Thousands of locations, from little beach towns to modern megacities, are now competing for the attention of remote workers as a result of its rise.
All Done
The UAE remote working visa offers Indian professionals the opportunity to embrace a flexible work lifestyle in the bustling city of Dubai. Whether you are a freelancer, remote employee, or digital nomad, this guide equips you with the necessary information to embark on your remote work journey in Dubai.
Discover how the Dubai remote work visa can unlock a world of possibilities, allowing you to work remotely while enjoying the vibrant culture and economic opportunities Dubai offers.
Government Source
This blog post has been written with the assistance of AI. However, all information was fact-checked and verified. We provide you with accurate information from trusted sources such as:
Frequently Asked Questions
Yes, this remote work visa UAE is a one-year visa that permits individuals of foreign nationality to enter the UAE with self-sponsorship and work in accordance with the terms and conditions specified by the visa.
Author:
Mable Chidi
Verified Author: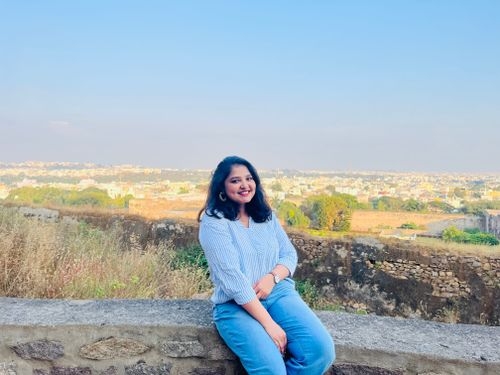 Nikhita Rathod