Uganda Visa On Arrival - Can I Get One?
Last Updated : 21-Nov-2023
Atlys in the news
30-Second Summary
There is no Uganda visa on arrival available for anyone travelling to Uganda.
You must apply for a visa before travelling to Uganda.

Make sure you apply for the visa that suits your purpose of travel the most.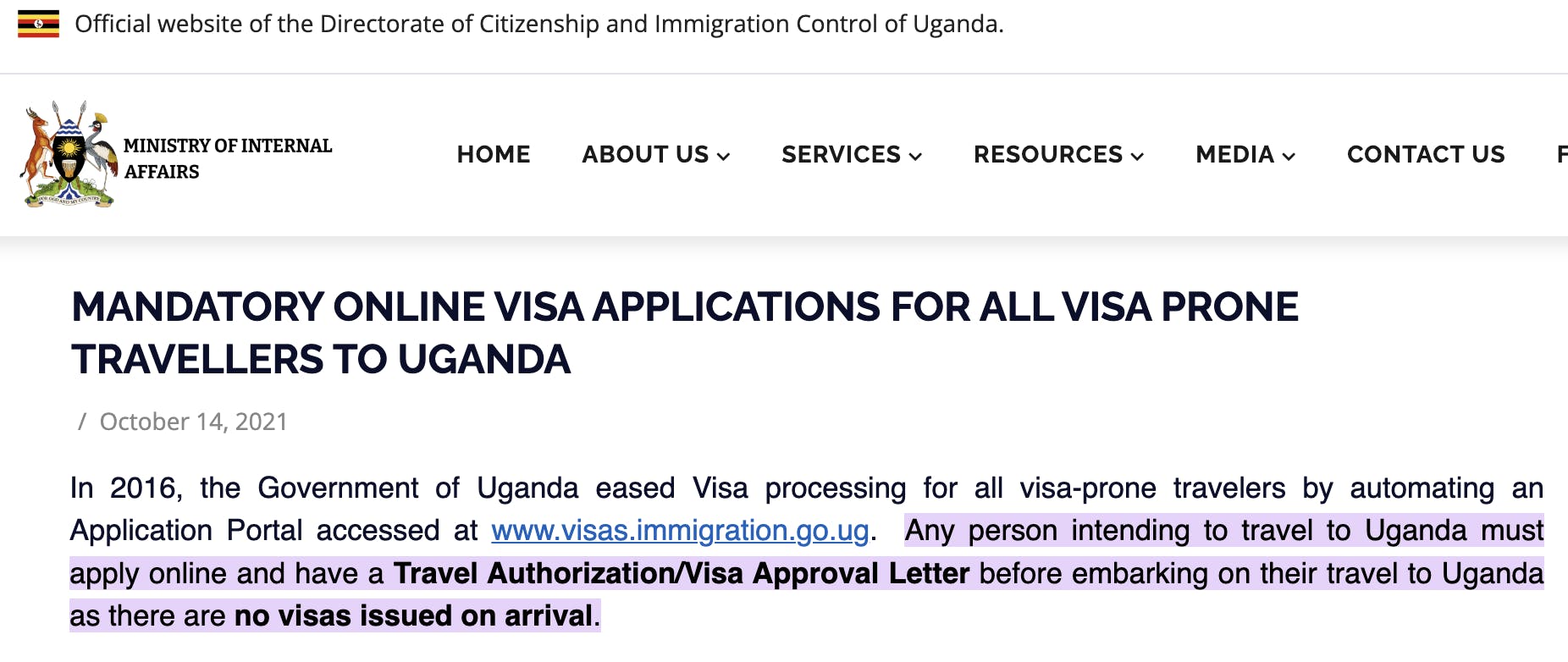 Source: Directorate of Citizenship and Immigration Control in Uganda
Is There A Uganda Visa On Arrival For Indians?
No, there is not. Indian citizens can't get a visa on arrival to Uganda. In fact, there is no Uganda visa on arrival. This means that everyone who wishes to travel to Uganda must apply for a visa before travelling.
What Should I Do If I Can't Apply For A Uganda Visa On Arrival?
Since there is no visa on arrival available, you must apply for a visa before travelling. You can apply for this visa through the online portal or in person at the Embassy. I'll discuss the different types of visas in the next section.
What Are The Different Types Of Uganda Visas?
There are different permit types for Uganda. Under each of these permit types, there are different visa categories. You can apply for each of these visas online. In this section, I'll explain the visa categories under the "visa" permit type:
Underneath this permit type, there are 5 visa categories. This includes:
Uganda Tourist Visa/Uganda Ordinary Visa
This visa is issued to Indian nationals who wish to visit Uganda for tourism and leisure purposes only. You can apply for this visa online through the Uganda Government Portal. With this visa, you're not allowed to work or conduct any business in Uganda.
East Africa Tourist Visa
The East Africa Tourist Visa is a joint tourist visa issued to foreigners who want to travel to Uganda, Kenya, and Rwanda for tourism purposes only. However, your first point of entry must be Uganda. 
Transit Visa
If you have a layover in Uganda on your way to a third destination, you need a Transit visa. This visa is valid for a maximum of 7 days, and you can't extend it. 
Multiple Entry Visa
If you're travelling to Uganda frequently, this is the best visa option for you. This visa allows you to enter and exit Uganda many times during the visa validity period. However, you're not allowed to work in Uganda with this visa.
Visa for Diplomatic and Official Passport Holders
This is a specific type of visa that is issued to foreign nationals who are entering Uganda for official business or duties. You can apply for this visa if you hold a diplomatic or official passport.
Diplomatic passports are issued to foreigners who are employed by their country's diplomatic service, such as ambassadors or other high-level officials. 
These individuals usually travel to the country on official government business, such as negotiating treaties, attending diplomatic meetings, conducting economic business, or conducting political business on behalf of their government.
Official passports are issued if you're travelling for official government business but may not hold as high of a position as a diplomatic passport. This can include government officials, judges, or other individuals who are travelling on behalf of their country's government.
In order to get this type of visa, you will typically need to provide documentation supporting your official government business, such as an invitation letter from the host government or organisation.
Travel Tips For Indians Travelling To Uganda
Here are a few tips to keep in mind when travelling to Uganda:
Visa Requirements: Ensure you have the necessary visa before travelling to Uganda. Indian citizens typically need a visa, so apply for the appropriate visa type in advance.

Health Precautions: Get updated on required vaccinations and take necessary health precautions. Consider vaccinations for diseases like yellow fever and carry any prescribed medications.

Travel Insurance: Purchase comprehensive travel insurance that covers medical emergencies, trip cancellations, and other unforeseen situations during your stay.

Currency and Finances: Familiarize yourself with the local currency (Ugandan shilling) and exchange rates. It's advisable to carry a mix of cash and cards for convenience.

Safety Awareness: Stay informed about safety and security measures in Uganda. Be cautious in crowded areas, avoid displaying valuables, and follow local guidelines.

Photography Rules: Ask for permission before taking photos, especially in sensitive or religious sites. Some places may have restrictions on photography.

Transportation Options: Research transportation options in Uganda. Taxis, public transport (matatus), and hired vehicles (taxis or car rentals) are available for getting around.

Food and Water Safety: Drink bottled or boiled water and be cautious about street food hygiene to avoid stomach issues. Stick to reputable eateries.

Tipping Etiquette: Understand local tipping customs. Tipping isn't mandatory but is appreciated for good service.
Conclusion
Even though Uganda doesn't offer a Visa On Arrival, there are still loads of options for you. Make sure that the visa type you apply for suits your purpose of travel best.
Government Sources
We know how important accurate and up-to-date information is, especially information about visas. This is why we only use government websites as our source of information.
Frequently Asked Questions
Can Indians apply for the Uganda eVisa online?
Yes, Indian citizens can usually apply for the Uganda eVisa online. The eVisa is a convenient option for obtaining a visa before travelling to Uganda.
Is it advisable to book accommodation before applying for the Uganda eVisa?
Yes, having a confirmed accommodation booking is often a requirement for the eVisa application. Ensure you have the necessary documents before applying.
Can Indians obtain a visa upon arrival for urgent travel needs?
Unfortunately, as of now, there is no Visa On Arrival option for Indians in Uganda. Plan your travel well in advance to secure the necessary visa.
What should I do if my Uganda eVisa application is rejected?
If your eVisa application is rejected, review the reasons for rejection and consider addressing any issues before reapplying. Seek guidance if needed.
Is there a specific dress code or cultural etiquette I should be aware of in Uganda?
While there is no strict dress code, it's respectful to dress modestly, especially in religious or rural areas. Familiarise yourself with local customs to ensure a culturally sensitive visit.
Can I travel to Uganda with a tourist visa for volunteer work or charity activities?
The tourist visa may not be suitable for volunteer or charity work. Consider exploring other visa options, such as a volunteer visa or work visa, depending on the nature of your activities.
Is it possible to obtain a visa for Uganda upon arrival for medical treatment purposes?
No, you can't. I advise you to contact the Uganda Embassy in India for advice on which visa you must apply for. This is just to ensure you apply for the correct visa as there is no medical visa.
Author: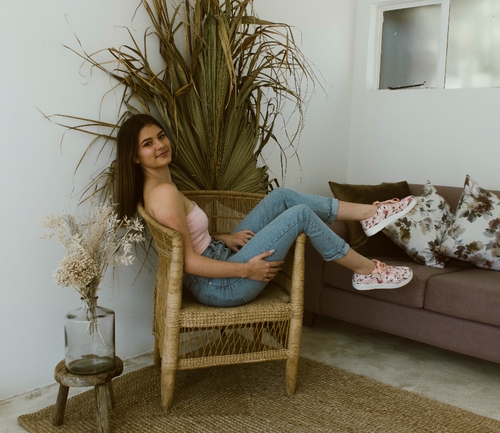 Laliq Schuman
Verified Author: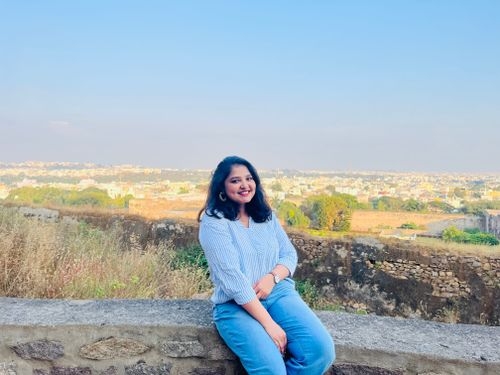 Nikhita Rathod