Uzbekistan Business Visa: Requirements & Application In 2023
Last Updated : 04-Sept-2023
Atlys in the news
30-second summary
Indian nationals travelling to Uzbekistan must apply for the Uzbekistan business visa, which allows them to visit for business activities.
You can complete the application online.

Uzbekistan business visa for Indians doesn't require you to submit your passport offline.

Once your visa is approved, you will get a digital copy that you can use to enter.
Important Information
Uzbekistan
— Is a Visa Required?
Yes, Indians need the Uzbekistan business visa for Indians.
— Visa Process Type
The visa process type is Online application.
— Uzbekistan Business Visa Validity
The Business visa remains valid for 3 months as a single entry.
— Length of Stay
You can stay in the country for up to 30 days.
— Uzbekistan Visa Cost
The Uzbekistan business visa fee is $20 for a single-entry business visa.
— Processing Time
The Uzbekistan business visa processing time is  6 working days.
Are you an Indian business person attending a meeting or a conference in Uzbekistan? Here is what you need to know about the Uzbekistan visa for Indians.
Do I Need A Uzbekistan Business Visa For Indians?
Yes, Indian citizens require a visa to enter Uzbekistan for business purposes. This would typically be a business visa. 
A business visa for Uzbekistan allows individuals to travel to Uzbekistan for business-related purposes, such as attending meetings, conferences, negotiations, and other business activities. 
Business visas are generally issued to foreign nationals who intend to engage in only commercial or professional activities in the country.
What Are The Business Visa Requirements For Indians?
A successful visa application requires the submission of all the required documents, and failing to do so could lead to the rejection of your application. The following documents must be present for Indian citizens:
1

A valid passport with at least six months of validity beyond the intended stay.

2

A completed visa application form.

3

An invitation letter from a business partner or organization in Uzbekistan.

4

Proof of travel arrangements (flight itinerary).

5

Passport-sized photos as per the specified requirements.

6

Proof of financial means to cover your stay and expenses in Uzbekistan.
How To Get An Online Uzbekistan Business Visa From India?
Here is how to Apply for a Uzbekistan Business Visa for Indians.
Step 1: Fill in Your Info
Begin by going to the official Uzbekistan eVisa website. Choose your home country, passport-type, and why you visit Uzbekistan. Then you'll choose the business.

Step 2: Choose Your Dates
Decide on the specific dates you plan to be in Uzbekistan. Remember, the eVisa is only valid for the dates you pick. Although it's good for 90 days, your stay can't exceed 30 days.
Step 3: Tell About Yourself
Provide your name, birthdate, nationality, passport number, and expiration date. Accuracy is important to avoid any issues. Also, mention your current address and place of birth.
Step 4: Send Photos and Passport Page
Submit a photo of yourself that meets the visa requirements. Also, scan and send the first page of your passport showing your name and passport number.
Step 5: Give Your Email
Enter an email address where you can receive updates about your eVisa application.
Step 6: Pay for the Visa
Pay the eVisa fee online using a Visa or MasterCard. It's $20 or around 1,655 INR, and this payment isn't refundable. Once you pay, you'll receive a confirmation email with an application number.
Step 7: Get Your Visa
The Uzbekistan government will review your application after you submit it. If they approve, they'll email you a Business Online Visa. Remember to print it out and show it to the immigration officials when you arrive in Uzbekistan.


How to check the Uzbekistan business visa for Indians?
If you want to know if your Uzbekistan visa is ready, just follow these easy steps:
1

Open the official website for Uzbekistan's eVisa application.

2

Find and click on "Application Status."

3

Put in your application ID and passport number where they ask.

4

Type the security code you see on the page, then press "Check." This will show you if your visa is ready.
Everything You Need To Know About Uzbekistan business visa from India
Here is what you need to know about the Uzbekistan business visa from India.
All Done!
In conclusion, the Uzbekistan business visa for Indian citizens the opportunity to engage in productive business activities within the country. With a validity of 3 months and a maximum stay of 30 days, this visa provides a chance to explore opportunities, attend conferences, and foster collaborations. 
Happy travelling!
Government Source
At Atlys, we are very serious about the information we provide, and we use government websites to ensure it's super accurate. All the information you read here comes straight from reliable government sources, like 
So, you can trust that what you read is true and reliable!
Frequently Asked Questions
Yes, Indian citizens need a visa to travel to Uzbekistan for business purposes. It's permission to visit Uzbekistan for business-related activities like meetings, conferences, and negotiations.
Author:
Mable Chidi
Verified Author: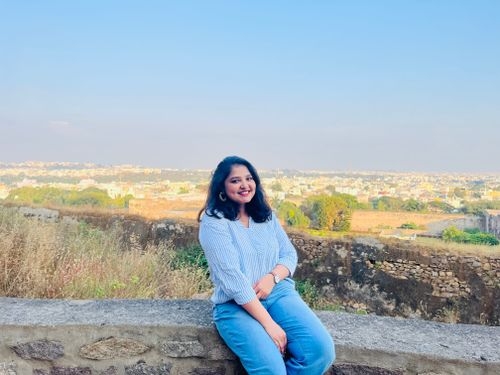 Nikhita Rathod