Uzbekistan Student Visa for Indians: Application Guide
Last Updated : 04-Sept-2023
Atlys in the news
30-second summary
Indian nationals travelling to Uzbekistan must apply for a student visa that allows them to visit for study purposes.
You can complete the application at the embassy.

Uzbekistan student visa does require you to submit your passport offline.

Once your visa is approved, you will get a visa stamp on your passport 

The Uzbekistan student visa requires a copy of your passport, one photograph, and more.
*Atlys does not provide this visa.
Important Information
Uzbekistan
— Is a Visa Required?
Yes, Indians need a student visa for Indians.
— Uzbekistan student visa Validity
The student visa is valid for up to 1 year.
— Uzbekistan Student Visa Cost
The Student visa is $175 for a single entry.
Are you an Indian planning to go to study in Uzbekistan? You need to know here about the Uzbekistan Student visa for Indians.
Do I Need A Uzbekistan Student Visa For Indians?
Yes, Indians need a Uzbekistan Student visa for Indians. The Uzbekistan student visa for Indians is a special visa that lets Indian students study in schools and colleges in Uzbekistan. It's given for up to 1 year. 
Indians must visit the local offices of the Uzbekistan Department of Migration and Citizenship Processing, which are part of the internal affairs bodies, within three days of their arrival in the country. This procedure ensures timely registration and compliance with the country's regulations.
You can apply for a Student visa for the following different educational levels:
Regular high school education

College and university degrees

Higher studies after getting a degree
What Are The Uzbekistan Student Visa Requirements For Indians?
Here are the documents required for the Uzbekistan visa.

1

One copy of the visa application form completed and signed by the applicant.

2

One photograph. Attach recent colour passport-sized photographs to your application form.

3

Passport (Passport must have at least one blank page to affix the visa).

Additional documents that you'll need: 

1

Unconditional admission letter from the university.

2

Letter from The university/school confirming receipt of payment.

3

Guarantee letter signed by the sponsor and student.

4

Consent letter from the parents if the applicant is under 18.

5

Officially approved bank statement for the last 3 months.
How To Get An Uzbekistan Student Visa From India?
Applying for an Uzbekistan Student Visa from India might be complicated. Here is how you can 
2

Travel Information: You must complete the visa application form accurately and legibly.

3

Gather Documents: Prepare for your travel by having the required information on hand, such as, travel dates, number of entries required, estimated length of your stay, and visa issuance location. 

4

Fill in Personal Information: You must fill in your personal information with accurate personal details, including full name, as in passport, passport information (number, expiration date, etc.), contact information (address, phone number, email), employment/education details, your purpose of visiting Uzbekistan, details of the inviting party in Uzbekistan. Ensure all required fields are filled, and attach the necessary photos. 

5

Submit the Visa application: Download the completed visa application, then take your completed application and documents to the Uzbekistan embassy or consulate in India. Pay the prescribed visa fee when submitting your application.

6

Await Processing: The typical processing time is approximately 6 days, during which your credentials and details are verified for accuracy and compliance.

7

Receive Your Visa: Once your application is approved, collect your Uzbekistan Student Visa. Review the details on the visa to ensure they align with your travel plans and academic journey.
Everything You Need To Know About Uzbekistan Student Visa from India
You need to know here about the Uzbekistan Student visa from India.
The processing time for the Uzbekistan student visa typically takes 6 days. 

The processing period can take longer due to various stages, such as security checks, verification of your travel details, and confirmation of your purpose of visit.

The specific visa fees for Indians applying for a student visa to Uzbekistan can vary based on factors such as visa type:




​​Single Entry Visa: up to 1 year $ 160 + actual charge of $ 15

Multiple Entry Visa Fee: ​​up to 1 year $ 250 + actual charge of $ 15

Note that the visa fees are subject to change without notice.
What To Expect In Uzbekistan With A Student Visa For Indians?
As an Indian in Uzbekistan, here's what you can expect:
Expectations:
Follow Uzbekistan's laws, respect local culture and traditions, and follow the rules for foreigners in the country.

Attend classes, participate actively, and complete assignments and exams according to your curriculum.

Respect the rules of your educational institution and student housing.

Obey the instructions given by the leaders of your school or college.
Responsibilities:
Adhere to the laws and regulations of Uzbekistan.

Show respect for the local customs and traditions.

Follow the rules for foreign citizens' stay and movement in the country.

Attend classes regularly, actively participate, and complete assigned tasks and exams as per your curriculum.

Abide by the internal rules of your educational institution and student accommodation.

Comply with the directions given by the educational institution's authorities.
All Done!
In conclusion, obtaining a student visa for Uzbekistan as an Indian student opens up exciting educational opportunities. With a visa validity of up to 1 year, you can immerse yourself in a rich cultural and academic experience. Remember to stay updated with the latest visa requirements.


Happy travelling!
Government Source
At Atlys, our dedication to authenticity shines as we curate content from reputable government sources. With a touch of meticulous fact-checking, our goal is to infuse knowledge with excitement. The information in this blog has been gathered from reliable sources such as:
Frequently Asked Questions
Yes, you can travel within Uzbekistan while on a student visa.
Author:
Mable Chidi
Verified Author: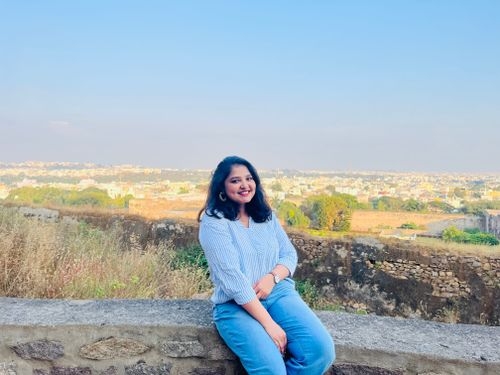 Nikhita Rathod