Vietnam Tourist Visa For Indians 2023: Application & Visa Fees
Last Updated : 12-Sept-2023
Atlys in the news
30-Second Summary
Indian citizens travelling to Vietnam will need to apply for a visa. You can apply for a Vietnam tourist visa which will allow you to enter the country for leisure, sightseeing, or other tourism purposes.
You can complete the e-visa application online if you wish to stay in Vietnam for less than 30 days.

There is no need to submit your passport in person at the embassy when applying online.

When your Vietnam e-visa gets approved, you will receive a digital copy which you can use to enter Vietnam.

You must submit your application 30 days before travelling to get your visa on time.
The blog will provide you with different ways of applying for your Vietnam tourist visa.
Important Information
Vietnam
— Is a Visa Required?
Yes, it is. Indian citizens need a visa to enter Vietnam.
Learn More
— Length of Stay
Length of stay of the Vietnam tourist visa is 3 months.
— Vietnam Visa Validity
The validity of the Vietnam visa is 30 days for a single entry.
Learn More
— Vietnam Visa Cost
The visa cost when applying for Vietnam visa online is USD 25.
— Vietnam Visa Processing Time
The visa processing time for the Vietnam tourist visa is around 2 weeks.
Learn More
Do Indians Need A Visa For Vietnam?
Yes. Indian citizens must have a valid visa to enter the country.
Fortunately, there are several ways of getting a visa, and they are all relatively simple. You can apply for a Vietnam visa online at Atlys or the Embassy.
Both e Visas for Vietnam and tourist visas serve the same purpose: allowing travellers to visit a foreign country for tourism. 
However, eVisas are obtained electronically, typically with a streamlined online application process, while traditional tourist visas involve a longer application process, including physical document submission.
In this comprehensive guide, you will find all the essential steps for obtaining a tourist visa for Vietnam from India.
Can Indians Apply For A Vietnam Visa on Arrival?
Yes, Indian citizens are eligible for the Vietnam Visa On Arrival (VOA) and can request it upon arriving at the designated entry points. It's essential to emphasise that an approval letter is required for your VOA application. 
Atlys highly advises securing your visa before your Vietnam trip for a smoother and more convenient experience.
How To Apply For Your Visa With Atlys
If you're pressed for time and need your Vietnam eVisa from India quickly, Atlys is here to make the application process as fast as possible. 
The visa application takes less than 10 minutes to complete, and here's how you apply:
Before submitting your online application, ensure that you have all the necessary documents in your possession: 

A clear photograph of yourself 

Note: Download and save both the photo and passport as either 'jpg' or 'jpeg' files.

Navigating the process of applying for a Vietnam eVisa has never been easier. You can secure your Vietnam visa for indians from the comfort of your home in just a few simple steps. Here's a quick overview of what to expect when applying online through Atlys.

1

Visit the Atlys website or download the app.

2

Choose the country and your intended travel date.

3

Fill out the Vietnam eVisa application form, providing accurate information.

4

Upload a copy of your passport information page and a passport-size photograph.

5

Pay the visa processing fee using secure online payment options.

6

Track the status of your application by entering your reference number and passport details.

7

Receive your approved eVisa via email or download from the online dashboard or app.

It's as easy as that! With Atlys, Indian nationals can easily apply for their Vietnam eVisa and enjoy a stress-free travel experience.

To check the status of your Vietnam visa, follow these simple steps:

2

Scroll down until you reach the "My Documents" section.

3

Inside "My Documents," find your Vietnam visa.

4

Click on your visa to access its current status.
Visa Requirements Through Government Channels
Make sure that you have all the correct documents for your visa application. Forgetting to add a document will extend the processing time or, in extreme cases, cause them to deny your application.

You need the following documents for a visa to Vietnam from India:

Your current passport is valid for at least 6 months from the date of arrival.

Your passport must have at least 2 blank pages.

Two passport-size photographs. Suppose you don't want your visa rejected because your passport photo doesn't meet the requirements. In that case, I suggest using the Atlys photo tool to ensure you have the perfect visa photo.

The Vietnam visa application form completed and signed.

If you apply in person at the Vietnamese Embassy in New Delhi, you can find the application form at their offices or website.

Visa approval document issued by the Immigration Department of Vietnam.

Proof that you paid your Vietnam Visa application fee (payslip).

Bank statements for the last three months.

Travel insurance is advised. You can get your travel insurance through Atlys when applying for your visa.

Remember that these documents are for a Vietnam Tourist Visa for Indians. You might need additional documents if you are applying for another Vietnam visa.
Steps to Apply For a Vietnam Visa through the Government Channel
Well, if you have decided to apply for your Vietnam tourist visa for Indians through a Vietnam Embassy or Consulate, you're in luck.
I have covered each step in detail to make the visa application easier:
The first step is to get your Vietnam visa application form. You can also find your application form at the office of the Embassy you're applying at or on their official website.

The other way is to complete the online application form on the Ministry of Foreign Affairs of Vietnam website. First, change the language to 'English' on the top right-hand corner of the application webpage to make it easier.

You can fill out the online application form for various purposes such as tourism, business, other short-term visas, etc. Once you have completed the online form, you must print out the application form to submit with other documents at the Vietnam Embassy.

After filling out the application form, attach all the required travel documents (passport, passport photo, pay slips) to your application form.

Don't forget to print out the visa application form you filled out online and submit it with your visa application.

Once you have completed all the steps mentioned above, you can submit the application at the Embassy. You can submit these documents at the Vietnam Embassy in New Delhi or the Vietnam Consulate General in Mumbai.

For additional information, click "View Vietnam Embassies" on the left-hand side of the webpage.

After submitting your application, you must pay the Vietnam tourist visa fees for Indians. Confirm with the Embassy if you have to pay the application fee in cash or with a card.

Note: To prevent any payment-related problems with your Vietnam eVisa application, reviewing the Vietnam eVisa payment issues and solutions is advisable.

After you pay the Vietnam visa fees for Indians, your Visa for Vietnam is ready to be processed. The visa processing time is based on individual applications and differs depending on the type of visa.

You should work with 2 weeks of processing time to be safe.

The Embassy will inform you via email or phone if your tourist visa is approved. Next, collect your Visa for Vietnam at the Embassy; they will attach the visa to your passport, which you can use to enter Vietnam.

And that is how you get your Vietnam tourist visa for Indians!

If you apply for your visa using Atlys, you won't need to worry about the nitty-gritty details. Atlys makes the visa application process easy and fast.

To check the status of your Vietnam tourist visa for Indian citizens through the government portal, you will need the following:

Here are the steps you need to follow:

1

Visit the official government portal.

2

Locate the visa status check section.

3

Enter your application ID and application code.

4

Click on "Check Status."

This process allows you to track the progress of your visa application using the government's online system.
Overview of the Tourist Visa for Vietnam from India
Let me answer all your questions about the visa for Vietnam from India before we move forward. Some of the questions you might have are:
The processing time for a Vietnam Tourist Visa for Indians is approximately 2 weeks when applied through the embassy. However, the visa processing time for a visa for Vietnam from India could take more than two weeks in some cases.

Remember, the visa processing time differs depending on the Vietnam visa you have applied for. In addition, you can request instant processing and receive your documents the same day.

A Vietnam tourist visa fees for Indians is USD 25, which is approximately ₹ 2 074 for a single entry 30-day tourist visa when applied through the embassy.

Whereas a multiple entry visa valid for 3 months costs USD 50, approximately ₹ 4200. Please note that the visa fees can change due to the current exchange rate.

The Vietnam visa fees for Indians are also non-refundable. You will be charged extra fees if you opt for an instant visa processing service at the Embassy.

The visa for Vietnam from India can be a single-entry visa or a multiple-entry visa. So, a single entry visa for Vietnam from India could be valid for up to 3 months, but you can stay there for a maximum of 30 days.

Remember, the Embassy will determine your visa's validity and stay period.
What Are The Types Of Vietnam Visas For Indians?
As you now know, there is a Vietnam Tourist Visa for Indians. However, if you wish to travel to Vietnam for something other than tourism, you must apply for another type of visa.
The Vietnam Immigration Department issues the following visas to enter Vietnam:
Vietnam Business Visa (DN):
This short-term Vietnam Business visa allows business people to enter Vietnam for meetings, conferences, or other business purposes.
Vietnam Work Visa (DN/LD):
A Vietnam Work Visa is a short-term visa that allows foreigners to work or conduct business in Vietnam with a Vietnamese company.
Vietnam Student or Internship Visa (DH):
This visa is issued to foreigners who enter Vietnam to study in a Vietnamese educational Institution or do an internship.
Vietnam Diplomatic Visa (NG1-NG4):
The Vietnam Diplomatic Visa is for diplomats or government officials and their accompanying family members.
Vietnam Investor Visa (DT):
The Vietnam Investor visa is issued to foreigners who want to enter Vietnam to invest in a business in Vietnam.
Vietnam Transit Visa:
Suppose you are changing planes in a Vietnamese airport and intend to leave the airport's international transit area. Then, you must apply for a Vietnam Transit Visa.
You can get more information about Vietnam Visas for Indians on our comprehensive Vietnam Visa Information Guide.
Get Ready For Vietnam!
Ready, set, apply! Experience all the wonders of Vietnam. It's no mystery why they are some of the nicest and happiest people. Who would be sad when living in a place like that? After reading this post, you have all the tools to apply for your Vietnam Tourist Visa for Indians successfully.
What are you waiting for? Get your visa and enjoy your trip!
Government Sources:
All the information in this blog is sourced from official government websites, ensuring reliability and accuracy. You can trust the content to be accurate, but remember to stay informed, as changes may happen without notice.
Frequently Asked Questions
A Vietnam Tourist visa for Indians is the most popular type of visa, and it's typically valid for 15-30 days. It allows you to enter Vietnam for tourism, meaning you cannot work on this visa. If you want to visit Vietnam for other purposes, you must apply for a relevant visa.

This blog will tell you how to apply for your tourist visa. But remember, the simplest way to apply for any visa is using Atlys.
Author:
Mable Chidi
Verified Author: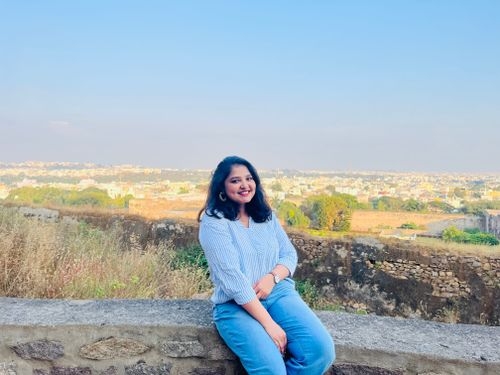 Nikhita Rathod