Dubai Tourist Visa Requirements for Filipinos: Essential Guide
Last Updated : Sep 4, 2023
Atlys in the news
Philippine citizens must obtain a Dubai tourist visa before traveling to the country. Hence, I listed the essential information first to give you a gist of the visit visa requirements in Dubai.
Visa required: Yes.
Type of visa available for tourism: Dubai tourist visa, also known as the Dubai visit visa.
Dubai visa validity: 30 to 60 days visa for single or multiple entries.
Dubai visa processing time: 2 - 5 business days.
Easiest way to apply: Atlys
This post also includes the Dubai tourist visa requirements for Filipinos, how to apply, processing times, and the cost. Well, what are we waiting for? Let's dive in!
Save Some Time And Apply Through Atlys!
If you want to skip the hassle of applying for a Dubai Tourist Visa, download Atlys. This app streamlines the visa process and guides you through the entire visa application process.
The app also saves your information, meaning the next time you apply for your Dubai visa through Atlys, it'll be even faster.
You'll enjoy access to features such as expedited processing, real-time status updates, and guidance throughout the application process.
Do Filipino Citizens Need A Visa For Dubai?
Yes, Philippine passport holders must have a valid UAE visit visa.
Since Filipinos are not eligible for a visa on arrival or visa-free entry to the United Arab Emirates, you must apply for a Dubai tourist visa before your trip.
There are, fortunately, several ways to get a Dubai Tourist Visa, and the process is simple.
So, What Is A Dubai Tourist Visa?
A Dubai or UAE tourist visa is a short-term visa, meaning the visa is only valid for a short period. However, if you overstay your visa (longer than your visa's expiry date), you'll get a fine, so check your expiry date after your visa's date of issue.
You can apply for a Dubai tourist visa if you are going for tourism, visiting friends and family, or even for recreational purposes. You can apply for this visa without hassle (single-entry or multiple-entry visa).
With this visa, you can enter any part of the UAE, including Abu Dhabi.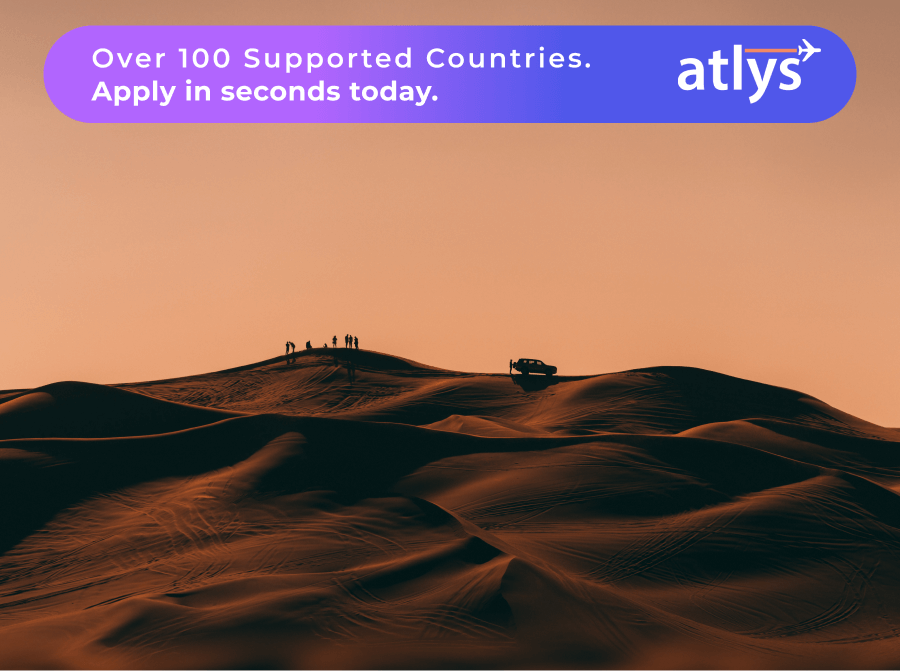 Dubai Tourist Visa Requirements And Eligibility Criteria
Before starting your visa application process, you must know the Dubai tourist visa requirements. Therefore, I'll discuss all the visa requirements in this section.
What Are The Dubai Tourist Visa Requirements?
Before planning a vacation in the UAE, know all the Dubai tourist visa requirements. You must meet the following eligibility requirements to apply for a Dubai visa:
You must have a Filipino passport with at least 6 months of validity on your arrival date in the UAE.

You must supply a digital image of the passport's information page.

You must provide a passport-style photograph in the color of the applicant.

You must possess a bank card to pay the eVisa processing fee.

Use a frequently accessed email address to request the eVisa.
Have scanned copies of the above documents ready on your device for when you apply online.
What Are The Required Documents For A Dubai Visit Visa?
Before you apply for your Dubai Visit Visa, you need the following travel documents for your visa application process:
A recent passport-size photograph with a white background.

Travel bookings or hotel bookings.

An invitation letter from family members or friends inviting you to visit (if applicable).

Proof of sufficient funds (bank statements).
Depending on where you apply, you might need to provide additional documents. In addition, you need to ensure that these documents are in digital format because you apply online.
These documents are crucial for your application process; if you forget one of these documents, it could slow down the application process, or in extreme cases, officials can deny your visa.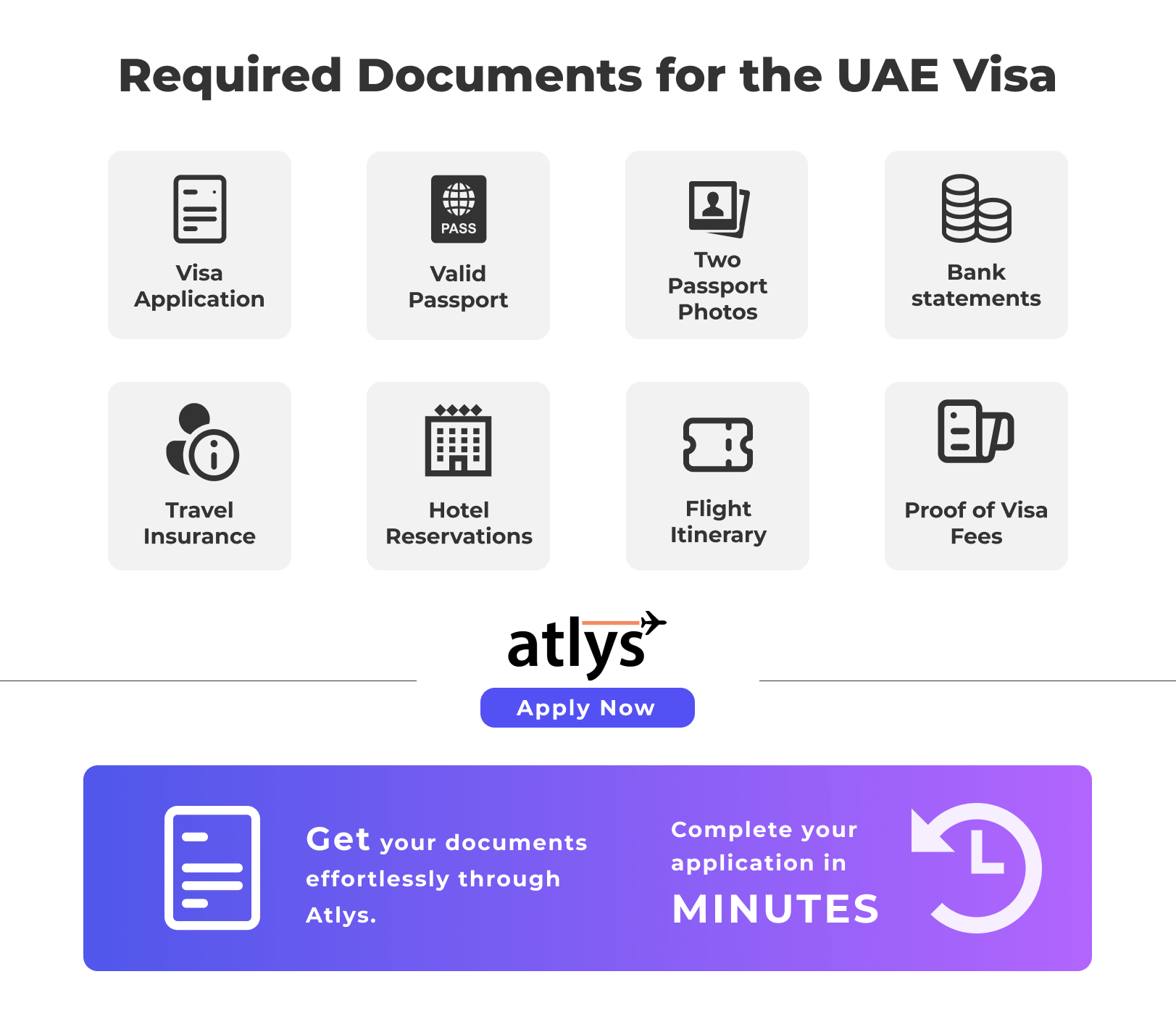 Passport Requirements For A Dubai Visa
You need to make sure that your passport meets the requirements. Your passport must have at least 6-month validity beyond your travel date and must have two blank pages.
Passport Photo Requirements For A Dubai Visa
Like your passport, your passport photo must also meet certain requirements. The passport photo requirements are:
The required photo size is 4.5 cm in height and 3.5 cm in width

The photos must be in color.

You must position your head straight towards the camera.

The photo must be taken no more than 6 months ago

The background must be white.

Your eyes must be clearly visible.

Glasses are acceptable only if they do not obscure the eyes and there is no glare in the photo.

Headwear is not allowed. Exceptions are made for religious/cultural purposes
You can also use the Atlys passport photo tool. This tool can take a photo of yourself and turn it into a passport photo that meets the requirements.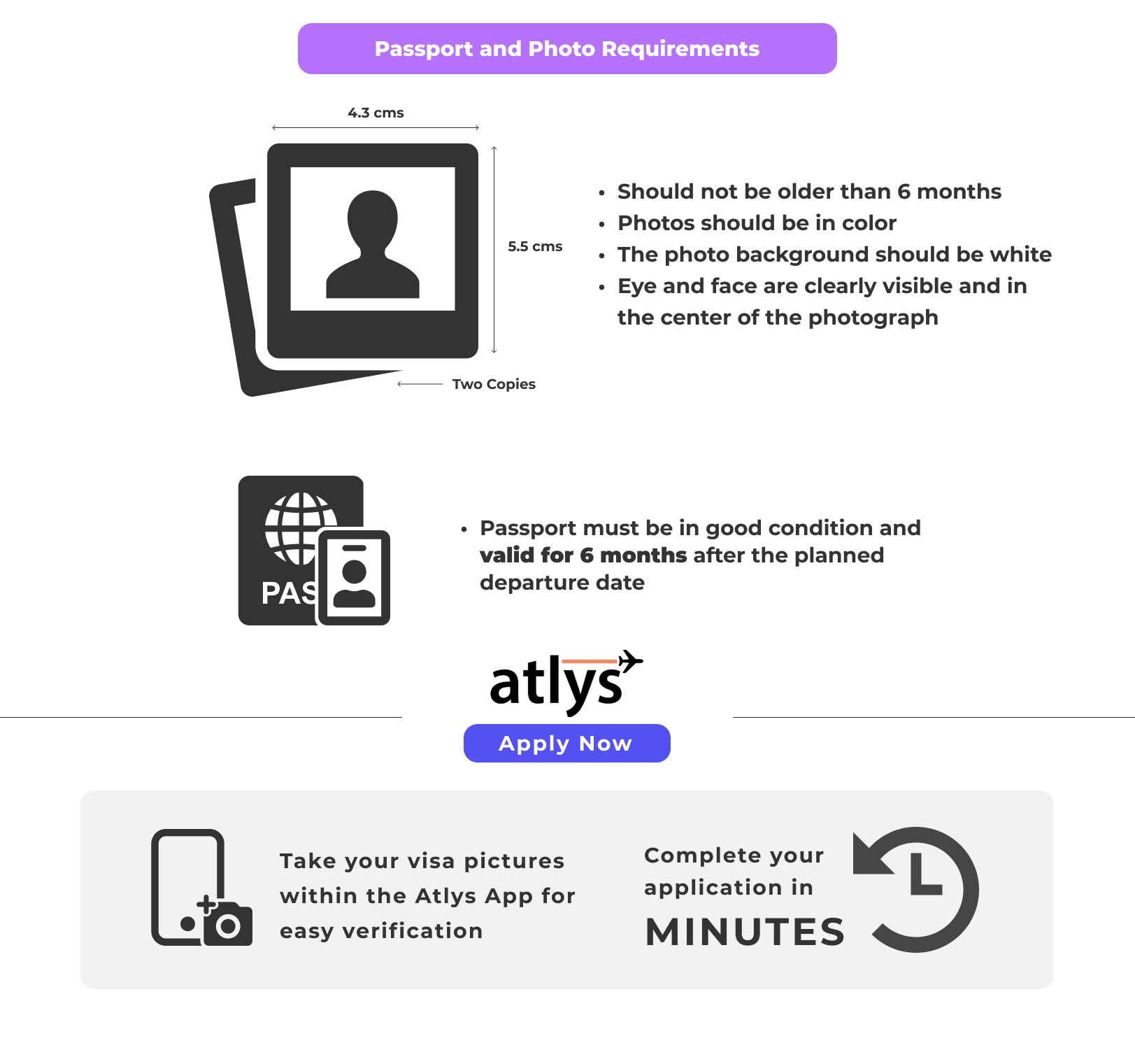 Overview Of Dubai Visa For Philippine Nationals
Now that we've looked at Dubai tourist visa requirements let's look at some of the most important information needed when applying for your Dubai visa.
Are Philippine Citizens Eligible For A Dubai Visa On Arrival?
No, Philippine citizens cannot get a Dubai visa on arrival at an International Airport in UAE.
Instead, you must apply for a Dubai visit visa before you travel to the United Arab Emirates.
What Is The Dubai Visa Fees?
The visa fees for a Dubai visa depend on which visa you apply for. I'll give you the visa fee for each visa type according to the UAE government portals:
30-day single entry: AED 250 or approximately PHP ​​3750

30-day multiple entries: AED 690 or approximately PHP 10,350

60-day single entry: AED 570 or approximately PHP 8550

60-day multiple entries: AED 1450 or approximately PHP 21,750

90-day single entry: AED 600 or approximately PHP 9000

90-day multiple entries: AED 1740 or approximately PHP 26,100
The visa fees in PHP are based on the current conversion rate and can change at any time. These are base fees based on the government sites, and generally, the visa agents add a service charge to the base fees. Atlys costs the least and is transparent about visa fees and service charges. Check the visa fees yourself on the app or online.
What Is The Dubai Tourist Visa Processing Time In The Philippines?
The visa processing time may differ, but it takes approximately 2 to 5 business days. In contrast, visa processing centers take from a week to 12 days to process your visa, excluding Saturday, Sunday, and any UAE Holiday.
You must remember that the visa processing times might differ depending on how you apply. For example, if you apply for a visa via Emirates, you might get the visa after 48 hours.
If you need the visa even quicker, I suggest you use Atlys and get your visa within 30 minutes.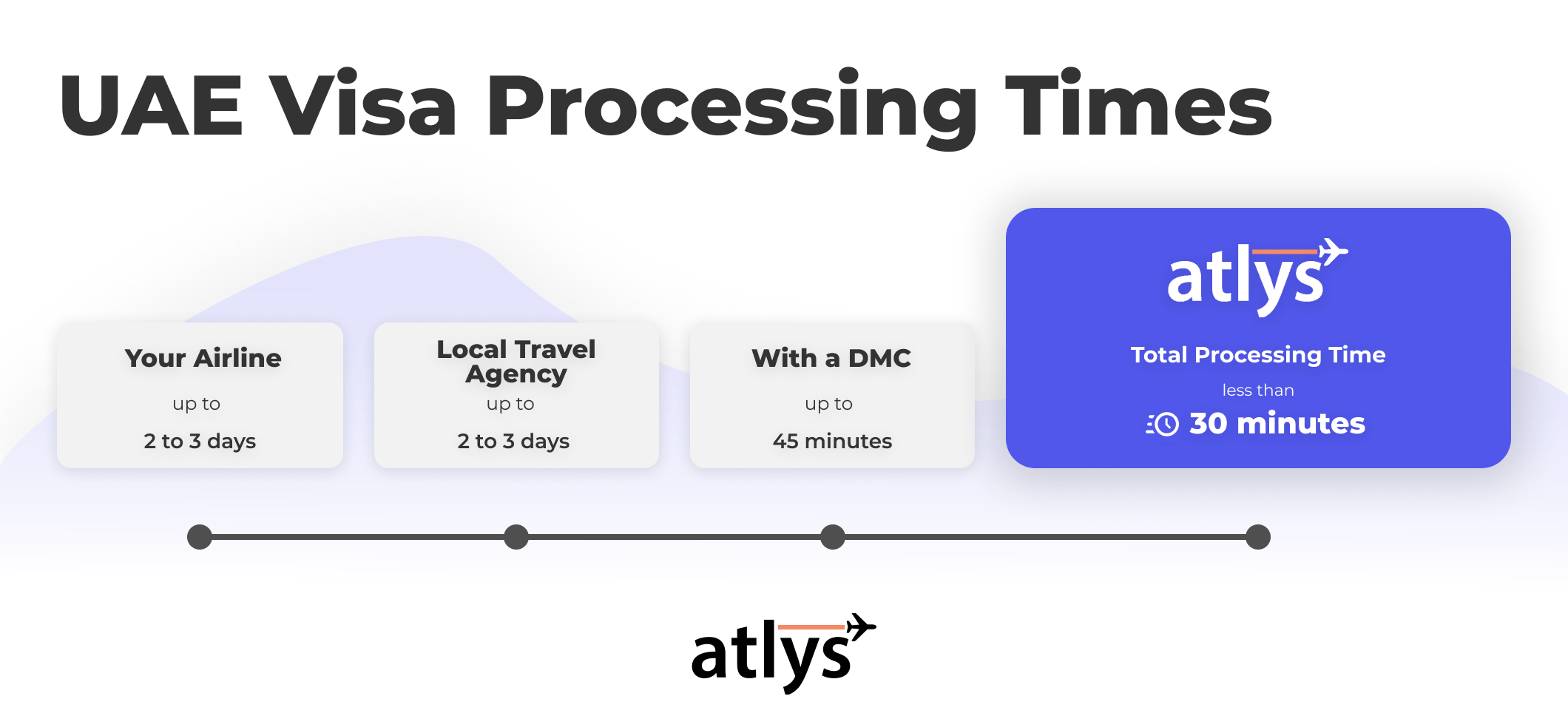 How Long Can I Stay In Dubai With My Visit Visa?
Each Dubai visa has a different validity and stay period. With each visa, you can expect the following:
All visas are valid for a period of 58 days from the date of issuance.

You have a stay period of 30, 60, or 90 days depending on the visa type.

Similarly, it allows you single or multiple entries based on your visa.

You can enter the country during the validity of 58 days and stay for 30, 60, or 90 days.

With a multiple entry visa, you can enter and leave the country multiple times within your stay period.
When Should You Apply For A Dubai Visa In the Philippines?
You should apply for your visa well in advance. I recommend you start your visa application process 14 days before your date of travel if applying through the embassy's Consular section.
If applying through the Emirates website, the visa processing could take more than 3 working days. Therefore, you should apply for your Dubai visa once you have all the documents.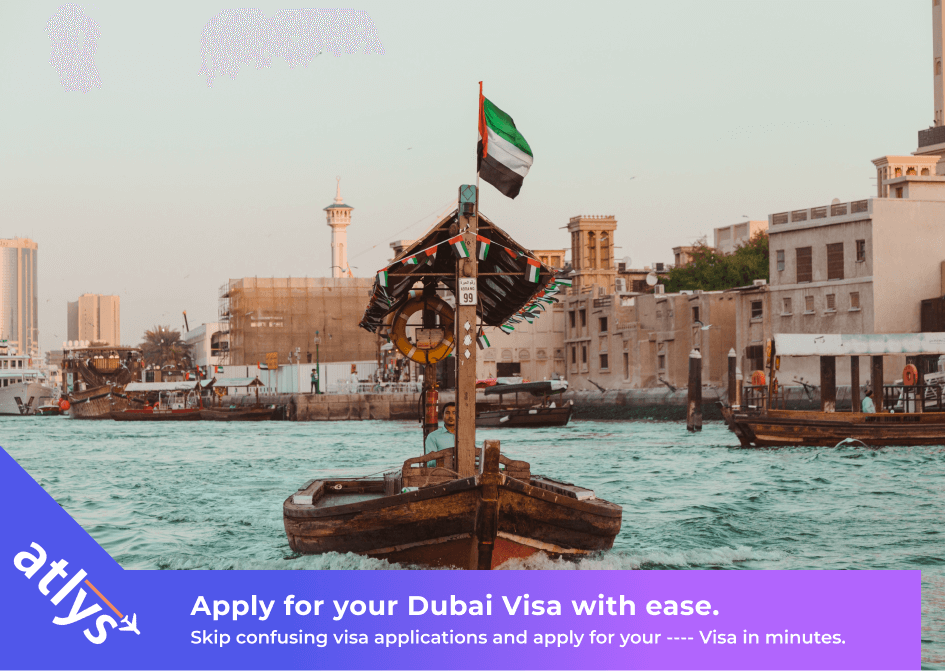 How To Get A Tourist Visa For Dubai From The Philippines?
There are many ways to get those visas. You can get your Dubai visa through Atlys, airlines, hotels, visa agencies, or online portals.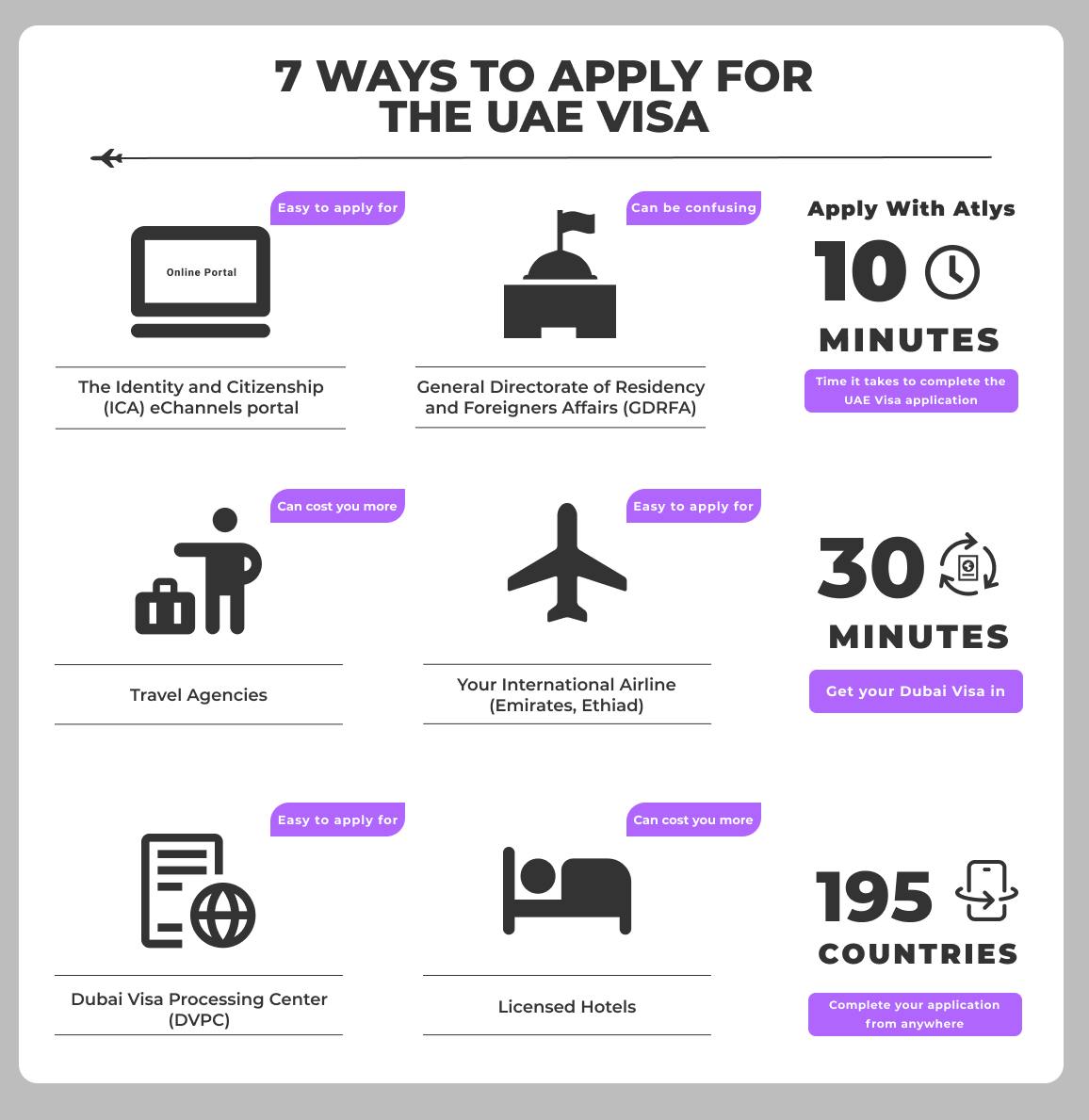 Get Your Dubai Tourist Visa Using Atlys
You can apply for a Dubai tourist visa for Philippine citizens through Atlys. Follow this quick and easy instruction to apply for your visa in 60 seconds:
1. Download the Atlys app or visit our website.
2. Select the destination country, travel dates, and visa you're applying for.
3. Scan your passport and visa photo using your phone's camera or easily upload them online.
4. Fill out the application form with your personal information.
5. Review and confirm your information is correct.
6. Pay the visa fees using your preferred mobile wallet or credit card.
7. Sit back and relax - we'll keep you updated with real-time notifications on the status of your application.
And that's it! Applying for a visa has never been so easy. Plus, if you encounter any issues along the way, our expert support team is always here to help.
Download Atlys today, or visit our website to get started.
Get A Dubai Visa Through Airlines
Each airline has some conditions which you must meet for them to arrange your visa:
One of the conditions is flying with them.

After booking your flight ticket, you can apply for a visa on their websites.

You can get your visa through Etihad Airways, Emirates Airlines, Fly Dubai, and Air Arabia.

You can fill out online applications through Etihad Airways or Emirates Airlines

Or you can contact the airlines for visa application when flying with Fly Dubai or Air Arabia
Etihad Airways:
To apply, go to the Etihad Airways website and click on "Apply for UAE visa." Next, you must fill out the application form, provide all the necessary details, attach the required documents, pay the application fees and wait for your visa.
Emirates Airlines
You can apply for your Dubai tourist visa through Emirates. Fill out an online visa application, pay, and submit the application. This service is only available to passengers with a confirmed Emirates booking where an Emirates ticket has already been issued. The itinerary into and out of Dubai should be on one ticket (PNR), which must be an Emirates flight.
Fly Dubai
This can be a bit tricky. You can't necessarily apply for the visa online through their website like with the other airlines. Instead, you need to contact a travel shop near you to see if they can help you with your Dubai tourist visa application. Unfortunately, only a few travel shops can help with your visa application for Dubai, so be sure you call to get all the relevant information.
Air Arabia
Just like with FlyDubai, you can't apply online through the website. Instead, you need to contact the Air Arabia sales center near you. When you contact them, they'll tell you everything you need to know about applying for a Dubai tourist visa through Air Arabia.
Get A Dubai Visa Through Agencies And Hotels
The UAE's licensed travel agents and hotels can arrange a Dubai tourist visa for citizens of the Philippines. To do so, you must first purchase the ticket and maintain a hotel reservation with the specific hotel.
You can also contact travel agencies in the Philippines for any tourist packages available to the UAE. This will ensure that your trip is paid for and everything is pre-arranged for you before your trip to Dubai.
Tour agencies in the Philippines can also assist you or apply for a visa on your behalf. However, you will have to provide them with the required documents for their Dubai visit visa.
It is essential to check the authenticity of the travel agents you're dealing with. Don't pay or send copies of your official documents until you are 100 percent sure the tour operator is genuine.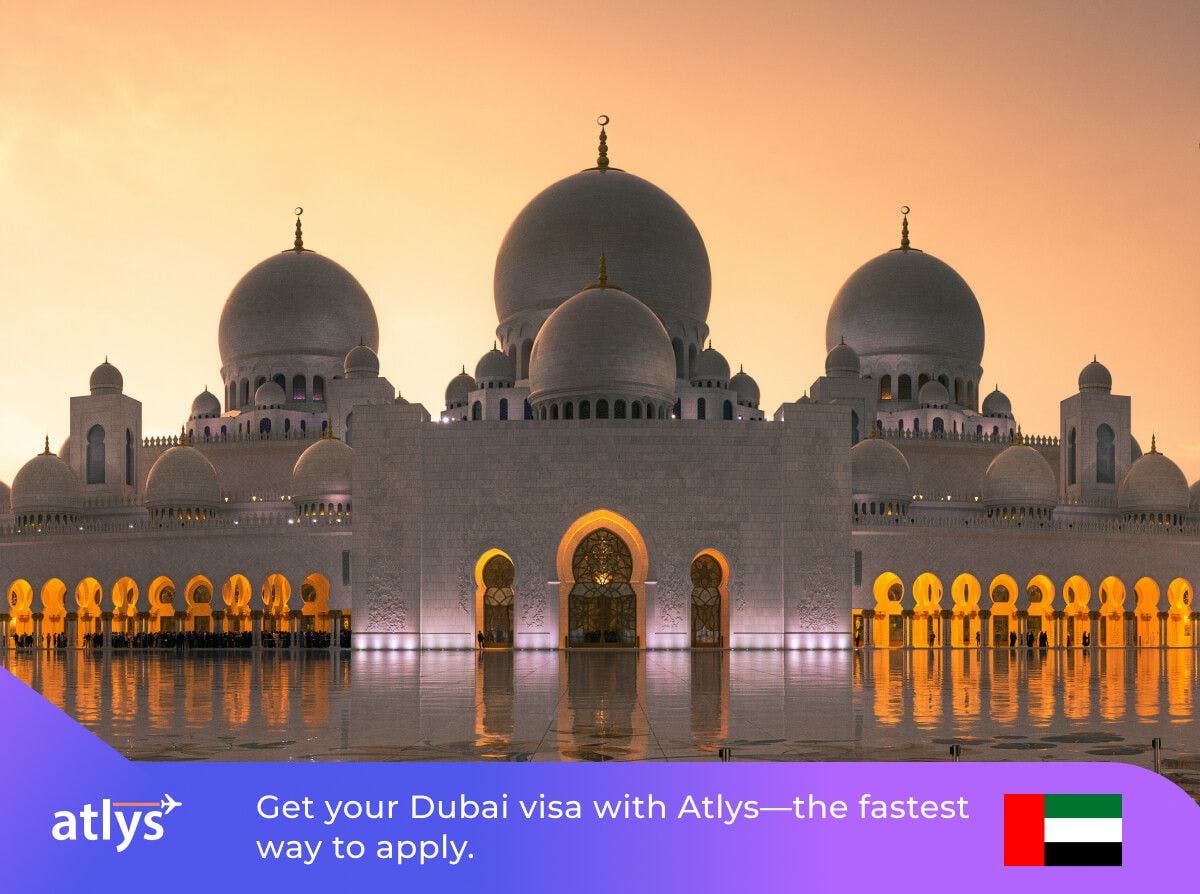 Can I Extend My Dubai Tourist Visa?
Yes, you can. Philippines citizens can apply for a visa extension in Dubai. However, you must apply to extend your Dubai Visit Visa before your current visa expires, and you can do so online. You can apply for a 30-day visa extension.
Recently, there has been news that the UAE authorities have started rejecting visa renewal requests. Applicants must leave the country and apply for a new visa to travel to UAE.
When Should I Apply For My Dubai Visit Visa Extension?
You must apply for your Visa extension at least 10 days before your visa expires. If you delay the process till the last day of your visa's expiry, you must pay a fine, which is why you must plan accordingly and apply for the Visa extension on time.
All Done!
Now you know everything you need to know about applying for your Dubai Visit Visa. This post is the only tool you need to apply for your Dubai Visa.
Government Sources:
All the information in this blog was gathered and fact-checked from government websites, such as:
Frequently Asked Questions
Filipino nationals must have their passport, valid entry permit or visa, travel insurance, and copy of their return flight ticket when passing through immigration in Dubai.
Author: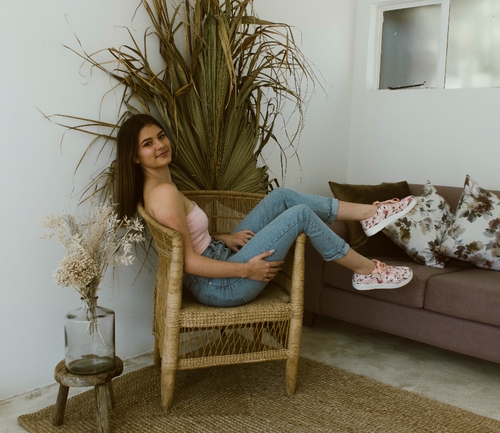 Laliq Schuman
Verified Author: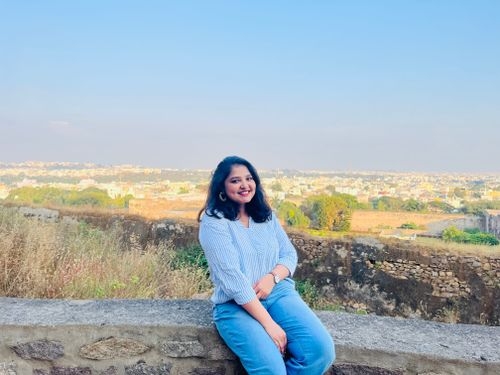 Nikhita Rathod