Passport Photo Maker - Free Visa And Passport Photo Tool
Last Updated : 10 अक्तू॰ 2023
Upload a photo of yourself to get an automatically framed and adjusted version matching passport requirements, and keep reading for our expert tips on a high-quality visa photo.
Use our free passport photo maker to get your next passport sized photo online. Simply select a photo from your library and upload it to our free passport photo maker. Your photo will automatically be cropped to ensure it meets global passport sized photos. It will also eliminate any unnecessary background from your photo.
Creating a passport size photo online has never been easier.
Why Is It Necessary To Have The Correct Passport Photo Size For Your Visa?
I know many don't think twice about their visa photo and have a photo taken just for the sake of it.
But, please don't be that person (which is why you are reading this).
It's absolutely necessary to have a visa photo that meets the specific requirements laid out by your destination country.
Your visa or passport photo is a form of identification/biometrics and must be submitted with the visa application form and the rest of your travel documents.
If your visa photo does not meet the requirements, it could lead to your visa application being rejected. Meaning that you'd have to take a new photo and submit a new visa application.
General Guidelines For Any Visa Photos
Not everyone knows the general visa photo requirements, and that's okay!
That's why I decided to first give you a general guideline to follow when taking your visa photo.
The photo must be taken within the last six months.

The photo must be in color.

The photo must be high quality and printed on photo-quality paper.

The photo must be passport-style, with a plain white or off-white background.

The photo must be of the full head and shoulders, with the face in the center of the frame.

The photo must be taken in the full-face view from the bottom of the chin to the top of the head and with the eyes open and clearly visible.

The photo must show a neutral facial expression.

The photo must be taken in natural lighting, with no flash.

The photo must be of the applicant alone, with no other people or objects in the frame.

The photo must be of the applicant without any hats or sunglasses.

The photo must be of the applicant without any distractions, such as jewelry or eyeglasses (allowed for medical reasons).

The photo must be balanced and must not have overexposure or underexposure.

The photo must not have any shadows and must be in high contrast.

A digital photo might be required if you are applying for an eVisa.
Specifications For Any Visa Photo
A lot of people don't realize that there are actually specific visa photo requirements.
Worry not, the visa photo specifications are pretty simple, and I have them all covered for you:
General Format And Specifications
General Format And Specifications
Depending on the country you are applying for, the photo size will differ.
However, always make sure that the photo is of high quality, clear, sharp, and in focus, such that your facial details are clearly visible.
Make sure that the photo was taken within 6 months of visa application and is in color. Almost all countries do not accept black and white photos anymore.
Do not alter your images or put them through software that would manipulate the photo. For example, do not remove blemishes or freckles from your face or edit the color or shadows in the photo.
But if you already have a digital photo that needs small tweaks to meet the requirements, you can use our Visa Photo Tool, which will automatically format and crop your photo.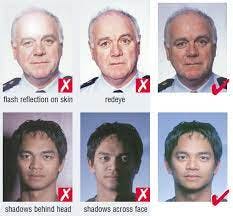 Face
When taking the photo, it is important to have a neutral expression without you frowning or smiling and with your mouth close.
Your face must be in the center of the photo with the correct head position, and your shoulder must also be visible. Meaning the photo must show a full front view, both sides of the face visible (no side profile photo), and your head must not be tilted.
There should be no objects visible in front or behind you. Also, make sure that no hair is covering your face either.
Your eyes must be clearly visible without showing red eyes or anything obstructing the view of them. If you wear eyeglasses, ensure that there is no flash or reflection on them.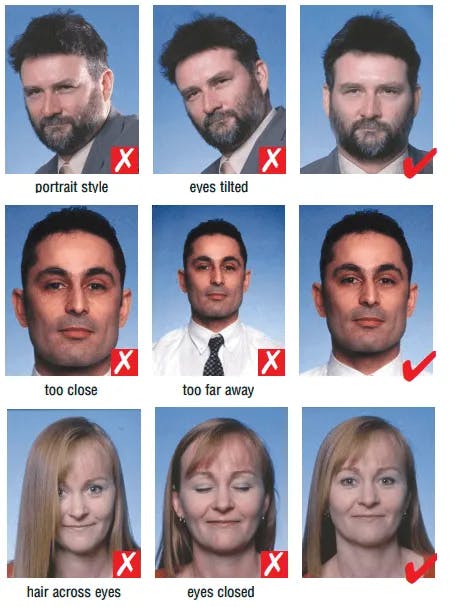 Clothes and Accessories
In your visa photos, head covering is only allowed for religious reasons. However, it would be beneficial if you checked the requirements regarding what clothes are allowed for religious purposes.
However, do not wear hats, head covering, or headgear that are not permitted or are not for religious purposes. Make sure that it does not obscure your hair or hairline.
Do not wear any uniform in your visa photo. Try and wear normal everyday or casual clothes. Also, do not wear clothes that create unnecessary reflections or match the background.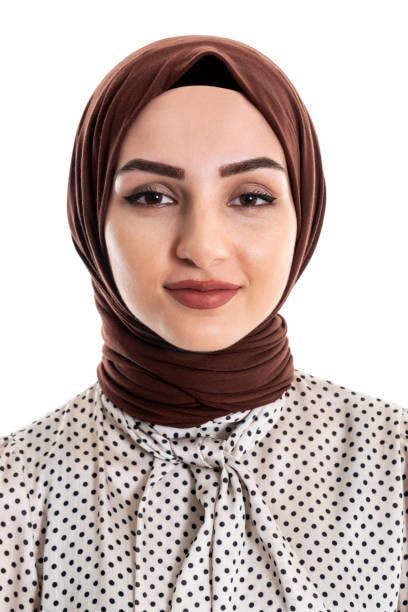 Background
Always make sure that when taking any visa or passport photo, the background is clear, and there are no visible objects.
The background color should be either plain white, off-white, grey, or cream background. And, there should be no shadows or flash reflections on the background.
Also, the background color could vary depending on the allowed color by your destination country.

Glasses
Having clearly visible eyes in the visa photo is crucial to ensure that accurate biometrics is captured. So, depending on the country, you would be allowed to wear glasses for medical purposes or as long as they do not obstruct the clear view of your eyes.
If you wear glasses, make sure that the frame is thin, does not cover your eyes, and does not create refraction or cause red eye in the photo.
For example, a US citizen or resident applying for a US passport or Green Card cannot have their eyeglasses on. Unless they recently had an ocular surgery and have a medical document from a health practitioner stating they must wear eyeglasses.
The glasses cannot be tinted, dark in color, or mirrored. So if possible, it is best to not wear your eyeglasses.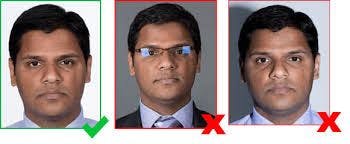 Children
Taking accurate visa photos of children can be tricky. Hence, most countries are slightly lenient when it comes to a child's visa photo.
But for a child between one to six years old, the following should be kept in mind:
The child's mouth must be closed

The eyes must be open and visible

No hands or objects, such as a baby stool visible in the photo

Their facial features must be visible

Meet the correct format and specification
When it comes to taking a visa photo of an infant, you can lay them on a plain white sheet on their back. And when their mouth is closed, and eyes are open, you must take a photograph.
Or you can use a plain white sheet on the toddler's car seat and take their photo then.

Exceptions
There may be difficulties for applicants with disabilities. So a good image will be accepted as long as it is accompanied by a statement regarding their disabilities and that they cannot meet the requirements.
Photo Size
Regardless of the photo size, always ensure that the photo is of high quality and printed on heavyweight low gloss or matt photographic paper.
And depending on your destination country, the photo size would differ. For example, for a US visa, you would need a 2x2 inches or 600x600 pixels photo.
Contact the relevant country's embassy or consulate general if you are unsure of the photo size.
However, generally, the visa photo size is one of the following:
3.81 x 3.81 cm | 1.5x1.5 inches | 450x450 pixels

3.5 x 4.5 cm | 1.38x1.77 inches | 413x531 pixels

3.5 x 3.5 cm | 1.38x1.38 inches | 413x413 pixels

3 x 4 cm | 1.18x1.57 inches | 354x472 pixels

5x7 cm | 1.97x2.76 inches | 591x827 pixels

3.3x4.8 cm | 1.30x1.89 inches | 390x567 pixels

5.08 x 5.08 cm | 2x2 inches | 600x600 pixels
How Does A Visa Photo Look
As I mentioned many times throughout the blog, the requirements and photo size will depend on the country itself. So make sure to check that before you take your visa photo.
This is only to give an idea of what a visa photo should look like.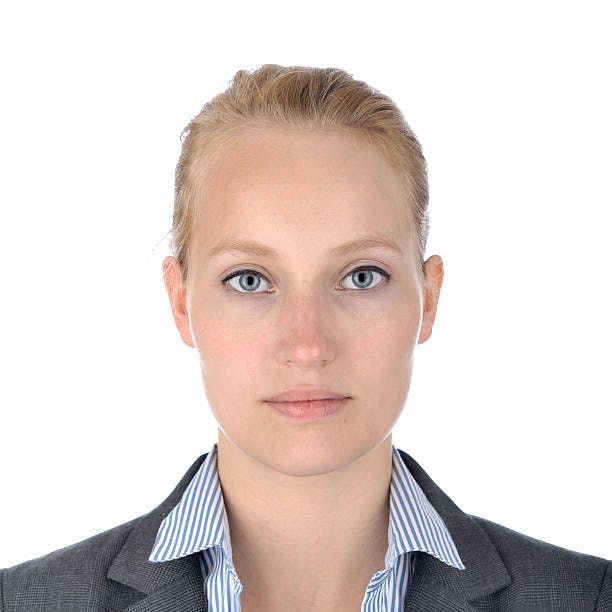 Can I Take My Own Visa Photo ?
Although it is possible to create a visa photo by yourself, it is required to have someone else take it according to the official rules.
But, with technology, anything is possible these days. And anyway, how would someone know the difference?
If you follow the rules and meet the requirements, you can take your own visa photo.
You might need a phone stand, remote trigger, or a timer that would allow you to get in position before taking the photo.
And if you do not want to go to a professional photographer or use a photo service, you can also ask your friend or family member to assist you.
The easiest way to get a visa photo yourself, is to use online resources to make a passport size photos.
When Do You Need A Visa Photo ?
As the name suggests, a visa photo is required when you are applying for your visa.
But this is not the only time it is required.
You would need these photos when applying for your passport, for when you need to apply for official documents such as ID, driver's license, or any other type of application at places like schools or workplaces.
Mistakes To Avoid When Taking A Visa or Passport Photo
Before you take your visa or passport photos, keep these things in mind to avoid any potential mistakes:
Incorrect Photo Size: The photo you submitted was incorrect in size. This doesn't sound like a big deal, but it could result in your visa application being denied.
Wrong Head Position: Your face was not in the center, or the head position was incorrect. So make sure you are looking straight into the camera, and your face is not titled.
Inappropriate Facial Expression: Your facial expression was not neutral, or your eyes were not clearly visible.
Inappropriate Clothes Or Accessories: You are wearing clothes or accessories that are not allowed or obstruct the view of your face.
Incorrect Contrast: The photo itself has bad color balance and is overexposed or underexposed.
Background: There is something in the background that is visible in the photo.
Altered Photo: You edited your photo with software or retouched your photo, causing it to look altered.
Shadows: There are visible shadows in your photo.
No Focus: The person in the photo is not in focus, or the photo is blurred.
Headgear: You have inappropriate headgear or hat on in your photo.
And Say Cheese!
But don't show your teeth! (joke, get it because your mouth must be closed in the photo?)
Anyhoo...
You are ready to take the perfect visa photo that you can use for any application.
Good luck!
Author: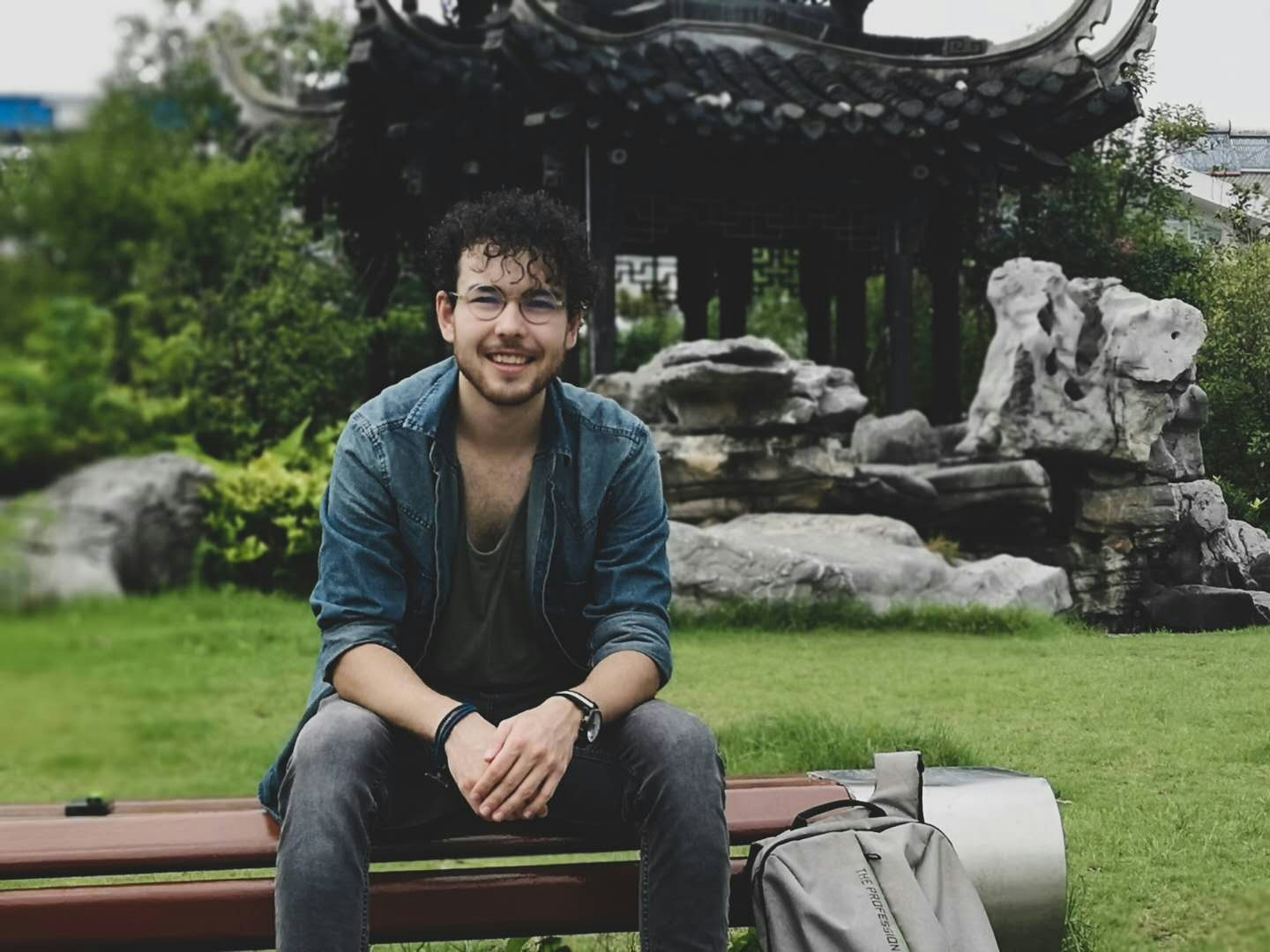 Richard Dettmar