Bermuda Travel Authorization Form Requirements And Covid19 Travel Restriction
Last Updated : Sep 4, 2023
Atlys in the news
When it comes to the tropical paradise, you won't do much better than the beautiful Caribbean island of Bermuda. And what better time to visit a destination usually teeming with tourists than during the Coronavirus pandemic? Mask-wearing and a couple of covid tests are a small price to pay for the return of international travel.
But before you take your negative test result and hop on a plane to L.F. Wade International Airport, you'll need to familiarize yourself with Bermuda's entry requirements. Without adhering to the protocols set out by the Government of Bermuda, you won't be granted a Bermuda Travel Authorisation.
Let us talk about the Bermuda Travel Authorization and what are the requirements you need to meet to get one:
What Is A Bermuda Travel Authorization?
Bermuda's Travel Authorization is simply a document that allows travelers to visit Bermuda during the covid19 Pandemic. The Bermuda Tourism Authority issues it, and it should accompany the rest of your travel documents.
It is an electronic travel authorization used by the Ministry of Health Department in Bermuda. It assists the government officials in ensuring that the travelers meet their health requirements and verifying personal details and travel details. It also helps the government in tracking potential covid19 cases and acting swiftly.
Who Needs A Bermuda Travel Authorisation?
A Bermuda travel authorization is mandatory and must be filled out by all incoming travelers in Bermuda. In addition, all visitors, 2-years-old and older, must apply for and complete a Bermuda covid19 Travel Authorisation. For travelers under 18 years, their parents or legal guardians must fill out the form on their behalf. The application for the travel authorization is online and requires proof of vaccination with a negative test result of covid19 testing.
If you are flying by air or sea, you can fill out the form and upload your proof of vaccination up to a month in advance. After that, you will receive an email reminder from the Quarantine Authority to take a covid19 test and upload the negative result on the online portal.
Children under 2 years do not need a covid19 NAAT test or a Travel authorization to travel to Bermuda. However, all travelers older than 12 must be fully vaccinated to enter Bermuda.
What Documents Does A US Citizen Need To Travel To Bermuda?
Aside from your valid passport, the travel authorization form, and a negative test, it is mandatory for all travelers visiting Bermuda to have an insurance policy for covid19. The policy must cover medical emergencies and needs to have medical coverage specifically for covid19.
What Are The Vaccination Requirements To Visit Bermuda?
All Bermuda visitors arriving 12 and older must be fully vaccinated by air or sea. Unvaccinated travelers are allowed to visit Bermuda only under specific conditions. The process is much more rigorous when compared to immunized travelers.
Additionally, there are many things that a traveler must keep in mind with regards to their vaccination status and the requirements before traveling to Bermuda.
What Is The Process For Vaccinated Travellers In Bermuda?
Fully vaccinated travelers or immunized travelers can enter Bermuda without any quarantine or testing requirements on arrival. However, they must present their Bermuda travel authorization, a negative covid19 test, and their proof of vaccination record on arrival.
All travelers to Bermuda will still need to follow the country's Covid19 protocols. This includes social distancing, providing contact information when prompted, and wearing face masks when necessary. Additionally, a vaccinated traveler must provide a negative test result using NAAT or antigen test method.
What Is The Process For Unvaccinated Travellers In Bermuda?
As mentioned earlier, unvaccinated travelers above 12 years are only allowed to enter Bermuda under specific conditions. Your entry into the country must be approved by the Quarantine Authority. The Quarantine Authority can provide you with an exemption from the covid19 vaccination requirement. The traveler must send them a letter written by a licensed health practitioner with the following details:
Applicant's full name, date of birth, passport number, address, and phone number

Signed and dated on official letterhead that contains contact information of a licensed healthcare provider.

Stating that you have a medical contraindication to receiving a covid19 vaccine.

The name of the covid19 vaccine. product and the medical condition must both be listed.

The health practitioner must include any or all medical contraindications to covid19 vaccination, such as immediate or severe allergic reaction after a previous dose or component of a covid19 vaccine.

If you are allergic, the health practitioner must state which component of a covid19 vaccine.
The applicant must send an email to mailto:medexemption@gov.bm. Additionally, they must go through covid19 tests and quarantine before and after arriving in Bermuda.
What Is The Process For Children Traveling To Bermuda?
Children under the age of 2 are exempt from all covid19 requirements. They do not have to provide proof of vaccination or a negative covid19 test result upon arrival in Bermuda. However, children above 12 years need to follow covid19 protocols similarly to adults.
Fully vaccinated children between 2-11 years old must take a covid19 NAAT test 4 days before arrival or a supervised antigen test 2 days before arrival in Bermuda. However, suppose children between 2-11 years old are unvaccinated or not fully vaccinated. In that case, they must take a covid19 NAAT test 4 days before arrival in Bermuda. A supervised antigen test condited before 2 days of arriving in Bermuda is also allowed.
Unvaccinated children must be accompanied by adults that are fully vaccinated with all doses administered. If the parents or guardians and the children are unvaccinated, the border officers can deny their entry into Bermuda.
What Are The Covid19 Test Requirements In Bermuda?
When filling out the Bermuda travel authorization, you must upload proof of vaccination record and the negative covid19test result. The negative covid 19 NAAT test result can be an RT-PCR test, LAMP test, or TMA test. The test should be conducted days 4 days before arriving in Bermuda by air or 4 days before the date of departure from the last port if arriving by sea.
Alternatively, you can also take a supervised antigen test taken within 2 days before arriving in Bermuda by air or 4 days before the date of departure from the last port if arriving by sea. You must upload the negative result of the antigen test online. These test results must be carried when traveling to Bermuda to show at the port of entry.
Unvaccinated travelers above 12 years with a medical exemption must provide a negative covid19 NAAT test result taken 4 days before arrival in Bermuda. And upon arrival, they must go through 4 days of quarantine, with a NAAT test on the 4th day of quarantine. In addition, a supervised antigen test on day 10 will also be conducted.
What Should Be Included In The Covid19 Test?
A traveler should do the covid19 test result before they arrive in Bermuda. The pre-arrival test result must meet the following standards:
Display travelers' full name and date of birth

Test result must be negative

Date of the NAAT test must be no more than 4 days from arrival. For example, if you arrive on the 6th of June, a test is valid starting from the 2nd of June. The day of the test is considered day 0.

An accredited laboratory must perform the test

Display the full name of the laboratory and contact information for the laboratory
How To Apply For A Bermuda Travel Authorization?
We will walk you through a step-by-step process to obtain a Bermuda Travel Authorization. The application is divided into four steps and roughly takes 20 minutes to finish. You'll need the following documents to fill out the travel authorization:
Travel documents such as passport

Dependents details (if applicable)
Step 1: Go to the Bermuda Travel Authorisation website.
You can find the link to the website here.
Step 2: Choose how you will be arriving in Bermuda
Once on the website, choose one of the following options: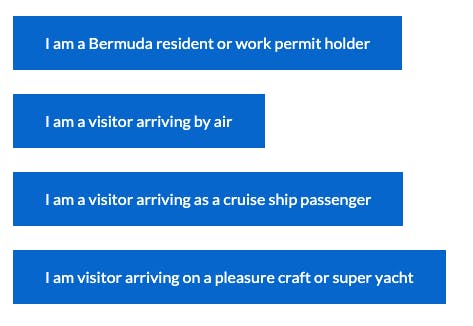 Step 3: Click APPLY FOR TRAVEL AUTHORIZATION
After you click "APPLY FOR TRAVEL AUTHORIZATION," it will show you your arrival date in Bermuda. Then, you must choose your date of arrival and click confirm.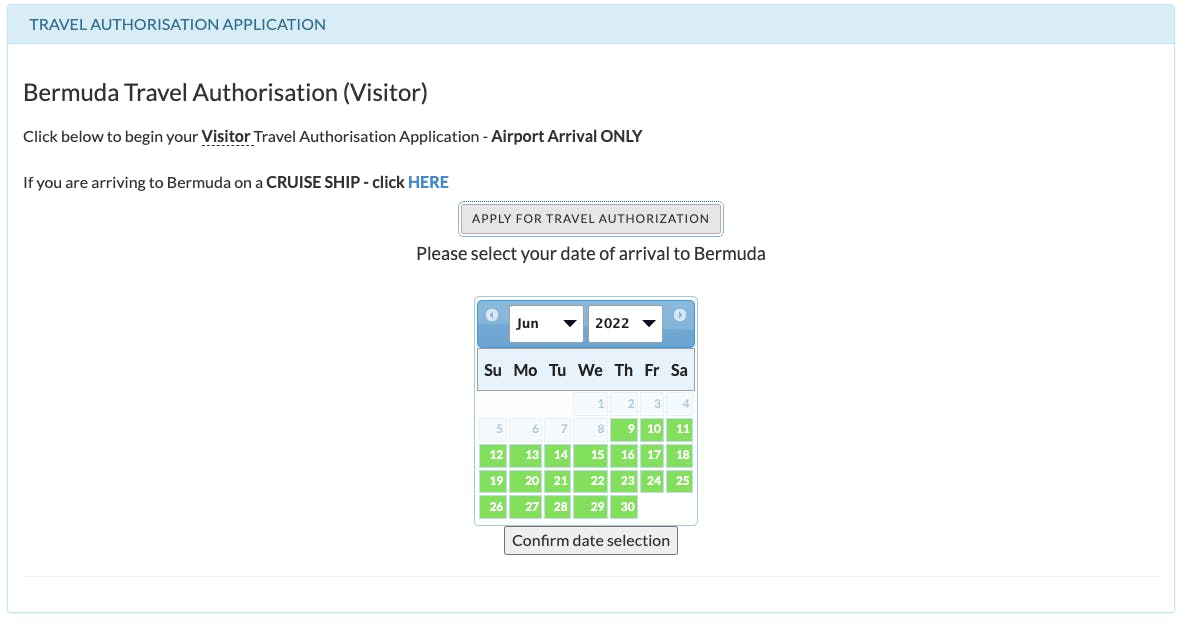 Step 4: Traveling with Minors
If you choose "Yes" to traveling with a minor, you must complete this section. If you are not traveling with a minor, you can select "No" and continue with the rest of the form.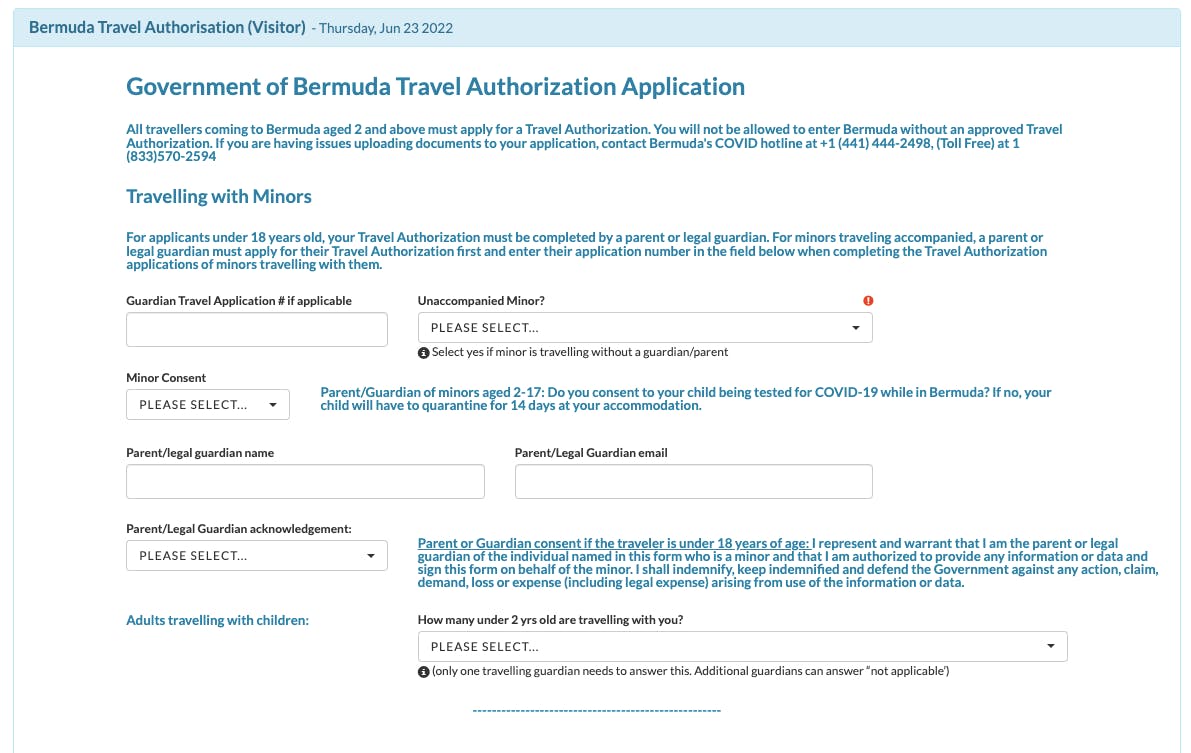 Step 5: Traveler's details
You must fill in the details that you see on your passport. Here you must also fill in your home address.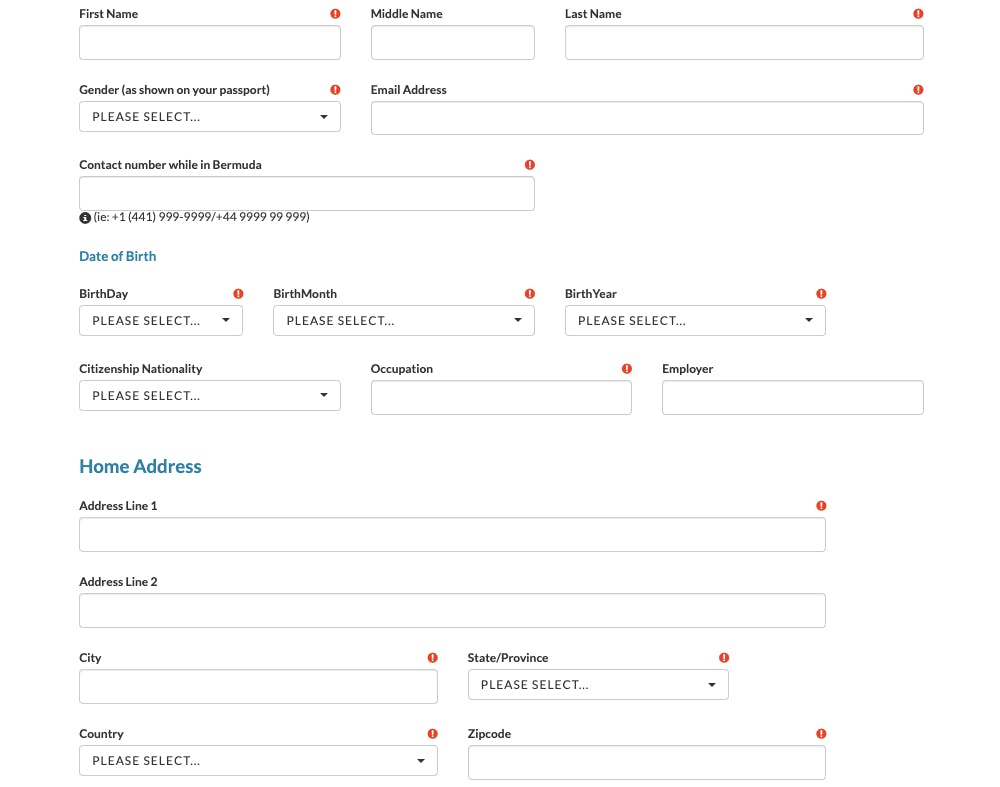 Step 6: Passport details, Trip details, and Accommodation details.
Make sure that you use a valid passport to fill in the details. You can use your flight ticket to fill in the trip details and your hotel reservation to fill out the accommodation details.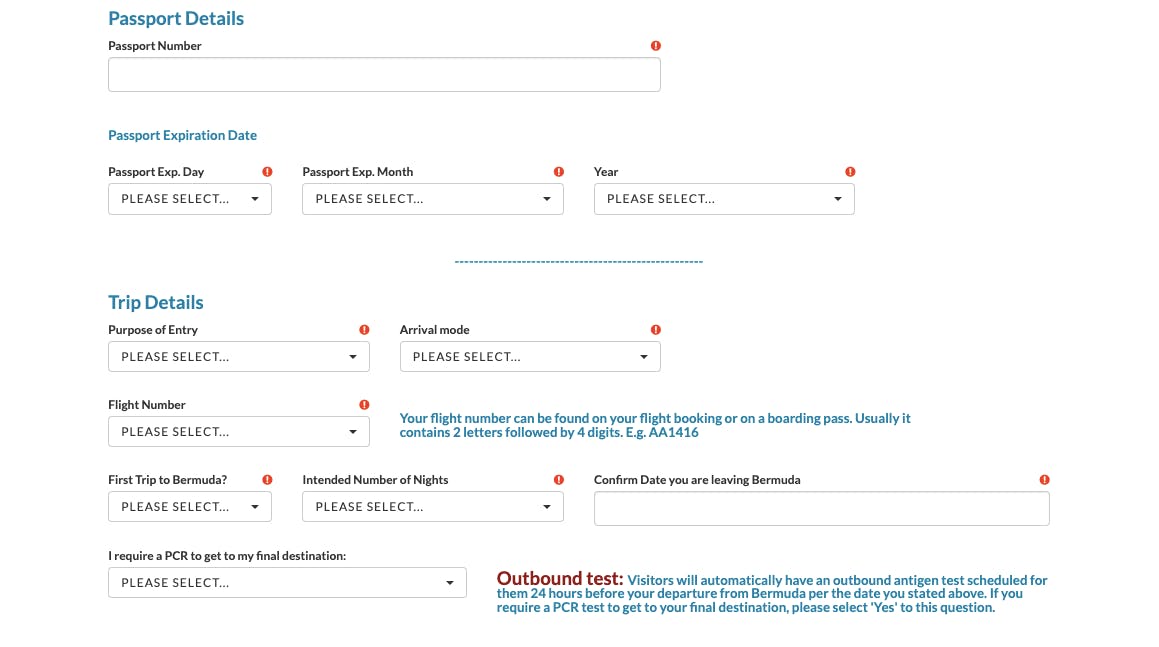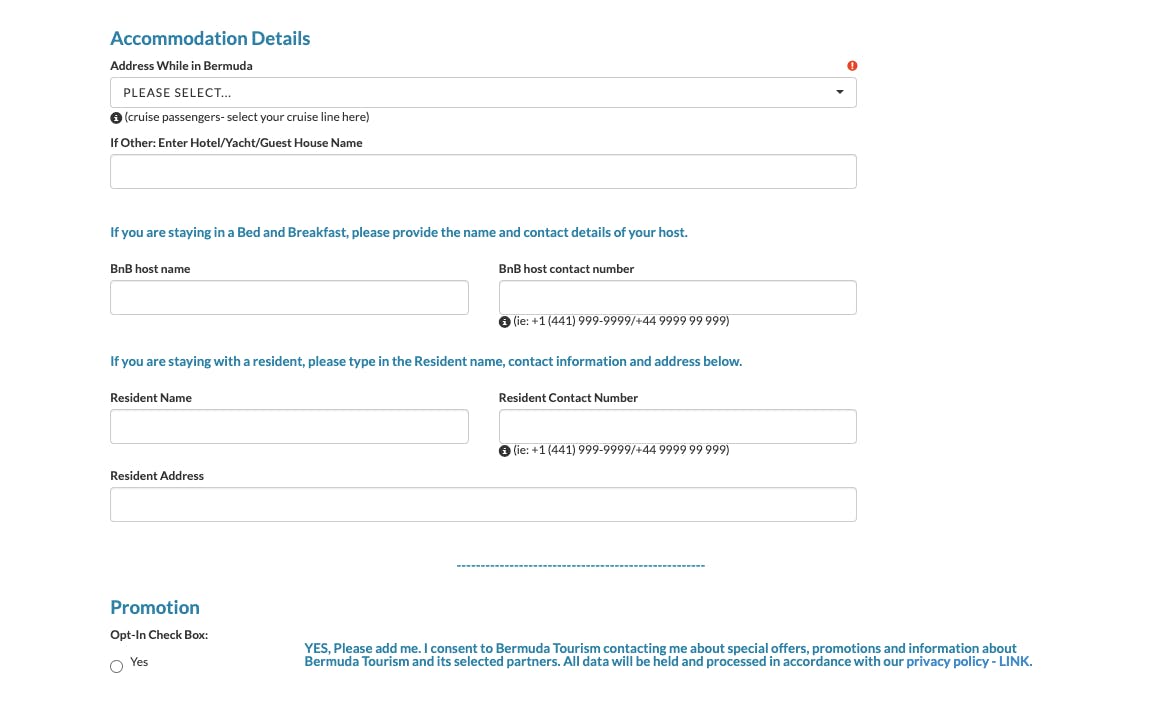 Step 7: Health Questionnaire
Here you must confirm that you have health insurance to travel to Bermuda.

Step 8: Pre-Arrival Test and Immunization Requirements
You must upload the negative covid19 test results as discussed earlier and your vaccination proof. In addition, if you are unvaccinated, you must upload your medical exemption approval.
Step 9: Legal Disclaimers and Payment Details
These are the last two steps of the Bermuda travel authorization form. Consent and confirm all the information you provided. Include your email address and reconfirm your travel dates. The travel authorization fee is $40, and you can pay the fees with a credit card or a debit card. Again, make sure to provide the correct email address.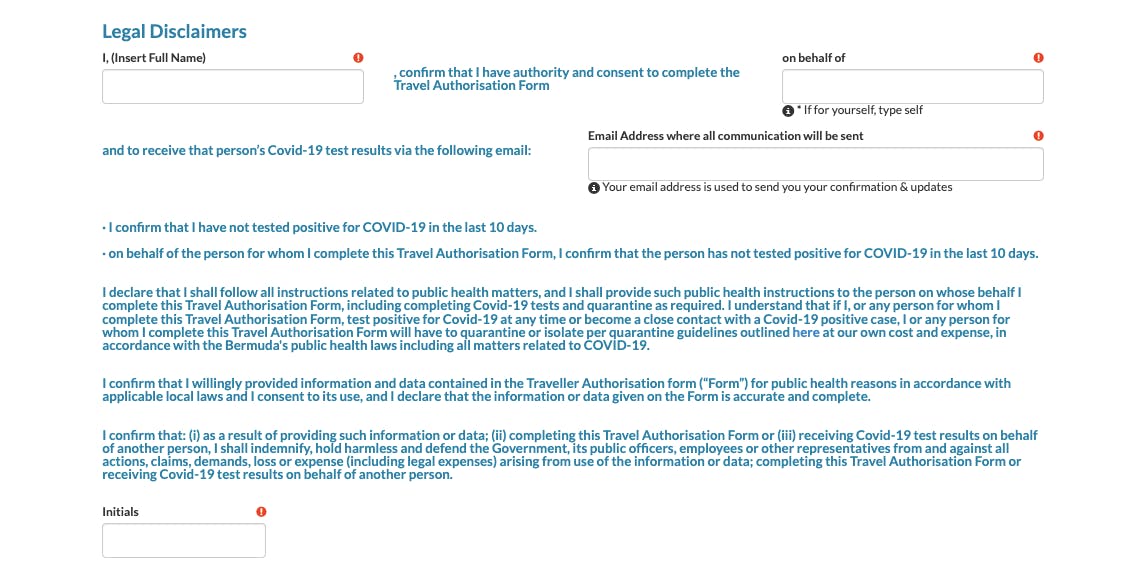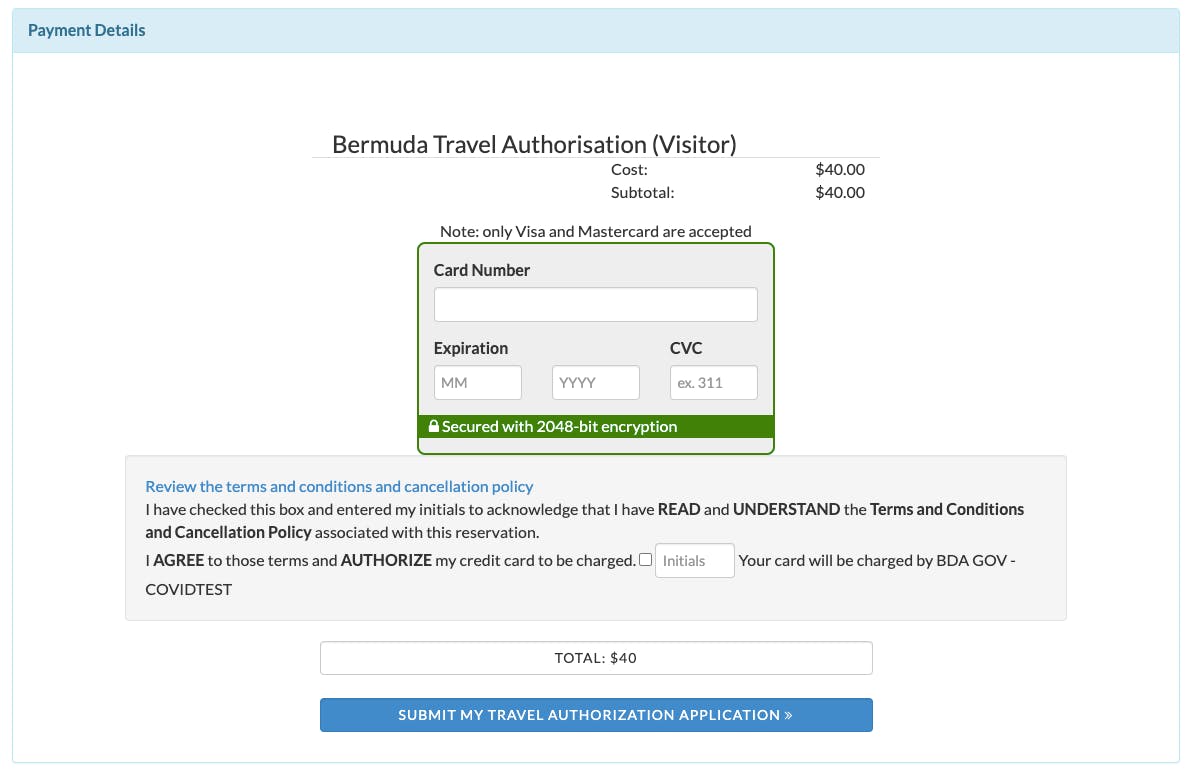 Congrats! You have now completed your Bermuda Travel Authorisation Application. Check your inbox for confirmation.
What If I Am Traveling To Bermuda On A Cruise Ship?
Travelers coming into Bermuda via crush ship or sea must also fill out the following, similar to travelers visiting via air. You must visit the Government of Bermuda webiste and start the application process.
There are a few differences when you choose a different means of travel. For example, when you select the travel by cruise ship option, you might see the following choices: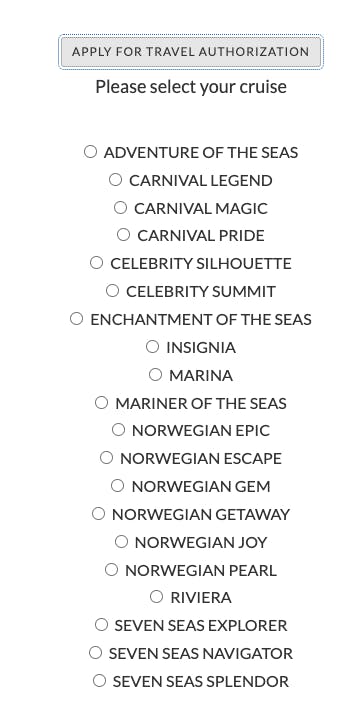 Most requirements are also similar to what we discussed so far:
All travelers above 2 years of age must present a Bermuda Travel Authorisation before arriving at the embarkation terminal.

All passengers MUST be vaccinated, with a vaccination record and negative covid19 test.

Travel Authorization is reviewed and prioritized by the embarkation date.

All passengers MUST have a negative covid19 test result to show at the embarkation terminal and their APPROVED Travel Authorization.
That is all there is to know about the Bermuda Travel Authorization. You can now go and fill out your form and get ready for your trip. Remember to check our countries page for the latest updates and requirements.
Happy Traveling!
Frequently Asked Questions
Atlys enables you to complete and submit your Bermuda Travel Authorization in under 5 minutes. Simply download the Atlys app on your phone, put in your travel details, and let Atlys handle all the paperwork for you. Atlys has an average approval time of less than a day!
Author: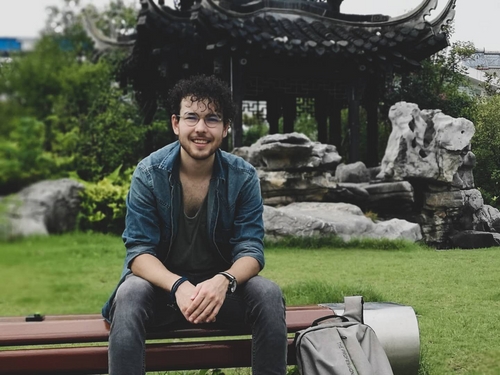 Richard Nathan
Verified Author: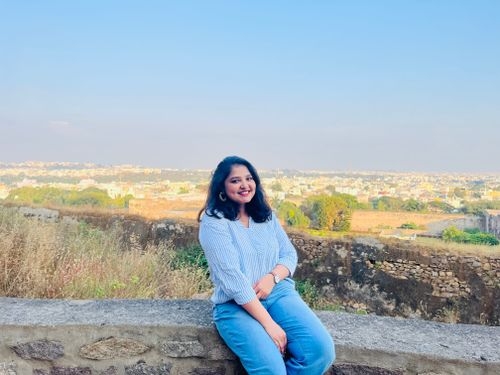 Nikhita Rathod
Related Articles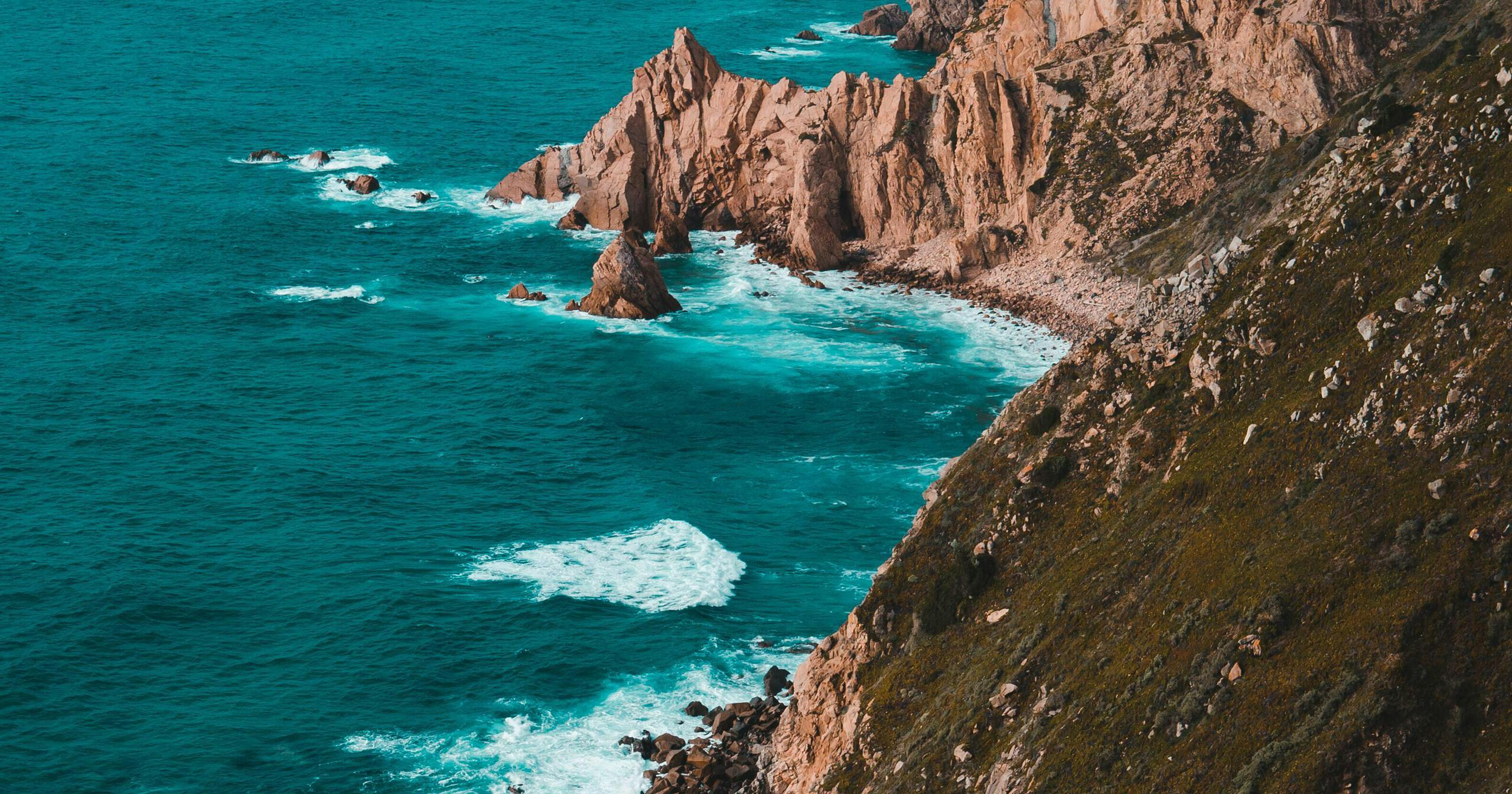 Our travel experts rank the best digital nomad visa programs currently available and tell you which to avoid.