10 Best Portugal Travel Blogs and Portugal Bloggers
Last Updated : Oct 2, 2023
Atlys in the news
The 10 Best Portuguese Travel Blogs To Make Your Trip Unforgettable
Whether you're travelling to Portugal for pleasure, work, or even to start a new chapter as a digital nomad or retiree, one thing always stays the same…
Planning your Portuguese adventure is a daunting experience. Sure, the initial part of planning a trip is fun, but soon that feeling dissipates, leaving you with more questions than answers.
"Is this Airbnb in Coimbra really all it promises to be?"
"This restaurant might have a 4.6 rating, but is it the best place to experience authentic Portuguese cuisine?"
"Is this a good time to visit the Oceanarium in Lisbon, or are we walking into a tourist trap?"
To answer these types of questions you're going to need the experience of local Portuguese travel experts. People who have spent countless hours exploring Portugal, discovering the country's secrets and hidden gems. Yeah, we're talking about bloggers, the title might have given it away...
But we're not talking about your average copy and paraphrase bloggers… We're talking about hardcore-know-the-Portuguese-travel-scene-inside-and-out bloggers. And we've gathered all 10 of them right here, for you to peruse and ensure your upcoming Portuguese trip is unforgettable!
Please note that this is not a ranking list, as most of these blogs deal with different aspects of your travels and to compare them would be like comparing Bacalhau and Pastéis de Nata.
So without any further ado, let's dive into our cyber jaunt, starting with…
Jo & So - Finding Unique and Authentic Accommodation In Portugal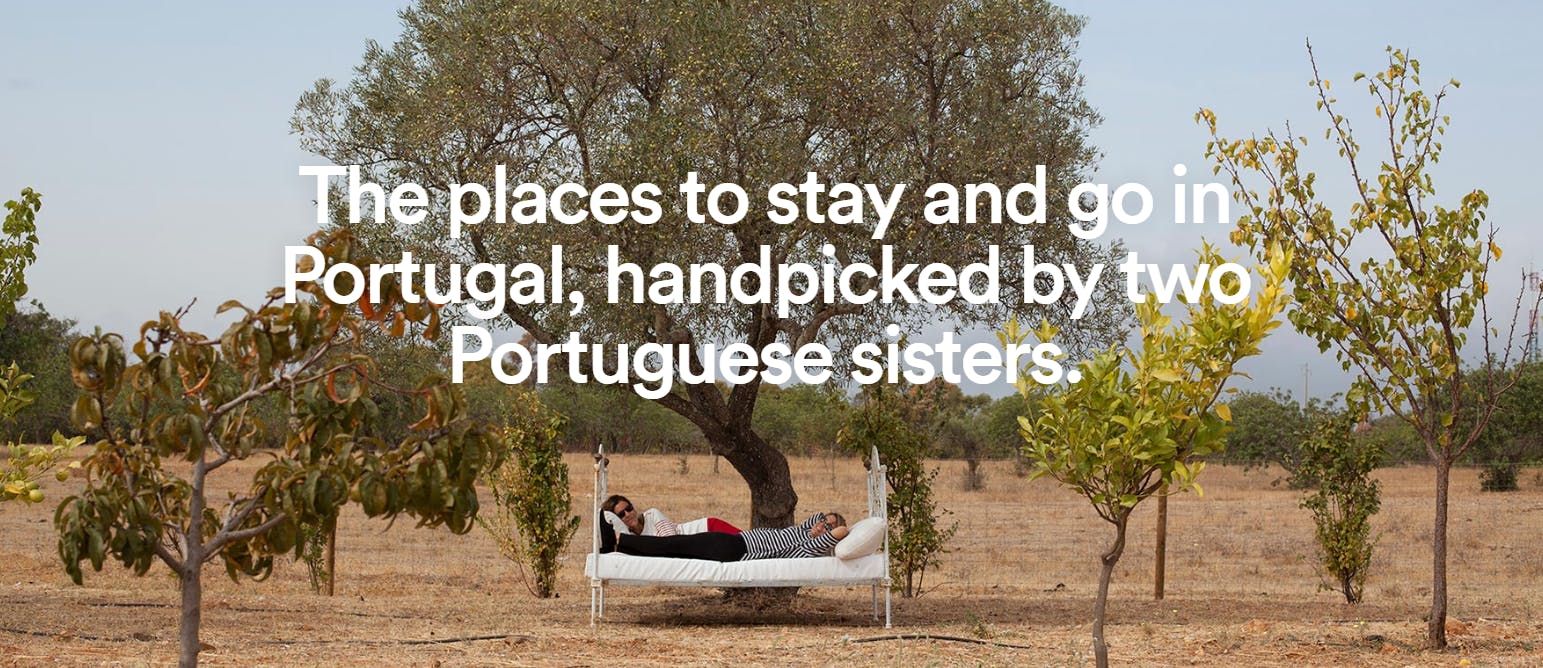 If you're looking for authentic, memorable, and downright amazing places to stay, then the sibling duo of Jo & So has got you covered! These two Porto natives are dedicated to helping you find the perfect stay.
Their beautiful blog features all types of accommodation for the discerning traveler from boutique hotels to holiday villas, with prices ranging from €65 to €315. And every property on the site has been vetted by either Jo or So.
This means that their listings feel more like an assortment of accommodation options that have been recommended by a friend. This is clear when you scroll through the stunning website - and you immediately get the idea that a lot of time, effort, and consideration went into it.
Don't believe me? I'll let Jo & So speak for themselves: "We also love getting to know the people behind the places we feature. We wanted to enjoy their stories with you, and we hope you enjoy them as much as we do." That we did Jo & So, that we did.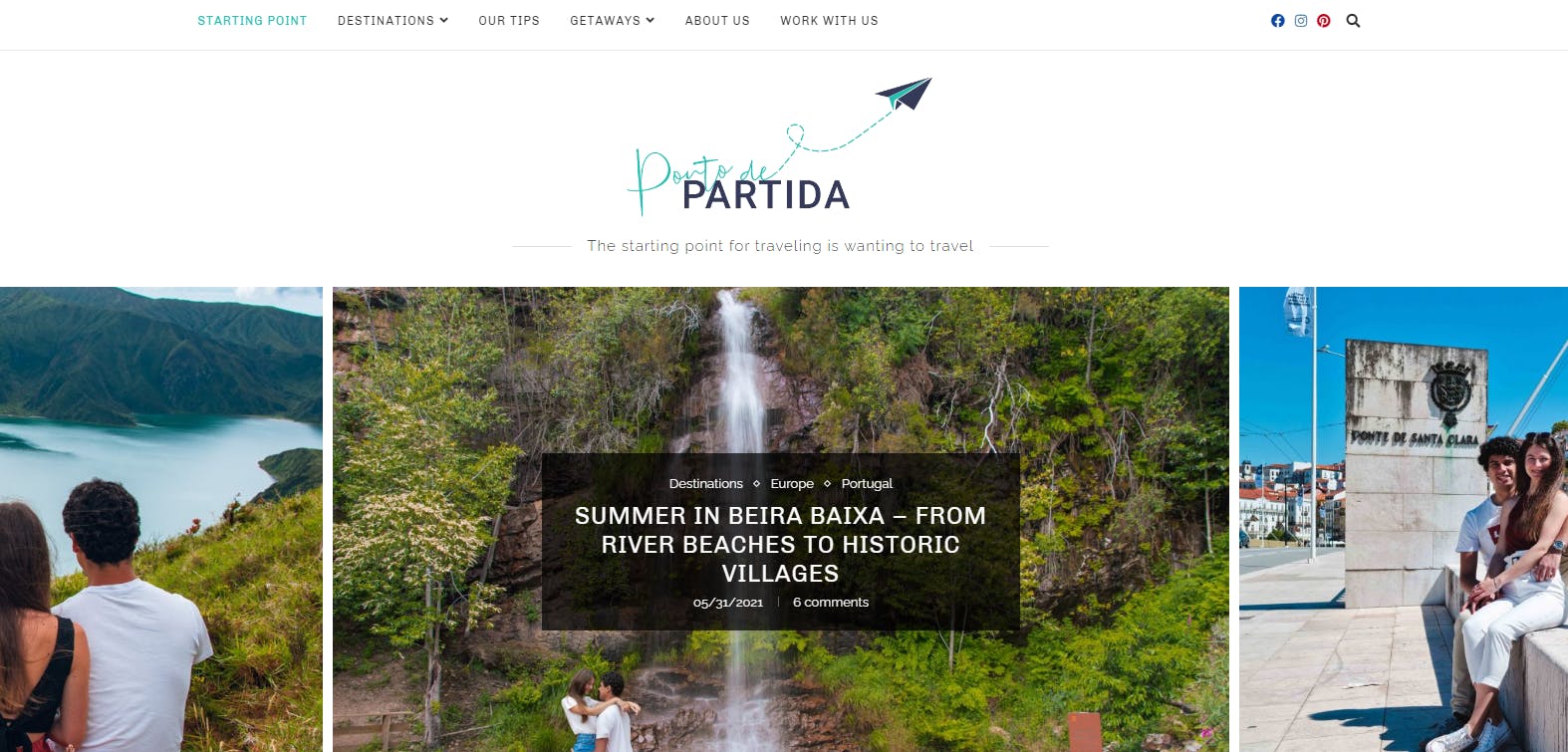 Ponto De Partida, or "The Starting Point" is the brainchild of Fabio and Ioana, a Portuguese guy and Romanian gal. And even though the site is in Portuguese, we've included it here, because it's just so darn good! I mean, what can be better than the travel insights of Portuguese locals, aimed especially at Portuguese nationals?
The blog is a visual smorgasbord with beautiful images from Iona's camera lens, and a logistical tour de force with Fabio - a financial controller when he's not traveling - providing detailed itineraries of trips through the Douro International Park, Terceira Island, and Sao Miguel, to name but a few.
Why waste time planning your trip, when you've got an expertly detailed expedition already planned out thanks to Fabio? And when we say "expertly" we mean it. The entries for their destinations cover everything from whether you should rent a car, to trying some of the local delicacies. All we can say is yum and thanks!
Julie Dawn Fox Discovering Portugal, From The Inside
When it comes to being an authority on travel in Portugal, you can't do better than Julie Dawn Fox. She describes herself as "the outsider on the inside" and when you look at what she's accomplished, you can see why. She has contributed to DK EyeWitness Travel Guides to Lisbon and has been published in Huffington Post and the Ritz-Carlton Magazine.
Julie moved to Portugal in 2007 and loved it so much that she decided to make Portugal her home. Now, almost 15 years later, she's helped thousands of travelers plan their trips. Her blog is encyclopedic, dedicated content covering everything from accommodation guides, exclusive and handpicked tours, and destination guides.
The thing that we love most about Julie's blog is the fact that it reads like an ongoing love affair with Portugal, with her content remaining up to date and relevant with a country that has seen substantial change since the day she arrived. As she says herself: "Finally settled in a place I adore, my wanderlust and curiosity remained so I began exploring Portugal in earnest."
Getting Julie's help means you're enlisting one of the most trusted ex-pat opinions to ensure that your trip to Portugal is truly remarkable.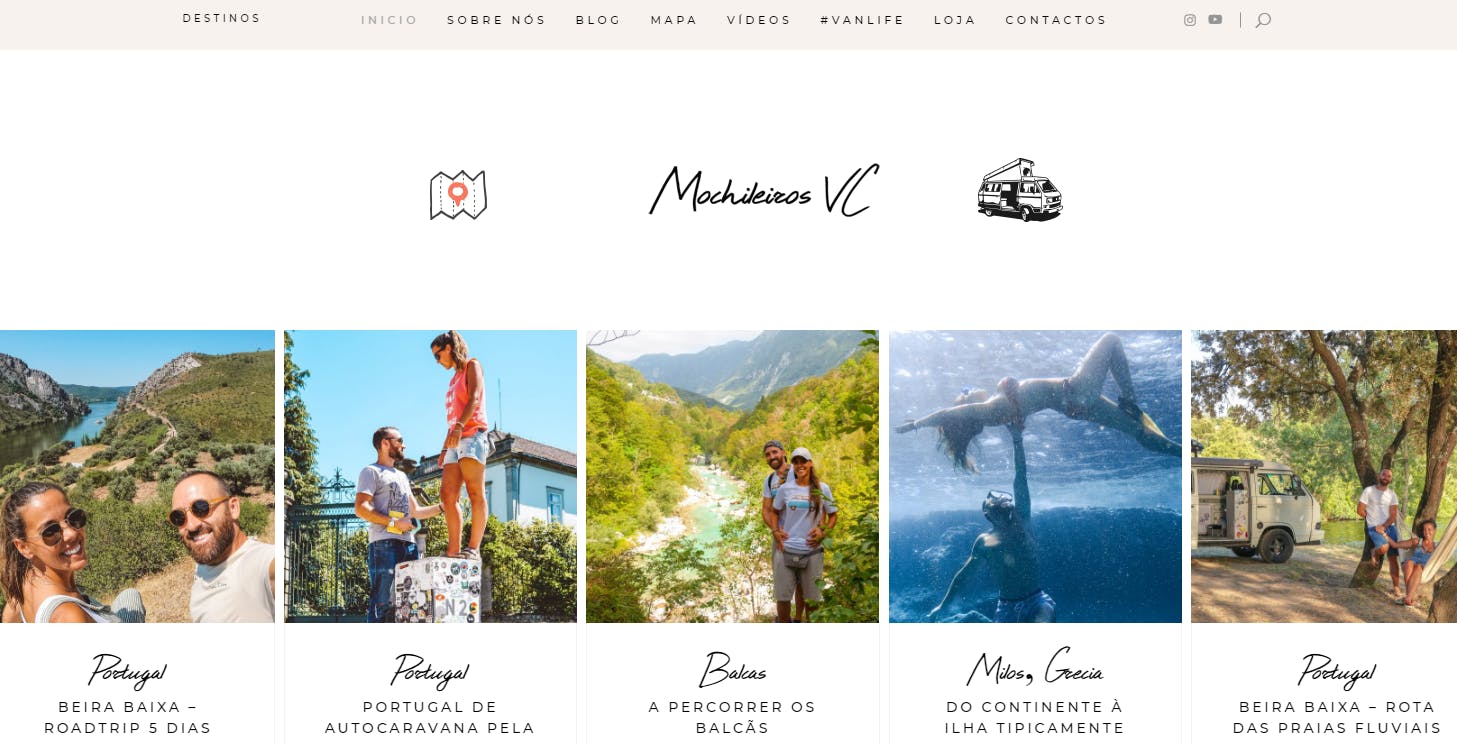 Carolina and Pedro are the driving force behind Mochileirosvc - a beautiful blog dedicated to them and their Pingu - a Volkswagen T3 Westfalia van. Together, these three have set course through loads of European countries, but always remembering their Portuguese routes.
You can follow their journey on Instagram and youtube, and see exactly how they deal with life on the road. Like they say, "We created this blog so you can follow our adventure and our love for travel and each other." This blog is also in Portuguese but if "meu Portugues nao e tao bom" you can always use Google translate to keep up with their journey.
Their blog is a valuable resource for intrepid travelers looking to get off the beaten path and those looking for a self-drive adventure through Portugal alike. Their entries are road-trip based and they'll help you discover all of those hidden jewels along the way.
365Diasnomundo Taking You Around The World, In Portugal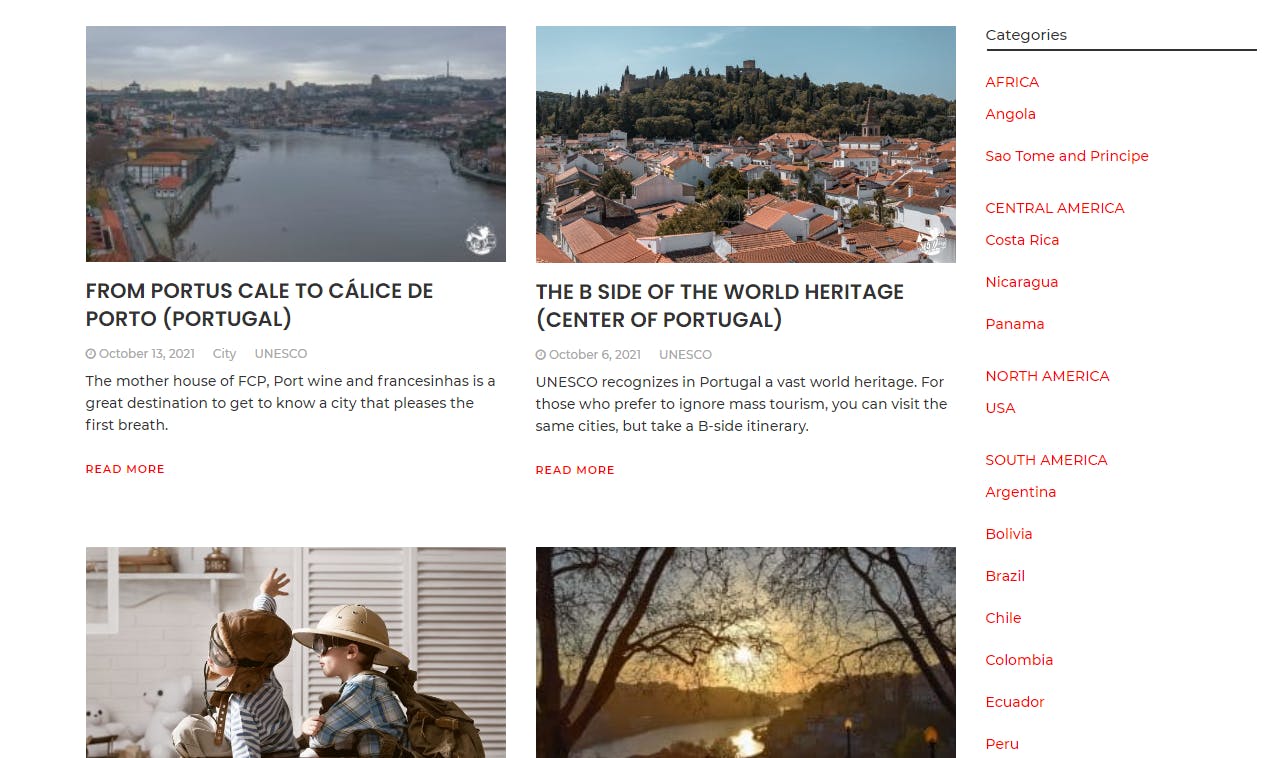 This blog might sound as if it's promising you the world, but believe me, when we say, it delivers you Portugal on a plate! Rachel and James are the dynamic duo behind this detailed Portuguese travel blog. This is another Portuguese travel blog, but we can't state exactly how valuable the opinions of local Portuguese travelers are.
365diasnomundo is a prime example of that, as it gives you insights about destinations that you would normally never consider. Take for instance their wonderful entry on the 6 Bridges of Porto, or the historical background of Winston Churchill's 1950 visit to Madeira. Want to make your Madeira vacation one to remember? Why not smoke a cigar in the very same place where he smoked while capturing Madeira harbor's beauty in a painting.
They also provide invaluable information on what it's like when traveling with a young child in Portugal, even providing a blog on the 12 essential items you should remember when traveling with a baby. Whatever your traveling preferences, this blog will help pacify your worries.
Jolandblog Making Travel Easy For The Solo Female Traveler
Maria João Proença, or Jo as the internet knows her, is the creator of Jolandblog, a Portuguese travel blog dedicated to helping female travelers. Jo, a Lisbon native, has a self-confessed addiction to travel that caused her to unhook her corporate safety net and pursue a life of adventure and tales.
Her blog features everything from travel itineraries and tips, but all with female travelers in mind. Her mission is simple: help inspire and motivate others to find their own journey. And if that journey includes Portugal, you can delve into a rich source of information - covering everything from the best playlist to stoke your wanderlust, to an authoritative travel guide when visiting Pico Island.
She makes traveling as a solo female easy, which, if we're being honest, should be the norm. Hopefully, with a couple of more "Jo's" out there, it soon will be!
Daniela Santos Araujo Taking In Portugal's Culture One Heritage Site At A Time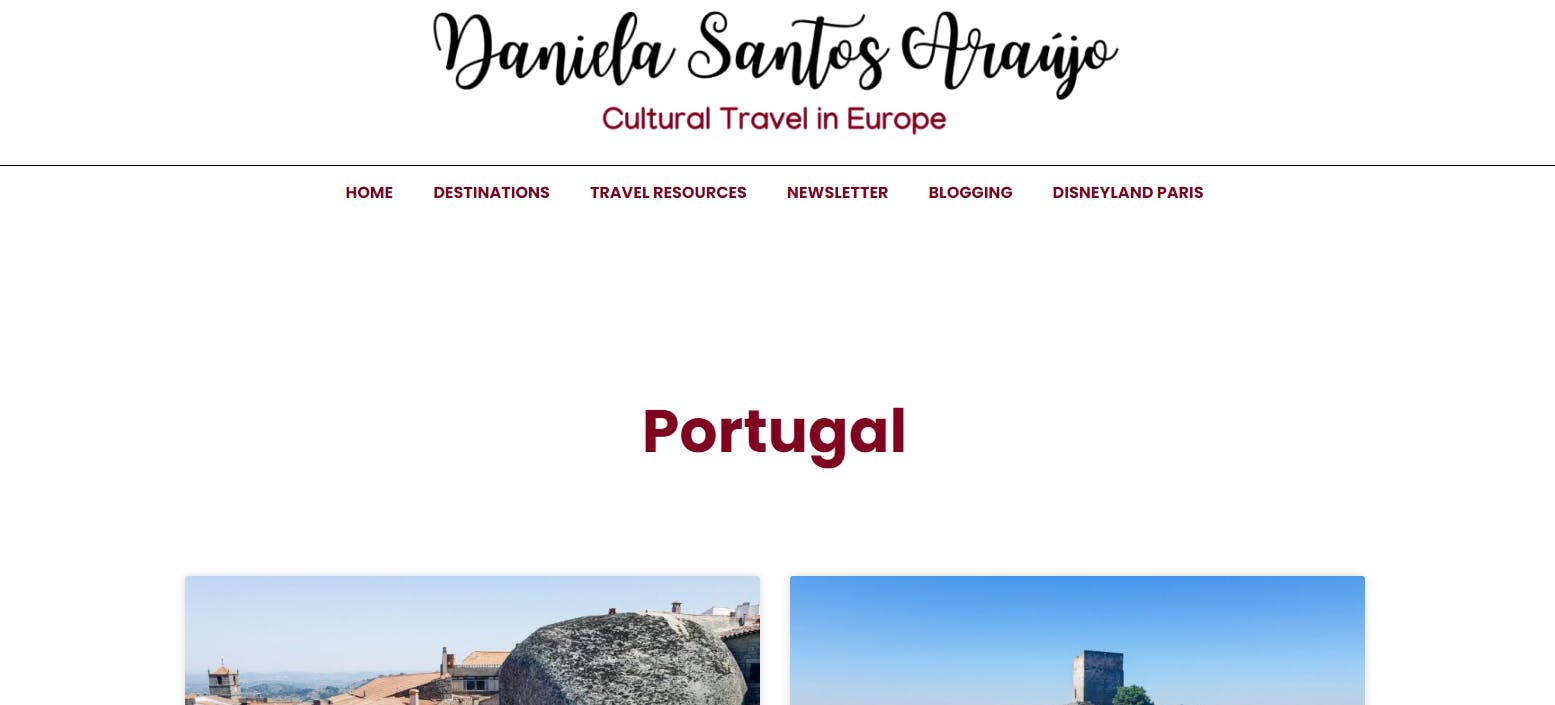 If the first things you google before an upcoming trip tends to be "museums" "libraries" and "heritage sites" then Dani from danielasantosarraujo.com has you covered. Dani is serious about two things, travel and discovering a country's culture and cultural sites.
And lucky for us, this Portuguese traveler started by exploring the historical and cultural heritage in Portugal, before moving on to the rest of Europe. Cultural Tourism is a niche that Dani has bolted down, and her guides are a treasure trove of information on a plethora of different sites, from UNESCO and heritage sites to temples and palaces.
If your idea of the perfect Portuguese trip includes the words "Aria," Soiree, and "Antechamber" Dani will help pave the way to a foray into all things classy, informative, and fun.
A Crush On - A Love Letter To Being Adventurous, Independent, and Curious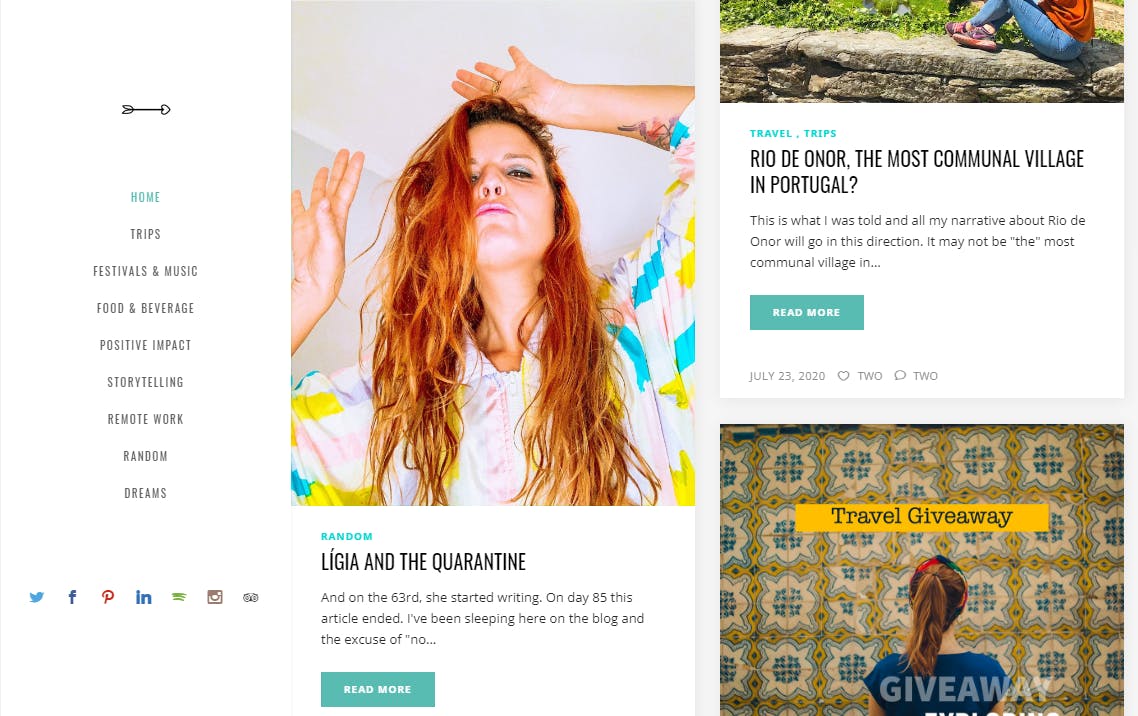 A Crush On is an honest and personal travel account out of the pen (ok keyboard) of Lígia Gomes. She offers her readers a vibrant and energetic account of her travels as she makes her way through her native Portugal and a list of other countries.
Her blog reads like a diary, but not in the cringy cliched way, rather providing readers with a unique insight into her life, where she covers everything from road trips, festivals, to her random thoughts and dreams.
Lígia is also focused on making a positive impact, and she discusses various issues that should be on the mind of every traveler. As a fellow creative, I especially enjoyed her candid take on her journey to motivate herself during the lockdown. Her self-awareness and sense of humor make A Crush On entertaining, as well as informative.
The Portugal Wire An Accurate Account Of Portugal's Slow Life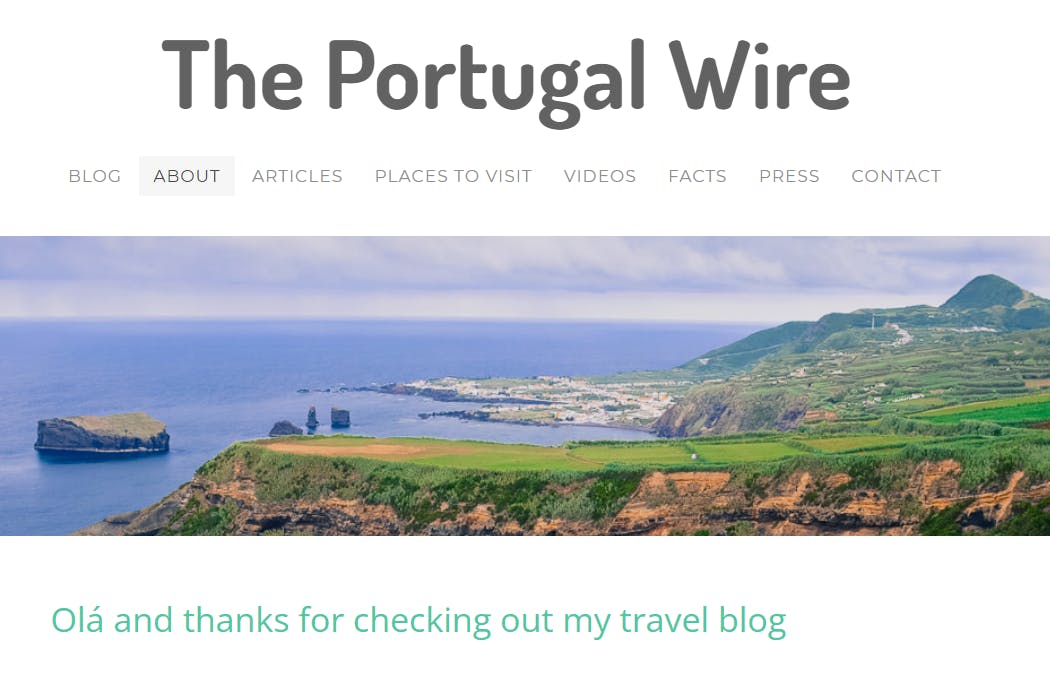 The Portugal Wire is the penchild of Emily McAuliffe, an Aussie who splits her time between Australia and Portugal. Emily really, really, but like really knows her stuff, and this is reflected in her blog which features in-depth articles on when to travel to which region in Portugal, information-rich posts about specific locations, and even some fun and interesting facts.
In 2016 she decided to move to Europe and ended up in Portugal, but as she made her way to her new home, she realized her friends and family had loads of questions about Portugal - so she decided to do something about it and wrote this blog.
Emily is an accomplished writer and photographer - she's a regular contributor for The Telegraph and Lonely Planet and she's written for publications like The Ceo Magazine, Women's Fitness, BBC News, and international traveler. All of her experience combines to produce a professional, informative, and utterly readable travel blog in The Portugal Wire.
A Portuguese Affair A Portuguese Love Affair That We Hope May Long Continue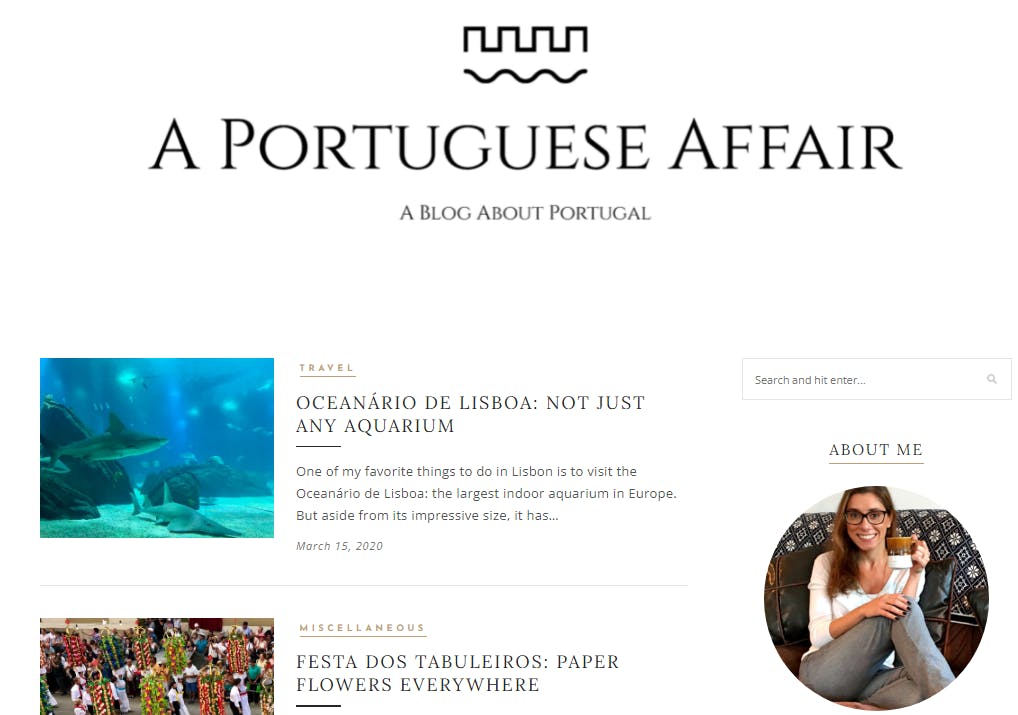 "I'm often surprised by how little other people know about Portugal: a country that, though small, has so much to offer the world…" We have to agree with Catarina, the author of these words and blogger behind A Portuguese Affair, and only hope that due to blogs like hers, this won't be true for much longer.
A Portuguese Affair reads like a love letter, in much the same way that Hemmingway loved Cuba, or Neruda loved Chile. Every post is carefully curated to showcase the best that Portugal has to offer and showcase it well.
On her blog, she features the normal run-of-the-mill info, the "travel-to-here-eat-this-do-that '' posts, but where her blog truly shines is when she's able to tell her readers about some obscure festival, dish, or restaurant. It's then that her passion boils forward and she takes you on a whirlwind tour filled with imaginary sounds, smells, and sights.
We want to thank Catarina, she's made us fall in love with Portugal all over again!
A Final Word
That's it from us and the 10 Best Portuguese Travel Blogs! We trust that these blogs will guide you on your journey through Portugal, creating memories as far as you go. If you know of a blog that should be on this list, you can contact us here(info@atlys.com).
If you are traveling to Portugal, let Atlys handle your application for you, saving you the time and effort, by simply downloading our App.
Author: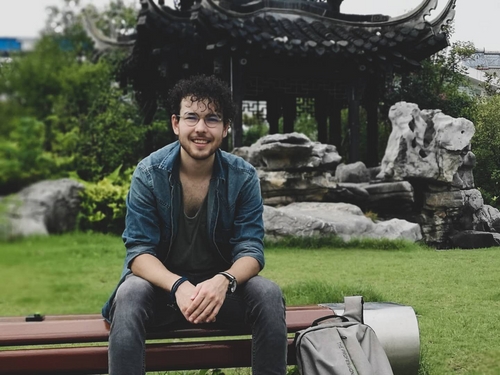 Richard Nathan
Verified Author: