Revealed: The Best Travel Apps Of 2023
Last Updated : Oct 2, 2023
Atlys in the news
Atlys is Officially Authorized by Government of United Arab Emirates
We've all felt it, that indescribable feeling when you finally chose your next travel destination. And then you have to start planning your getaway. So where do I begin? Do I need visas? Where do I find accommodation? Do they even speak my language?! I need a travel app guide now!!
This can all seem very overwhelming at first, but it doesn't have to be. Over the years the best travel apps have arisen - the best vacation apps made for travellers, to simplify your travel plans! Most of these apps have free versions and also offer a pro version for a small fee.
So whether you are a first-time traveller, an avid traveller, or someone traveling for business purposes these; are the best travel apps that can help to make your trip so much easier and enjoyable!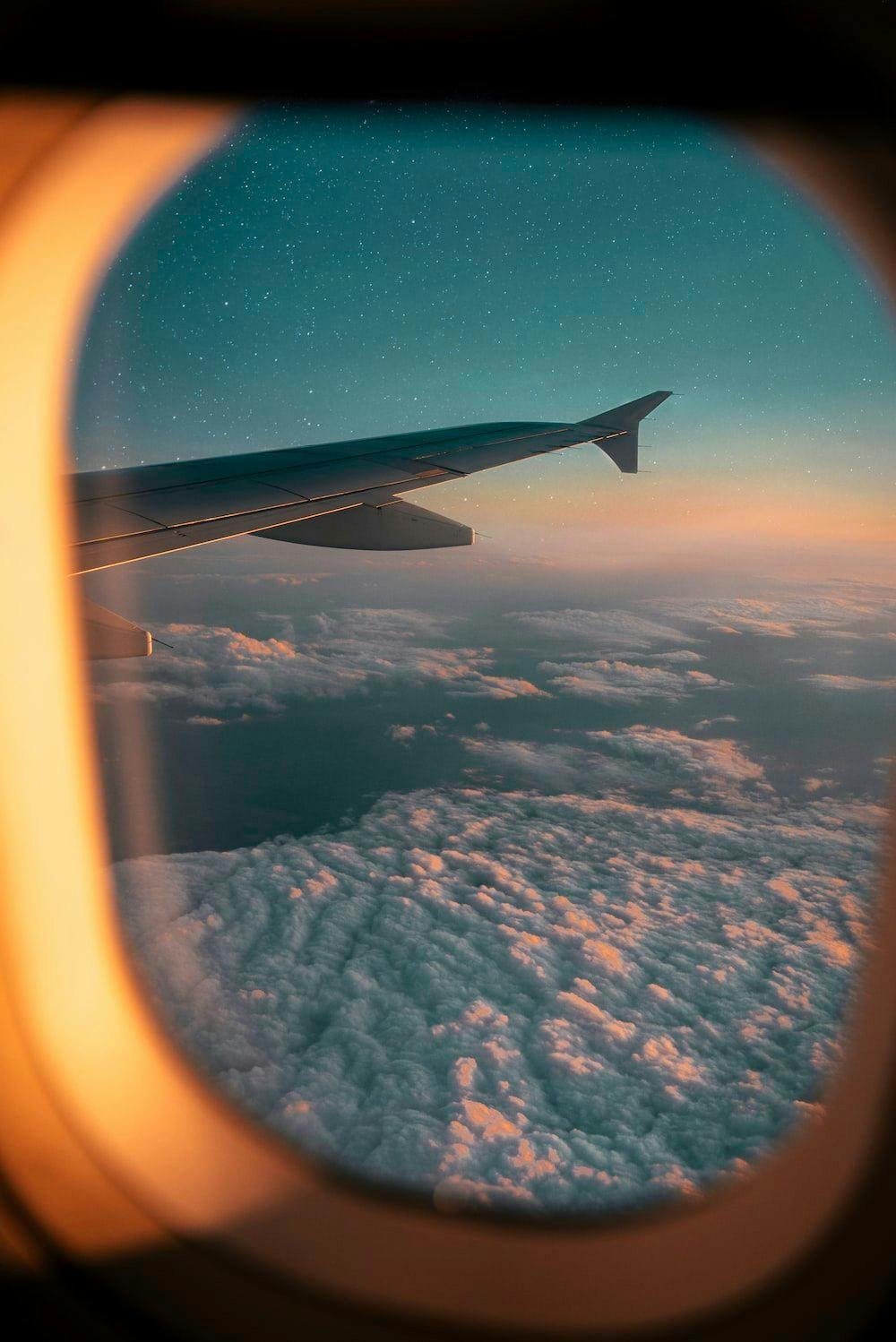 Best Apps For Flights
Of course, the first thing we all want to do is search for the most affordable flights we can find, but where do you even start? Start with the best travel apps for flights.
Hopper
Hopper is a great app that tracks the prices of flights very effectively. Hopper predicts the best time to buy the cheapest airfare, alternatively, it also has a great price-monitoring function that you can select on a particular flight and it will alert you as soon as the prices drop. Hopper allows you to compare cheap flights of more than 250 airlines as well as notifies you of airfare flash sales that can help you save money.
Price: Free
Rating: 3.9 stars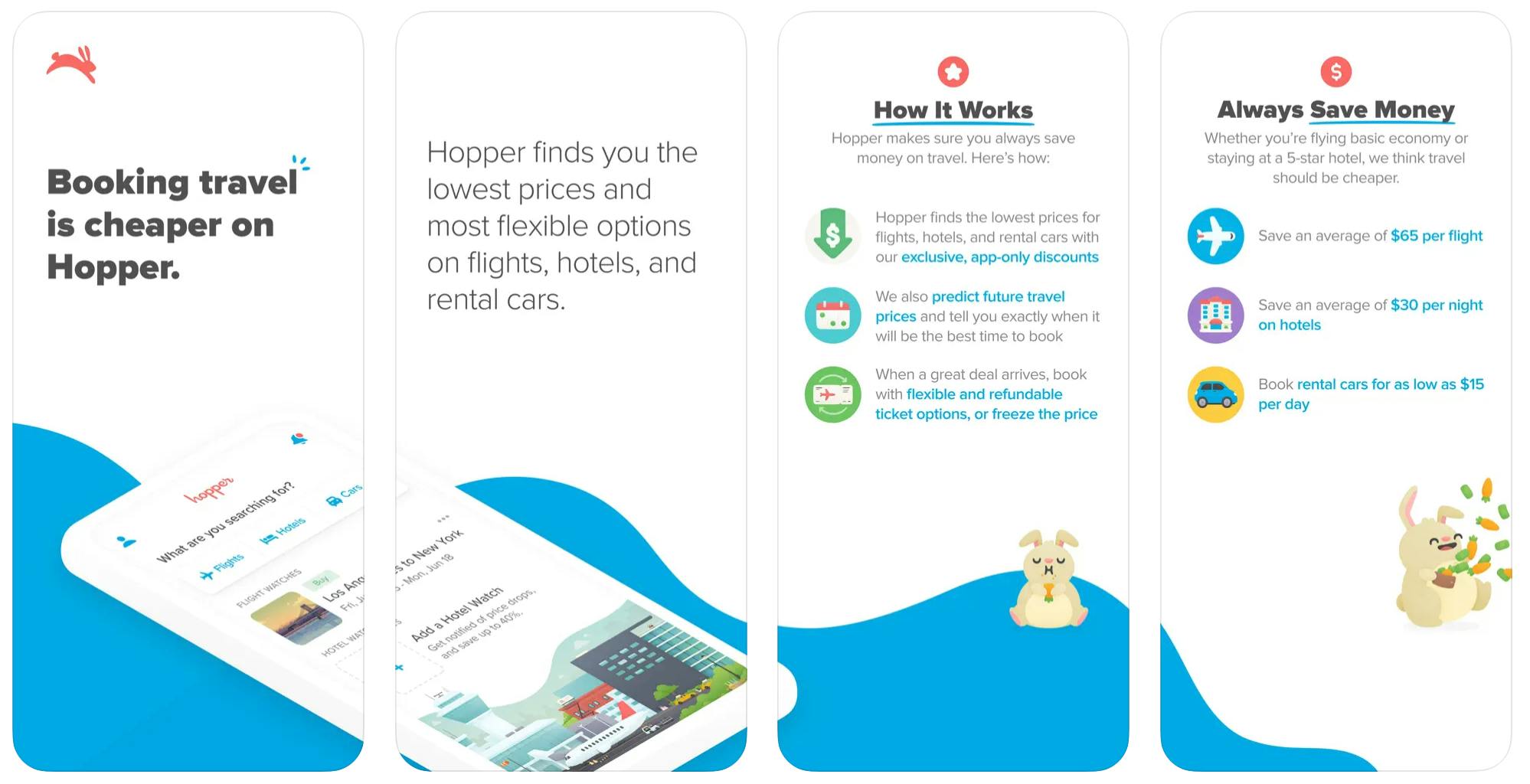 Kiwi
Kiwi is a flight booking app that allows you to book a one-way, round-trip, or multicity itinerary. It also has the capacity to take care of additional bookings such as hotel, car rental, activities, and tours.
But, what makes this app so special is that the app provides useful additional information on your destination, and the airports you are transiting through - information on ATMs, where to stow luggage during a layover as well as where to find airport lounges.
Price: Free trial, thereafter prices starts from $2.75 per month
Rating: 4.4 stars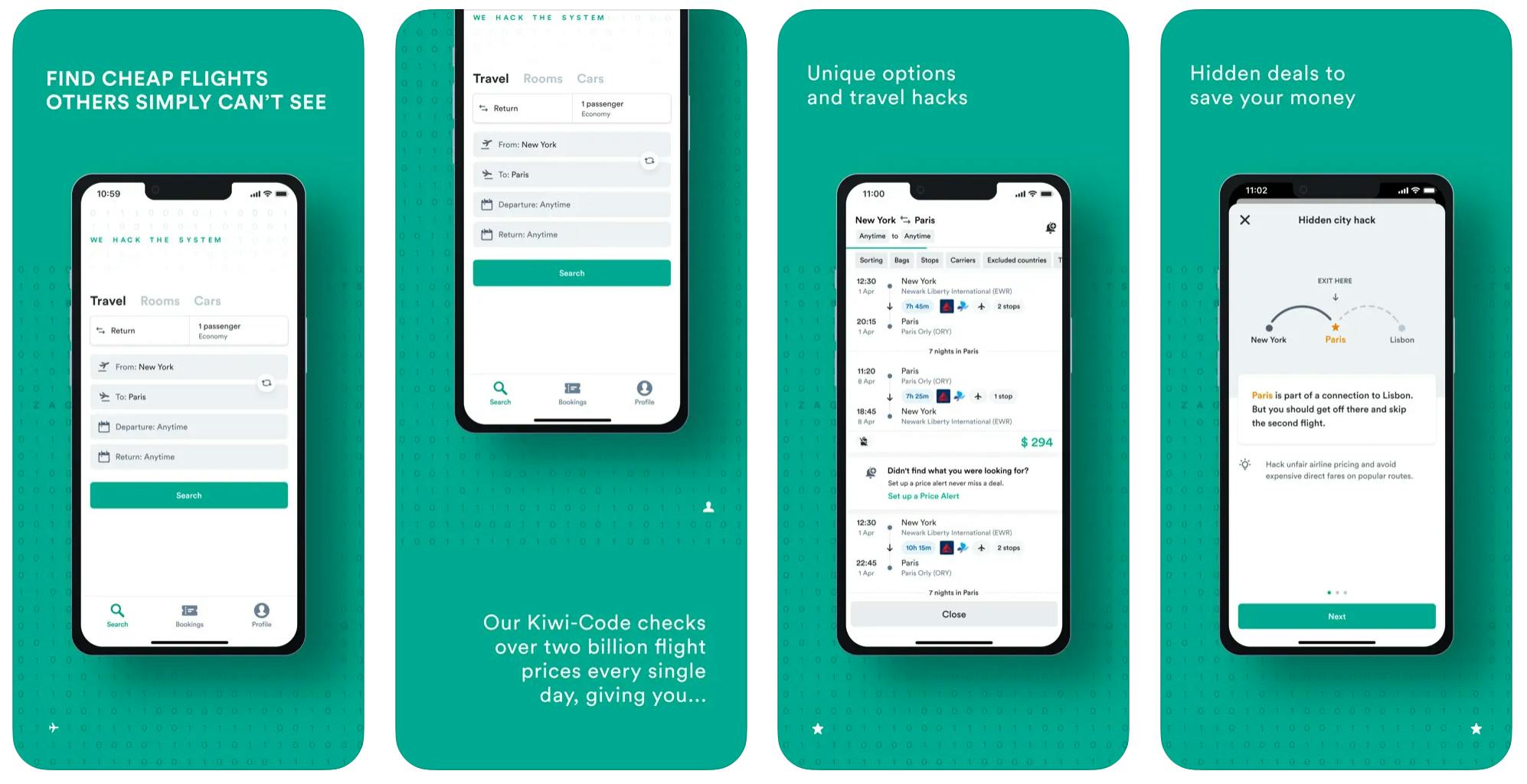 Skyscanner
Websites like Skyscanner can show you the monthly trend of airline prices for your destination. A 'Get Price Alert' button alerts you about price fluctuation for your given trip, and you can take advantage of this opportunity and book your tickets as soon as you begin to see a fall in prices.
This mobile app offers tools to show you a world map of all flights after typing your home airport in. This easily allows you to compare each destination – and perhaps you find some bucket list destination you never even thought about.
Price: Free
Rating: 4.8 stars
FlightAware
So maybe you have a tight timeframe before your next connecting flight and you are now stressing about flight delays, cancellations, or gate changes. FlightAware allows you to track your flight and informs you of any changes in your connecting flight.
Price: Free, offers micro transactions to remove ads etc.
Rating: 4.8 stars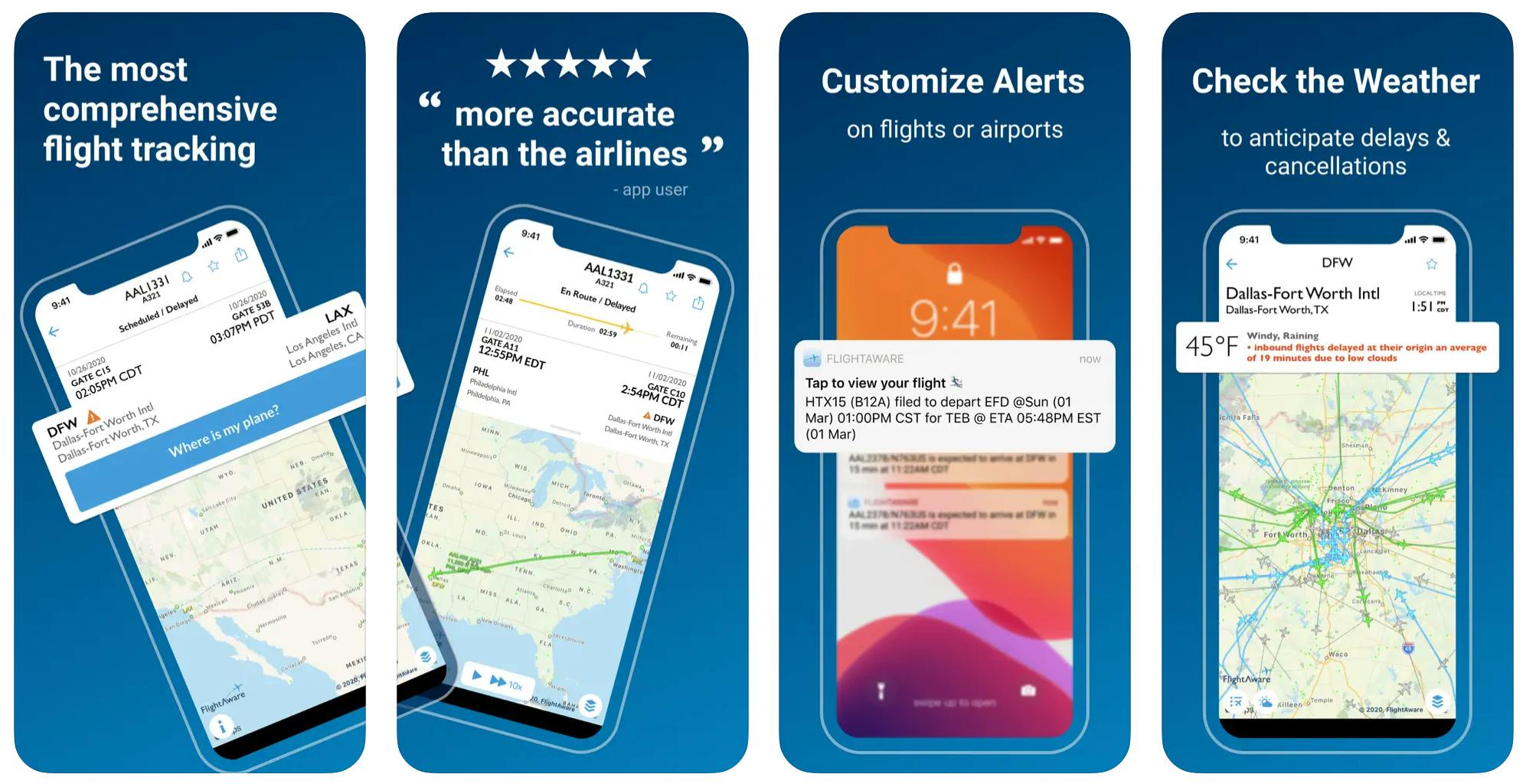 Best Apps For Visas And Visa Applications
Anyone that has ever had to apply for a visa knows that this is an extremely stressful and tedious process. But it doesn't have to be such a hassle, this app simplifies the whole visa application process for you.
Atlys
We all know how tedious visa applications can be from scrambling to get the right documents to make sure you meet all the required entry requirements. Luckily with Atlys, the process is simplified and you can expect a hassle-free experience.
What you can expect from Atlys:
Straight-forward application process - this can be done in minutes!

Support with gathering your documents - Atlys helps you gather all the required documents.

Step-by-step instructions - Atlys will be there every step of the way!
Atlys has a free Visa appointment booker tool that will help you schedule a visa appointment for certain countries.
With Atlys, you can complete some Visa applications, error-free in under 10 minutes. This sounds impossible, right? Still don't believe me? Download the Atlys app and start your application now.
Price: Free to download, pay only for each visa you apply for.
Rating: 4.6 stars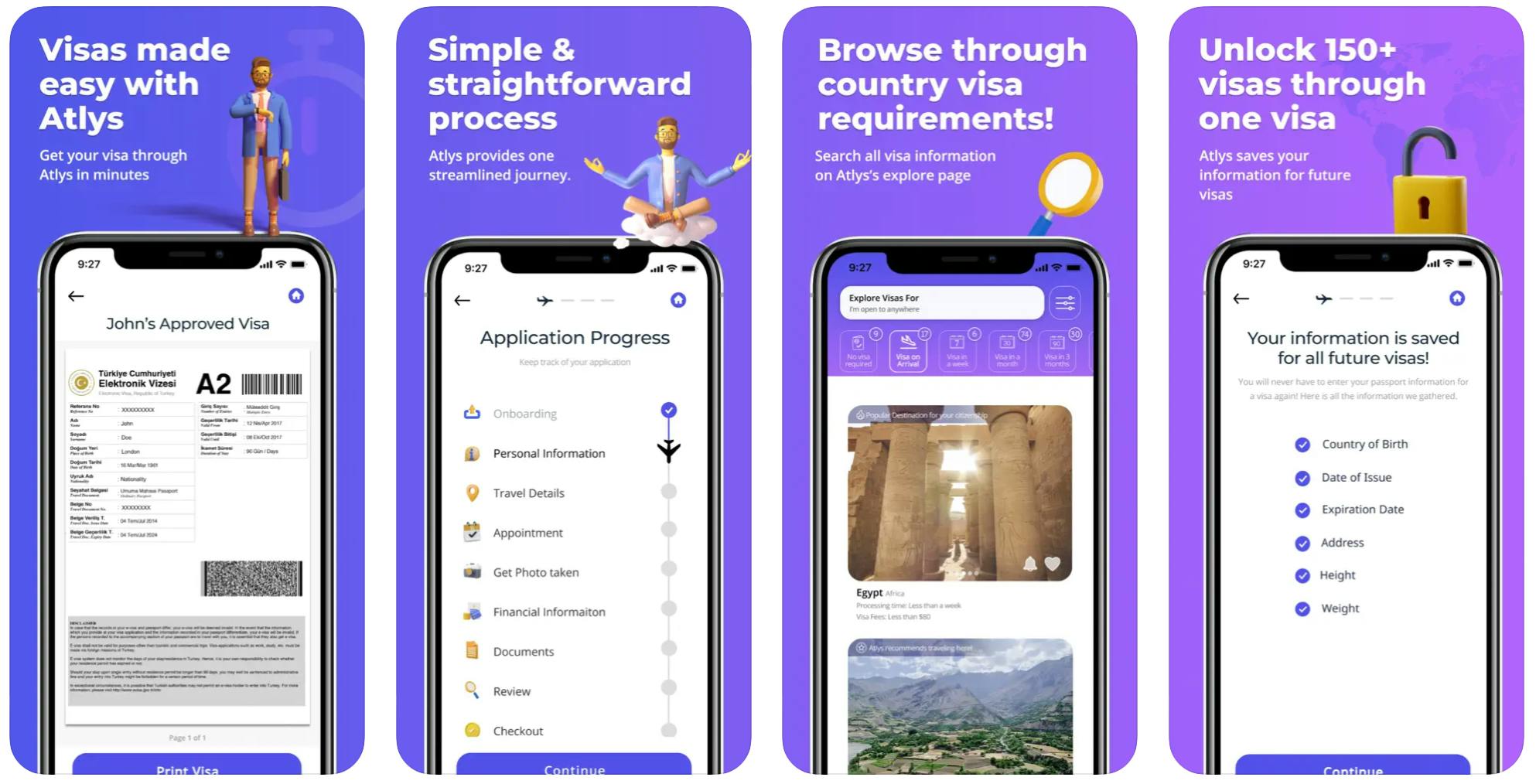 Best Apps For Navigating Throughout The Destination
So now we have the opportunity to abolish any stressors in terms of language barriers and phone calls.
TripLingo
TripLingo is a great app that helps translate what you are saying to the locals. You'll start by downloading a country pack, for example, Spain, and now you'll have a voice translator that will translate your sentences for the locals.
What makes this app 'different' is that it has an entire section on tipping, safety, and cultural norms to make sure you blend right in.
Available on: Download straight from the website TripLingo
Price: Free to download, in-app purchases - one month extra learning subscription starts at $19.99.
Rating: 4.5 stars
Google Translate
Google Translate is a staple app that will always be used by millions of people. This app allows you to translate text into 108 languages. You even have access to 59 languages whilst offline.
Price: Free
Rating: 4.4 stars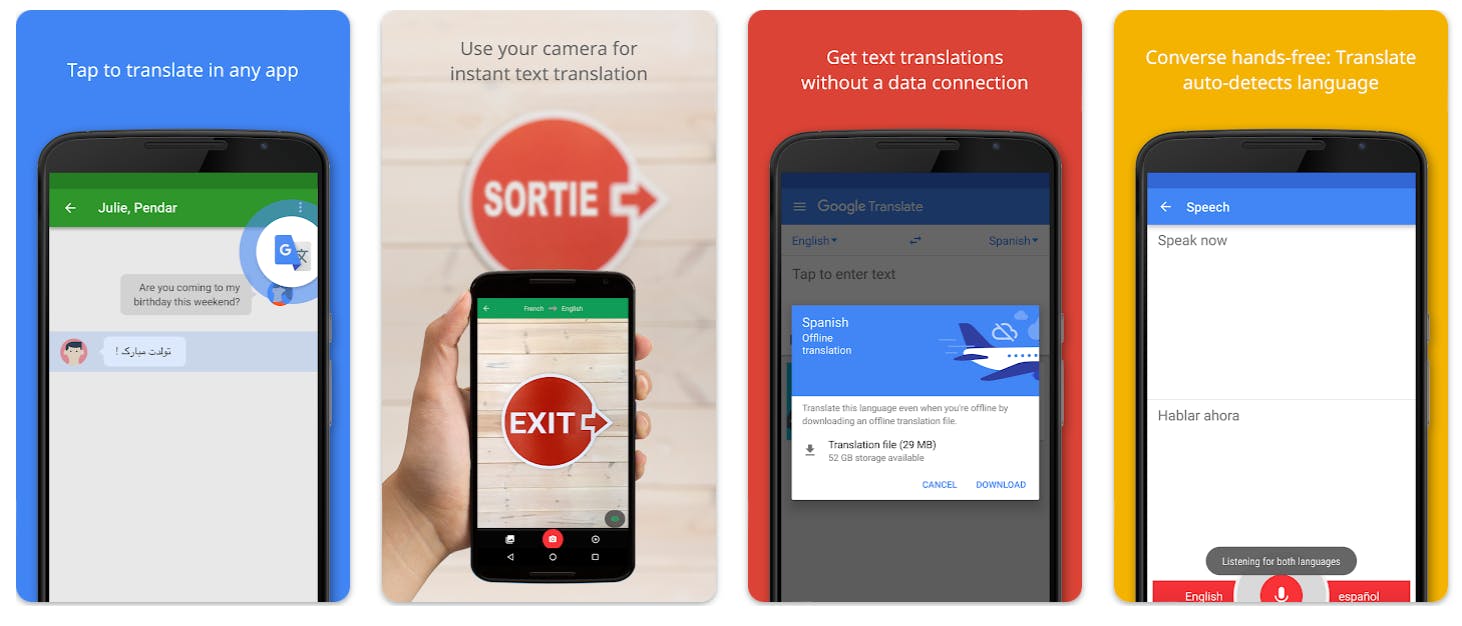 Rebtel
We all know how super expensive roaming costs, and sometimes you just can't find a proper place with WIFI to make a phone call on messaging apps like WhatsApp.
Rebtel is an awesome app that connects to local phone lines to connect you to 51 countries at an affordable price. The best part is that you don't even need a SIM card or internet connection.
Price: Free
Rating: 4.8 stars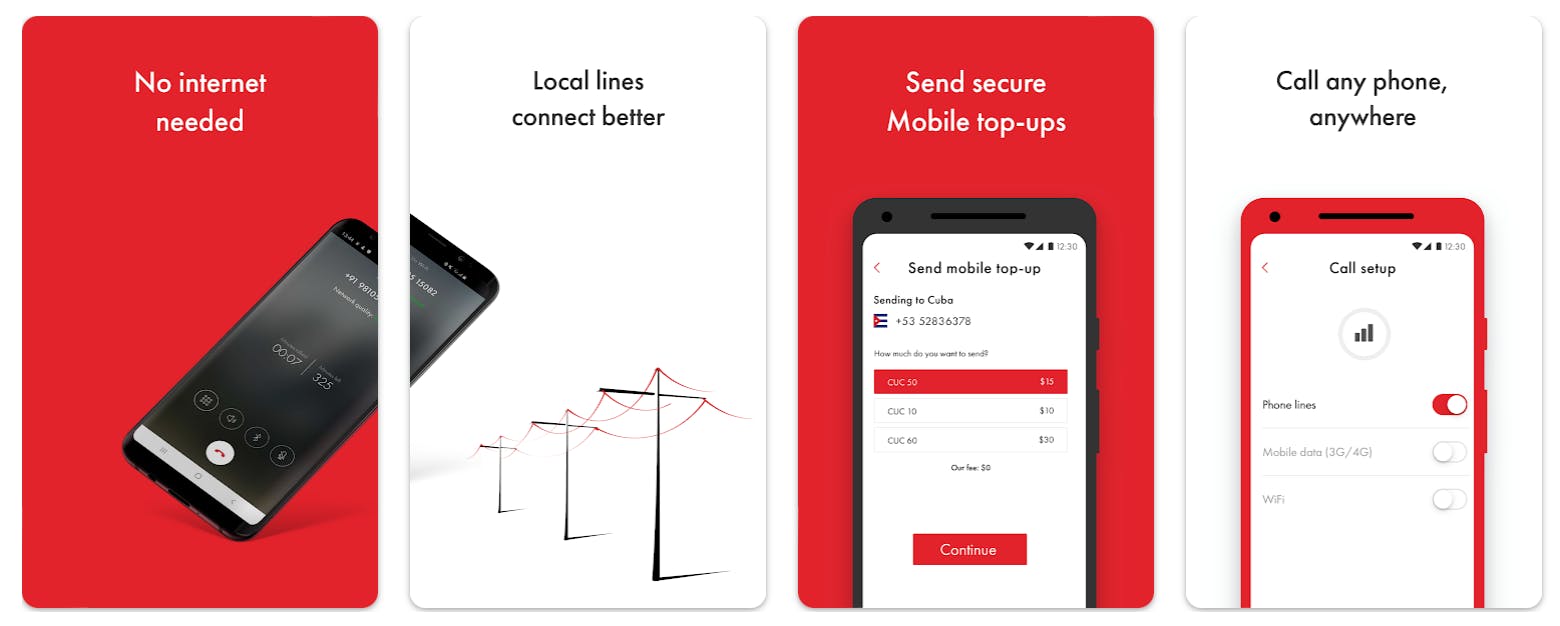 Best Apps For Transport
For most travellers transport is a big part of their trip, and knowing where to find transport at the right time is crucial to make your trip run smoothly.
Waze
Waze is a very useful navigational app, that does so much more than just navigate you to your chosen location.
If you're hiring a car, it is best to download Waze, as Waze shows you exactly where to expect potholes that might damage your rental car, it also gives you regular updates on road conditions and where to expect speed cameras. It has the bonus that it tells you when the best time is to leave to avoid everyday regular traffic.
Price: Free
Rating: 4.9 stars

Uber
I'm sure you have heard or possibly even used Uber before. This popular ride-on-demand app is very popular amongst travellers planning on not renting a car.
Uber is nice in the sense that your ride price is already predetermined and you won't have to haggle with the taxi driver over a price. The taxi driver simply picks you up at your location, already knowing where your end destination is, he/she drops you off and you give them the amount stated on the app by credit card or cash, as easy as that.
Price: Free to download, pay for rides ordered.
Rating: 4.7 stars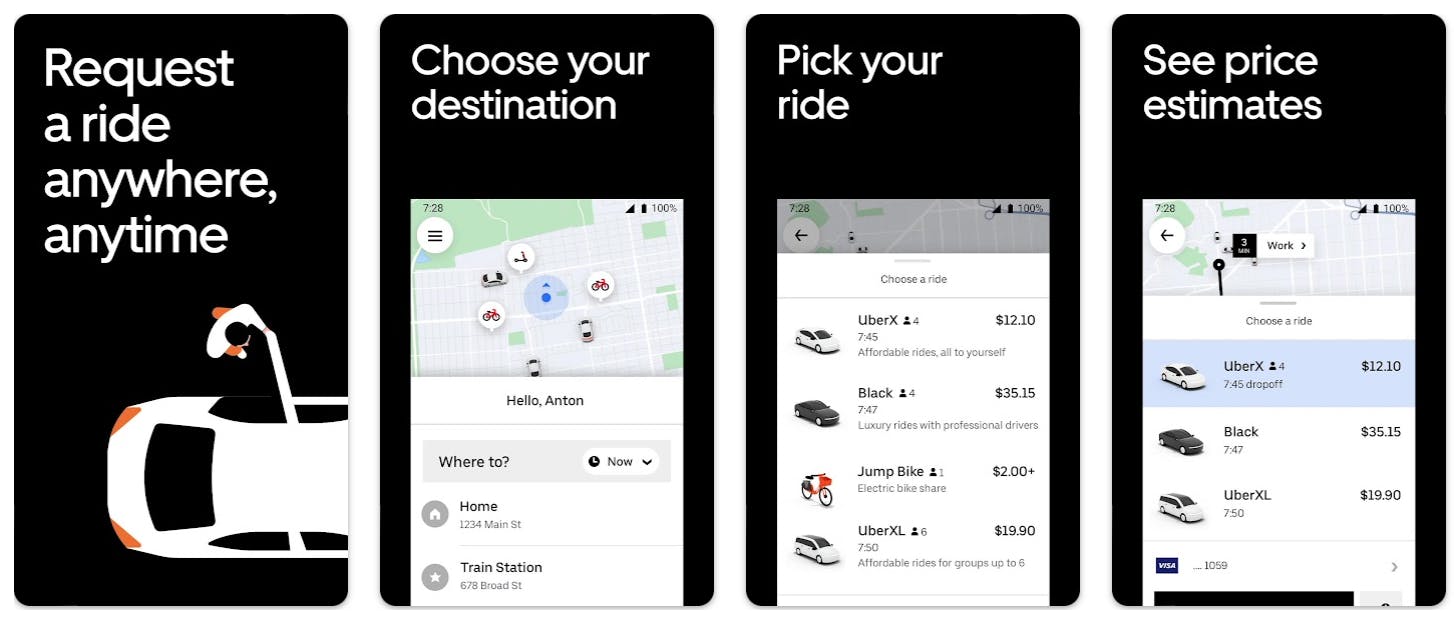 Google Maps
For travellers wishing to take the sites in and walk to their destination, it will be very handy to download Google Maps. It shows you where you are, and where you want to go using foot, car or public transport. Google maps also allows you to have a offline map when you are struggling to find an internet connection, which is a lifesaver!
What makes Google Maps special is that you can see listings such as restaurants, bars, hotels, etc. that are around you making it the perfect opportunity to explore more things.
Price: Free
Rating: 4.7 stars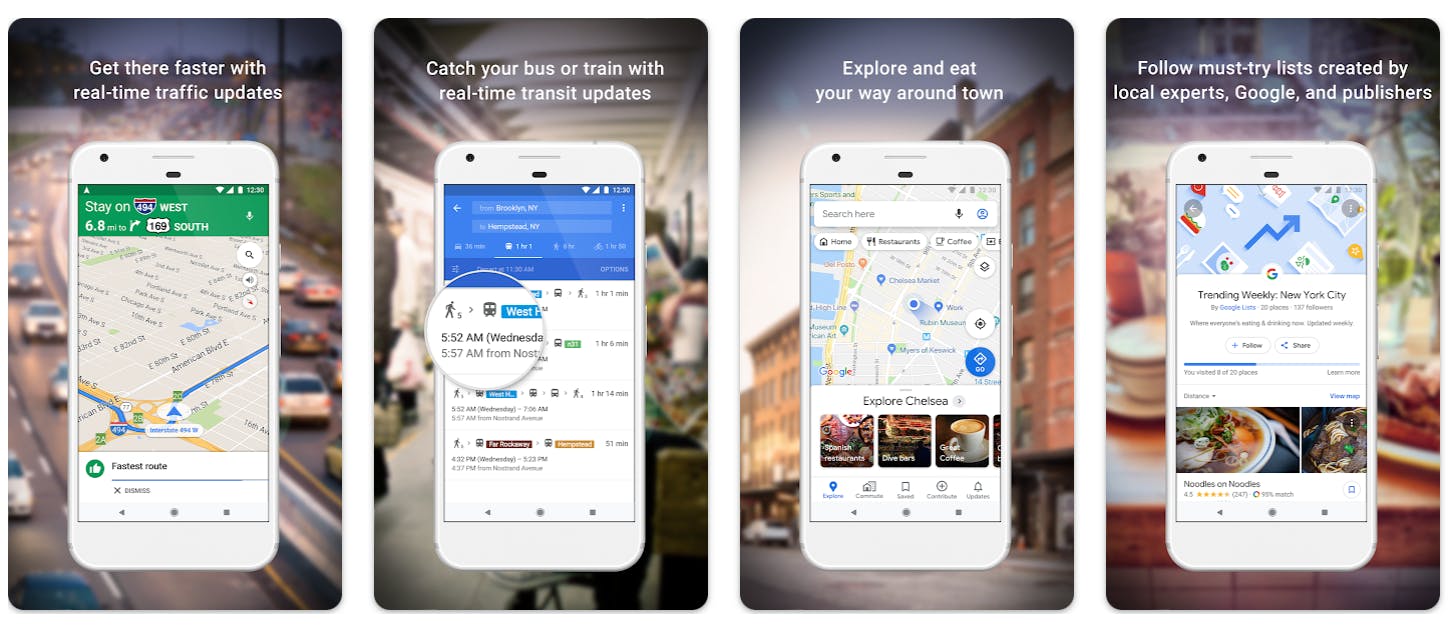 Best Apps For Accommodation
To many people, finding the perfect accommodation is crucial for their perfect holiday, some people want luxury while others want budget accommodation. These apps help you book hotels, hostels, holiday homes etc.
Hotels.com
Hotels.com is an app that helps you find holiday homes, hotel rooms, hostels, B&B, motels, and apartments that you can book directly through Hotels.com.
Price: Free
Rating: 4.8 stars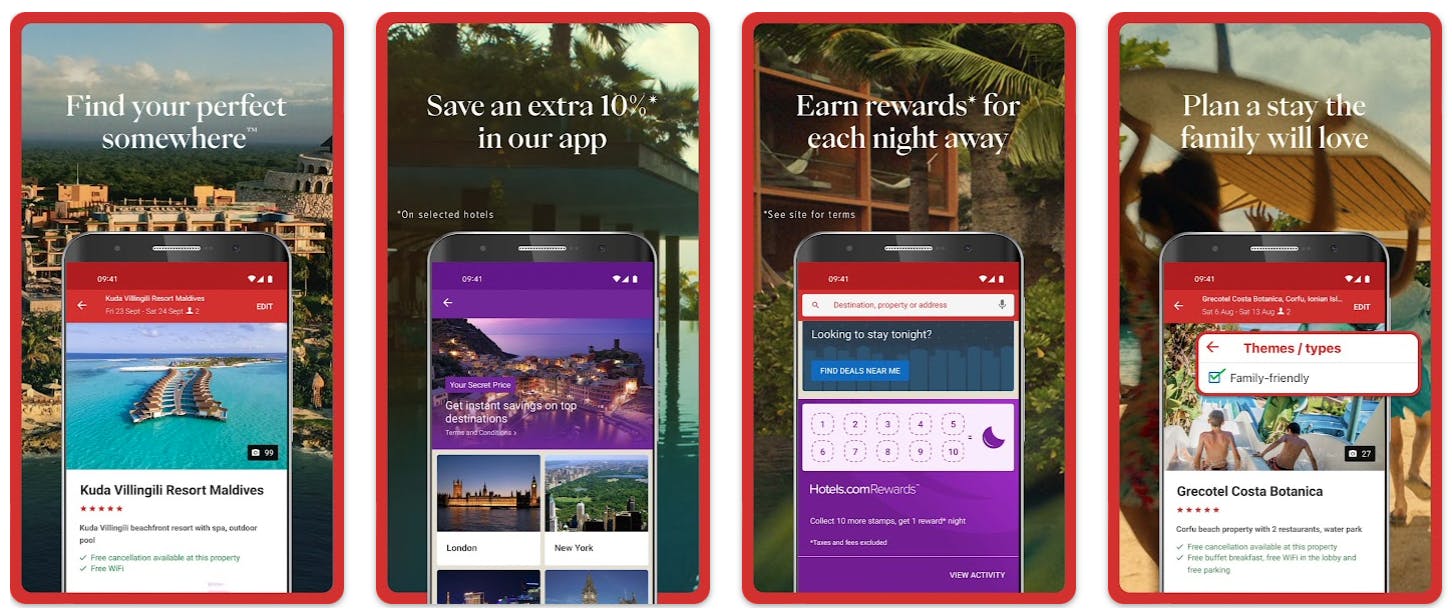 Airbnb
Airbnb is a very popular app amongst travellers to book their accommodation. After entering your destination and dates you can filter out the search results by means of home type, price, and any other prerequisites you might have.
You will also be able to find some hidden gems for affordable prices on Airbnb.
Price: Free to download, pay a service fee with each booking
Rating: 4.8 stars

HostelWorld
HostelWorld is the perfect app to book accommodation for the budget traveller. Here you can find over 17 000 hostels, hotels, and B&B in over 178 countries. You can even make great last-minute bookings on this app.
This app is special for solo travellers or travellers wanting to meet new people, this app allows you to meet fellow vacationers as well as has a noticeboard with events and meetups that you can join.
Price: Free to download, pay a service fee with each booking
Rating: 4.1 stars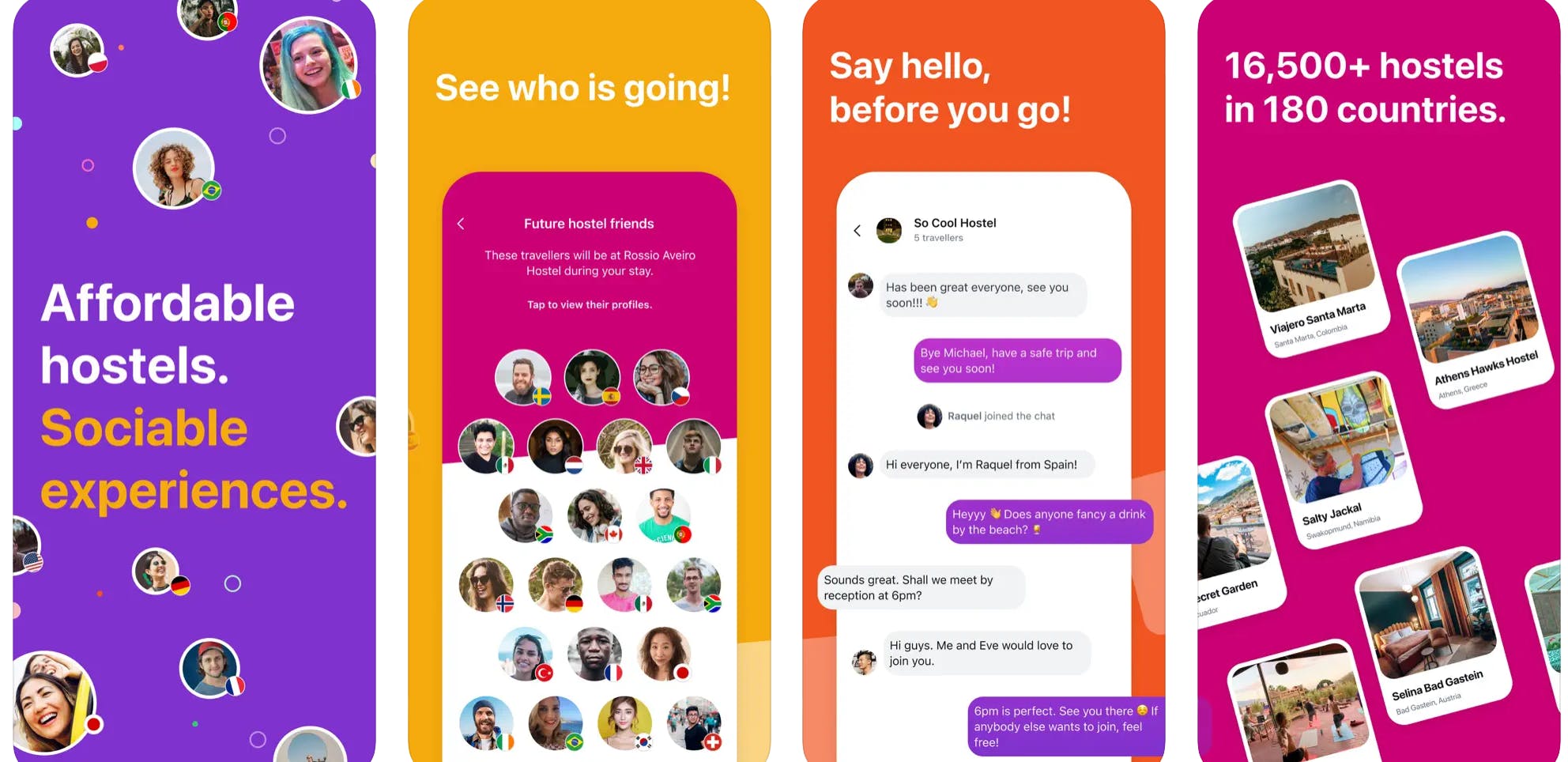 Best Apps For Recommendations On Where To Eat
Having great meals are very important to most travellers, but where do we find these hidden blessed by the food god themselves? Here are the apps where you can find some mind-blowing cuisine at your destination.
Happy Cow
These days it's a struggle to find a good restaurant that caters to vegans and vegetarians. Look no further, Happy Cow is an app that helps vegan and vegetarian eaters locate over 100 000 restaurants, shops, bakeries, farmers' markets, and grocery stores in over 195 countries.
Price: Free
Rating: 4.9 stars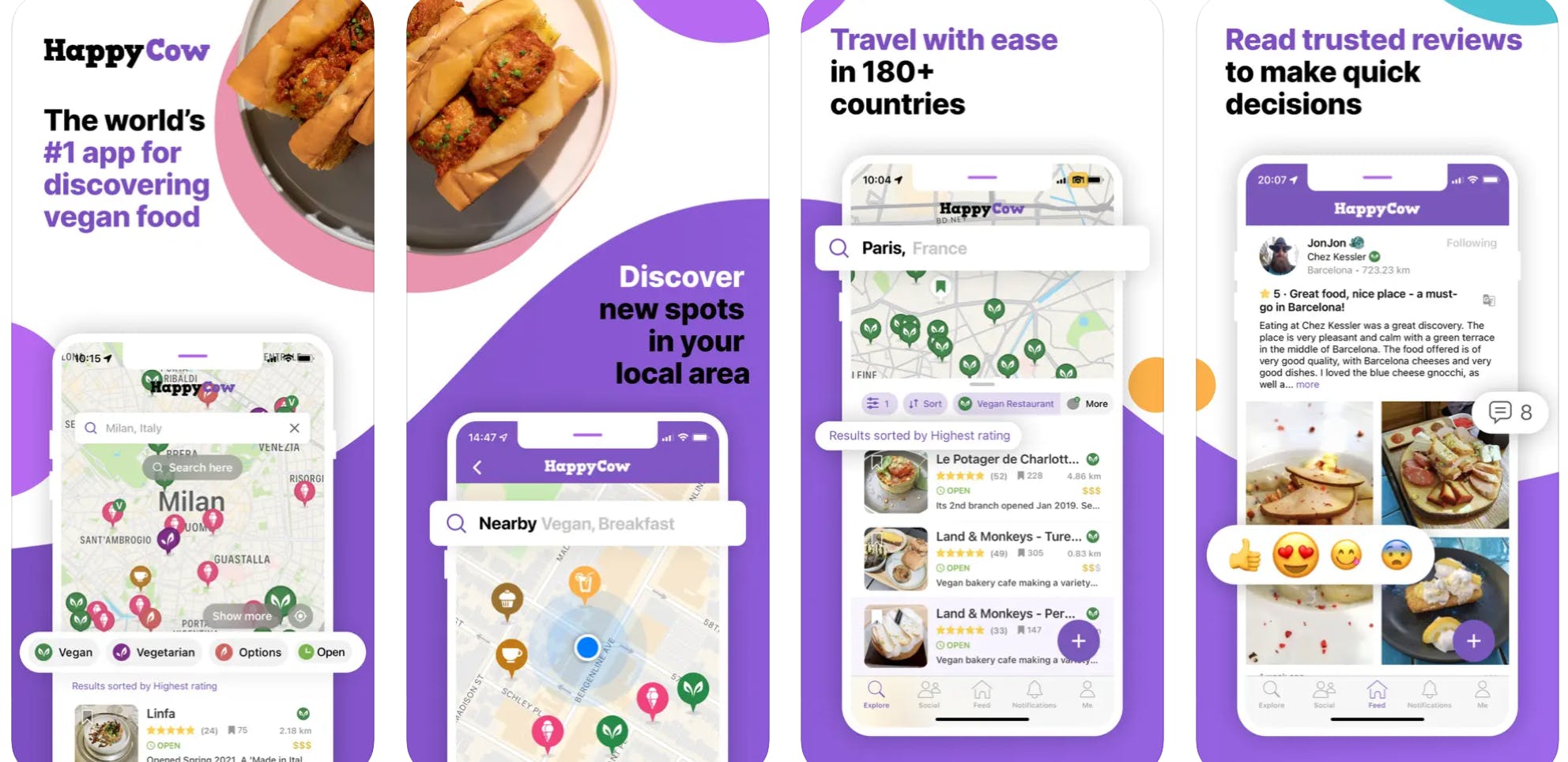 EatWith
If you are more into a traditional experience EatWith allows you to connect with locals that will serve you dinner in their homes. Menus are posted for you to see, while the host will list everything from the language they speak, what they cook and what alcohol pairing goes with their food.
This way allows you to have a traditional experience as well as meet some new people along the way.
Available on: iOS
Price: Free
Rating: 3.7 stars
Apps You Never Knew You Needed
Sometimes there is just an app for everything. Here you will discover apps you probably never knew existed and apps you never knew you might need!
Yelp
So you are in a new destination, but you need a recommendation and fast! Yelp comes in handy. It gives insight into the quality of businesses and services, from restaurants to hotels, based on user reviews.
People often contribute photos, menus, and prices and this can give you a good sense of what to expect. Yelp also lets you make reservations for restaurants and other services directly through the site and app.
Price: Free
Rating: 4.5 stars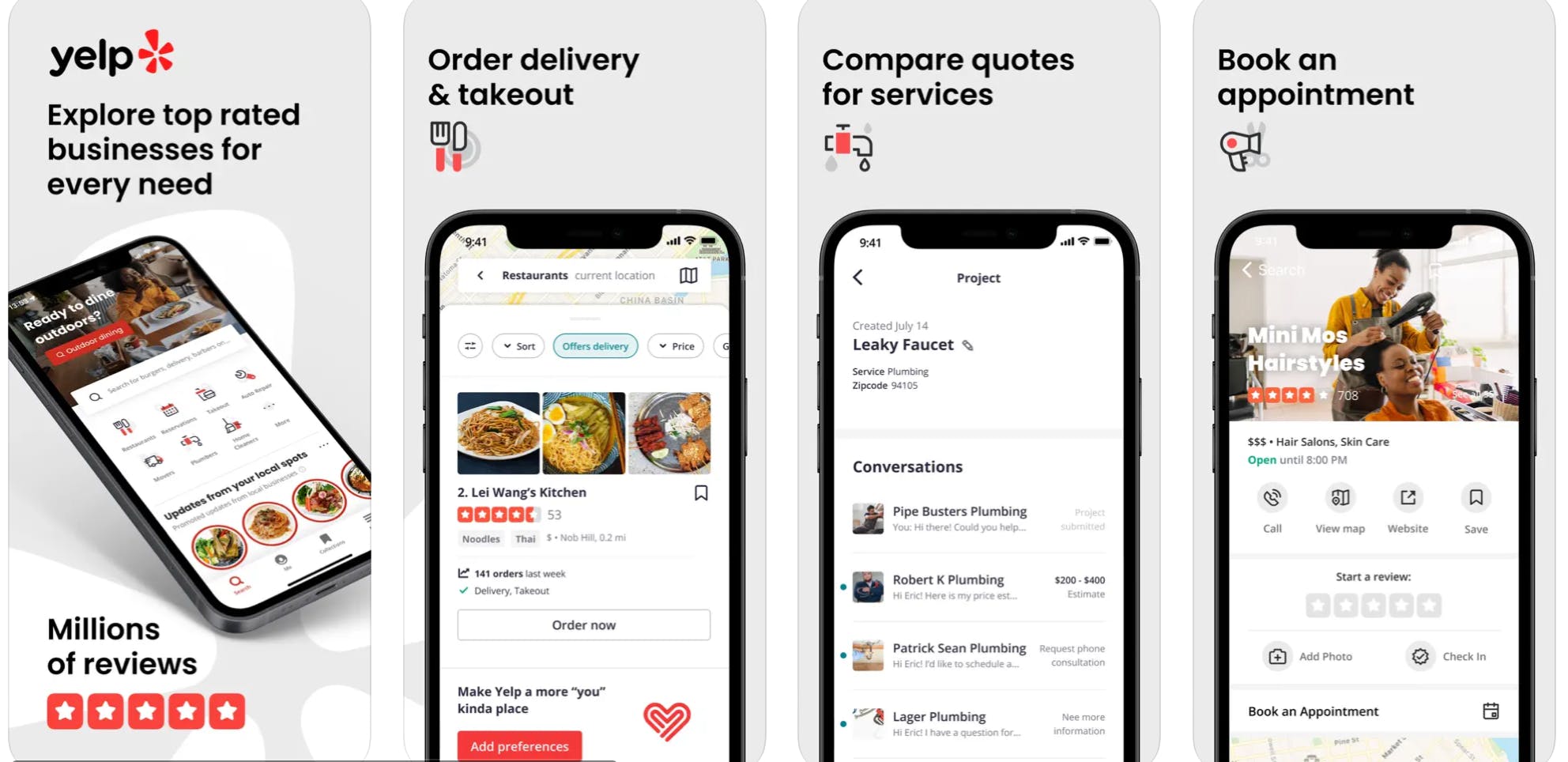 Flush
Yes, you read that right, Flush is an app that allows you to find the nearest public restroom nearby. Flush has a database of over 200 000 restrooms, and you can use this app without an internet connection.
Price: Free
Rating: 3.7 stars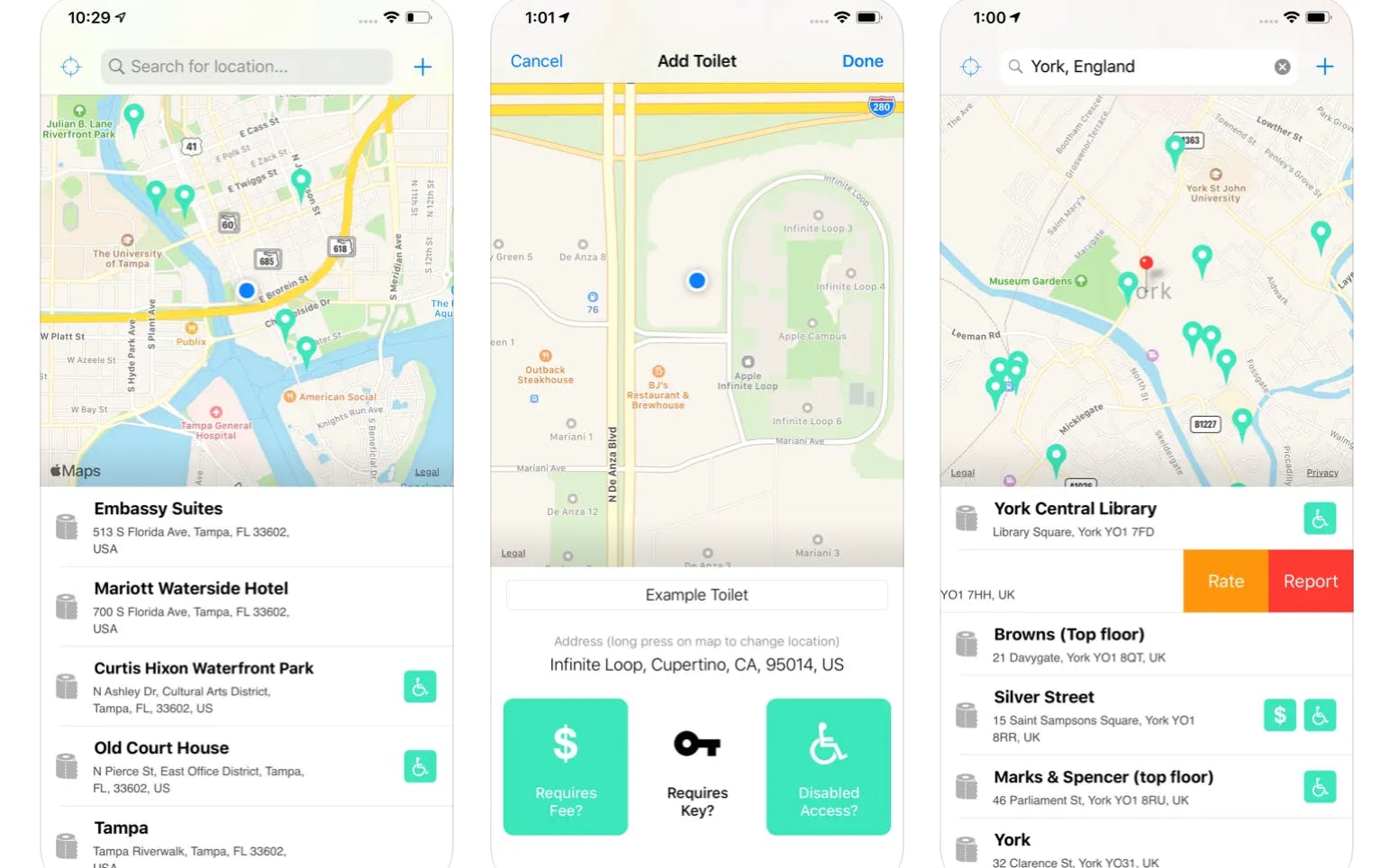 XE currency converter
XE currency converter provides you with real-time exchange rates that you can store and view when you are offline. It might be beneficial to know you much you are spending when you go on that long-awaited shopping trip. Make currency conversions effortless with this straight-forward app.
Price: Free
Rating: 4.3 stars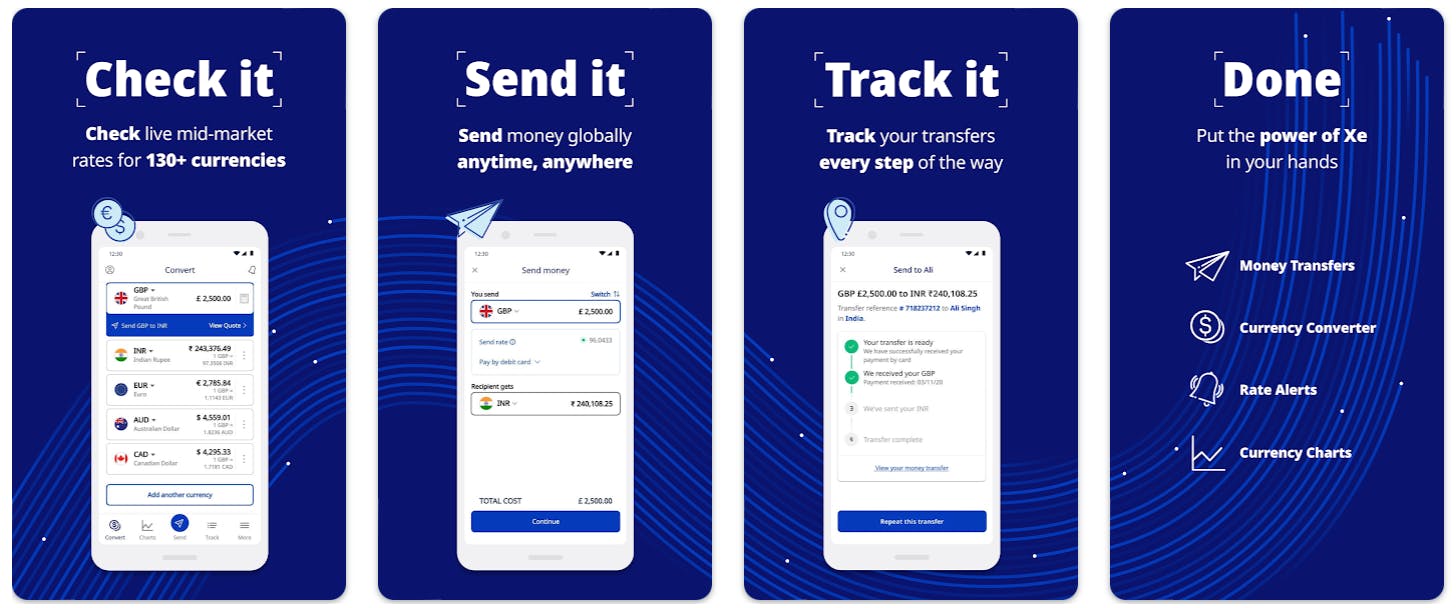 Atlys
I know you will be very excited about this next section because I am. Keeping things organized is such a flex!!These tools were created by travellers for travellers to make traveling easier.
Here's a list of Atlys' free tools that will help you keep some of your travel information organized:
Price: Free to download, pay only for each visa you apply for.
Rating: 4.6 stars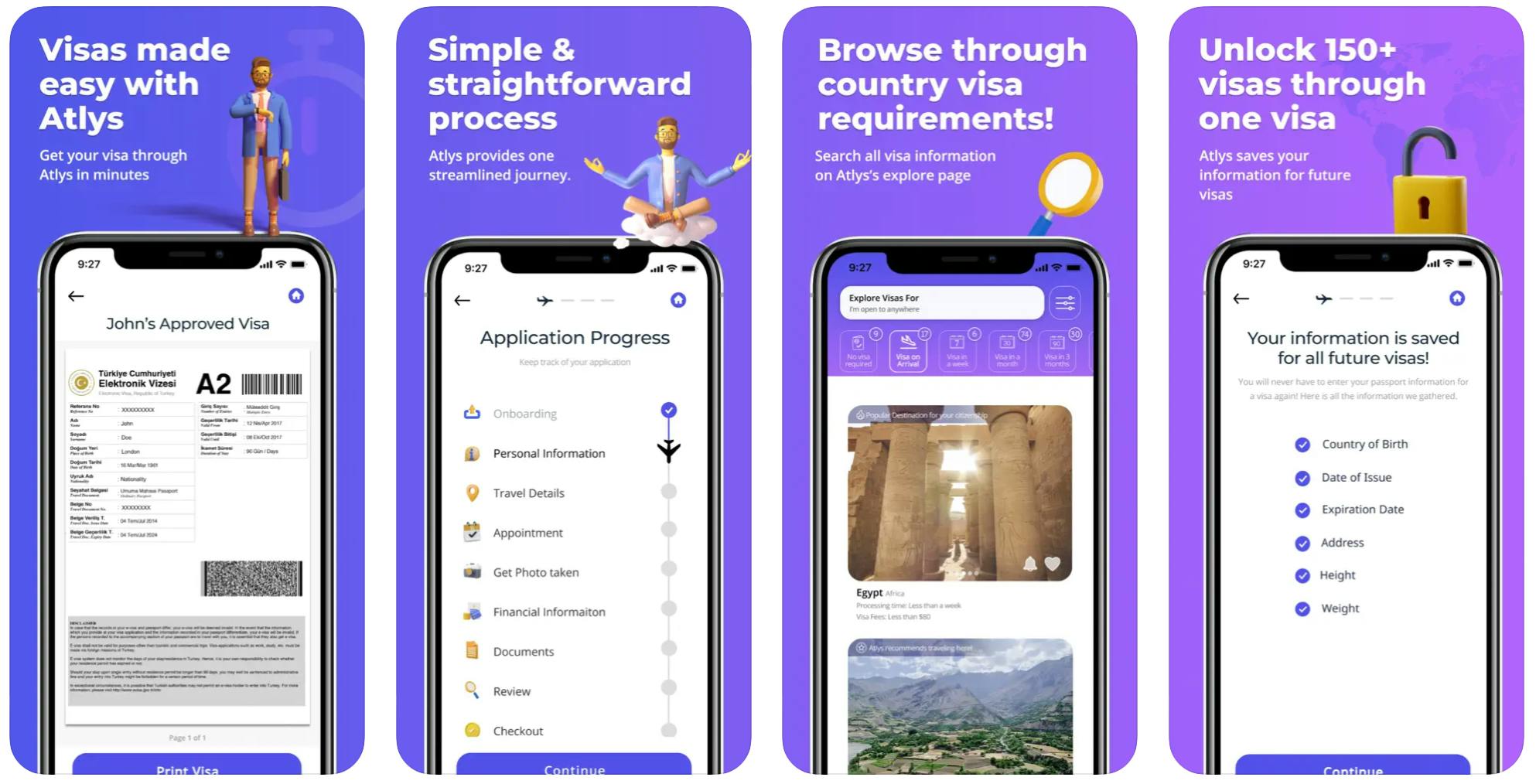 Tripit
Tripit is a very useful itinerary app that allows you to build a full itinerary of your trip by forwarding all your confirmation emails to Trip. These include confirmations like flight, hotel and car reservations, etc. The app will compile a neat itinerary for your trip that you can easily make changes too.
What makes this app special is that you will also get real-time notifications about any information in regards to your flight.
Price: Free
Rating: 4.7 stars
TripAdvisor
Tripadvisor is one of the best apps you can download! It has over 700 million reviews of 8 million destinations to peruse before booking your hotel, dinner reservation, or even planning a day at the museum. This way you can be assured that people's recommendations are sound!
TripAdvisor is one of the must-have travel apps to find recommendations!
Price: Free
Rating: 4.8 stars

PackPoint
Who doesn't love a customised list of everything you need to pack for your trip? By entering your destination, travel dates, activities and length of stay PackPoint will create a list of everything you need to pack for your trip.
The app will also be able to check weather forecasts for you, and best yet is that you will be able to share your packing list with your fellow traveler. Isn't that awesome? This makes trip planning so much easier.
Available on: Android
Price: Free
Rating: 4.6 stars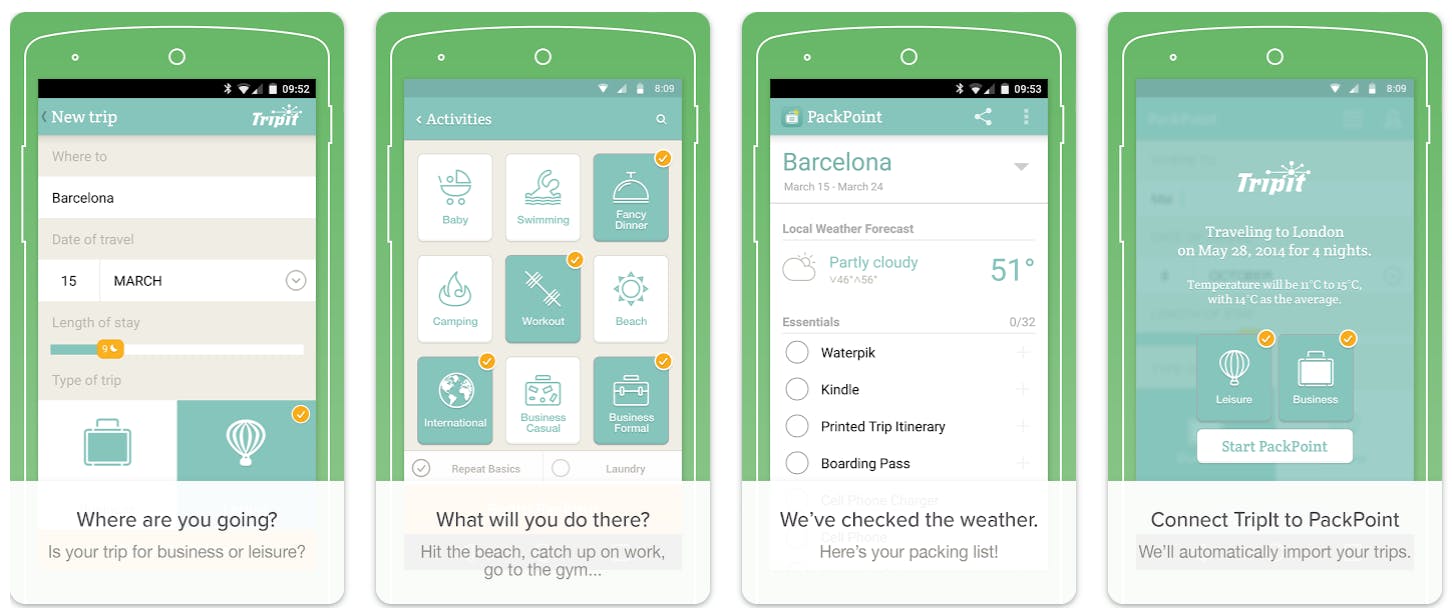 That's it
Make sure to also take a look at the travel tips and travel guides in Tips on finding the cheapest flights online you never knew would work. These are some of the most best travel apps for travellers. Some may be obvious and others more obscure, but either way, get ready to start downloading. What do you think, which travel application will you be downloading for your next trip?
Author: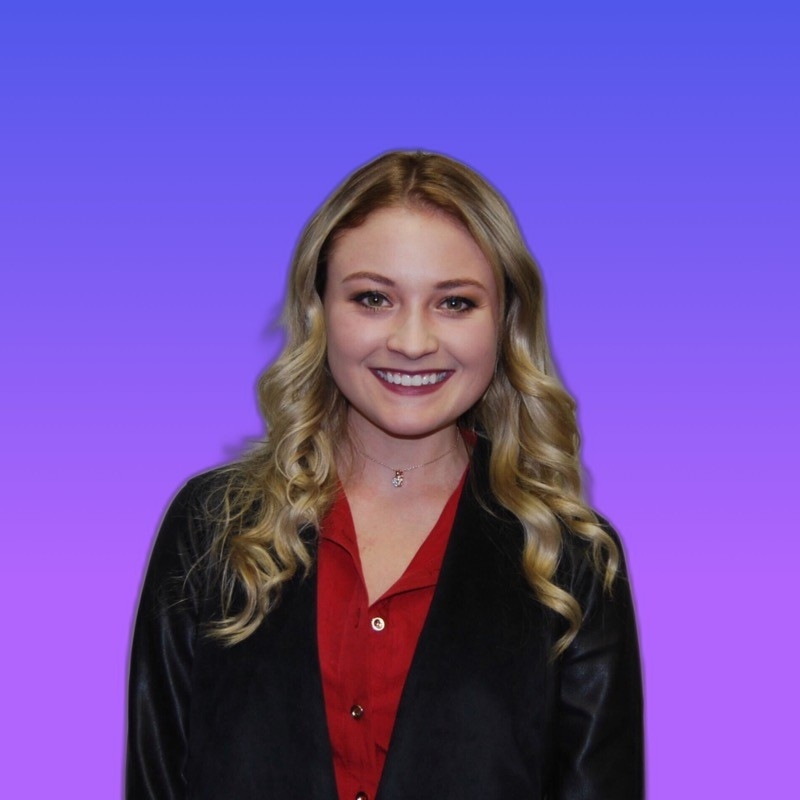 Shannon Reeler
Verified Author: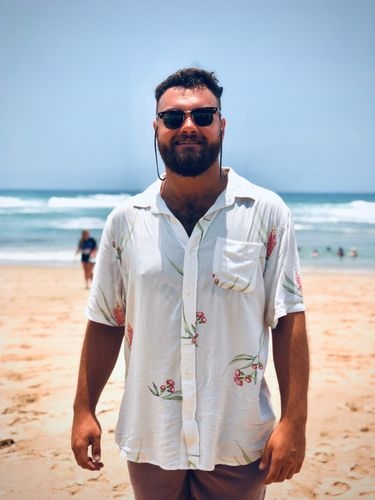 Armando du Preez