Costa Rica Health Pass - Forms, Application and More
Last Updated : Oct 2, 2023
Atlys in the news
Costa Rica Health Pass - Step by Step Instructions
Costa Rica requires all international travelers to obtain a Costa Rica Health Pass on arrival 72 hours before departure.
Important Update
Due to the sudden rush of post-pandemic travelers, there is a considerable backlog of applications leading to last-minute flight cancellations. Therefore, we recommend using Atlys automatically generates the Costa Rica Health Pass along with other travel documentation well before your flight. You won't need to use the government website if you use Atlys!
How to Get a Costa Rica Health Pass & Insurance on Atlys
If you're worried about not finding the right insurance or filling up the form, it's best to use Atlys. You can get your Health Pass in under 30 seconds.
Health Pass Application
Go to the portal for the Heath Pass. Most likely, the website will be in Spanish. To change the language to English, go to the top right corner and select 'English' from the dropdown menu. Next, click on 'Fill Form.'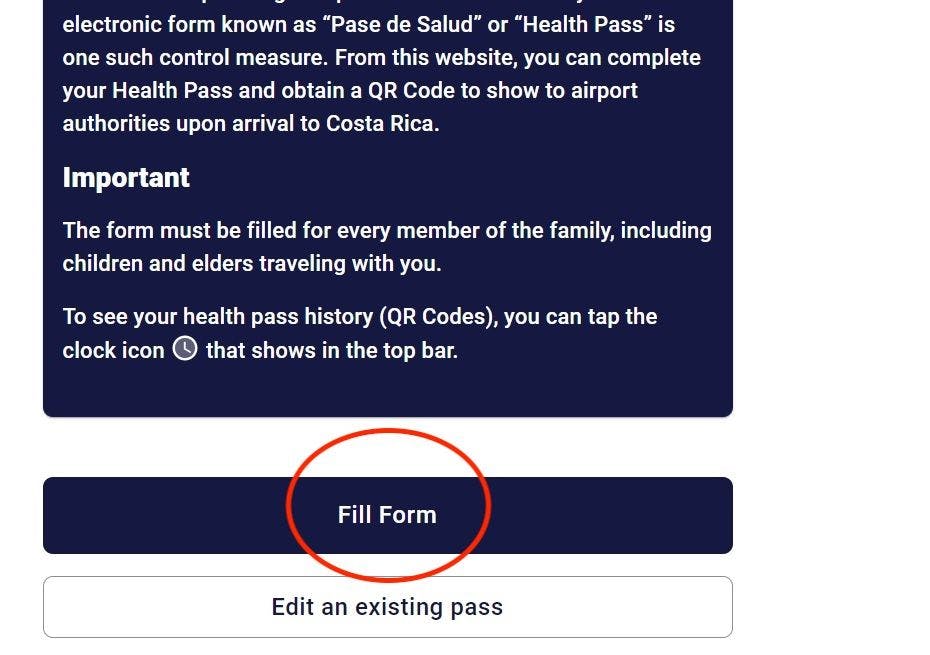 Trip Details
The first section is self-explanatory. However, if you're a diplomat, you need to provide an identification document. For 'Trip Information,' enter details on how you're reaching Costa Rica, airport, flight #, and date of arrival.
The airport is Juan Santamaria International Airport. The airline is the flight # should be the final flight to Costa Rica. For instance, if you're traveling from San Francisco to Chicago on UA 01 and Chicago to Costa Rica on UA 08, enter UA 08.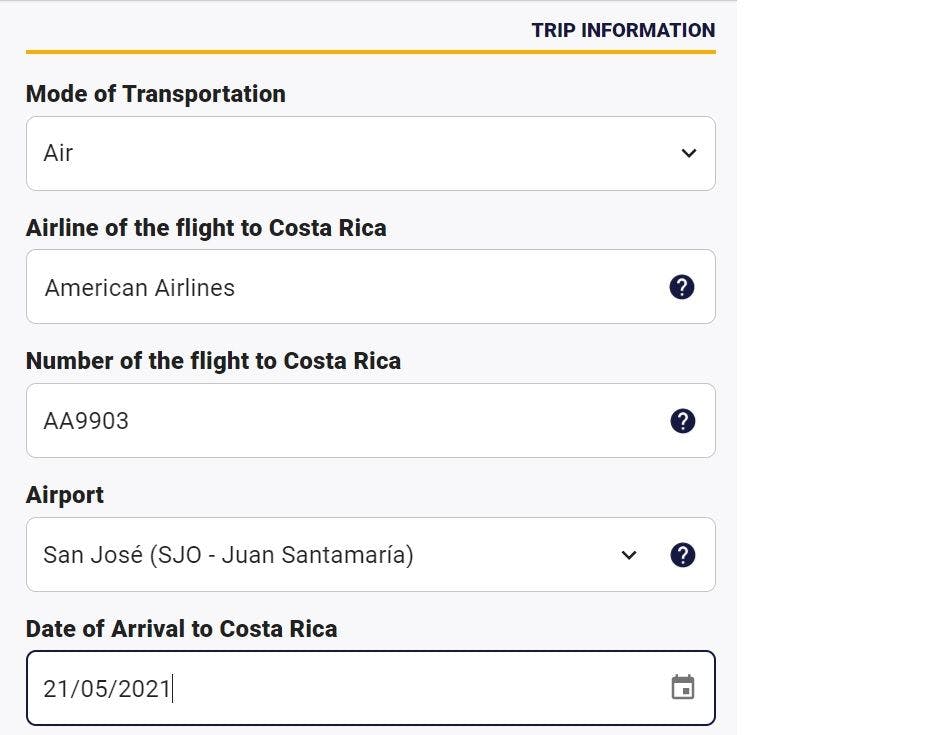 Accomodation Details
This section provides information about your stay in Costa Rica and the address of accommodation. For those living in Airbnbs, provide details of your host. For those staying in hotels, you can put the hotel address readily available online. The purpose is Vacation.
Costa Rica Health Pass for Vaccinated Travelers
Vaccinated travelers are not required to buy travel insurance. However, to save over $100, use Atlys to apply just with your vaccine card.
Costa Rica Health Pass Travel Insurance
Costa Rica requires non-vaccinated travelers to possess valid travel insurance to enter the country. The travel insurance should cover COVID-19.
The last section asks you about your travel insurance, such as the policy number, coverage details, and a letter confirming you possess the insurance. We recommend using Atlys to get Allianz Insurance since it meets all criteria. The travel insurance has to meet the following requirements:
Valid for the entire stay in Costa Rica (coverage dates).

50,000 USD for medical expenses, including those from COVID-19.

2,000 USD for lodging expenses in the event of COVID-19 quarantine.
A confirmation, in English or Spanish, clearly specifying:
Effective dates of the policy during the visit in Costa Rica (travel dates).

Guaranteed coverage of at least 50,000 USD for medical expenses in the event of contracting COVID-19 in Costa Rica.

Minimum coverage of 2,000 USD for lodging expenses due to quarantine or travel interruption.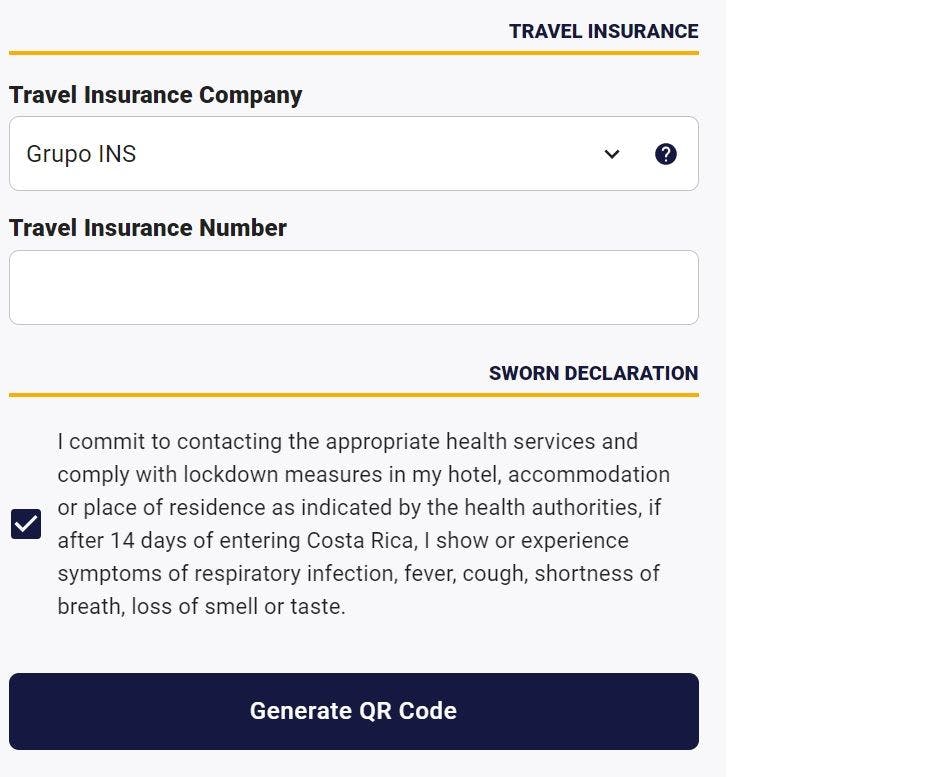 Pro Tip
Insurance cards, typically provided by employers, are not eligible.
How Much is Costa Rica Local Travel Insurance?
If you get travel insurance from a local provider, your Health Pass is pre-approved by the Costa Rican government. You only need to provide the insurance number. However, we've heard from many travelers dealing with American insurance companies is significantly easier should something go south.
Costa Rica Health Pass for Minors
All minors require a Health Pass. You can add children traveling with you in the last step. Airlines will not let you board if you fail to surface a Costa Rica Health Pass for everyone in your group. Your boarding pass will have a "DOCS OK" printed on them if you possess all valid documentation.
Costa Rica Health Pass Submission
Ensure all your details are correct and meet requirements. Submitting the health pass puts it in a review queue, and you will get a QR code immediately. You do not get a QR code via email, so make sure to save it.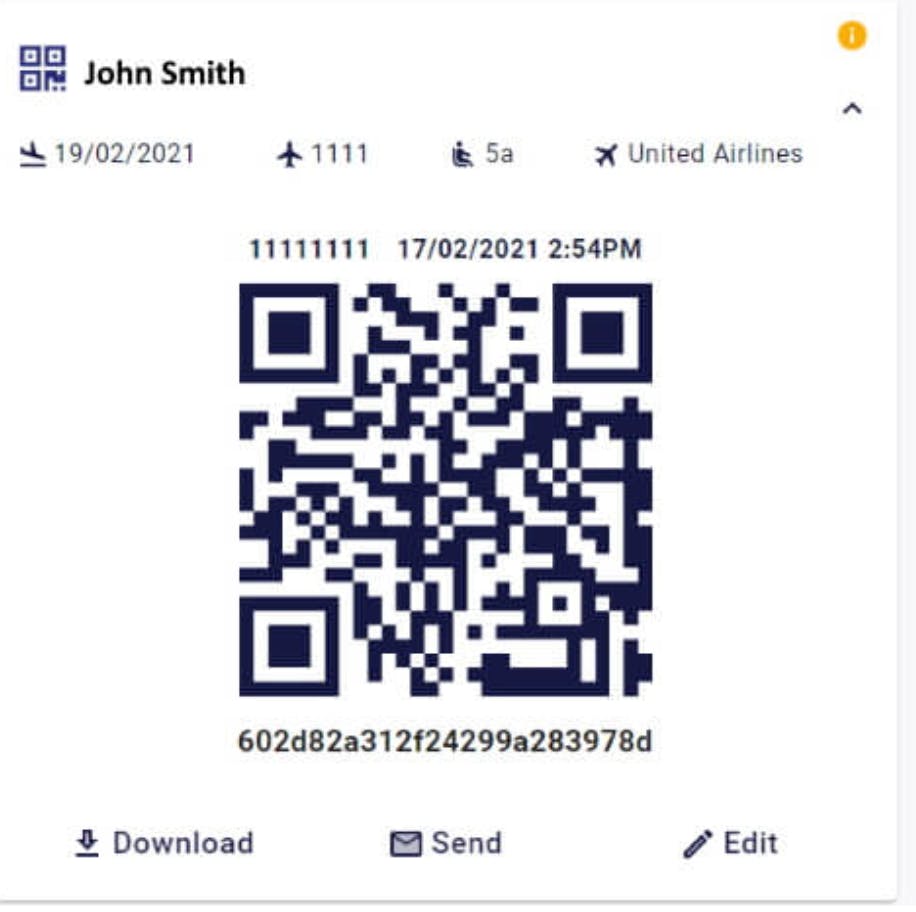 Costa Rica Health Pass Cost
Costa Rica Health Pass is free of cost. The Health Pass exists to control the spread of COVID-19. The Health Pass is scanned s at many places such as restaurants, bars, and hotels to verify your status.
Common Questions
What documents will I need to show to enter Costa Rica?
A valid Costa Rica Health Pass, available on Atlys.
Are there any travel restrictions in Costa Rica for Americans?Most non-essential businesses and attractions in Costa Rica are open, with capacity limitations and health measures in place.
How much does it cost to get an RT-PCR COVID-19 test in Costa Rica?The cost of an RT-PCR COVID-19 test in Costa Rica is between $100 and 130.
Can I travel to Costa Rica?
Costa Rica is now open for air travel from any country, and land borders have reopened.