European Countries Without Travel Restrictions That US Citizens Can Now Travel To
Last Updated : Sep 26, 2023
Atlys in the news
Due to the coronavirus pandemic, there were strict travel restrictions implemented. Fortunately, Europe is slowly lifting the covid19-related entry requirements and amending their advisories for international travel. However, some European countries have not dropped the testing, vaccination, or quarantine requirements.
U.S. citizens can now travel to most European countries while following the basic public health care protocols. However, the CDC has advised all American citizens to avoid non-essential travel to high-risk countries. Let us look at the countries that you can travel to in Europe:
Can Non-European Travelers Visit Europe?
Previously, European countries had a green, yellow and red color system that depicted the entry requirements for specific colored countries. Citizens of countries in the green zone were allowed into Europe with minimum requirements, whereas countries in the red zone were not allowed.
Currently, the countries in Europe have started moving away from the covid19 requirements. For most European countries this means that fully vaccinated travelers do not have to worry about the covid19 restrictions.
Since most countries' citizens are getting vaccinated, the spread of coronavirus is starting to get under control. Hence, most of the Non-European countries are no longer in the red zone and can travel to Europe. This means that American citizens can travel to Europe, including many other countries.
However, each country has its own covid19-related rules and each country is relaxing its requirements at its own pace. The majority of the European countries have abolished the requirement for quarantine, the negative antigen or RT-PCR test, or covid19 vaccination.
Americans must ensure that they are following the covid19 protocols in their destination country and have all the required documents with them. Additionally, you must remember that not all countries in Europe have the same rules.
What Does Travel Without Covid19 Restrictions Mean?
We have been so used to hearing about covid19 restrictions, that it is the first thing we think about. But eventually, all countries will have to abolish the requirements and we must know what that would mean for travelers. No covid19 restrictions on traveling would mean that:
There is no pre-travel covid19 test requirement

There is no covid19 test requirement upon arrival

There is no isolation or quarantine requirement

There is no covid19 vaccination required

Or no proof of recovery is required
Remember to check the covid19 requirements because they can change anytime with very short notice.
Countries In Europe Without Covid19 Restrictions
Country-specific covid19 requirements are constantly evolving in Europe. These requirements have been recently changed in light of the decrease in the covid19 cases and the citizens getting vaccinated.
The list of countries from the European Union and The European Economic Area that have dropped their covid19 entry requirements for non-European travelers is as follows:
Albania, Armenia, Austria, Belarus, Belgium, Bosnia and Herzegovina, Bulgaria, Croatia, Cyprus, The Czech Republic, Denmark, Estonia, Germany, Greece, Hungary, Iceland, Ireland, Italy, Kosovo, Latvia, Liechtenstein, Lithuania, Luxembourg, Moldova, Montenegro, North Macedonia, Norway, Poland, Romania, Serbia, Slovenia, Sweden, Switzerland, Turkey, United Kingdom, and Vatican City.
Though there are no covid19-related requirements, also remember to check the entry requirement before your trip on Atlys.
Remember to check with the airline whether they would require a negative covid19 test for boarding since the airlines are subject to company rules. They can deny you boarding if you do not provide the necessary documents.
Countries In Europe With Covid19 Restrictions
Citizens of the EU do not have many restrictions and can travel within Europe freely. Fortunately for them, they do not have to follow the covid19 regulations stipulated for Non-European citizens. The following covid19 rules are currently in place in the European countries:
Andorra: To be able to travel to Andorra, you will have to transit through either Spain or France. You will need to meet the entry requirements for either of the country in order to enter Andorra. Hence, it is advised that you follow all the travel restrictions in place for Spain or France, such as getting a negative RT-PCR test result or proof of vaccination or recovery from covid19.
Estonia - Non-European citizens, must meet the minimum entry requirements and need to show proof of vaccination status, covid19 recovery certificate, or a negative RT-PCR test result. However, if a traveler fails to present either of the mentioned documents, they must isolate for 7 days.
Finland -Travelers wishing to enter Finland must be fully vaccinated with their booster shot administered. The booster shot must be administered within 270 days of the second covid19 vaccination. Additionally, nin essential travel is not allowed for unvaccinated travelers but the rules are due to be dropped at the end of June.
France - Travelers coming to France have to abide by the rules depending on whether they are vaccinated or unvaccinated. Travelers from green-listed countries can visit France for nonessential. Additionally, other travelers can enter France, provided they have proof of vaccination.
Georgia - Fully vaccinated travelers must provide their proof of covid19 vaccination on arrival. Unvaccinated travelers must present a negative RT-PCR test result to enter.
Malta - Travelers must have either a vaccination certificate, a recovery document, or a negative Covid-19 test result to enter the country. However, there are no longer any mandatory quarantine requirements in place.
Monaco - Travelers must have either a vaccination certificate, a recovery document, or a negative Covid-19 test result to enter the country.
The Netherlands - Travelers must show a valid vaccination certificate with all doses administered of the vaccination to enter the country.
Portugal - Travelers wishing to visit mainland Portugal via air or sea must either provide a negative RT-PCR test result (72 hours) or a rapid antigen result. (24 hours), a covid19 recovery certificate or proof of vaccination. Travelers entering the country via land borders do not need to show the mentioned documents considering they met the requirements for the transit countries. Additionally, Madeira and Azores have lifted all their restrictions and do not need to meet the testing requirements or show the documents.
Slovakia - Travelers must have either a vaccination certificate, a recovery document, or a negative Covid-19 test result to enter the country.
Spain - Travelers from outside the EU/EEA region must provide proof of vaccination, recovery, or a negative test result—either PCR taken within 72 hours or antigen taken within 48 hours.
Ukraine: The U.S. Department of States Travel Advisory strongly advises against any travel to Ukraine due to the ongoing war and the invasion by Russia. Additionally, U.S. citizens are requested to depart immediately because of the detention of the U.S. citizens evacuating through Russia-occupied territory or to Russia or Belarus.
Approved Covid19 Vaccines In The EU
Several covid19 vaccines from different countries are accepted in Europe. However, not all European countries accept the same covid19 vaccine administered in countries outside Europe. Therefore, ensure that you check the approved covid19 vaccines by the European Medicines Agency before your trip.
The list of covid19 vaccines that are approved by all countries in Europe administered in a Non-European country are:
You can check the detailed information about the vaccines that are not accepted in Europe here.
Covid19 Requirements For European Countries With Restrictions
Though the majority of European countries are straying away from the covid19 restrictions, not all restrictions are lifted. Here are some of the basic covid19 protocols you should remember when traveling to countries with restrictions in Europe.
Check the requirement whether you will need any covid19-related document

Proof of vaccination on your trip with the approved covid19 vaccine in Europe

The booster shot must be administered after the completion of the primary dose

Have travel insurance that covers your covid19 treatment and, in extreme cases, evacuation

If you had a covid19 infection in the last 6 months, you must carry a certificate of recovery

If unvaccinated travelers are allowed in the country, they will need a negative Rt-PCR test result or an antigen test result

Children between 6 and 18 years must follow the covid19 rules similar to adults.
What Documents Should I Carry When Visiting Europe?
American citizens have visa exemption for most European countries for tourism. However, for the visa-required country, you can apply for a tourist visa directly on Atlys. Additionally, from late 2022 or early 2023, American citizens will need to fill out the ETIAS visa waiver before traveling to the Schengen area.
The documents that you should carry with you on your trip to any European Country are:
A valid passport for at least 6 months

A valid visa, if applicable
Citizens Of Which Countries Can Travel To EU Countries For Non Essential travel?
There are countries outside Europe that are currently lifting the covid19 rules and are open to travel. Currently, the EU countries allow the following for non-essential travel:
Bahrain, Chile, China (Hong Kong, Macao), Colombia, Indonesia, Kuwait, New Zealand, Peru, Qatar, Rwanda, Saudi Arabia, South Korea, United Arab Emirates, and Uruguay.
Countries that will not be affected by temporary external borders restriction on non-essential travel into the EU are:
Algeria, Australia, Canada, Georgia, Japan, Montenegro, Morocco, New Zealand, Rwanda, Serbia, South Korea, Thailand, Tunisia, Uruguay, and China.
However, this list is subject to change every two weeks, and you must stay current. You can check the updated list here.
For additional information and to stay up to date, check out our dedicated page on the individual country or read more about the Schengen countries on Atlys.
Frequently Asked Questions
According to the CDC, there are no negative covid-19 viral tests or documentation of recovery from covid19 requirements in place for boarding the international flights to the US.
Author: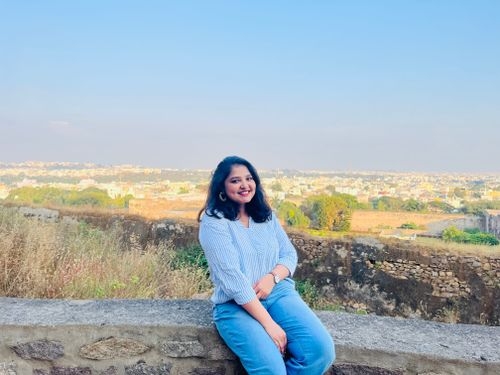 Nikhita Rathod