Singapore's Scariest Attraction is a Hell Museum - Would You Go?
Last Updated : Sep 4, 2023
Atlys in the news
Haw Par Villa is a Singaporean park renowned for its unique themes of hell, afterlife, and mythology.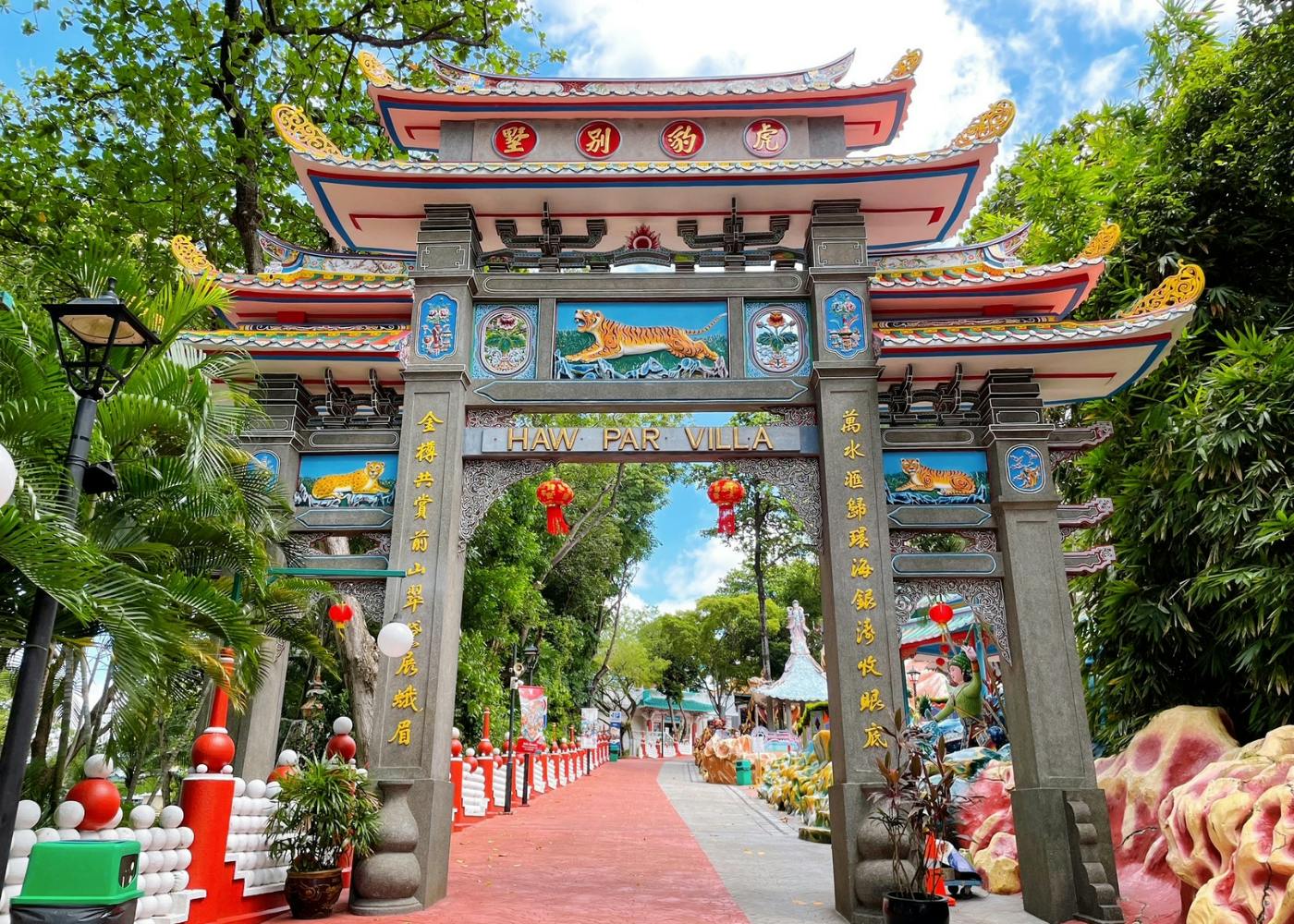 In 1937, Chinese entrepreneur Aw Boon Haw built this park and dedicated it to his brother.  Haw Par Villa Park has around 1000 statues and 150 life-size dioramas inspired by Chinese folklore and legends.  As well as the newly opened and famous Hell Museum, showing one's journey in the afterlife.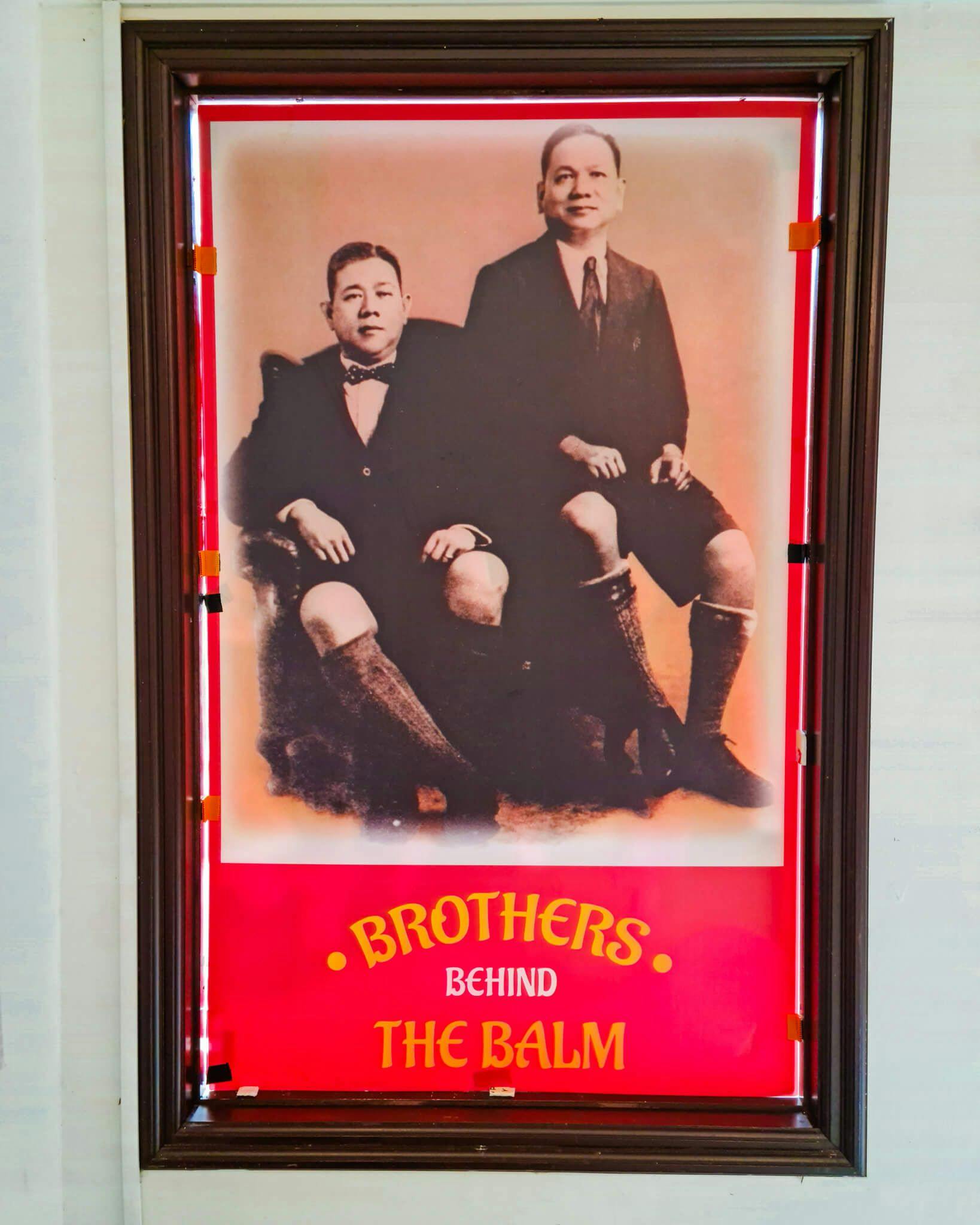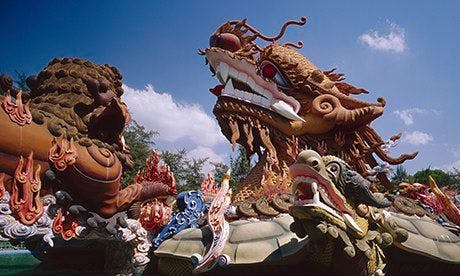 So why is the newly built Hell Museum so disturbing?
Hell Museum is most famous for depicting what occurs in the 10 gates of hell.  Here you will quite literally walk through a dimly lit stone tunnel that houses the 10 courts.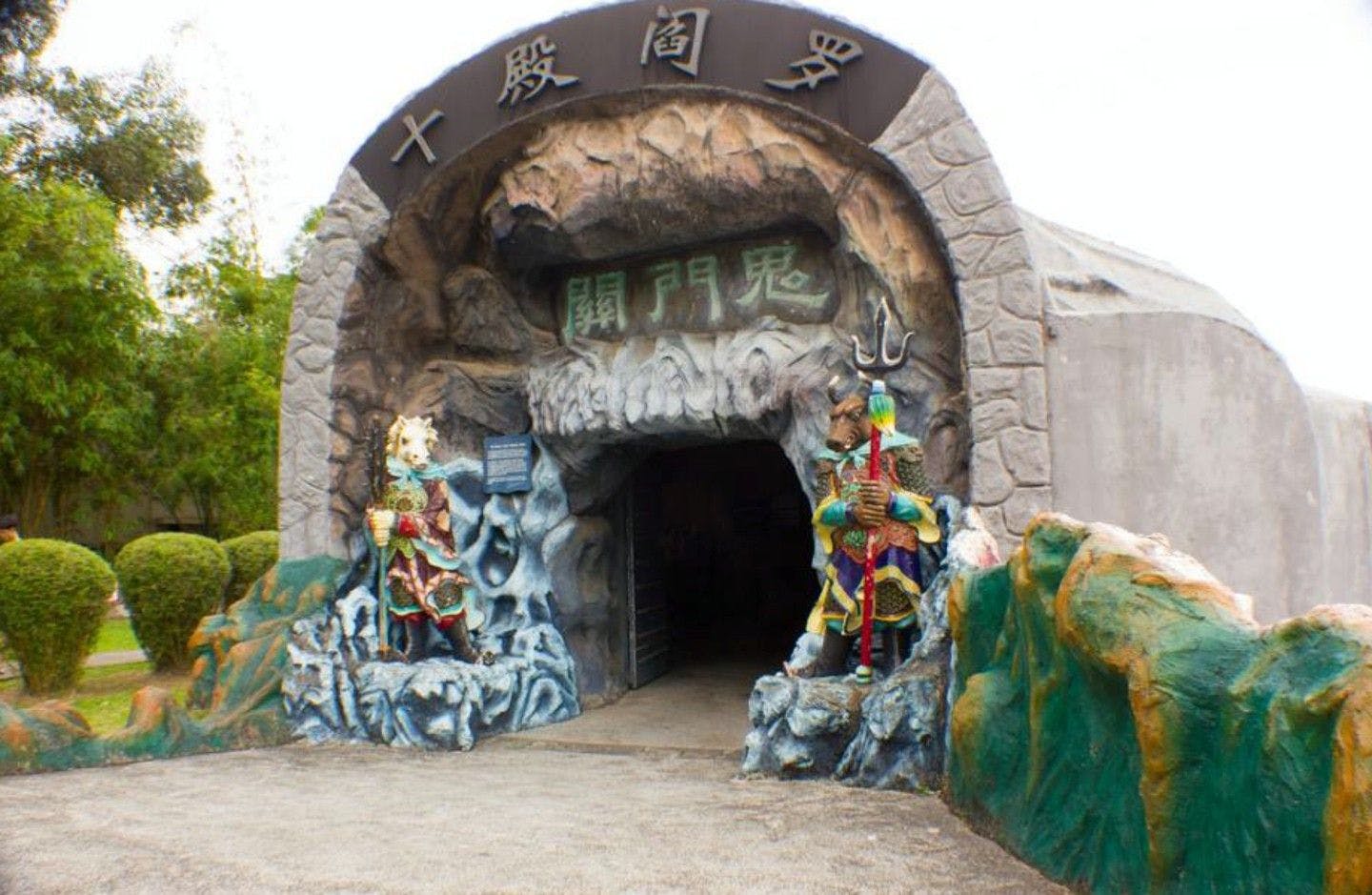 In Chinese Mythology, it is believed that a person will be sent to the first gate after passing away.  Whether you will be sent to paradise or the relevant court to be punished for your sins will be decided.  *You can expect each gate to have a gory and vivid scene of how Buddhists believe people will be punished in the afterlife.
Some of these sins include: prostitution, cursing, wasting food  & cheating on a test, while some of the punishments were depicted as boiling in oil, dismemberment & being frozen in a block of ice; the vivid depiction of the suffering and torment of each condemned is also highlighted by subtle lighting that is enough to creep you out. 
Each court has a strange description of serious and inconsequential crimes being punished in painstaking detail.
Let's look at the 4 most gruesome sculptures found in these courts:
In this punishment, the condemned would have involuntary dental procedures/ tongues ripped out for the sin of gossiping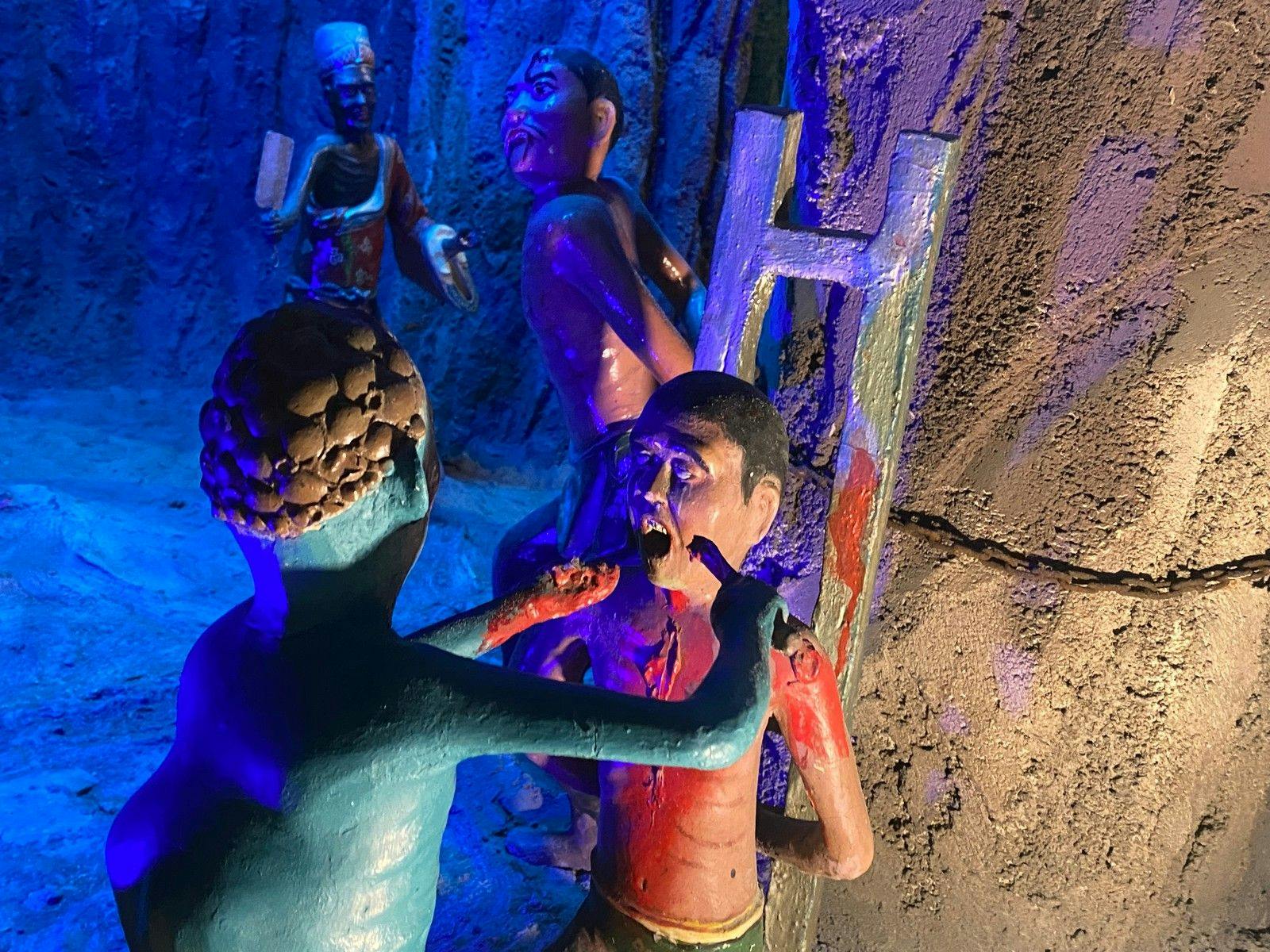 In the afterlife, the sins of robbery, murder, or rape will be punishable by having one's limbs chopped off.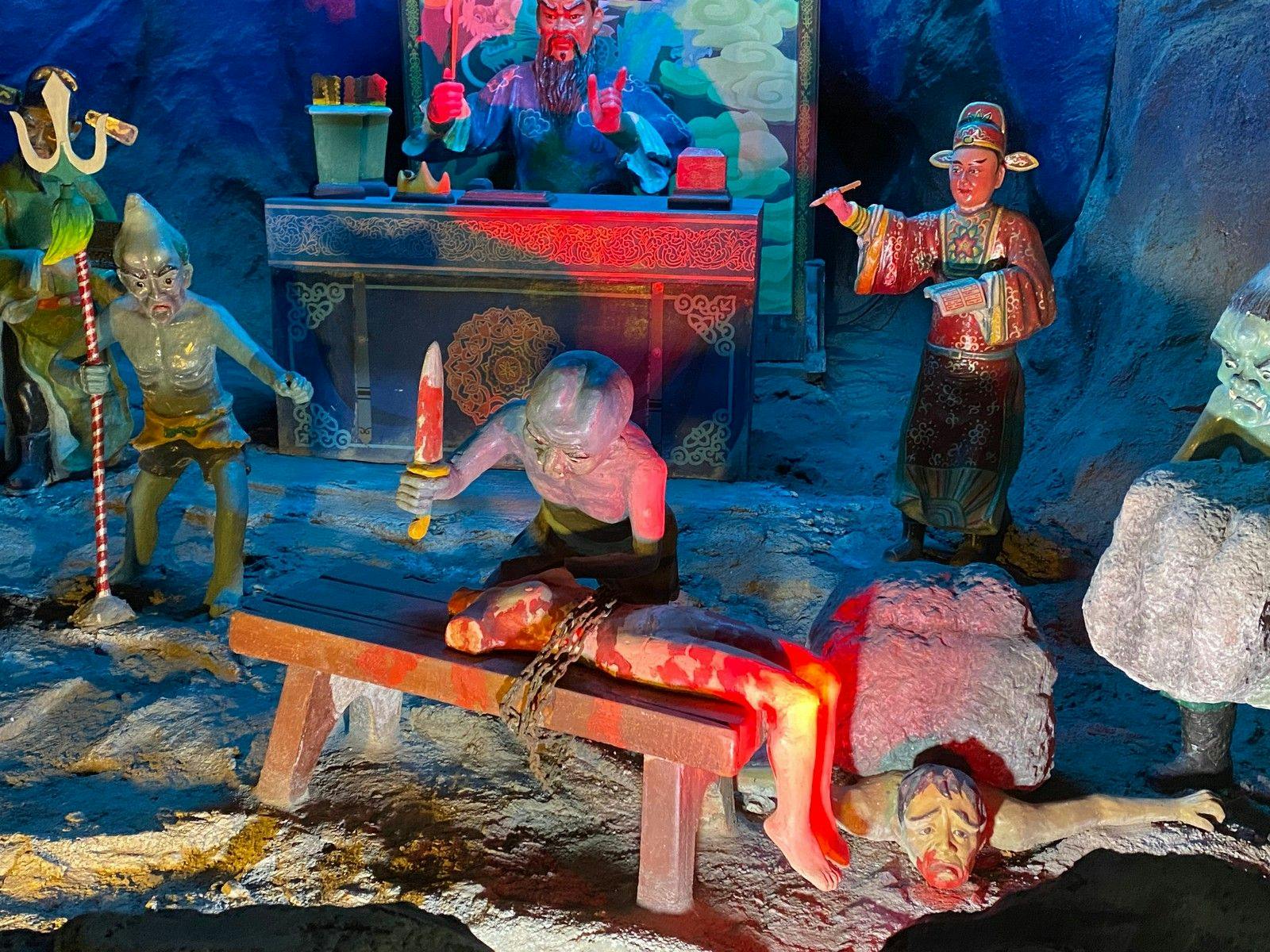 Intestines and organs would be pulled out for the sin of causing trouble for your family or parents.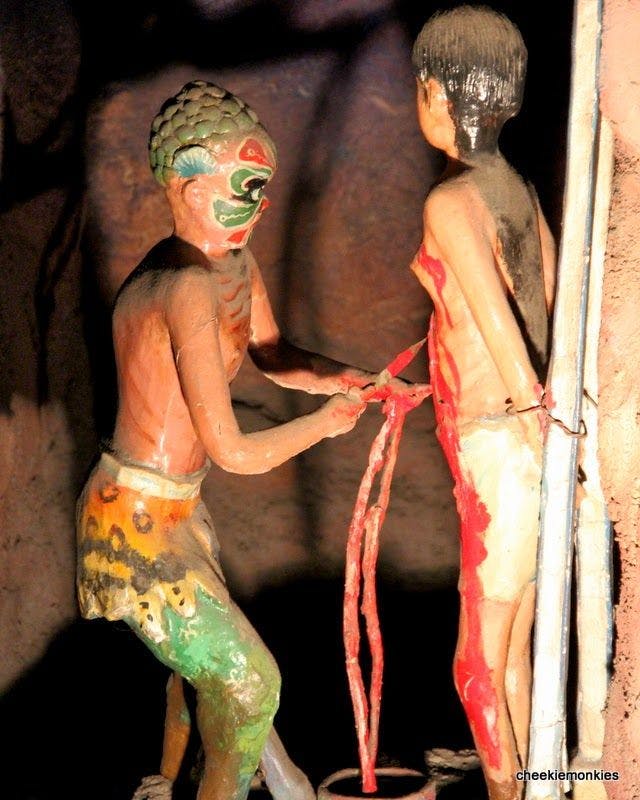 For the misuse of books, the punishment set forth is being sawed in half.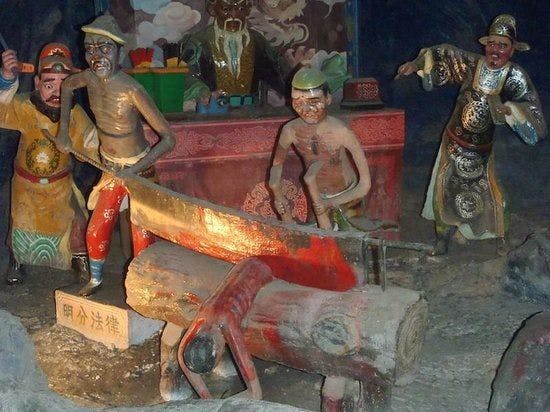 I would be lying if I said that I didn't find this incredibly creepy and eerie.
Not all the sculptures and dioramas are gruesome and scary – the park entices disgust, curiosity, and humor.
The park also depicts Boon Haw's deep interest and visually appealing depiction of Chinese Mythology, folklore, history, & Chinese literature.  Most people find the park's statues and dioramas to be a bit bizarre.  Most dioramas have info-boards in English explaining the scene's meaning on display.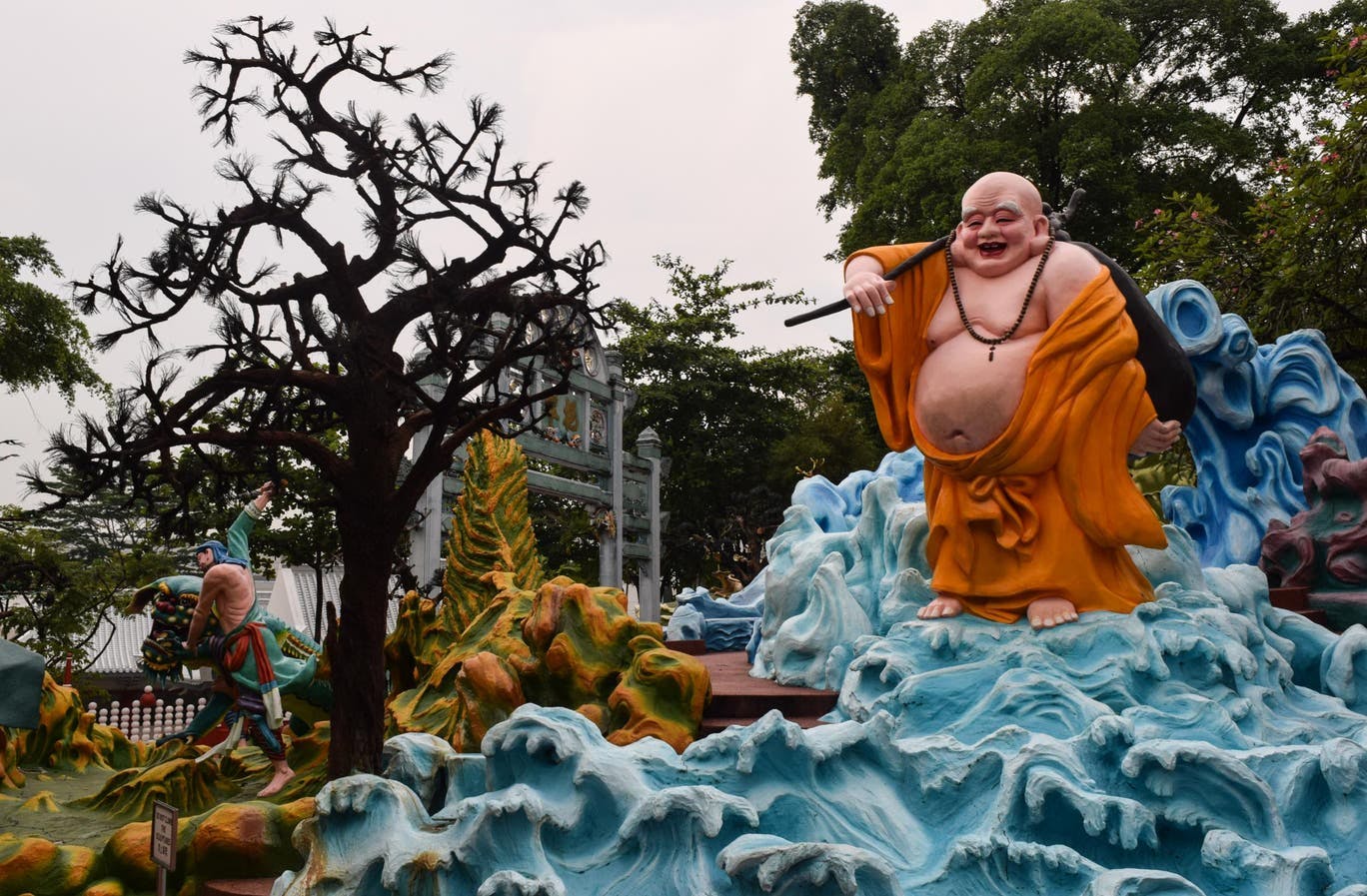 The weirdest sculptures in the park include:
A frog in a baseball cap riding an ostrich

A grandmother suckling at the breast of another woman

A human head on the body of a crab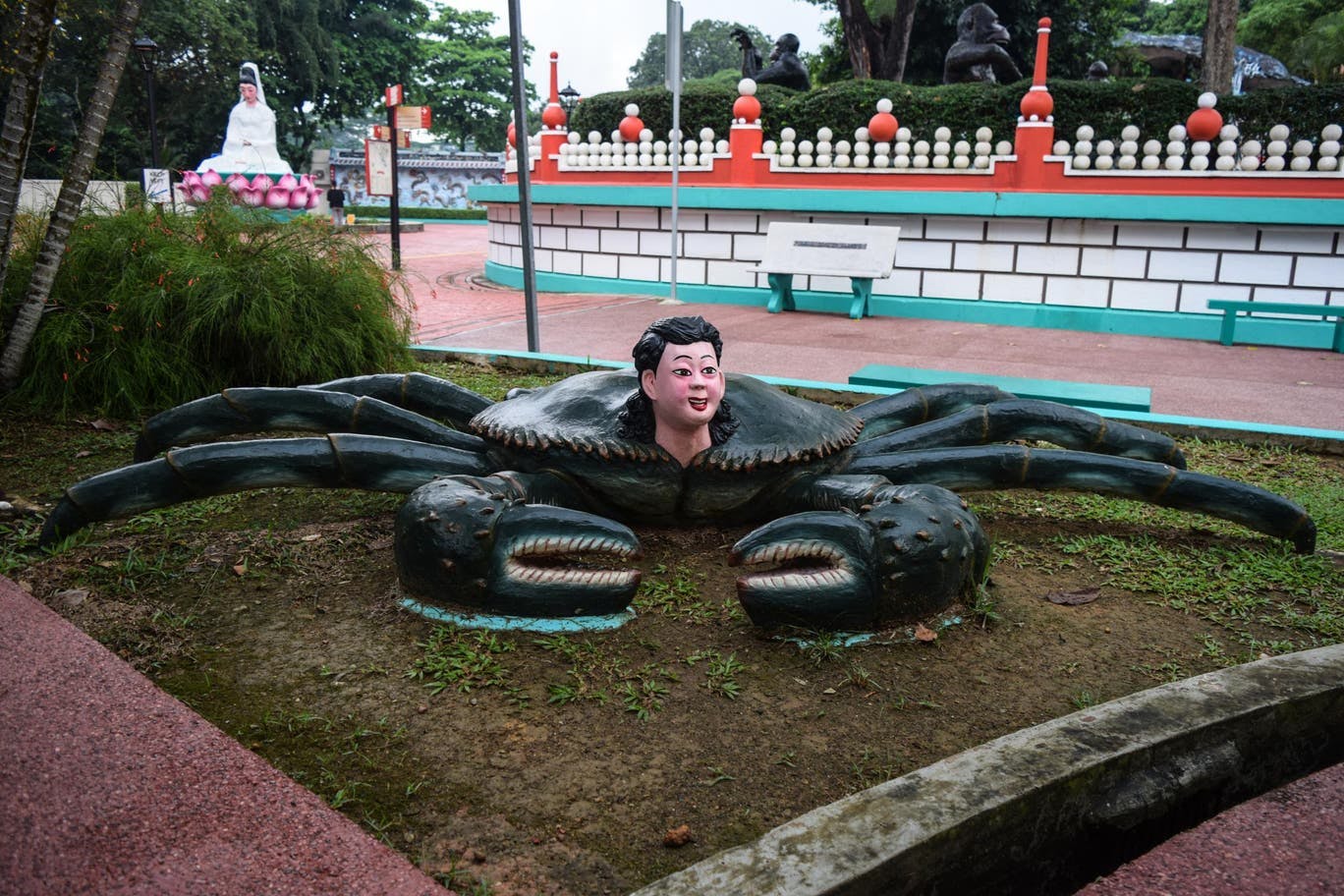 Enjoy the thrill of being afraid?  Why not consider visiting the caves descending below life-sized dioramas at night time.  People have confessed that exploring the caves at night, made half-human; half-animal statues appear much spookier.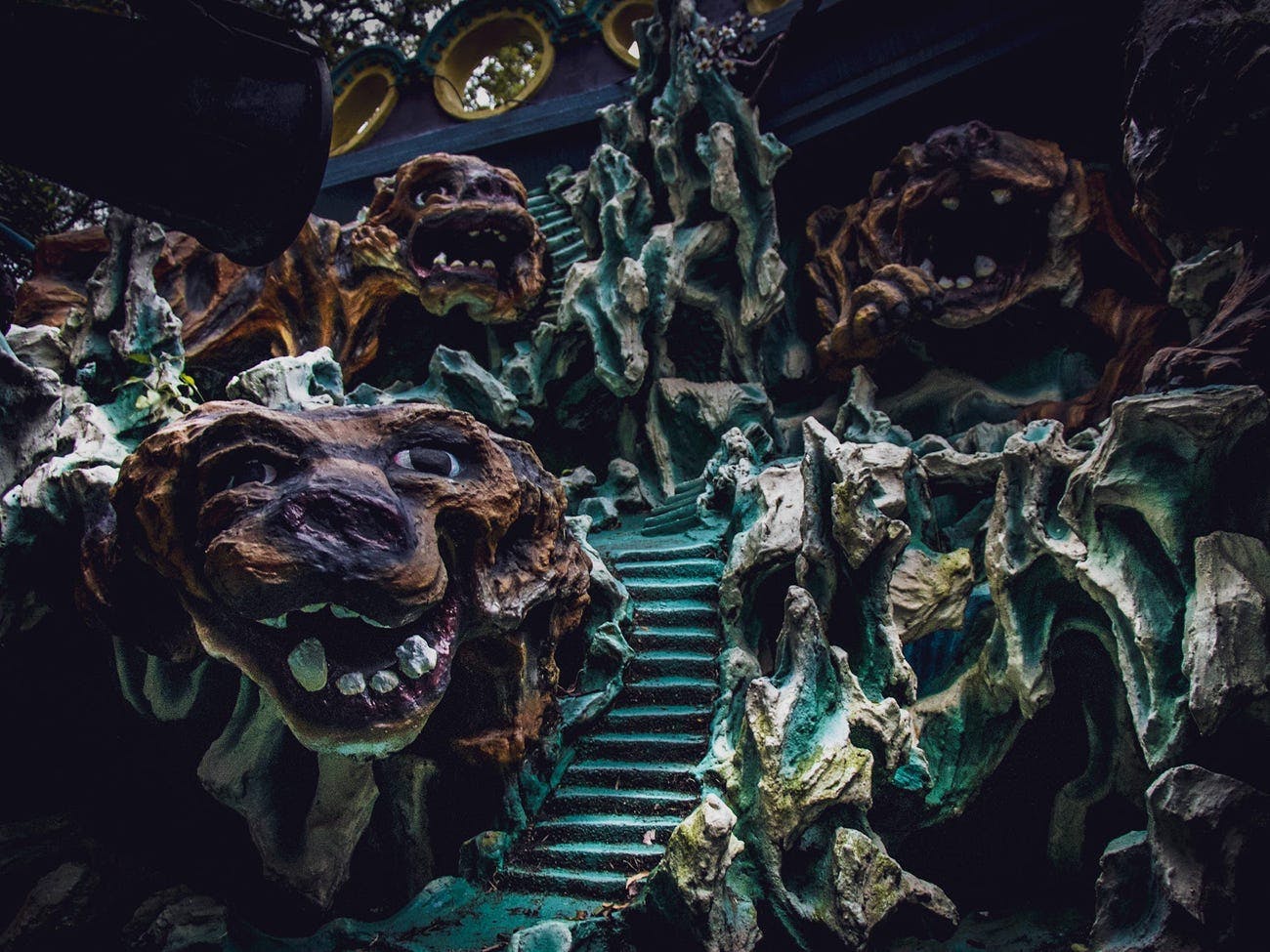 It isn't comforting to think that this park was built as a fun way to teach children about Buddist, Confucian, and Taoist mythology.  This might not be the most kid-friendly place.
Park trading hours
The outdoor park is open daily from 9 am to 10 pm.
You can visit the Hell Museum from Wednesdays – to Sundays from 10 am to 6 pm.  Last entry at 5 pm.
History of Haw Par Villa
Aw, Boon Hoon was the man behind the tiger balm brand.  He built a garden and villa for his younger brother.  The space also functioned as a marketing tool for the Tiger balm brand.  After world war 2, the estate was severely damaged. The park stayed badly damaged until the death of Aw Boon Hoon's brother.  For the following nine years before his death, Aw Boon Hoon spent every day with contractors and artisans to rebuild the sculptures and dioramas.  As of 1988, The Singapore Tourism board has become the park owner.
Park activities on offer:
The park offers DIY trails. A trail with curated photo spots in some of the most underrated places in the park—a Buddhist path and probably the most challenging a zodiac hunt. If you are up for the challenge, try finding 12 animals in a sea of more than 1000 animals.

Enjoy the vibes at the culture courtyard. This beautiful courtyard is decorated with beautiful vibrant colors inspired by Chinese Architecture—experience some music and dance performances.

Haw Par Villa offers Singapore's first movable container hotel. Amenities include air-conditioning, 2 queen beds, a fully equipped kitchen, en-suite bathroom, Wifi, Netflix, etc. Residents will receive 50% off their Hell Museum tickets.

The park offers commercial and non-commercial filming under the management's permission.

Read more about activities on the Haw Par Villa website.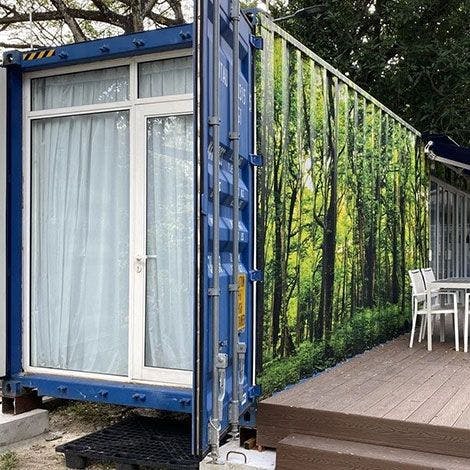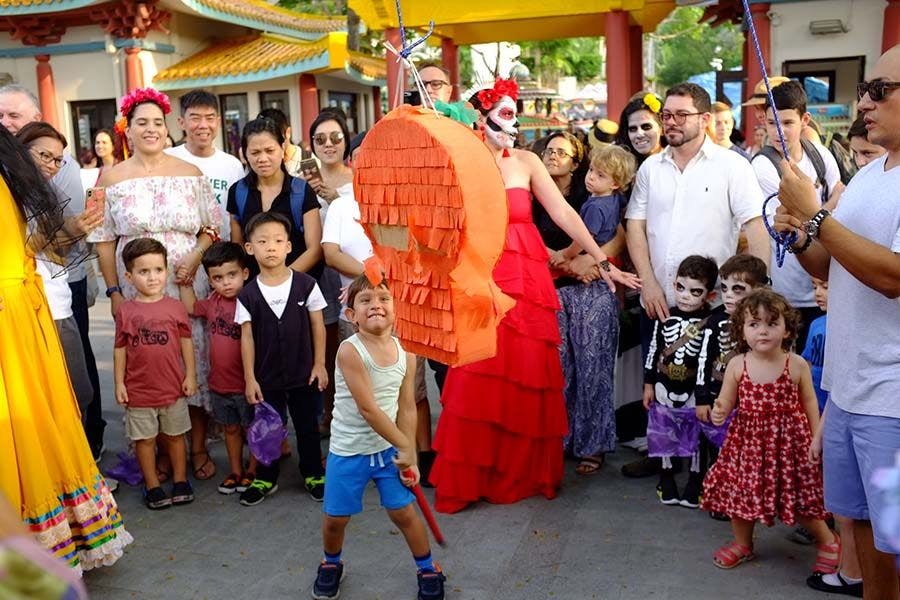 How much does it cost to visit Haw Par Villa?
The park is free, but you will have to pay an entrance fee for the Hell Museum.  It is recommended to book tickets online.  The tickets cost approximately 18$ for adults and 10$ for children. However, it is not recommended for children under 9 to visit the park due to the gruesome and vivid nature of some of the scenes on display.
Where exactly is the park?
The park can be found on a hill in Pasir Panjang, Singapore.  It is located close to the National University of Singapore.
How to get there?
Take the Circle Line and stop at the Haw Villa station – the park is a minute away from the station.
Does the park follow Covid 19 regulations?
The park and museum follow all the authorities' recommended safety procedures. Adults must be fully vaccinated to enter the exception for children under 12.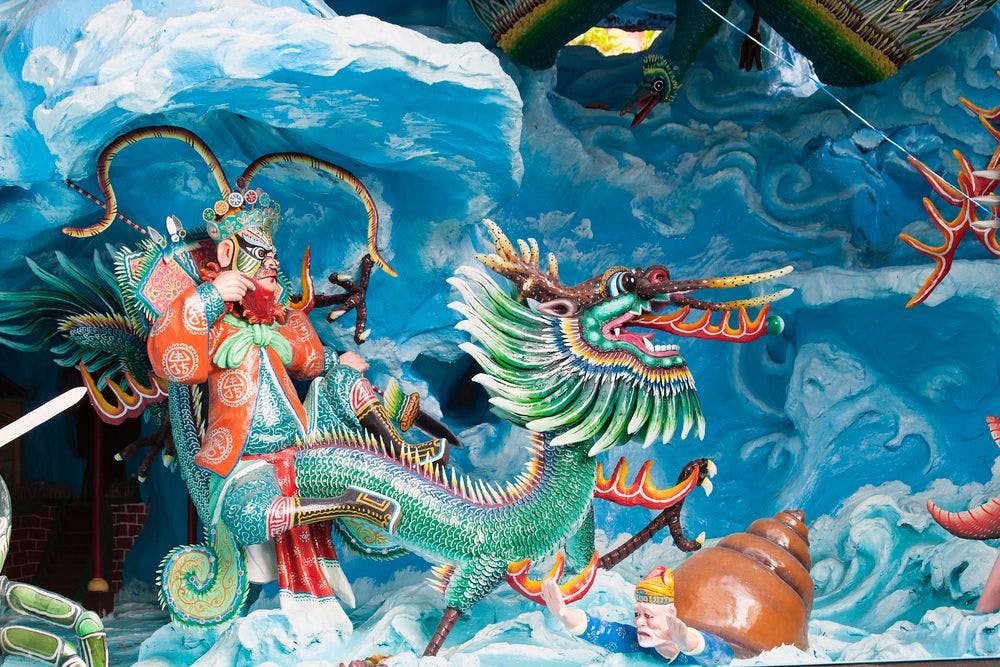 Although this is a very strange place, I can bet you have never experienced anything like this. Why not shy away from the glistening, modernized Singaporean city and see this once-in-a-lifetime hellish experience. Remember, the process of getting a Visa is hassle-free through Atlys, also have a look at Singapore Visa requirements before you go.
References: Take a look at these websites to find more pictures of Haw Par Villa:
Author: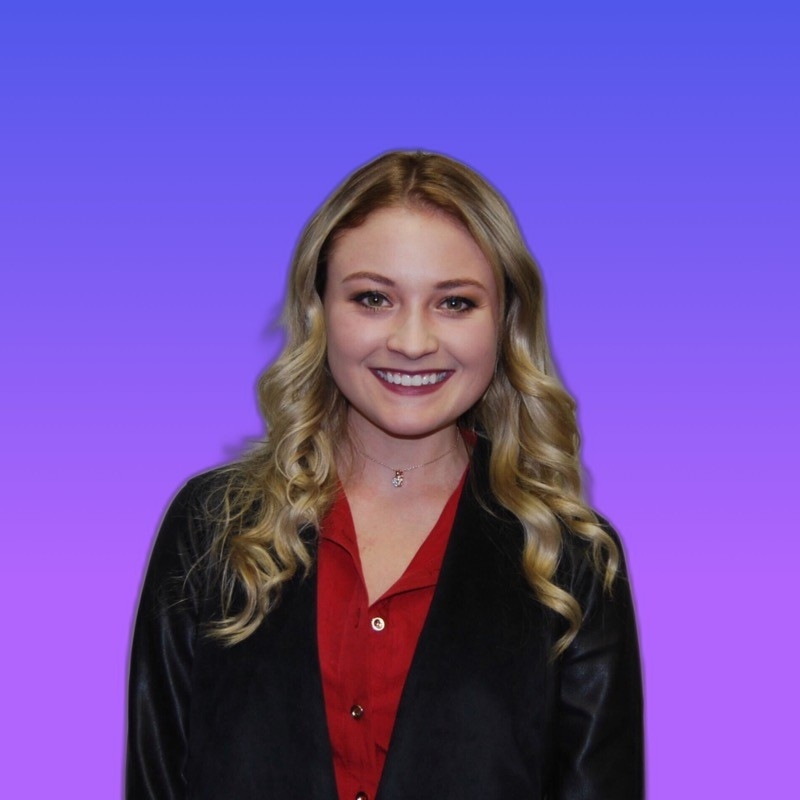 Shannon Reeler
Verified Author: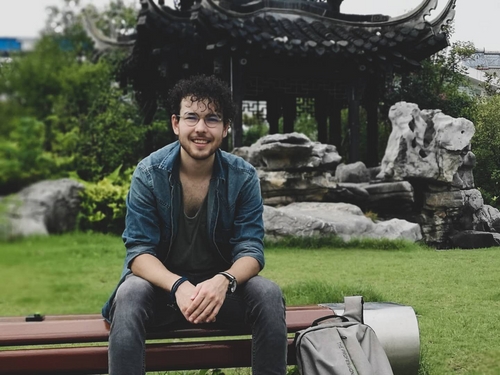 Richard Nathan