Have You Tried The 2$ Michelin Meal In Singapore?
Last Updated : Sep 22, 2023
Atlys in the news
Have you ever eaten in a Michelin-star restaurant?  You're not the only person that immediately thinks of high-end settings with expensive tablecloths and food when it comes to Michelin-star restaurants.  When thinking about a Michelin star, immediately chefs like Gordon Ramsay and Alain Ducasse come to mind. It's interesting to note that research done by Research Gate suggest that only 26.92% of people liked the food quality they received at a Michelin star restuarant.  But here in Singapore, you can eat a Michelin star soya sauce chicken and rice for only 2$.  The best part is that this dish is served out of a plastic plate in a hawker center.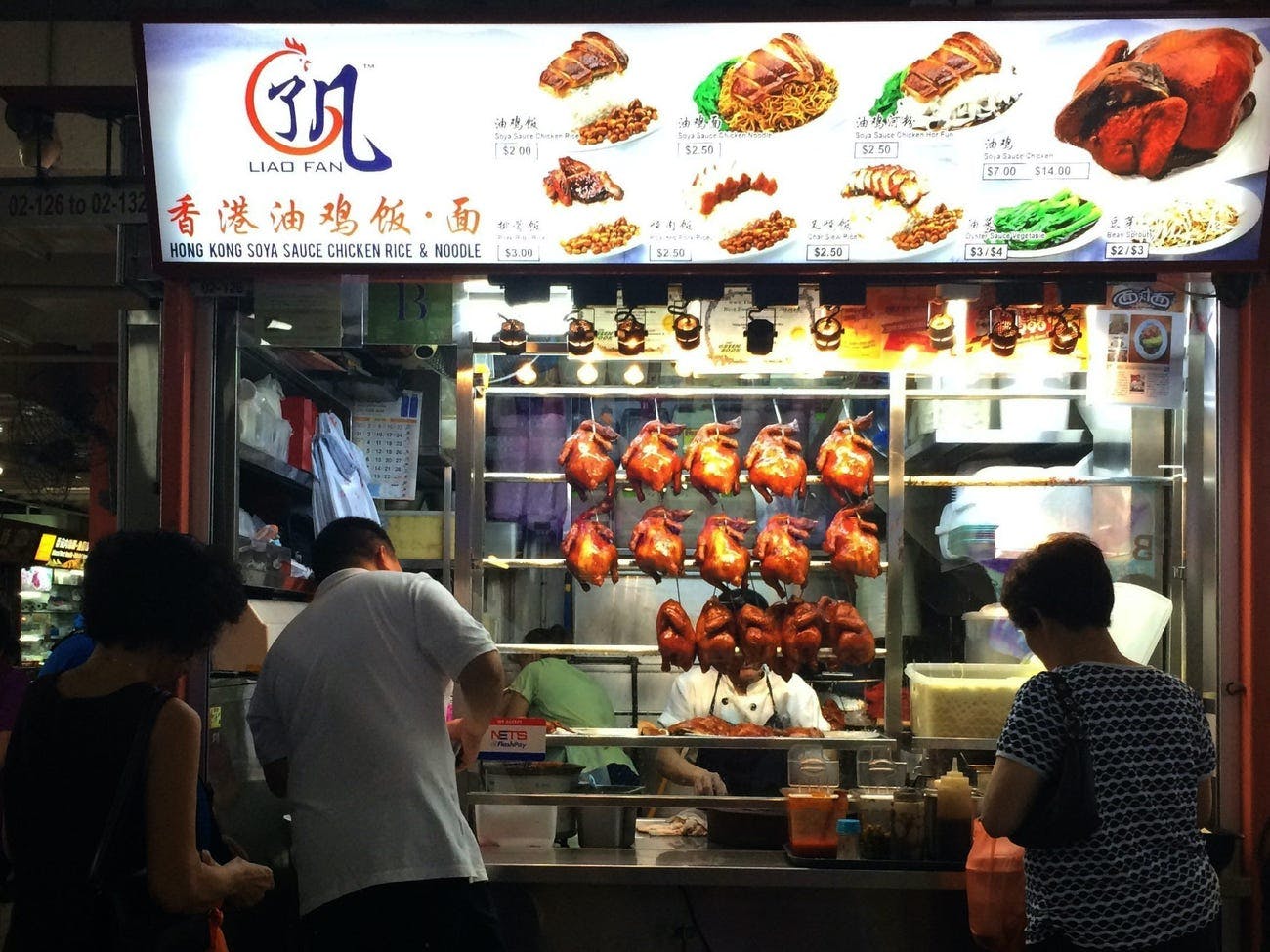 The Man Behind The Michelin Dish
The founder and chef is named Chan Hon Meng.  He was awarded his Michelin star in 2016. Chan Hon Meng opened his stall, Liao Fan Hawker Chan, in 2009.  His franchise can now be found in Singapore, Taiwan, Malaysia, Thailand, Australia, the Philippines, and Kazakhstan.
These dining centers serve as a gathering place for many diverse cultures to share their love of Singapore food culture.  The hawker centers are open-air dining areas and always have an excellent atmosphere for a cultural experience in Asia.  Chan Hon Meng's stall can be found in the Chinatown Hawker center in Singapore, Chinatown is one of the biggest hawker centers in Singapore and it's a trendy choice for a quick, affordable meal from over 220 stalls.
When looking at the setting of this informal restaurant, it is shocking that this restaurant could be a Michelin star restaurant.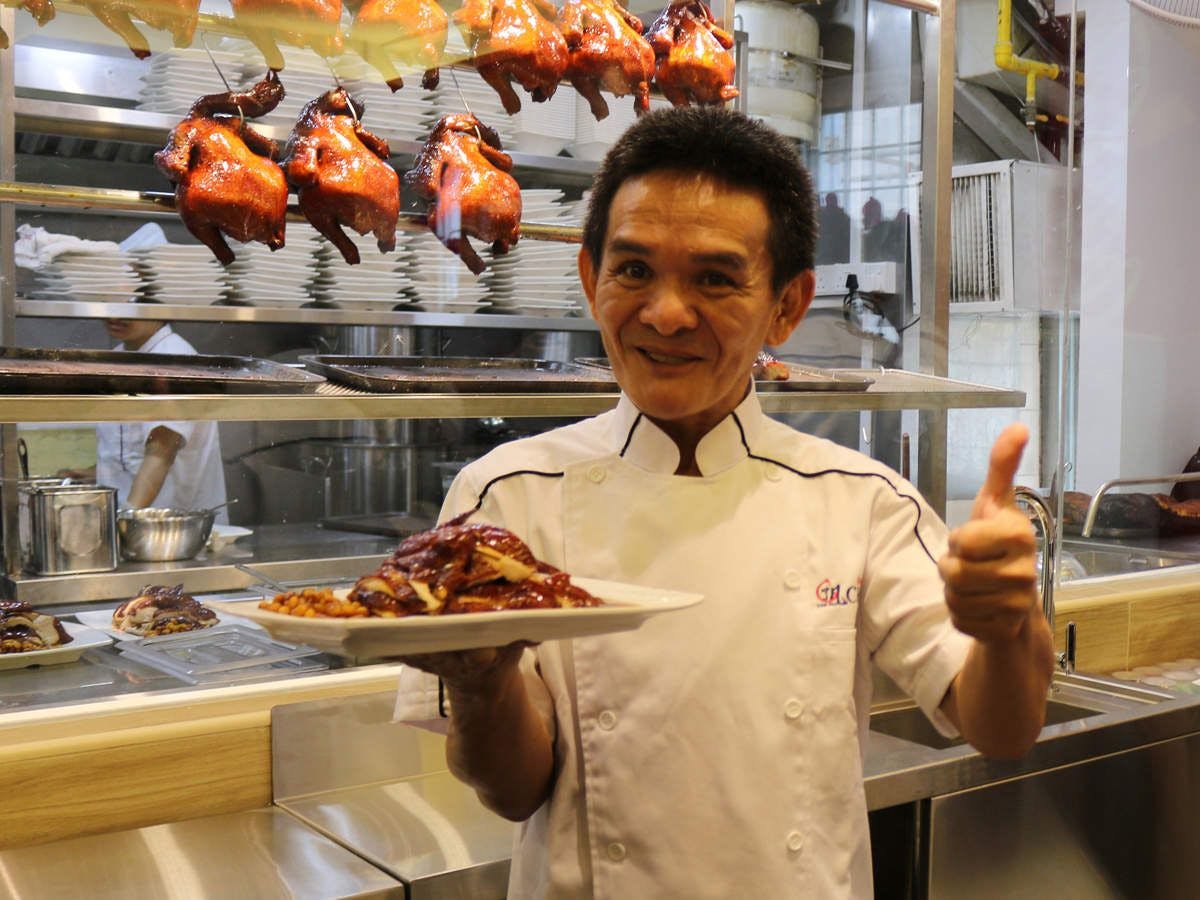 Michelin stars reviewers look at the overall experience, including the friendliness of the staff, how long it took to be served, quality of ingredients,  value for money, and the mastery of flavor and cooking techniques.  It's pretty evident that this stall scored very high in all of these criteriums.  "Before I got the Michelin star, I was just a hawker', Chan Hon Meng.
You can expect to always wait in a queue to order this signature dish.  But don't be intimidated by the queues; his staff is highly efficient and manages to get the food out fast to avoid long waiting times.
Tip: To avoid waiting in long queues, go during off-hours.
A typical day in the life of Chan Hon Meng consists of waking up very early to start basting hundreds of chickens.  On average, he sells about 80 whole chickens a day; that's about 600 servings.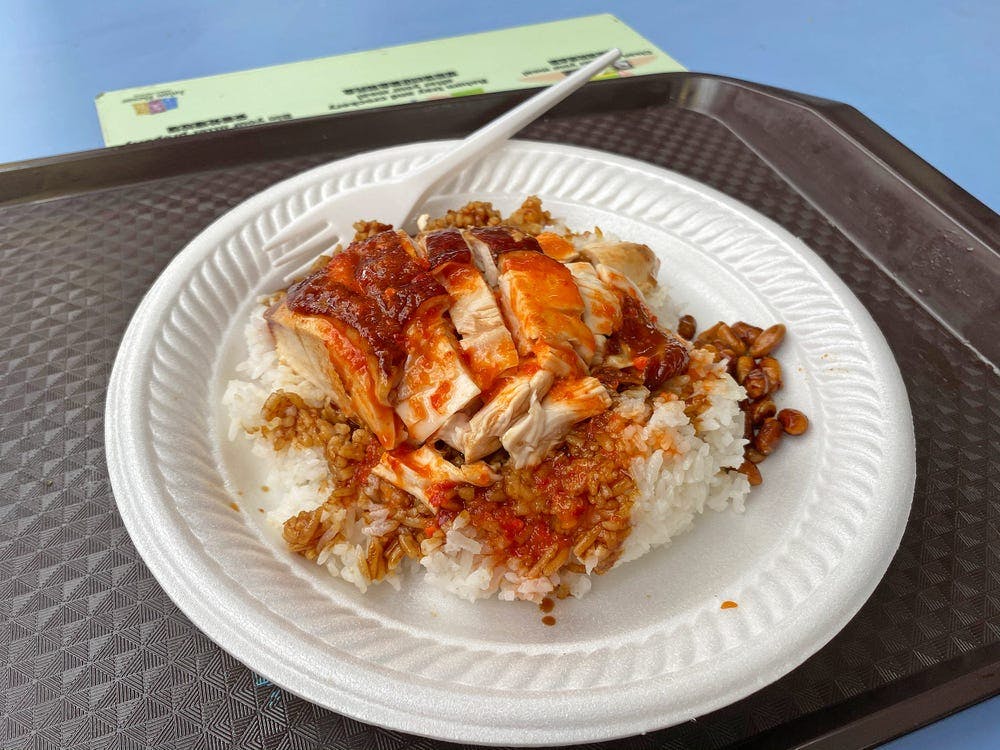 So in a sea of 5800 food stalls all offering some form of chicken and rice dish – why is this one so special?.
Many people believe this dish is extraordinary and not comparable to any other similar dish.  It's an explosion of flavors and tastes.  The juicy chicken that falls off the bone and rice is paired with a side of soya beans and a side of freshly minced chilli and garlic.
'After receiving the award, I feel that the Michelin star is not about whether you're a hawker; it's about what you serve and how you produce your food and how you keep the consistency of the food.' – Chan Hon Meng.
Trading hours:10:30 until sold out
Chan Hon Meng Is Not The Only Hawker In Singapore To Receive This Prestigious Award.
Tang Chay Seng claims to be the only authentic Tai Haw In Singapore.  He inherited the business from his father and they're probably the oldest surviving Bak chor mee stall in Singapore. The stall can be found in Kallang, Crawford lane.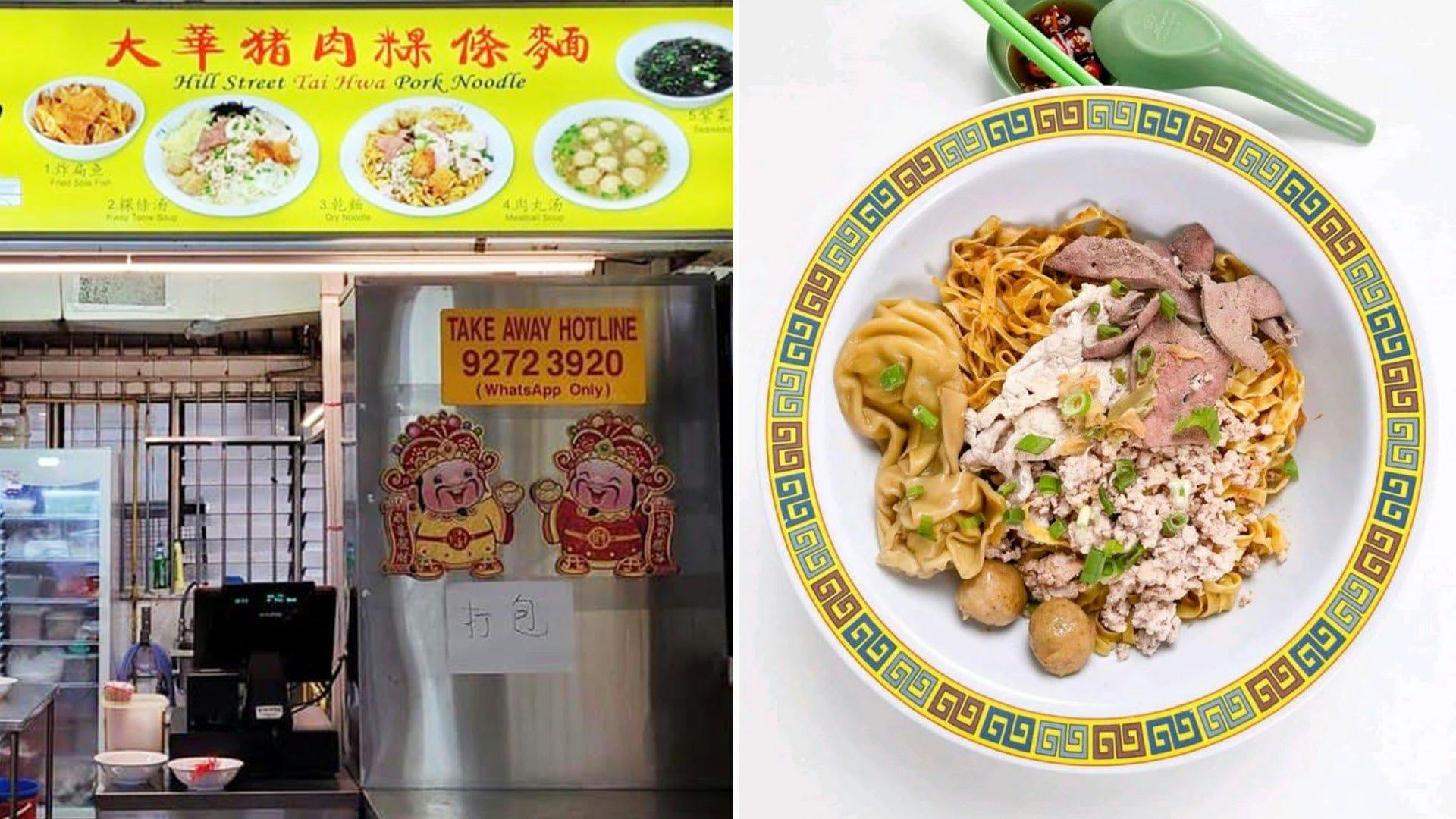 Here the queue is usually met with waiting lines of at least 45 minutes, so it requires patience.  However, they've tried to combat these lines by making it possible to pre-order on WhatsApp.
You can expect to pay around 6-10 dollars for a Bak chor mee dry noodles bowl.  The sauce can be attributed to being the most spectacular part of the dish.  The core flavor of the sauce is Chinese black vinegar. Many copycat stalls have tried to recreate their famous dish, but none have successfully made such a superior black vinegar dressing.
Trading hours:9:30 – 9 pm daily.
There have been 12 stalls awarded the Michelin star status in Singapore, including Lioa Fan Hawker & Hill street Tai Ha Pork Noodle.
The Strangest Dish To Be Awarded A Michelin Star Would Be A Homemade Chilli Sauce Frog Porridge.
If you're in the mood for late-night dining, Eminent frog porridge stall is the place to be. This restaurant is a coffee-style dining experience with a casual ambiance. However, it can get quite crowded. Eminent Frog Porridge seafood stall can be found in Geylang.  Geylang isn't only renowned for its popular frog dish, but it's also in the heart of the red-light district.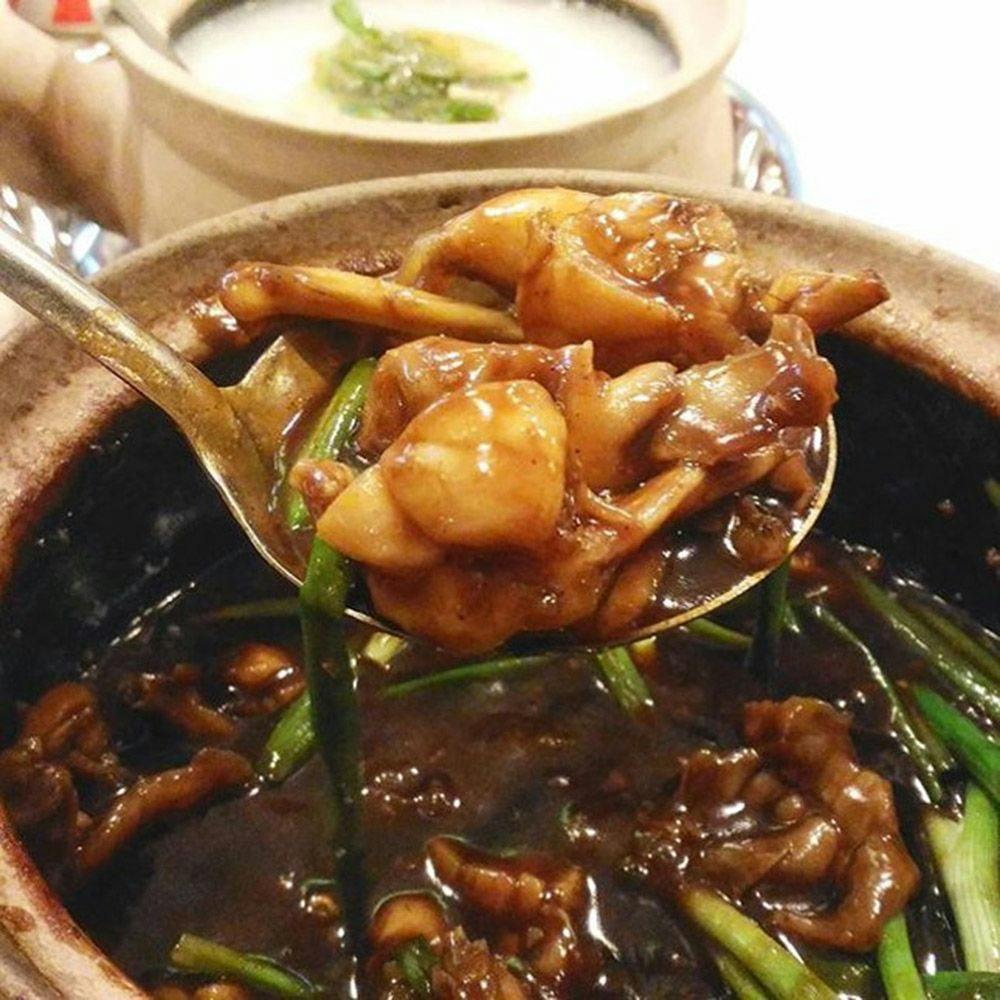 This Geylang stall offers 7 varieties of frog dishes.  A stock of live frogs is kept in the kitchen to ensure maximum freshness. You can expect to pay around 8 dollars for one frog or opt for their buy 2 get 1 free option for 16 dollars. People usually pair their frogs with a serving of porridge for around 2 dollars.  Another popular option is their dried chilli Gong Bao; this dish has frog legs simmered in a sticky dark sauce over high heat.
Trading hours:5 pm to 4 am
What Dish Would You Try First? A Chicken And Rice Dish Or Would You Dive Right Into A Weird Frog Porridge?
Food has always been an integral part of Singaporean culture, describing itself as a food paradise. The explosion of flavors of Singaporean cuisine makes it an overwhelming reason to visit this beautiful country. With many expensive options, there is also no reason to break the bank with these Michelin star stall options.  If you've watched the film Crazy Rich Asians,  I am sure you are craving Singaporean street food.  Why not experience authentic Singaporean culture by taking a trip to these laid-back Hawker centers? While in Singapore make sure to check out Singapore's goriest hell museum to take your trip to a whole new level! Atlys is a great way to get started on the Singapore tourist visa process and requirements and lastly don't forget to check out how to find the cheapest flights online.
Photo References:
Author: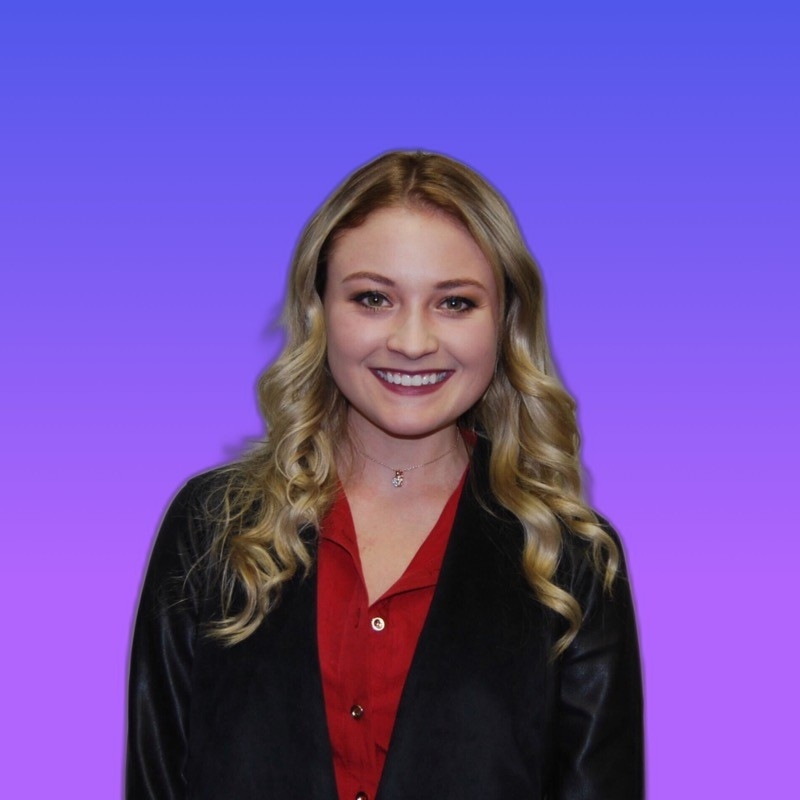 Shannon Reeler
Verified Author: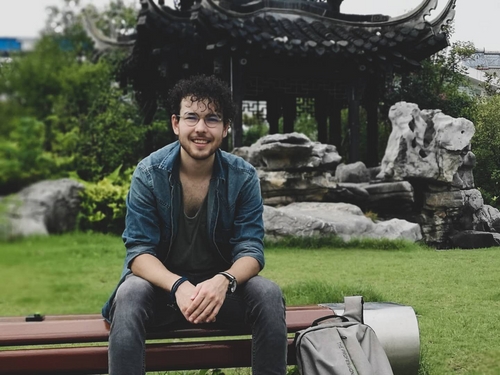 Richard Nathan